Continuing in the series on getting started with hiking, the last time we looked at hiking footwear where we reviewed hiking boots and trail shoes. We've covered many of the key aspects of gear like hiking pants, shirts, baselayers and fleeces as well as boots. Today I want to move on to another key element of your hiking kit which is your hiking rain gear.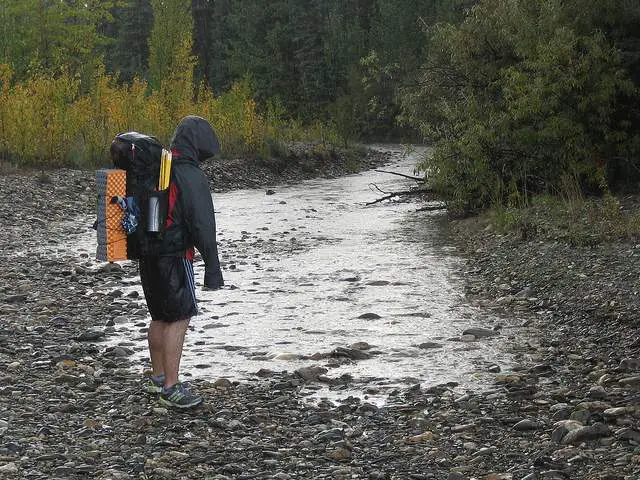 Photo Credit: Paxson Woelber
Broadly speaking you need a good rain jacket and rain pants. A rain jacket is a jacket that is both waterproof and breathable. Rain pants are similar and are not the same as your hiking pants. Rain pants are put on over your hiking pants as a full outer protection layer for your legs against the elements.
The thrust of this series, with regards to gear, for beginners is about getting the chance to get out and try hiking without having to buy a load of gear from the start. So where possible, trying to come up with workarounds or cheaper temporary alternatives to brand name hiking gear while you figure out if hiking is something you want to pursue.
Some of the main assumptions I am making  for your initial hikes are that they will be:
Short hikes on very clearly marked trails
Made on a day and time of year when the weather is good
When the temperature is favorable, warm and pleasant
Only for a few hikes at most
With that in mind, let's take a closer look at what you need to think about with regards to hiking rain gear.
Rain Jacket
OK, ideally you want a proper rain jacket suitable for the outdoors. You want something that is both waterproof and breathable. If you don't have something suitable but you're ready to commit to a purchase check out the rain jacket buying guide and visit our top rain jacket recommendations for men and our top rain jacket recommendations for women. You can find some excellent examples of very functional and popular rain jackets.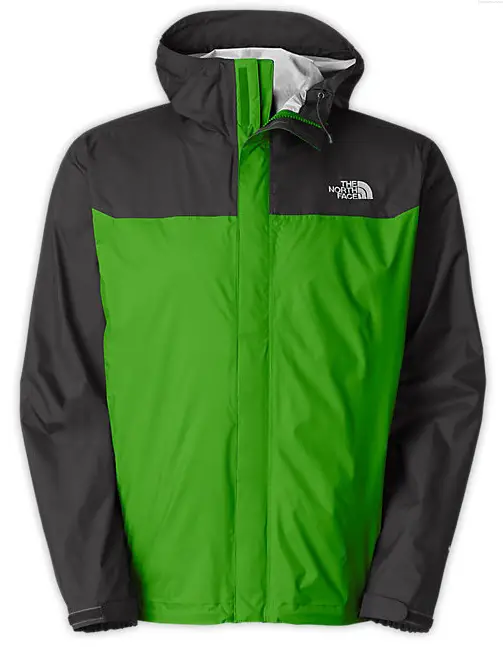 If you're new to hiking you probably don't have hiking specific gear lying around. So, what alternatives could you use? Well, a basic rain jacket of some kind should do the trick for some initial hikes.
Most people have something of this nature. It probably won't be breathable though but for a quick rain blast in fair weather, it will do the trick. try and pick something lightweight as you need to carry it when you're not using it.
If you don't have anything suitable in the rain jacket category you could invest in some cheap rain protection before buying a full on rain jacket.
A rain suit or poncho are some examples. Now, the cheaper versions of these aren't ideal for the long term, although a poncho could be great for really heavy downpours in Jungles and that type of thing, but they can be sourced cheap and cheerful to get you started on the trail.
Rain Pants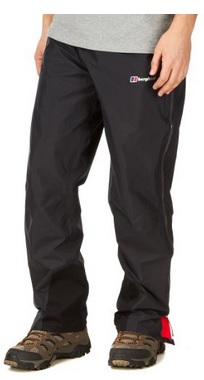 Starting with the ideal, you want to get proper rain pants for hiking. I currently use the Berghaus Hellvellyn Pants (see image below) as I use them and they have served me very well. From the summit of Mont Blanc to local hikes, they've really held their own.
If you don't like them, you can also opt for something similar but look for the same technical make-up and functionality. If you're ready to buy rain pants, check out the rain pants buying guide to give you some tips on what to look for. You can also find our favorite rain pants for men here and our favorite rain pants for women here.
Rain Pants differ from a rain jacket I think in that they aren't something that everyone has lying about. Therefore you may need to get purchase these if you need them.
However, remember the assumptions I made above. I am advising that for someone new to hiking, you pick days in a time of year when the weather will be fair to get you started. Therefore, you should probably be able to get away without rain pants for a hike or two. In summertime with a good forecast, I generally don't carry them in my day pack.
Another option to consider is waterproof gear from other sports. Think rain gear for golfers and that type of thing. They will use rain pants although they may not be as breathable so you can expect it to be warm in them. Not a big deal if you just want to stay dry for a quick downpour.
Similarly, as with the poncho above, you can opt to get a cheap and cheerful pair of rain pants that will do the job at the start. I really think that, as long as the climate and weather is decent, you can probably get away without rain pants for a few hikes at the start. If you're on well-marked trails and can easily get back to your car, the worst case is that you will get very wet, not a total disaster 🙂
Conclusion
Rain gear is a critical part of your hiking gear and if you choose to really get into hiking, you need to buy the proper gear that is suitable for the trail. If however, you're just dipping your toes in the water on a couple of short hikes, I think you can utilize some of the alternatives suggested above until you confirm hiking is the thing for you.
If you're sure hiking is the thing for you from the get go, take time to find a good jacket. Read the rain jacket buying guide and check out the recommended hiking jackets linked to above for some very functional and popular jackets. Similarly educate yourself about rain pants before buying them too.
Finally, I think you should always have a rain jacket with you but in warmer times of year, in good conditions on very safe hiking trails, you are probably fine to leave the rain pants at home. As always, use your common sense to make a judgement call.
I hope you found this post on rain gear useful. It is not meant to be a detailed trip into the world of rain gear, that is a much broader topic. Rather, it's meant as an introduction for a newbie who may not know what gear they need to think about. Next up, we'll take a look at day packs.
Please leave a comment below and share this post.