OK, in the last post, we looked at hiking pants and / or shorts for the trail when getting started with hiking. Today we're moving swiftly along to the upper regions of the body to look at shirts and tees.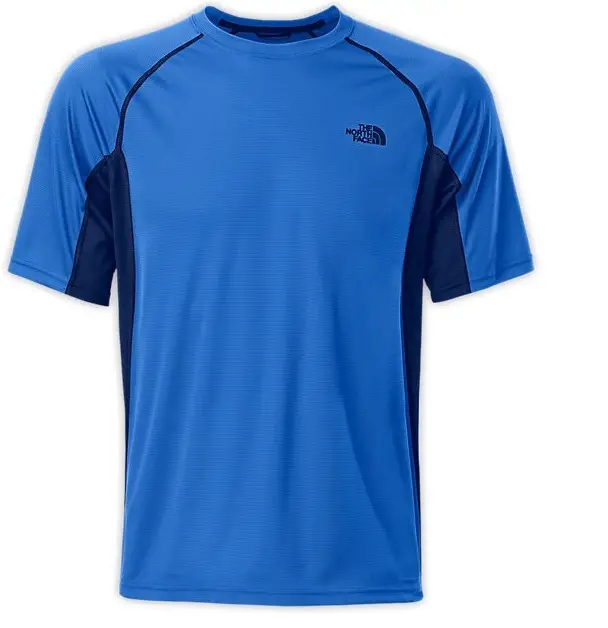 What Shirts and Tees are Good For Hiking?
As with any part of your hiking gear, you need to consider many factors about the environment you plan to go hiking in when choosing what shirt or tee to wear out on the trail.
If you're new to hiking, it is best to wait for favorable weather for your first time out, ideally in summer or warmer days of the year. The reason for this is that if you're just dipping your toes into the world of hiking to see if you want to try it, you've no immediate way of knowing if you'll like it as a pastime on an ongoing basis. With that in mind, you don't really want to go out and buy loads of new gear until you're sure that hiking is for you. Ideally you want to be able to make do with what you already have where possible.
No Cotton
Cotton always get's a bad rap when it comes to hiking as if it get's wet, it will really increase the speed with which you cool down and that can cause problems very quickly. However, if you know the weather is in your favor, and you're only going out on well marked trails for a few hours to test the water, I think you'll be OK with a cotton shirt. I do stress though that, that really is not ideal. One cotton item of clothing should be OK for a short hike in good conditions as long as you don't go too far and stay on well marked and easy to navigate, back to base, trails.
Many folks will have tees they use for other sporting activities, say running, going to the gym and so on. These can also be a good temporary option when you're just starting out hiking. The reason for that, is that similar to some hiking gear they will most likely be:
Made from synthetic material (Some wool blend is fine too though)
Be breathable to some degree and so allow sweat to wick away from your skin
Feels comfortable on the skin
Now, as you get more into hiking, I do recommend you purchase some proper hiking tees. If it's a colder time of year you will need base layers too as part of your overall gear set-up.
You can also get shirts with special additions like UPF protection and insect resistance. These are really good things to look for too but at the start, as mentioned above, I strongly advise that you don't throw yourself straight into very deep and wild locations, keep it safe and simple 🙂
The tee, pictured at the start of this post, is a good example of a hiking tee. Below, I've listed a couple of examples of hiking shirts. These are mainly to give you an idea of what you should be looking for when the time comes and you decide to purchase hiking specific gear. You can click on the pictures to learn more.
Note: these links are sponsored links. You can read our full Affiliate Disclosure Statement here.
Columbia Silver Ridge Men's Hiking Shirt
Brief Product Description:
I don't want to go into loads of detail here for this but the Columbia Silver ridge shirt is a nice option for hiking / camping specific. It's made from, nylon basket weave, so fits the bill for outdoor use in terms of material make-up. this is a very versatile shirt that you can easily utilize elsewhere, not just on the trail. For example, day-to-day use, if you play golf, etc.
Remember, if you're not ready to purchase try and find a shirt that you already have made from similar materials. You probably have something lying about the house that will do the trick. If you can avoid cotton, please do.
Columbia
 PFG Bahama II Long Sleeve

Shirt For Women
Brief Product Description:
OK, so moving on to the ladies, we have another example of a good hiking shirt that would be suitable for the trail. Again, this is not meant to be a product review but as with the men's shirt, this is made from nylon, polyester and polyester mesh. Perfect for the trail but is also great for casual use too.
The Columbia PFG Bahama II hiking shirt also features lots of the necessary capabilities I referenced above, that you want a hiking shirt to have. It provides good sun protection and excellent breathability, so a very nice option, a best seller on Amazon too.
Conclusion
So today, I just wanted to quickly spin through another part of hiking gear that you need for the trail. Remember, you don't necessarily need to go out buying every piece of gear when you're just getting started hiking as you may well already have plenty of gear that will see you through on your first few experimental hikes.
I stress again though, that if you are using gear that is not hiking specific, choose your day well to get good weather, keep your hike relatively short and only hike in places you can easily get back to safety from i.e. clearly marked trails. Common sense is always a critical component when it comes to hiking.
Overall, I guess the message I want to get across is that, if you're just starting you may already have a few suitable bits and pieces you can use to give hiking a go. After a few tries in safe areas in good conditions, if you find you like it, you can start getting hiking specific gear items, as referenced here, to enable you to take your hiking adventures that bit further.
Keep altitude in mind for this too as the higher up you go, it will get colder and you will also start to get exposed to higher winds. Again, use your common sense.
OK, as mentioned at the start of these posts for beginners I wanted to take these things on in manageable bite sized chunks. We're in the sphere of gear and so far we have looked at what hiking pants or hiking shorts you need and today at shirts and tees. Next up we'll take a closer look at base layers and fleeces for getting started with hiking.
I hasten to add that, for the basics, you of course also need suitable hiking boots or hiking shoes for the terrain you will be hiking in as well as a waterproof hiking jacket of some kind to ensure you can stay dry and warm in any inclement weather like wind, rain, etc. However, we'll get to those in due course. I'm trying to work from the inside out (Although base layers which we'll look at next are against your skin, you may not always need one so I've added it in with Fleeces as their main function is keeping your core warm).
Finally, wherever you plan to go hiking, at whatever time of year, if you can, get advice from an experienced hiker. They'll be able to advise you what to wear if you're not 100% sure.
If you want to go to the start of this series of posts on hiking for beginners, please click here.
Do you have a favorite hiking shirt or tee? Let us know in the comments below!