Well, we are drawing closer to the end of our short sojourn in the wonderful world of hiking gear for beginners. I think we've pretty much covered most of the clothes that you need to wear, we started with hiking pants and last time out we looked at rain gear with a few other bits and pieces in between.
Now, when you head out on any hike, you need to be able to carry some stuff with you. Even for short hikes when you're getting started, you need to carry some essentials like water, some food, any extra gear, etc.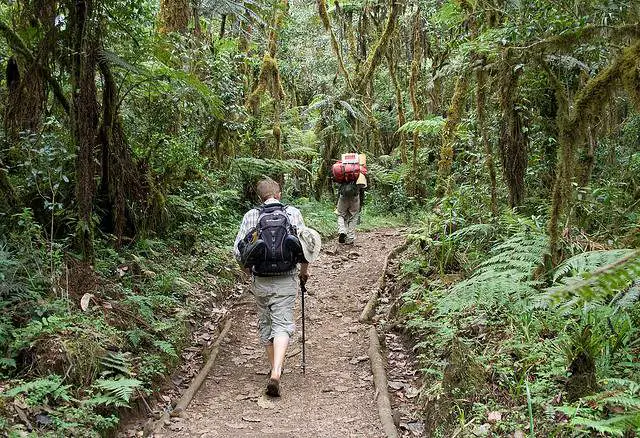 Photo Credit: Stig Nygaard
The simplest way to do this, is to use a day pack. Now, if you've been following this series of posts for beginners you know that the general gist, in the context of hiking gear, is to try and offer alternatives, where possible, to full on branded hiking gear when you're just getting started.
Cost
Good hiking gear isn't cheap so it may take you a while to acquire all the various bits and pieces as buying it all out right could easily move into the latter end of $1000+! That is not as big a problem over time. Good gear will last the course and so it is worth investing in it when you're sure you want to commit to hiking as a regular pastime.
However, it usually takes time to get all the pieces together so having some other options when you're just getting started, can only help. Now, I know I sound like a broken record at this point but in the context of gear, I want to list out the main assumptions I am making about your first hike or two. These are that your initial hikes will be:
Short hikes on very clearly marked trails
Made on a day and time of year when the weather is good
When the temperature is favorable, warm and pleasant
Only for a few hikes at most
With those things as the background and setting, it's easier to bend a few rules here and there 🙂
OK, so on to daypacks!
If you're coming straight to this post, you can go right back to start of this whole series for beginners by clicking here.
Day packs
Now, I guess I can pretty much take it for granted that anyone reading this knows what a day pack is. However, in case not, a day pack is a backpack that has enough space in it to accommodate all you need for a day. Simple enough 🙂
You can have any number of types of day packs. For example a small gym pack could be a day pack of sorts. A college book bag could also be a reasonable day pack and are very commonly used. However, in hiking terms, while a day pack fulfills the same essential function as these other day packs, it is of course specifically built for the trail.
What does that mean?
Well, I don't want to go into the full list of functional specifications and capabilities in this post, you can read all that in the daypack buying guide. However, I will give a couple of examples below for illustration. If you're ready to purchase a daypack you can go straight to our top recommendations for men's daypacks here and our top recommendations for women's daypacks here.
Examples
Example number one! A hiking day pack will have very hiking specific features such as a hydration sleeve. This is a sleeve at the back of the pack into which a hydration pack can slide neatly into. A hiking day pack will also have all the required ports and so on to enable the drinking tube to feed through from the bladder to your mouth easily and securely.
Another example would be a built in rain cover. While you're out on the trail, you are of course more open to the elements. With that in mind, rain will most definitely be on the cards at some point. A rain cover built into your day pack enables you to cover your pack with a rain protective outer layer which helps keep the contents of your pack dry.
The Good News
So, as most people have an old day pack for the gym or for their college books lying around, the question becomes this. Can I use any old day pack for hiking? In general terms, as with most hiking gear, I would advise you no and to get the proper day pack with all the functional specs and trimmings for the trail.
However, you're just getting started here so I think it that scenario, it is totally fine to use an old day pack. Remember the assumptions above, at the start, you should be out in reasonable weather at a good time of year, so hopefully rain won't be an issue and you can carry a bottle of water in your pack rather that use a hydration sleeve.
You will miss out on some of the extra trimmings like good ventilation to your back and trekking pole loops, but that's fine when you're just getting started.
Upgrade When Ready
When the time comes and you know you want to pursue hiking, I strongly advise you get a good hiking day pack that does the job. If you're planning longer treks you will of course be moving into larger backpack territory but that's a whole other world of things to consider and we are just getting started here so I'll leave that for another time 🙂
Think of it in these terms though. As mentioned above, when you first get started with hiking and decide you want to do it regularly, you will probably have a long list of things you need to get. It won't be cheap to get decent gear and kit so you will likely need to space it out over time.
Therefore, At the top of that list you need to put things like hiking boots, a rain jacket and good hiking pants. A proper hiking day pack can sit much further down the list and be substituted with a basic alternative until you're ready to purchase.
Conclusion
In conclusion, you need some kind of daypack when you're heading out on your first starter hikes but I think you will be OK using something you already have when you're just getting started.
As you progress, I highly recommend you purchase a purpose built hiking day pack as well as all the add-ons like a rain cover, hydration pack, etc. All in good time though.
So with that, I think we are drawing close to the end of the gear element on this series on hiking for beginners. We've covered most of the stuff you need to wear and something to carry some necessities in. Next up, I think we'll conclude by looking at some of the key gear accessories you need to think about when you're just getting started.
I hope you found this introduction to day packs useful. It's another key part of your hiking gear that you need to take into consideration.
What do you think? Will any old day pack do for a few hikes? I'd love to hear what you think in the comments below.