Well, yes, you probably could. Is it the best idea to take your extra gear and hiking sustenance with you? Most definitely not!
I've taken a picture of one of my many old day packs that I use for the gym, book carrying, that type of thing to give you an idea of what I am referring to. It's a great little pack that has done me well for all the above but I don't use it for hiking.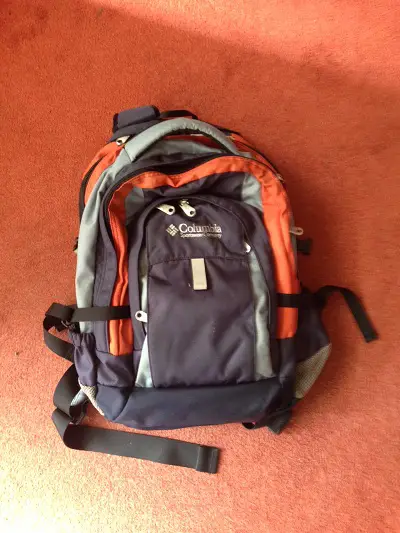 I often see folks out hiking and they have a standard sports pack that they would normally use to carry college books or gym gear in. That's all fine when your setting out on a hike and the weather may be fine. But after a while, as your hike progresses you quickly start to realize that a gym or day pack like this probably isn't best suited for the job.
Weather
A standard pack will have no specific protection against the weather. I am thinking of three things here.
Firstly, the material used for a standard pack, will not be as resilient to rain and wind as a hiking day pack. The material will be manufactured to be more weather resistant i.e. rain resistant.
Secondly, the various features that a hiking day pack has, for example storm flaps over the zippers, secure buckle fastening, etc. these are standard on a hiking day pack but not required on a day-to-day pack. Again, these all add up to making your hiking experience vastly more comfortable in challenging conditions.
Thirdly, a feature in many day packs will be a built in rain cover. When the heavens open, you simply open up the relevant pocket on your day pack and slide out the rain cover. This will go a long way to helping keep your kit inside your hiking day pack dry which is really important!
You can see the rain cover on one of my day packs in the picture below.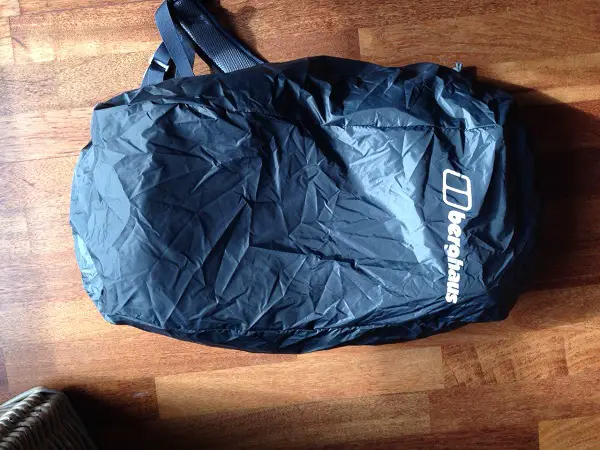 Now you can buy separate rain covers for packs which you tie to your bag. These are better than not having one but in a hiking day pack, a rain cover will be attached, as in the green square in the picture below, to the actual pack so much less chance of it getting blown away should heavy winds develop.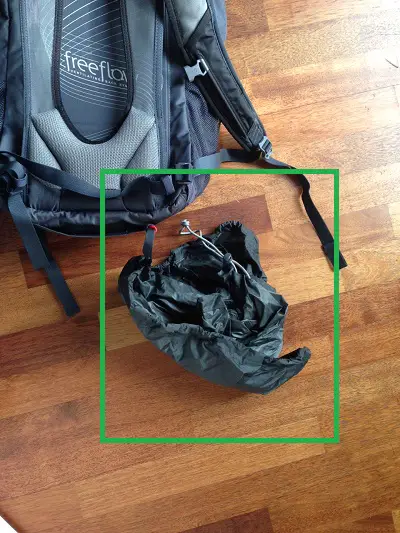 Now, I should add that rain covers are not the be all and end all when it comes to protecting your gear in your pack from getting wet, the best way to do that of to use dry bags in your pack. However, some people like the convenience of a rain cover.
Hydration
Now, this is ultimately down to preference but as I wrote a few weeks back, I think the best way to carry water on a hike is by using a hydration reservoir. In short, you can drink as you hike, no need to stop to get a water bottle out of your pack.
Water bottles are fine and I utilize those too, mainly as I can only get so much into my reservoir, but my main drinking water comes via my water reservoir.
As per the post referenced just above, a hiking day pack comes purpose built with what is called a hydration sleeve. This is a sleeve at the back of the pack where your reservoir can easily slide into. A hiking pack is also built with a hole for the drinking tube and a catch to have it sit just in front of you as you hike.
I've never tried to do this with a normal day-to-day pack but I assume it would be very awkward to get the hydration sleeve to sit properly in it without a sleeve and you would have no tube holes or catches to keep the drinking tube securely in place for easy access. In short, I don't think it would work very well, if at all.
Now, maybe water bottles are your preference and this wouldn't apply, but for me, it's a big one. I drink a lot of water when I hike so I don't want to be stopping to take a water bottle out every time I need to take a drink.
Ventilation
Good hiking day packs usually come with some form of air mesh netting and padding on the shoulder straps and back panel. This comes in a myriad of designs and technologies but the main point is, it is purpose built to let air get in and around your back.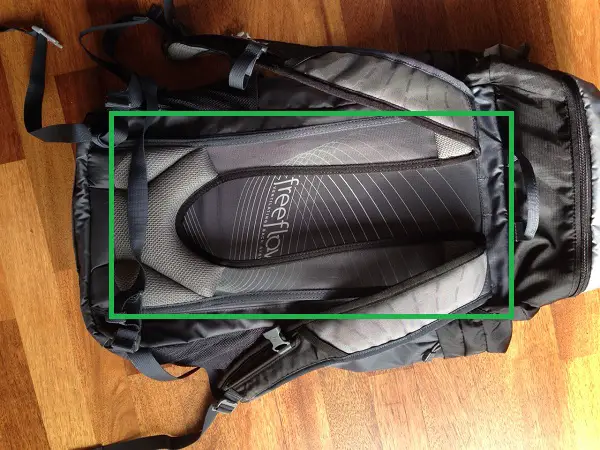 This is important as without it, as you hike, you quickly find that sweat builds up on your back and as there's no ventilation, well, it's got no place to go. Hot spots can also develop. At best uncomfortable, at worst it can easily aggravate your skin leading to a rash or such like.
A standard day-to-day pack doesn't account for the kind of heavy duty trudging you do when you're out on the trail scaling peaks. That's a different kind of exertion to walking across town altogether and with that comes a lot more sweating.
Design
I already touched on many of the features that are generally standard in a good hiking day pack that you wouldn't get on a day-to-day pack.
However, one other thing I think is worth mentioning is design. A hiking day pack is purpose built to fit your back better. It will have a lot more flexibility and versatility in it's fitting and adjustment options.
It's shape is built to work with the shape of your back and to be more aerodynamic, as such, than a standard day-to-day pack. What does all that mean? One thing, more comfort.
Conclusion
Well, today I wanted to run through some of the main reasons why it's a very good idea to get your hands on a proper purpose built hiking day pack as soon as possible.
Now, I should add, if you're new to hiking and you're just trying it out for a bit to see if you like it, don't go investing in a hiking day pack. It is perfectly fine to use any old day pack at first to get a feel for it.
This may sound contrary to what I've said above but it makes more sense to wait and see if it's a pastime you'd like to take up on an ongoing basis before investing in specialized kit.
If you go down this route, just be very mindful of the weather on your first hikes out and try and avoid any deluge! Don't be going too crazy on distance, elevation etc. either. Going out deep into open mountain is not advisable on your first hikes anyway, get a feel for it some place safe and easy to get around first. Check out more on that on the hiking for beginners page.
However, once you've got a few hikes under your belt and you are confident that it's a pastime you want to take up, try and get yourself a proper hiking day pack as soon as you can. You can check out some top recommended options on the day pack page. There's also a day pack buying guide here.
So, that's it for today. If you're new to hiking, I hope you found this post useful. If you're experienced, I hope you agree with my thoughts on this. If not, please do share your thoughts below. I'd love to hear them.