Recently I've been on the lookout for a new hydration reservoir (aka bladder). I am a big fan of using a hydration reservoir when I'm out on the trail, in fact when I first started using one I was bemused as to why it took me so long to actually get one as they're just the business.
Anything that enables you to drink while you hike, you gotta love it. So I got busy looking out and about on which one to buy and I settled on the Platypus Big Zip LP Reservoir.
I wanted to try it out for a while before doing a review to see how I got on with it and how it performed out on the trail. After about 6 weeks of use, I think it's time to report back on this bad boy, so let's take a closer look.
If you're new to buying a hydration pack, you can learn more about what to look for in the post how to buy a hydration pack.
Summary

  Our Rating: 4.5 stars out of 5
Available Colours: Blue
Available Sizes: 3 liters / 101  fluid ounces or 2 liters / 66 fluid ounces
Price: Check price on Amazon
Is it Easy to Use?
The first place I wanted to start with this reservoir is on it's ease of use. When preparing for a hike I don't want to be fiddling with lot's of awkward pieces, which I have seen on other bladders, when trying to get my water supply together.
As you can see from the promo picture at the top there is a slide lock seal at the top of the bladder. This seal slides off easily and brings you to the lipped catch. The sides of the top of the bladder zip into one another. the picture below shows the bladder with the top seal slider, the blue bar, off and the reservoir open.
It's worth noting that the reservoir doesn't show any leakage when full, from my use to date, even when turned upside down etc. all in all, it looks very secure.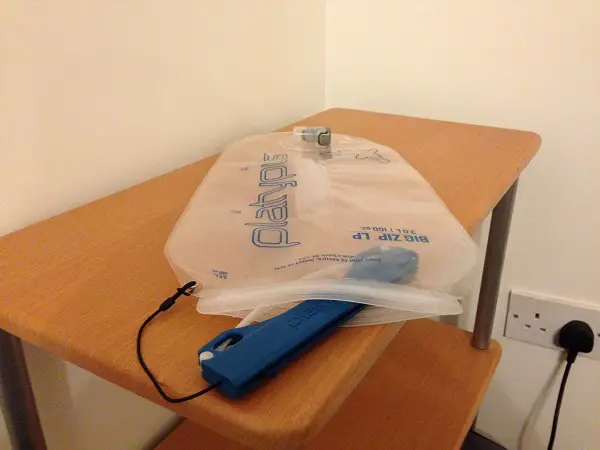 One other thing to highlight in the picture above is that the slidelock seal is attached to the bladder by a stretchy string so it shouldn't fall off or get separated from the reservoir itself.
As you can also see, the opening at the top of the bladder is very large. this means it is easy to get water, or your drink of preference, into the bladder. Another nice option with this is that adding ice cubes into the reservoir on hotter days will be a cinch!
The large opening to the reservoir also means it is easy to get in at to clean. I only ever put water in my reservoir so a rinse does the trick after use. If you add juice or the like into your reservoir, you probably need to give it a better clean. Check out this post on how to clean a hydration pack.
When you've filled the bladder up, you then simply attach the tube valve into the fitting at the bottom, see picture below.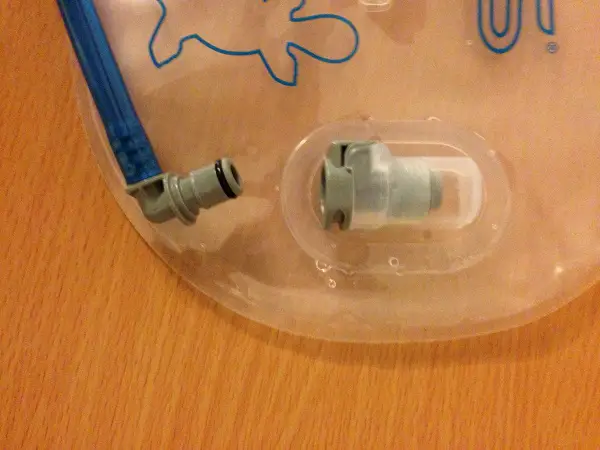 Again, this is very easy to use. The tube length is a perfect size for my needs so all good there too.
To drink from it, the bladder has a standard big bite valve, see picture below, similar to what most water reservoirs have these days. Again easy to use, just bite down on it to release the water flow.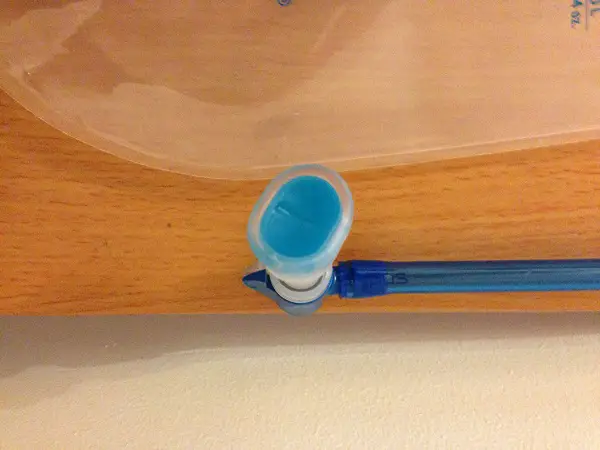 There is no cover on the bite valve but that doesn't bother me. If I get dirt on it I usually take a bit of water, give the valve a rinse in my mouth and then spit the water out. I know it doesn't sound too pretty but we're in the great outdoors folks so we shouldn't be getting the heebie geebies about a spot of dirt 😉
What Size is it?
The bladder comes in two sizes, 3 liters / 101  fluid ounces or 2 Liters 66 fluid ounces. I bought the 3 liter version, pictured below, as I drink a lot of water when out hiking.
The bladder fits nicely into the reservoir sleeve on my day pack, so no issues there. The bladder also has a handy handle at the top so you can easily lift it from A to B, say from the sink to your day pack.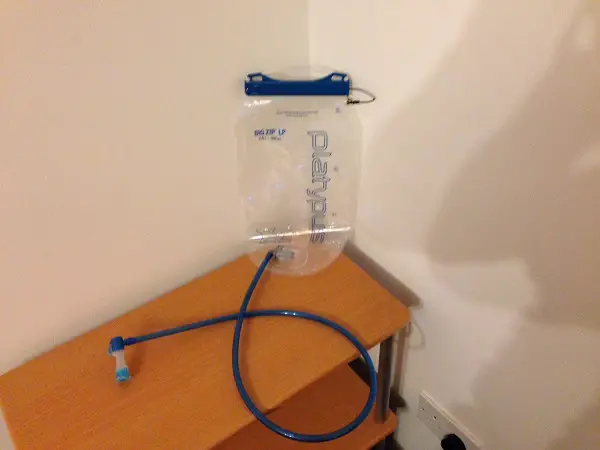 What About a Nasty Plastic Taste?
A common problem with many bladders is that after a bit of use, they give off a nasty plastic type taste. I have experienced that with other bladders and it isn't nice.
The Platypus utilizes BPA-free polyethylene with silver-ion antimicrobial finish which offers clean, taste-free drinking. That's what the promotional lines say anyway 🙂
However, with regards to the Platypus, after 6 weeks of personal use, about 7 long day hikes, I've had no issues. The water doesn't have any funny taste from it. I guess I will need to see if this will continue but for now I've no reason to think otherwise.
Price
The Platypus is well priced I think, it's good quality for a decent price so I've no complaints on that front. Prices are always changing so to see an up to date price, click on the image at the start of this article or one of the links throughout it, and you will get an up to date price on Amazon.
Out on the Trail!
As mentioned already, I've been using the Platypus Big ZIP LP Reservoir for about 6 weeks now, 7 long day hikes, and it has worked a treat.
Easy and quick to prepare, it fits well into my pack. The tube is a good length and to date the water has tasted great.
Pros:
Large opening for easy filling and cleaning
Long drinking tube
Comes with Big Bite Valve
Durable, leak-proof reservoir
Cons:
No protective cover on the bite valve to protect from dirt
Not insulated – this isn't a requirement for me or for this model but thought I'd note it
Specs (at a glance):
Capacity: 3 liters / 101  fluid ounces or 2 Liters 66 fluid ounces
Best uses: backpacking, day hiking
Big Valve shut-off switch
Wide mouth opening
Easy connect tubing
Material: Polyethylene
Dimensions: 17.2 * 18.8 inches
BPA free
Weight: 6 ounces
Conclusion 
In conclusion, I have been really pleased with the Platypus Big Zip LP Reservoir. I think it's a really good water reservoir for the price I paid. It fits well with my pack, the tube is a good length and most importantly, it's easy to use.
The one outstanding thing I would like to check is how it fairs over time but I am pretty confident it will do well. I'll add an update on that score later in the year.
Update 11th January 2018 … I'm still using my Platypus Big Zip LP hydration bladder and it has been excellent! Still working well and I've had no issues with it to date, after over a years regular use. I definitely recommend it!
Have you used the Platypus Big Zip LP Reservoir? What was your experience with it? I'd love to hear about it in the comments below!