This post is part of a series for folks getting started with hiking. So far we've looked at picking a hiking location and what kind of distance you should aim for when you start. We've also moved into the wonderful world of hiking gear which we're right in the middle of.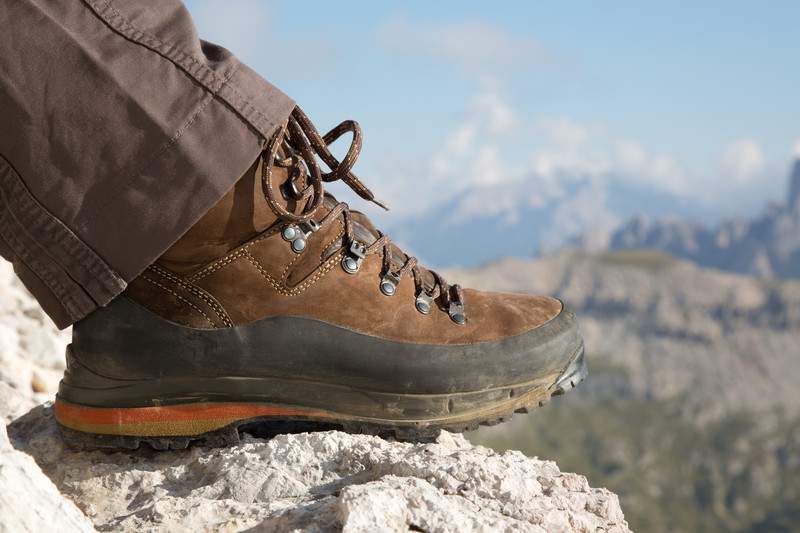 We've already had a short look into hiking pants, hiking shirts as well as baselayers and fleeces. Continuing on, today I want to look at another key part of your hiking gear, namely hiking footwear.
Now, the general Gist of this part of the getting started with hiking series on hiking gear, is to try and see how easily you can get yourself out on the trail for a hike or two without having to break the bank by buying a load of new gear from the get go.
Throughout these posts I have made it clear about that any suggested workarounds with regards to gear should only be used for a couple of initial short hikes to enable you to get a taste for it. Therefore these hikes, at most, should be:
Short hikes on very clearly marked trails
Made on a day and time of year when the weather is good
When the temperature is favorable, warm and pleasant
Only for a few hikes at most
Starting Point
OK, when you're starting out with hiking, getting to grips with all the various bits and pieces of hiking gear can be a lot. Even within each specific gear item there are loads of different options to choose from.
For example, with regards to hiking boots, you can have leather or gore-tex boots. You could have a low cut ankle style boot or a very high cut alpine style boot. You could opt for a very expensive technical mountaineering option, or a classic leather model, etc. And on we go … You get the idea.
Now, I don't want this post to be a guide for buying hiking boots as such, when you're ready to purchase hiking boots read the post how to choose hiking boots and then check out our favorite hiking boot options for men and our recommended hiking boot options for women, to get some ideas of good hiking boots available on the market today.
What I'm aiming to do with these getting started posts is see, where possible, if we can come up with some kind of workaround until you decide hiking is for you and you want to purchase a decent pair of boots.
The Bad and Good News
The bad news, I'm afraid, when it comes to footwear, I really think you need to get a reasonable pair of boots or trail shoes for hiking from the start. It's the one area I don't think is optional.
The good news, if you're going out on very well defined and flat trails in summer and the weather is good, you might (and I stress might) get away with a pair of sneakers or tennis shoes for a short hike. I really don't think it's a good idea longer term though.
Also, do you have an old pair of work boots lying about the house? Never know, they could work a treat too. If not, you can also look at a cheaper pair of hiking boots for the short term which we'll look at next.
Do I Need an Established Brand?
In short, long term, I think yes. There are so many brands and so many boot models it's hard to give a definitive answer as to what pair to go for though.
However, with an established brand comes a certain level of quality. There's no doubt about that and if there are lot's of good user reviews on them, that's a reasonable indication of quality and a good place to start I think. However,  the downside is that well known brands will cost more for sure.
In the short term, you could opt to get a cheaper pair of hiking boots from a department store rather than a named brand. These will be cheaper but in many cases not as well made. However for a short period of time, say over spring and summer, they could really do the trick and be better than standard shoes or sneakers.
When you have decided that you want to get into hiking on a regular basis I recommend you invest in a good pair of hiking boots from a popular and established boot maker. User reviews are a great way to start your search but remember peoples feet are unique, so a pair of boots that work great for me may be a pain for you.
Hiking Boot's or Trail Shoes?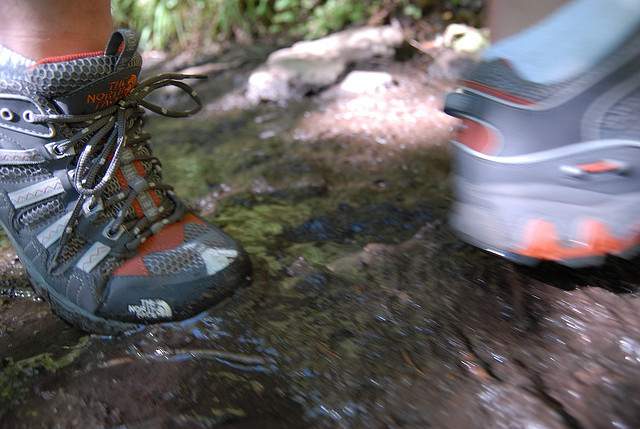 This is one that is a regular debating point among hikers. Some insist on Hiking Boots as they provide more strength and stability. Others prefer trail shoes as they are lighter and generally more flexible.

Photo credit: blaircook
Me, I use both. However, in truth, I rarely use my trail shoes hiking as I am nearly always hiking in open mountain and for me, I prefer the extra ankle support element that hiking boots give me. If you want to invest in one good pair first, I recommend you invest in a good pair of hiking boots.
I use my trail shoes on very well defined trails for short hikes in hot weather. I also use them a lot for general purpose day-to-day use as I just find them really comfortable. If you are looking for some top trail shoes, check out the best hiking shoes for men and the best hiking shoes for women, for some excellent options.
Conclusion
In conclusion, I think that having good hiking footwear when you're starting out hiking is one area, I wouldn't try and cut corners on. Ideally, even for your first couple of hikes, getting a reasonable pair of hiking boots is the way to go.
Now, I think you can opt to get a cheaper brand or department store pair when you start out. They're not ideal for the longer term but they will be cheaper and should do the job fine for a few months at the start when you are starting out on easier trails.
When you make the decision to take hiking up on a regular basis and venture further into more challenging terrain, I really think you need to get a decent pair of hiking boots as soon as possible. Unless you live in a really hot climate, I would get hiking boots first and you can opt to add trail shoes to your kit later on.
As mentioned at the start, check out the hiking boots buying guide to give you an idea of what to look for and also check out our favorite hiking boot options for men and our recommended hiking boot options for women, to give you some good options to choose from.
OK, we're moving along nicely. Next up in this getting started with hiking series we'll continue on the hiking gear thread and take a closer look at rain protection. It's another really important area of hiking gear that you need to consider when you start out hiking.
I hope you found this article useful. Please leave a comment and / or share this post.