This is the second post in a series, for people brand new to hiking, on some items for consideration and review before setting out on your first hike! In the last post we started by looking at where to go for a first hike.
Distance may seem simplistic when you're first starting out but it's something you've really got to consider as you only want to take on a hike that you're capable of finishing comfortably.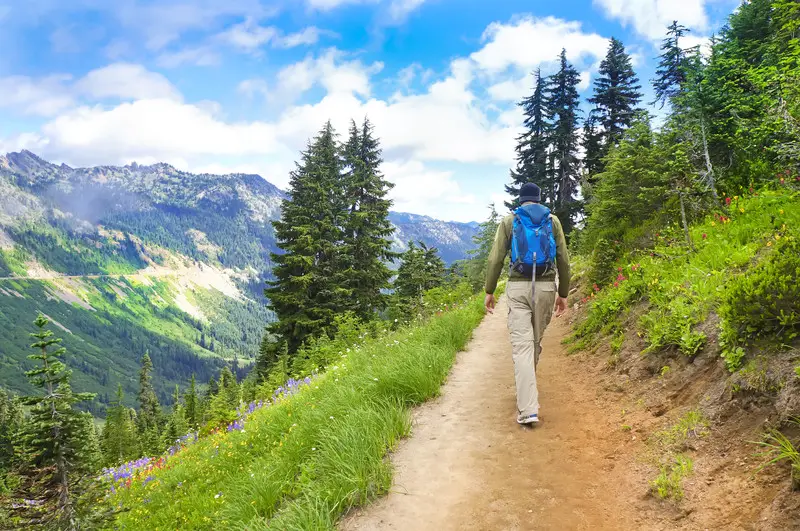 What Distance?
I think this is something that is very unique to each person and most people can really only answer it for themselves.
For example, if you are a very fit individual who exercises regularly in other aerobic activities, like running, rowing, cycling, etc., you are probably more than capable of taking on a longer hike, say three to four hours, up relatively challenging paths and steep hills.
If however, you've just quit smoking and the most exercise you've been doing are jaunts from your couch to your fridge or into your car, you probably want to take on something much smaller at the start! Starting out by walking in your local park or in your local area for twenty minutes a few times a week and building up to a few hours, may even be the best way to get started before ever venturing onto any trails!
When trying to gauge how far you should go on your first hike always take the following into consideration.
Incline and Altitude
The hike may only be four miles but if the first two miles of that are up a steep incline it will take considerably more effort and take a lot more out of you than going along on a relatively even level.
Incline and altitude are things that can also be very deceptive, slow rises that go on forever can catch anyone out and if you're not used to consistently walking upwards, you will feel it. Not only when you're actually hiking but even more so the following day.
In general, altitude, in terms of being in a position where you will experience sickness as a result of it, is not something most newbie hikers need to be concerned with. You normally need to be getting to 11,482 feet (3500 meters) above sea level before that needs to become a cause for concern. If you're attempting that on your first hikes, you're either Superman or just plain crazy 😉
Going higher does bring some other challenges though, it can get a lot cooler as you go further up so do keep that in mind too.
Photo Credit: Horia Varlan
Pace and Speed
Will you be taking a nice easy pace or do you plan to go hard and fast? This is worth considering as you don't want to do the latter and end up running out of steam halfway through your hike.
As you gather more and more experience hiking you will really start to notice how big an impact pace has on your hike. I hike with all sorts of hikers but my core group are FAST! We would do 4 miles (approx 6 km) in an hour quite easily. Of course, on the flat it would be faster and on steep ascents over rocky terrain it would be a bit slower but we'd comfortably keep that pace.
Now, here's the thing. I know people in that group who can go even faster! Of course on the other side of the coin, I also know other groups who like to take a nice and easy pace. It really is a mixed bag and very personal but it is something that is important, especially in bigger groups as gaps can very easily form in bigger groups with slower folks being left behind. Not good in case people get lost, especially in bad weather.
In summary, when you're starting out, find a suitable pace that you, and your hiking friends, are comfortable with. If you're unsure, better to start slow and take time getting a feel for it. You don't want to burn yourself out half way into the hike a remember, you've got the second half to contend with  🙂
You can also put the slowest person at the front and agree to always keep them as the pace maker. That way, your group should stay together and gaps won't form.
Terrain and Climate
For a starter hike, I strongly recommend you stick to well-worn trails. However, even at that, it is worth considering what the trails are composed of e.g. a dirt trail when its wet will again take more effort than if it's dry. If your trail is covered in ice or snow, again more effort will be needed.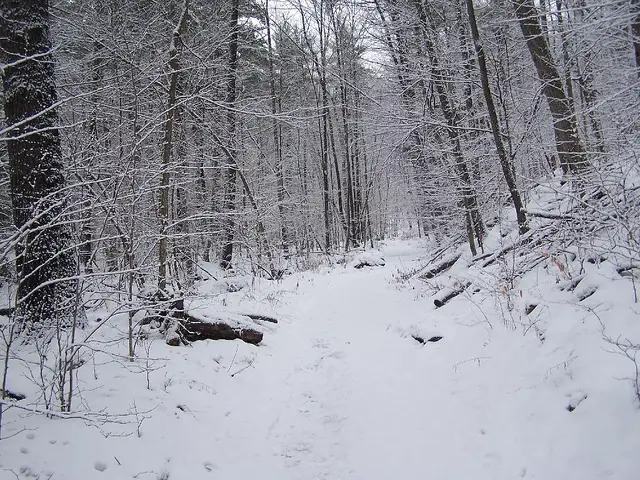 Photo Credit: andyarthur
Again, it's always best to do your research beforehand so check out your hike in advance, ask an experienced hiker or someone who has already done the specific hike a few times.
Conclusion
So, there you have it. If you're new to hiking this is one of the basic things you need to seriously consider. Ask yourself these questions and be honest with your answers! How fit am I really? Could I walk 10 miles around my local neighborhood? If the answer is no, then you already have a good yardstick to use to help you make a reasonable estimation of what you're capable of in a more mountainous environment.
Finally, it's always better to undershoot than overshoot. That is, better to have found your first hike easy, so you can make adjustments to do more the next time out, than, as mentioned above, finding it hard and running out of steam in the middle of it! Next up we'll start to take a look at gear, which is a very important part of your safety while out on the trail, even when you're just starting out. Specifically, we'll start with hiking pants first.
What do you think? Any tips on how best to decide how far you should go out on your first hike? I'd love to hear what you think in the comments below!
Note: When making any significant change to your normal exercise routine, always consult your physician first. See what they advise but they probably will be very happy to hear you're planning to take on some new hiking activities!
If you want to go to the start of this series of posts on hiking for beginners, please click here.