In this post I review the Berghaus Mens Hellvellyn Pant which I recently bought as an addition to my hiking rain gear for the fall and winter seasons ahead. I've been very pleased with them to date. They've performed well in tough conditions and, overall, they've proved very functional and easy to use.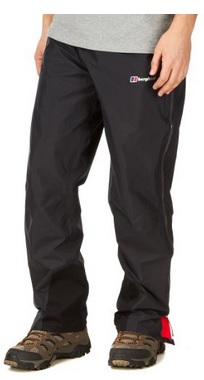 Summary

 Cool Hiking Gear Rating: 5 Stars out of 5!
Available Colors: Black
Where to Buy: No longer available 🙁
Review
Recently I was on the lookout for a new pair of Rain Pants. Generally speaking I wear water resistant trousers when hiking which are great. They have a bit of resistance to the onslaught of the rain and, more importantly, they dry quickly.
However, for really wet weather, you need another line of defense for your legs on the trail, namely rain pants. So the quest began to find and buy a good pair of rain pants.
After looking around I came across the Berghaus Mens Hellvellyn Rain Pants. I liked them from the start and didn't really feel the need to look around at lot's of other options (a good sign as that rarely happens). For the purpose I needed these really looked to fit the bill. I like Berghaus gear and have had very positive experiences with some of their other stuff so that also tipped me towards these pants from the start.
Functionality
In terms of function, first off they are light weight and easy to pack away in your day pack. Hiking in Fall and Winter, layering is of course the best way to prepare and wear your hiking gear and I found these pants to be perfectly suited for that process. They roll up nicely and be tucked away until you need them.
The zips along the sides of the pants, as displayed in the picture below, mean that these pants are easy to slip on over your hiking boots while on the trail with minimum fuss or hassle. This has been a pet peeve of mine in the past with other waterproof over-trousers so the thumbs up on that count here. Simply open the bottom zip nice and wide and slip on, no boot removal or fiddling required!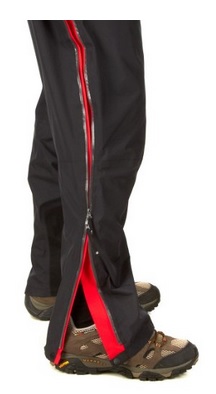 The bottom of the trousers also have two button fasteners for extra sealing of the hems at the base of the trousers as well so you can secure them to prevent any lose bits from flapping in the wind as you hike in tougher weather.
A neat little feature in these trousers is that that there are actually two zips, one at the bottom and one at the top, along the side of the pants which run in opposite directions into one another as displayed in the picture below.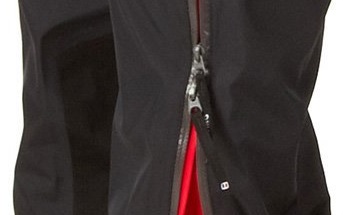 The bottom one is perfect for the aforementioned slipping on over hiking boots and the top one is perfect for adding that extra bit of ventilation as and when required. I really like this simple but useful feature and found it very easy to use and work with when I took these pants for their first test run hiking last weekend in the pouring rain.
The pants also have a waist fastener which means you can adjust by tightening or loosening at the waist as best required to meet your fit over your other hiking gear layers.
Material
These rain pants are made from tough Gore-Tex. If you don't already know, Gore-tex is a common standard material technology used in waterproof gear. It utilizes micro pores to let vapor, like sweat, out while keeping rain from getting in. This of course means your legs can breathe easily and remain comfortable while still remaining relatively dry in the wettest of conditions. It's worth noting the two zip function here again, really handy and quick way to ventilate your legs.
Pros and Cons
Pros
Lightweight, easy to carry and pack away
Two zips running in opposite directions on the outside of each leg of these pants means they are easy to put on over hiking boots while on the move, as well as enabling you to add extra ventilation from the top as required
Gore-Tex technology ensures breath-ability and comfort
Articulated thigh and knee ventilation
Cons
These pants aren't cheap but it if you want quality you have to pay that bit extra for it and these pants will last a long time if taken care of properly
Specifications
Elasticated waistband with side adjustment
Three quarter length water-resistant zips
Two zippers on leg zips to allow venting
Articulated knees
Adjustment studs at hem
Kick patches
Conclusion
All-in-all, these pants get the thumbs up! They are very well designed and have all the required technical features to meet all your hiking needs when hiking in very wet weather. Not only are they very functional, in that they'll keep you dry, but they are easy to use and really look the part with a comfortable and adjustable fit.
Updating this after a couple of years of use … I've been very pleased with them when I have needed to use these on my hiking. Two years in and they're still in good working order after weekend use over the last two years. I also used them when I climbed Mont Blanc in 2014 and they were excellent. I even slid part of the way down from the Tete Rouse hut in them … no tears or rips afterwards … a great way to travel!
Have you tried out the Berghaus Mens Helvellyn Pants? I'd love to hear about it in the comments below!
Btw, in case you wondering, Helvellyn is a mountain in the Lake District in England 🙂