I am not long back from the most amazing hiking / mountaineering trip I have ever been on. As I mentioned in some previous posts, this year I wanted to take on some bigger challenges with my hiking adventures and so decided to go hiking in the Alps with the main goal of climbing Mont Blanc.
Well, the good news is that I successfully made it to the top of Mont Blanc. It wasn't easy and likely the hardest thing I have ever done! However, it was an amazing experience. I am back home now with a day or two off before normal day-to-day life resumes.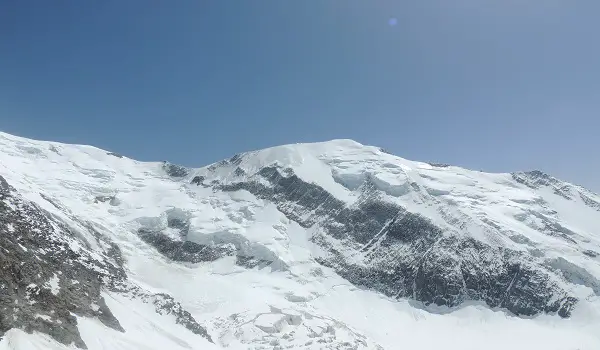 I am glad I left myself an extra day or two to recoup after the trip as I have some war wounds like blisters and my body is still pretty achy after being pushed pretty hard over the last week. On top of that I have a cold that I caught while on my trip. Yes indeed, I climbed Mont Blanc with a cold / chest infection. Not ideal but at the time I convinced myself it was just a snivel and got on with it.
There is so much to cover for this amazing trip over the last week so I reckon I will break it down over a series of posts over the coming weeks. There's much to cover.
The two main events of the week were climbing Gran Paradiso in the Italian Alps as a primer for Mont Blanc, and of course climbing Mont Blanc, see the picture above, itself. My goal with these posts is to give you a good flavor, from my own experience, of what to expect if you take on a trip like this and to tell you how I went about it. If you're planning to take on a similar challenge soon, hopefully you'll find the information useful.
I mentioned this when I first decided to do Mont Blanc back in January but I will say it again here before I get started, unless you're an experienced Alpinist or mountaineer, you need professional help and guidance to take something of this magnitude on. In my opinion, this is simply not optional. The company we went with were just superb so I will let you know all about them below.
So, where to start …
Choosing A Company
I think the best place to start is with the company you choose to guide you to the summit of Mont Blanc. As mentioned, professional guidance is essential for an undertaking of this kind. There are many options available but based on a personal recommendation we received from a friend last Christmas, we chose a company called Mont Blanc Guides.
After having spent the week with them on this journey I can only second my friends high recommendations and say that if you want to climb Mont Blanc, there is no better company to choose than Mont Blanc Guides.
Mont Blanc Guides are based out of Chamonix and I think what really set's them apart from other companies, who offer guided climbs to the top of Mont Blanc, is that they specialize in climbing Mont Blanc. With that as a central tenet of their offering they have of course built up very specific experience over the years.
This is key in so many ways as they have a clear understanding of all the concerns and obstacles someone may face when considering taking on Mont Blanc. To that end they have very clear instructions on their website and also when you sign up on all aspects of the endeavor. From training to gear, travel to what to bring with you, they have it all clearly laid out from the start.
On top of this, a key aspect of climbing Mont Blanc is safety. It is a dangerous environment to enter into if you do not know what you're doing. The Mont Blanc Guides safety record is impeccable and as they clearly state from the start, safety always comes first.
Finally, it is also worth mentioning the logistics that are involved in moving a group of people around to enable them to climb Mont Blanc. Take it from me, there is a lot going on in the background and the MBG team have it all taken care of so you can focus on the climbing which, I can assure you, is more than enough to keep your body and mind occupied 😉
There are other options available but I think you are unlikely to find a more professional and specialized offering than what Mont Blanc Guides offer.
Logistics
Any attempt at Mont Blanc will likely be based from the small town of Chamonix-Mont-Blanc. To get there you need to first get a flight to Geneva airport in Switzerland. There are several transfer options available to get from the airport to Chamonix. The most convenient and economical seem to be the mini buses.
These buses take about 8-10 people at a time and cost roughly 60 euro return. They leave on a timetable type basis and they agree with you a pick up window on your return. It is more or less door to door for multiple people. Think of a shared taxi. We used the chamexpress and I found them to be spot on.
As alluded to above, there are a whole lot of logistics involved in the trip, for example:
Gear hire – you need a lot of stuff for the climb that you are unlikely to purchase for once off use e.g. an ice axe, harness, etc.
Base camp (if you will) accommodation i.e. a central location in Chamonix to base yourself from
Mountain hut booking – these are huts in the Alps you base yourself in to acclimatize and set out from when climbing
Travel to and from the base of the mountains to begin the climbs
Meals – breakfast and dinner were provided for
Hiring professional guides
Etc.
Thankfully this is all taken care of by the MBG team. I'll touch on some of these items in the detail below but from an experiential rather than an organisational point of view. One can safely assume though, that the organizing behind all of this is considerable.
Day One – Getting Settled in Base Camp
We flew in on Wednesday on a red eye. I had a 4:45am start, yikes, but that was to become quite the norm over the coming days! As mentioned above, we got the chamexpress to Chamonix. We got to our destination which was a really nice chalet in Chamonix.
We got there early enough in the day, around noon, so we got our rooms and were told to head back for a meeting at 6:30pm. By then the whole party would have arrived. Ah, I should add … I was there with two of my mates but the total group was to be twelve made up from other folks.
At this point we were told to just head into Chamonix and enjoy the afternoon, so off we headed to downtown Chamonix!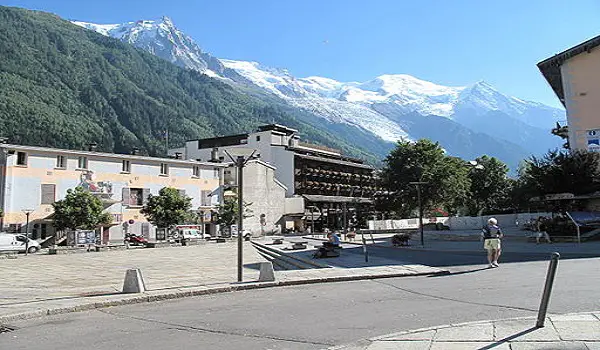 Chamonix is a small French town / village. I reckon there is about 10 / 15,000 people living there but I think a lot of them may be transient folk. That is to say, Chamonix is a popular destination for mountain activities all year round. Be it hiking in the Alps in summer or ski touring in winter. There is a lot on offer. Therefore I think there are a lot of folks who come and stay for a season or come in for a week or two as we did.
The fact that Chamonix is a mountaineering and outdoor sports mecca in the Alps is clearly seen in the list of shops that are available in Chamonix. It is predominantly filled with either:
Outdoor Gear Shops – and I mean every brand name under the sun seems to have a store here
Souvenir Shops – tourist tack is always a must – I left with a bag of it lol 😉
Nice Restaurants – anywhere I ate whilst staying there was just great
There are of course the standard run of the mill shops like the pharmacy, supermarket and so on too but you can tell you are in a very popular destination where a lot of money flows. It is also worth noting that Chamonix, as it seemed to me, was still a very charming and tasteful location. That is to say, it didn't have the feeling of being totally overran by commercial interests. While there are plenty of those, it is nestled in the bosom of the Alpine hills and forests with stunning mountain vista's in the background so it has quite the backdrop.
Lazing About Town
We spent the next few hours of day one just lazing about town and getting some initial bearings. We of course were hungry after a long journey and so got our first sample of the local cuisine in a place called Moo Bar. A local restaurant with a Swedish theme I believe. I got tucked into one of their pork burgers, highly recommended, which definitely filled a hole. After that we headed back up to the chalet to do a bit of unpacking and waited for our meeting at 6:30pm.
The Meeting
6:30pm came and we headed into one of the main rooms for our initial meeting with the MBG folks and to meet our fellow climbers. The Director of MBG was there, as well as our lead mountain guide for the week ahead, and led the conversation by explaining how the week ahead would work.
Again, it was all very clear and concise. He walked us through what would happen day by day and walked everyone through a video covering the planned route. He also reviewed what the chances of making it to the top of Mont Blanc were. Mont Blanc Guides are very clear from the get go that success will be influenced by how things fair under the three broad categories below:
Fitness:
The main item under your control is fitness and you should prepare adequately in advance to ensure you're able for the climbs ahead. MBG provide loads of information on how best to prepare well in advance so you've no excuse not to be ready and fighting fit! I did a lot of hiking carrying a weighted backpack as well as my normal couple of strength and conditioning sessions in the gym each week in preparation.
Altitude:
One of the great unknowns! I did a post a while back on altitude sickness but in short, you simply don't know how your body will react when you go above 2500 meters. Some cope easily enough while others start to show the signs of altitude sickness straight off the bat!
Interestingly, as an aside, I assumed that when you were in altitude before and you were fine, the same would apply when you went back to altitude. Not so apparently. You can be fine on one trip but it may come knocking on your door on another day when again at high altitude.
The Weather:
Simply put, if the weather isn't in your favor, it ain't gonna happen. Mont Blanc is just too dangerous to risk being up there in a storm or white out which presents a whole range of other very dangerous problems. Again, this is where expert guidance is crucial. Your guides know how to judge the weather and what to do should it turn on you.
The MBG Director and our lead guide covered any queries anyone had and finally referenced an FAQ document which was available throughout the chalet which would cover any questions we likely had. They've been doing it for some time so at this stage, nearly every question under the sun has came up at some point so handy to have everything documented everything for easy reference. It made good reading and definitely answered any questions I had.
Day Two – Gear And Gran Paradiso
This day can be split into two main events 1. sorting out gear and 2. heading for Gran Paradiso. This post is already quite long so I will only look at the first item here before closing it off for today.
Gear
A key aspect of climbing Mont Blanc is of course your your gear. You need quite a lot of stuff to do it comfortably. Much of it, like a rain jacket, waterproof pants, etc., a regular hiker will already have. However, a lot of it they won't and it will need to be either bought or hired. Again, the MBG website clearly lists out exactly what you need to take with you and also lists out what bits you can hire from them when you arrive.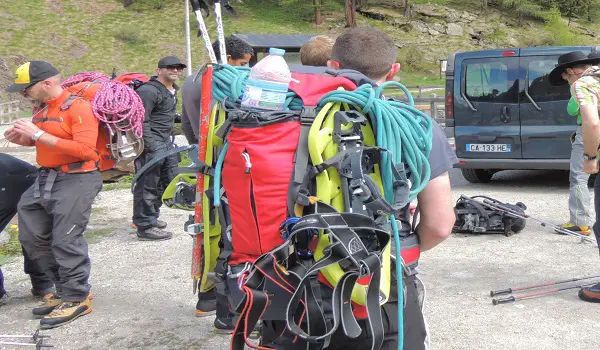 It was really handy to be able to hire some of the bits from MBG as you would not want to buy them to probably never use again, or have to head off into town looking for a hire shop. So the morning started by heading down to the gear room in the chalet to get fitted for some required bits and pieces e.g. boots, crampons, etc.
When that was done, we then had to lay out all the gear we brought with us on our beds in a military style fashion so that one of the guides could come around and take a look. This was to enable them to make sure we had everything we needed for the days ahead. Again, this was really useful to do as even though I thought I had everything, one or two of the things I had weren't best suited. The guys made a list of required stuff we needed to get and then it was off into Chamonix to purchase.
As mentioned above, Chamonix is a mecca of outdoor gear shops so you have a massive selection. If you want top brand names or the cheap as chips but functional version, they're all available. We got our missing bits and then headed back to the chalet and packed our gear up.
This was it, all the preparation had been done at this stage. We rendezvoused around noon and hopped into mini buses and headed for the hills. Our first destination was Italy where we were to climb Gran Paradiso. This would give us a real taster of what to expect on Mont Blanc so it was exciting and a little nervy too if I'm honest lol 🙂
Conclusion
So, that was it for the first day and a bit of the trip. There was loads more going on but I have already wrote way more than I'd planned. I thought it would be useful to cover some background of the logistical side before going into the fun stuff of the actual climbs.
As mentioned at the start, this will be a series of posts. In the next installment we'll take a look at how we got on with the Gran Paradiso in the Italian Alps. Lot's to come!
Have you climbed Mont Blanc? How did you go about it? We'd love to hear about it in the comments below!
To check out part two in this series, click here.