When I left off part one we had left for Italy in mini buses for Italy to summit the Gran Paradiso in Italy.
Gran Paradiso is in the Graian Alps and reaches a height of 4061 meters. To the best of my knowledge it is the highest mountain in Italy, that is, the highest mountain with it's entirety being in Italy. Now, I am happy to be corrected on that. Mont Blanc of course straddles France and Italy so technically, I guess Mont Blanc is the highest mountain in Italy. Not sure who gets to call it their own!
Either way, it's a high mountain by anyone's standards. Now before continuing, I should add some perspective from my experience. Before this, the highest mountain I have ever climbed was about 1200 meters. So, as you can imagine this was quite a change for me.
The plan was that we would get to cut our cloth, so to speak, on the Gran Paradiso and this would give us a real taster for Mont Blanc. It would also give the guides the opportunity to observe the group to check for fitness and so on.
Another key element of this first leg of the trip was to begin the acclimatization process. While climbing Gran Paradiso we would spend two nights in the Chabod hut. The hut is 2750 meters above sea level. The body starts to react to altitude after about 2500 meters so we would get to spend a couple of nights at that altitude employing the 'climb high sleep low' acclimatization method after climbing to the top of Gran Paradiso. This all goes to help you acclimatize to the higher altitudes required for Mont Blanc.
Day Two Continued – Off to Italy
We left Chamonix and headed through the Mont Blanc tunnel for Italy. As a note, watch the traffic on the Mont Blanc tunnel as it was pretty horrendous from the French side while we were on our way back. I believe there is a website which gives you average wait times depending on when you plan to go. Entry into the tunnel is strictly monitored after the tragic fire in the tunnel back in 1999 so even with little traffic you can expect to queue a bit.
When we got to Italy we headed to our first location where we would park the vans for the next couple of days. We got out of the vans and got our gear ready, boots on and prepared to head upwards into the alps to our first hut, the Chabod hut. More about that in a bit.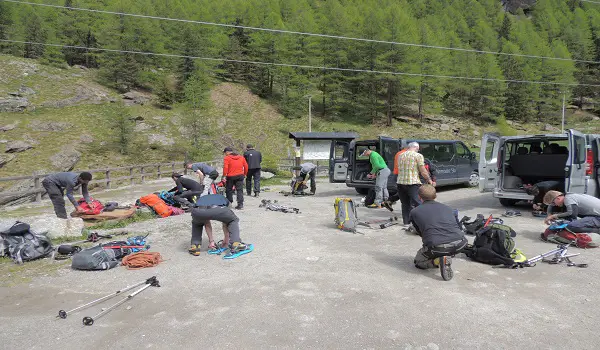 This was the first time we wear putting everything into / onto our packs so it took a bit of double checking. I has never really used all the loopholes and so on on a backpack before for winter gear so it was good to pack it all up.
The guides were great and showed us how to fit our ice axes, snow shoes, etc. to our backpacks. This again demonstrates the necessity for having experts showing you what to do as you simply would not know how to efficiently pack all that type of gear for carrying without being shown by experienced guides.
The Forest Path
The hike started from about 1800 meters with a beautiful walk up a zig zag path. The scenery was like something out of the Sound of Music. Beautiful Alpine hills engulfed in fresh Alpine air. It really was a sight to behold and a pleasure to hike in. The sun was shining and we even got to see some of the local wildlife when a beautiful Ibex decided to cross our path.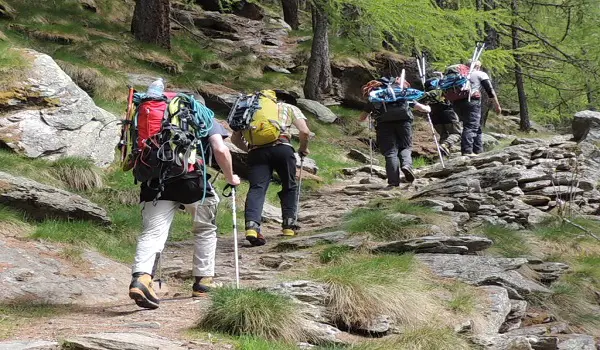 The walk was pleasant and we continued on in this vein for about an hour until we reached the end of the forest and the beginning of the snowline. This was the first time we encountered snow albeit that it was very patchy and dotted around and about at this stage of the hike.
The terrain gradually got more rocky as we ascended and the path got distinctly steeper. The sun was still shining though, so it was quite a hot day to be hiking. The air does start to cool noticeably though too as you ascend. We continued at a steady pace until we reached the Chabod Hut.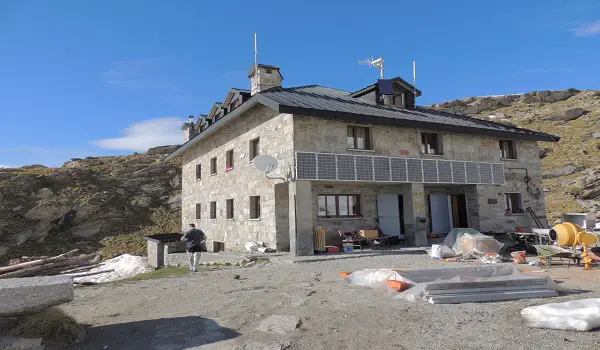 We all headed in and got settled down before our first evening meal which was to be prepared by the hut guardian. All was well and we had plenty of time to enjoy the late afternoon sunshine over a beer or a coffee.
The Hut Experience
Huts or Refuges are dotted all over the Alps. There are two kinds, manned and unmanned. A manned hut is a hut that is ran by what is known as a guardian. The guardian lives in the hut and provides various services to guests when they stay e.g. dinner, etc. Other unmanned huts have no guardian and are usually very basic with some blankets, some kindling and fuel to make a fire and so on.
In a manned hut, the guardian will, to the best of my knowledge, only be present during the spring / summer season. They and their team will stay there throughout the season taking care of their guests. The unmanned huts are normally open to all and offer shelter from the storm, so to speak, in bad conditions.
We didn't stay in one of the unmanned huts although there was the winter hut for the Chabod just above the one we stayed in which we walked past on the way to Gran Paradiso the following morning. It was locked and I think it is only open when the other one is closed.
Huts can be both privately owned, as the Chabod is, and government owned, normally by the countries Alpine association. My understanding is that they all offer a broadly similar service but some are known to be better than others though.
The rooms in the huts are dormitory style with bunk beds which can sleep anything from 12 to 40 per room with the biggest huts sleeping 200 people at a time. The huts sleeping quarters are basic with a bed, duvet and pillow provided ( bringing a sleeping bag liner is a good idea 😉 ). Toilets are there but there may or may not be running water. Yes, you read that right, running water may not be available which is fair enough if you consider how far up you are. The Chabod does have running water though.
Another thing to mention is that the dorm rooms don't always have lights, or the lights may be turned off centrally at night. This is where a headlamp comes into play, a must if you need to go to the boys room in the middle of the night, be careful not to shine your torch in someones face while they're sleeping though, be sure to point it at the floor.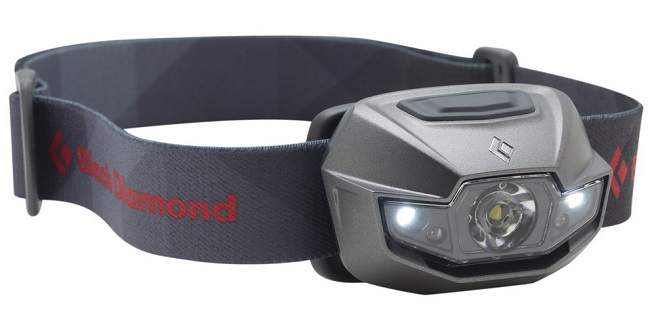 The first 'fact of life' within the huts is to prepare yourself to have, more or less, the basics. Showers are unlikely and were not available in any of the huts I stayed in. Therefore you can expect not to have a shower for 2 to 3 days. This is all the more unpleasant to think of when you realize that you'll be exerting yourself all day and therefore sweating a lot. It sounds nasty but it isn't that bad. You're in the mountains remember so man up! 😉
In all seriousness though, you get used to it pretty quickly. The one thing I didn't adjust well to personally is that the rooms are naturally a bit damp and cold. That's to be expected at high altitude. Unfortunately I think it helped me on my way to a cold / chest infection after my first day or two using them but that's just the luck of the draw and little can be done about it. If you can, bring a change of top and stay warm to help prevent anything like this. The rooms do warm up when everyone is in them at night to sleep though.
The huts have rules like anywhere you stay so be sure to familiarize yourself with them. Always be sure to leave your bed made up as you found it and discard any rubbish appropriately.
Every hut will have a main room where you can buy drinks and snacks. This also doubles up as the main dining room when you're eating dinner or breakfast. This will definitely be the warmest room in the place and so you will spend most of your time there, if not outside, when you're waiting to go out on your hike or climb.
The folks in the Chabod hut were really nice and cooked a great meal for us each night we stayed there.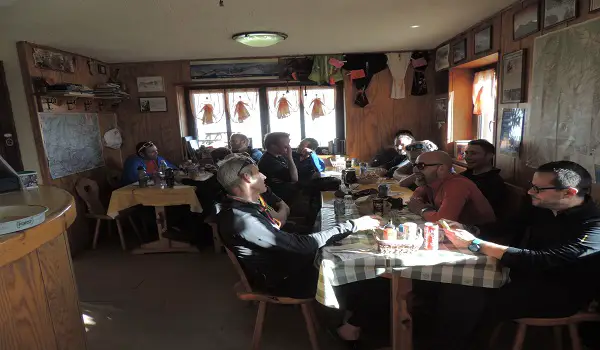 The other key part of the hut is the boot room. Similar to when skiing, the boot room is there so you leave all your wet and dirty gear aside before entering into the main living areas. Every hut will provide slip on sandals for you to pop on for walking around the hut in. The boot room will be the place to leave a lot of your gear e.g. your harness, ice axe, etc. Sometimes there are lockers and sometimes not, depends on the hut you're staying in.
If you can, take some of your gear out into the sun if it's shining as it won't really dry properly in a dark boot room. This is not always possible but it is nice to have your hiking socks and boots dry if you need to put them on again in the morning.
My First Night At Altitude
OK, so my first night at altitude. Nothing crazy high, just a bit over 2500 meters. I was a little nervous as I of course wanted to adapt to it and not have altitude sickness ruin my trip.
I was fine when we reached the hut but I had an ever so slight headache. Nothing major and it could have been for any number of reasons so I wasn't that concerned. We had dinner and afterwards we learned that we needed to be up at 5:30am the following morning to get breakfast so we could be on the trail for the mountains by 6am. This meant an early night made sense. It was a bit earlier than usual but I thought, hey no problem. Get to bed and get some rest to be fighting fit in the morning!
I wish :-/
I could not get a wink of sleep! Sleeping in a dorm with a bunch of folks of course brings on the usual suspects, snoring, etc. However, I had ear plugs and figured I'd sleep eventually. No siree bob!
There was snoring for a time but even when that subsided I still couldn't sleep. I had numerous trips to the bathroom throughout the night too. When going to altitude it is important to stay hydrated so we all drank a lot of water beforehand and while there. This is a good idea, within reason, but as I couldn't sleep, I spent all night going back and forward to the bathroom using my head torch to see my way. Also, as I mentioned above, the dorms can be a bit cold and damp so they're not exactly a nice place to be sleepless in.
I must have drifted off for an hour but next thing everyone was getting up. Man I was p*ssed off lol 🙂 Tired with a massive climb ahead of me, I was not a happy bunny but I thought what the hell, get on with it.
As an extra note to this, I was to find out later when chatting to our guide, no sleep is a regular occurrence for many and entirely normal on your first night at altitude. Good to learn that I was still in the normal bracket but I was still none too chuffed. I was soon to learn that sleep is a valuable commodity high in the Alps 😉
Conclusion
As I'm writing, these posts are getting a bit longer than I thought they would be 🙂 so I think I will cut this short for now and revisit the climb to the top of Gran Paradiso in the next post.
So that was it, I had survived my first night at altitude. My head hadn't exploded, I hadn't fainted and even though I was one grumpy and discombobulated mofo that morning, I was still very much in the game with regards to altitude. Happy Days!
Have you ever stayed in a hut in the Alps? What was your experience? Did you have any issues adjusting to altitude? I'd love to hear about it in the comments below!
To check out part one in this series, click here. To go on to part three, click here.