In the last post I had left things off at having woken up after a very sleepless night! Even though I was very tired, I was still very excited and raring to get started on the climb ahead.
We got up early that morning at about 4:30am for a 5am departure. This sounds crazy but it makes a lot of sense to do this in the Alpine environment. There are three main reasons why setting out early is best which, if I recall correctly, are listed below:
The snow is still frozen in the morning so when walking over glaciers, the more frozen the snow on them is, the safer they should be to traverse
As the day progresses it heats up and so storms / inclement weather are much more likely in the afternoon and evening
If you summit early, you descend early. Again, the snow will be more frozen earlier in the day and so it is easier to walk over
To give you an idea of what lay ahead of us, the pointy mountain above my head in the picture below, that was where we were heading for!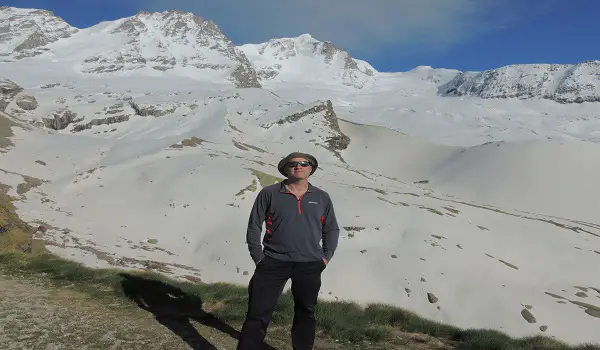 We started off up the mountain over snow still hard from the evening before's frost. The plan was to hike up until we reached the side of a glacier where we would need to put our crampons on and rope up.
This first bit wasn't too bad. It was early in the season so not many folks had been up to the top of Gran Paradiso as yet. Therefore, there weren't a lot of trails in the snow, as such, to follow. It makes things that bit easier when traversing over relatively recent snow if someone has already done the hard work of clearing away a bit of a trail for you. In saying that though, we got up to the side of the Glacier just fine.
Crossing a Glacier
When we got to the glacier we stalled to have a quick drink and bite to eat. We also took our snow shoes from our packs and left them beside a series of rocks as we wouldn't need them until we came back down and so any extra weight is gratefully avoided.
At that point we also put our crampons on and roped up. The reason we did this is that when walking across a glacier it can be very easy to fall into a crevasse. A crevasse is effectively a hole in a glacier that snow and ice fill up. Over the season the glacier moves and the hole becomes unstable. If you happen to walk over it at this time, boom, you can quite easily fall in! Sounds very dramatic but again with expert guidance and skill, this risk is greatly minimized.
Crampons
It's worth mentioning a few lines about crampons if you're not familiar with them. They are effectively boot attachments that have metal spikes sticking out of them, see the picture below, from various angles that enable you to walk comfortably on ice and over hard snow. They're perfect for walking on a glacier and, surprisingly enough, really good for scrambling over rocks, as I was to find out later on climbing Gran Paradiso and on my Mont Blanc Climb.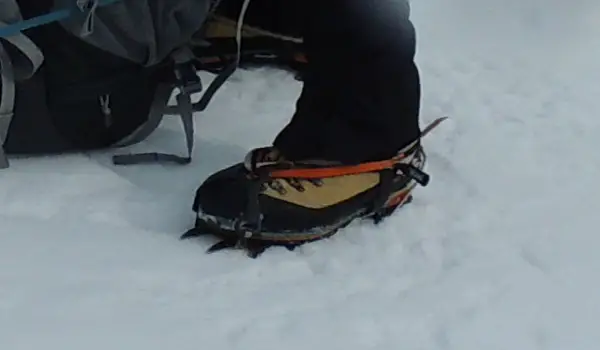 They're pretty easy to attach to the your boots. You need to get them fitted appropriately as they need to be very snug and tight on your boots. These bad boys are crucial so take the time to get them fitted right!
Roping Up
The next element, critical to safety when crossing a glacier, that's worth delving into a bit for someone new to all this, is roping up. We were tied together, as such, by a rope. This rope ran between five of us plus a guide and was attached to each of us using karabiners attached to our harnesses. The rope ran through securing each of us to one another.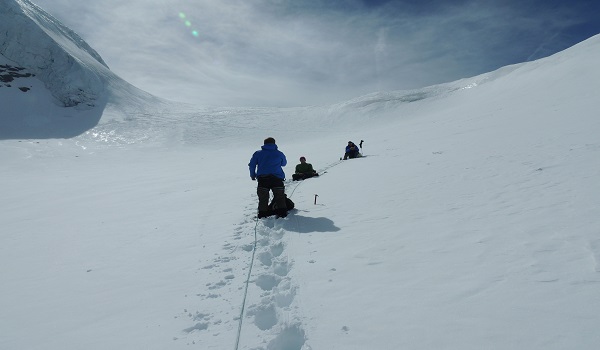 There's a knack to walking with the rope. When you walk, you always leave enough distance between each person so the rope is always just touching the ground. This means that if anyone was unfortunate enough to go into a crevasse, the stability of the other people on the rope should easily support them and they can easily climb back out of the crevasse with hopefully a shocked face at worst.
The tension in the rope when doing this is critical. Too loose or too tight and it won't have the same stability and can have a tugging effect if someone were to fall. The distance is also critical, people need to be far enough apart so if one goes down the others are still on solid ground.
Finally, you need to watch which side the lead person, who will usually be the guide, has the rope on. Everyone should follow suit and walk with it on the same side. The reason for this is that if one person is unaligned and someone falls into a crevasse, the rope can sweep from the wrong side and pull the feet from underneath them and with the additional weight to the person falling, a domino effect can ensue. Doesn't sound good!
So, as you can see, only a few things to consider 😉 It took a bit of getting used to but with practice it worked out fine and everyone soon got the hang of it.
The Guts of the Upward Part of the Hike
We continued onward and upwards using the roping method mentioned above. I have to be honest and say it was hard work. In saying that though, I was in the middle and our guide was at the front. as there was no visible trail he had to effectively stamp one out in the snow.
The snow was normally knee deep and deeper than that in places. I can only imagine how hard it was for him to stamp out a trail which we would then follow in. He is a seasoned guide though so well used to it. We continued on up over the glacier. The morning had started to break at this point and the scenery was just fantastic.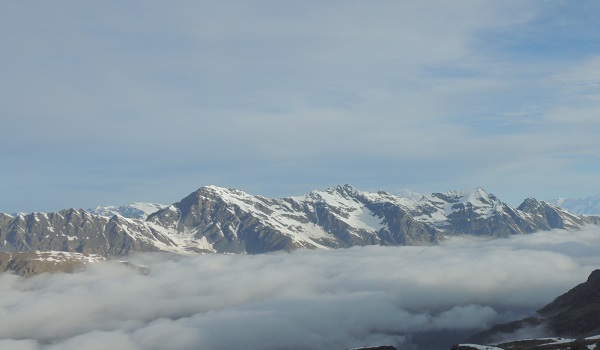 There isn't too much to add to this period of the climb, it went on for about 4 hours and while it was hard work, the views were stunning. We had a quick stop every hour or so to have a drink of water and a quick bite to eat.
A key thing the guides all emphasize in the Alps is maximizing your break time. As you're against the clock for the reasons mentioned above, it is better to keep a steady and consistent pace with minimal breaks. For these kind of treks, you will be out most of the day so you need to keep your energy up but you don't have time to stop for a long lunch!
Therefore, the motto is eat little and often and drink while you move. This is easier said than done in some ways as you can't really use a bladder at those altitudes as the tube will likely freeze so drinking on the move can be a bit tricky. In saying that, I found the short breaks every hour to be enough to get some water in.
However, as mentioned above, these breaks are usually used to do something specific e.g. put your crampons on, add another layer, or so on. This is were you need to be thinking ahead and multitasking so you're having a bite to eat while you're changing layers and that type of thing. Time is of the essence so, like everything in the Alps, it must be used efficiently!
Gear and Supplies for the Trek
It's worth adding a note on what you need to bring with you. Again the Mont Blanc Guides are brilliant at helping you with this and they will tell you exactly what to bring. The goal is to be as lightweight as possible so you can travel efficiently with speed. Therefore, you don't want to be carrying any needless extra gear with you.
You will find that a lot of your regular hiking gear, waterproof hiking jacket and so on, will be perfect but you do need to get specialized gear too (see crampons, etc. above) but this stuff can be hired from the MBG team.
It is also worth noting that you will need some basic medical supplies e.g. stuff to treat blisters, aspirin, etc. Aspirin is useful to help thin the blood if you've a headache at altitude, I definitely found it effective.
Aside from the appropriate gear, of which there is a lot, you will of course need food and water. There is any manner of things you can take with you but think along the lines of minimal input in small amounts to get maximum output! Therefore, take anything from fruit, to cereal bars, to gels, to a couple of small sandwiches. A range of food is preferable as you'll be out for the day but it needs to be easy to carry, easy to access and easy to consume.
Water is of course critical and you need to carry enough to drink. I am a particularly thirsty person so I needed lots of it. However, I learned a neat trick from one of the guides on the way back down from Gran Paradiso. You can stuff some snow into your water bottle, make sure it's clean, and put your bottle in your bag close to your back. After carrying it for a while, the snow will melt and you've a nice cool drink of water!
I used a variation of this and added some snow to hot fruit tea I had left when my water ran out. I didn't fancy a hot drink as it was a hot day with the sun beating down so I added some cool snow to the fruit tea. Badda-bing, I had  a nice and tasty ice cold fruit tea drink. Worked a treat!
Finally, as with any hike in the cold and somewhat contrary to the last paragraph, a warm drink is a nice option to have so a flask of tea or coffee is a winner. It is normally pretty cold high in the Alps, even in summer. I enjoyed a cup of hot tea at the summit before I did the ice trick on the way back down 😉
The Summit of Gran Paradiso
Eventually our trek upwards came to an end and the summit was in view. The summit of Gran Paradiso is interesting in that you need to do a bit of scrambling to get to the top. The snow stops and there's a short rocky climb to the top where there is a statue of the Madonna.
Now, as we were at the summit it got a fair bit windier. Before we started out onto the rocks, our guide told us that we would need to attach our rope to a karibiner clip in the wall of the summit for safety. I wasn't sure why this would be needed but we soon found out as you can see in the photo below.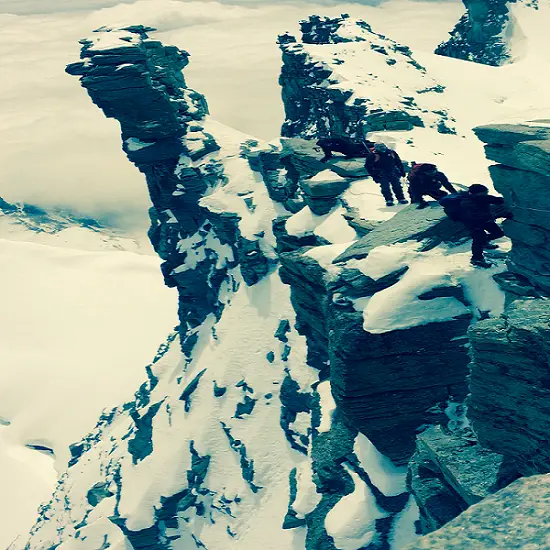 Yep, it was a little bit scary at one point but we just got on with it. I took the photo above from the top and the photo below is me beside the Madonna (you can't see the statue).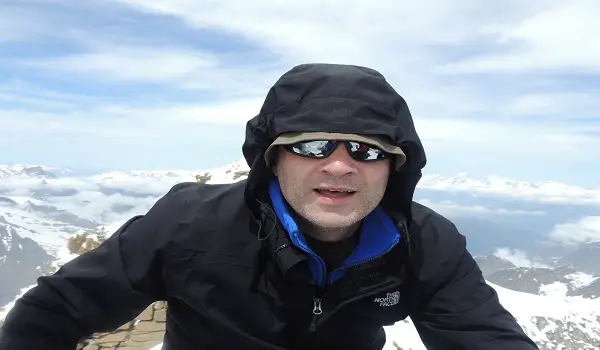 So that was that, we'd done it! We made it to the top. It was all the sweeter as it was also my birthday! So I could say that I climbed the highest mountain in Italy on my birthday. That was pretty cool!
The view from the top of Gran Paradiso was of course stunning. Check out the short video below for a small taster:
Heading Back Down to the Chabod Hut
At this point, I thought, well that's the hard work done, we made it to the top. Oh boy, was I wrong! Even in my normal weekly hikes at home, I always find it easier to go up than to go down. This was no different and if anything, emphasized it more. As the guide told us, you need about a third of your effort to get up and two thirds to get back down!
We started out back down the mountain at a fast pace. It was a beautiful sunny day and while this was great for the scenery, it wasn't so great for the firmness of the snow. As the day progresses and the sun shines, the snow melts and it gets harder and harder to walk on as your legs just sink into it. Also, going across the glacier again, the risk of falling into a crevasse increases.
So, in short, it was best for us to get our asses in gear!
We bombed down the mountain at a very fast pace. Not being used to walking in snow, it was tough going as your legs sink into it time and again. The nearest thing I can compare it to is walking in deep bog. Never pleasant or easy!
We eventually got to where we had left our snow shoes and we put them on. These were to help us walk over the melting snow but I found them very difficult to get the hang of and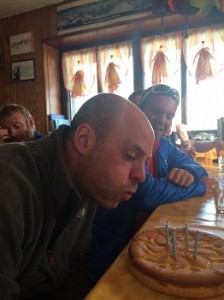 so I kind of stumbled my way back to the hut lol 🙂 At that point we were over the glacier so the main dangers were over for the day.
We eventually got back to the hut. All in all we had been out for 11 to 12 hours! I was physically exhausted but it had been a good day. One slightly concerning thing I noticed though was that I had a bit of a snivel in my nose. I forgot about it but this would soon develop into a full on cold and chest infection.
We got back to the hut, got our gear off and had dinner. Man that hot food tasted amazing after a day like that! As it was my birthday, the guides kindly got me a surprise cake and a rendition of happy birthday was sang out in the hut. A nice end to a fantastic day!
Conclusion
There was a lot of great banter among all the Guys on the trip so there was never a dull moment. With the day over, we headed for bed with a late enough start at 6:30am the next day. The plan was to walk back down to the vans in the car park, at an easy pace, and drive back to Chamonix for a day of rest before undertaking the big one, Mont Blanc!
Unfortunately, even though I was exhausted I again didn't sleep that well. My cold also started to develop a bit more so it was another uncomfortable night. The next morning we hit the trail back down to the vans. It was another beautiful morning and it was a really pleasant hike back down to the car parks. We got back in good time and headed back to Chamonix stopping for a gelatti and a coffee on the way.
It was an amazing experience and we all felt confident we could take on Mont Blanc now!
Have you climbed the Gran Paradiso? What was your experience? We'd love to hear about it in the comments below!
To go back to part two of this series, click here. To go to part four, click here.