Chances are, you've probably seen them mentioned when you've been looking at backpacks.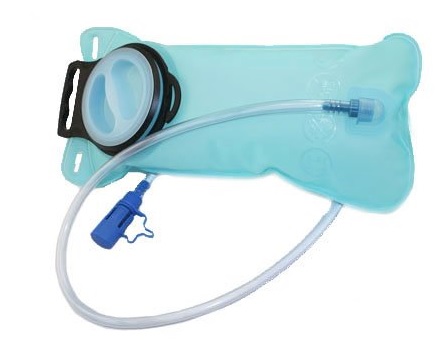 Or maybe you've got a hazy recollection of a fellow hiking enthusiast raving about the convenience of a newly-purchased hydration system?
In any case, you've probably heard something about them, but you might still be wondering exactly what is a hydration bladder? Also known as a hydration reservoir.
Here's the lowdown on hydration bladders, what they are, why they're useful and how to use them.
If you already know all this and just want help to buy one, you can check out our hydration bladder buying guide which will help you make a purchase.
You can also checkout our top hydration bladder recommendations, if you are looking to invest in one. But for now, lets get back to basics!
What is a Hydration Bladder?
Essentially a hydration bladder is a flexible pouch with at least two sealed openings. One for attaching the drinking tube, the other for filling with water.
The latter may vary, some have a screw-on top closing, others a slide-to-seal full-width opening.
The drinking tube can usually be detached for replacement and most hydration bladders feature a tube cut-off valve so you can easily disconnect the tubing.
The drinking tube is finished with a mouthpiece, typically a bite valve (meaning it opens when you bite it), allowing you to drink without water exiting the tube when it's not in use.
Essential Hydration Bladder Features
Although hydration bladders vary slightly by manufacturer and model, they have plenty of common features. Let's take a look at some of the most important ones.
Capacity
When you're looking for a hydration bladder, you'll notice they come in a range of sizes with different capacities. Extra small hydration bladders may even take on the form of more rigid style bottles, making them easier to hold and carry.
Typically you'll find hydration bladders vary between small, bottle style containers, with a 0.5 liter capacity, right up to three liters, and sometimes even more.
One and a half liter or two-liter hydration bladders are the most popular sizes for hiking (Although I personally use a 3 liter as I drink a lot of water while hiking).
Remember, the more water you carry, the more it's going to weigh. However, if you need to drink, you need to be sure you have enough with you. 
Activity
Hydration bladders are designed with a variety of activities in mind. So if you're cycling, running or hiking you can find a hydration bladder that is adapted for your needs in terms of shape and capacity.
You will need a corresponding hydration pack to make it easy to transport and use on the go. In terms of hiking, most good daypacks have a hydration sleeve built in on the back inside wall of the pack.
Tubing
Some hydration bladders offer two openings, on either side to connect tubing depending upon which side you want to use, some just one as in the image below. Others offer a central opening only.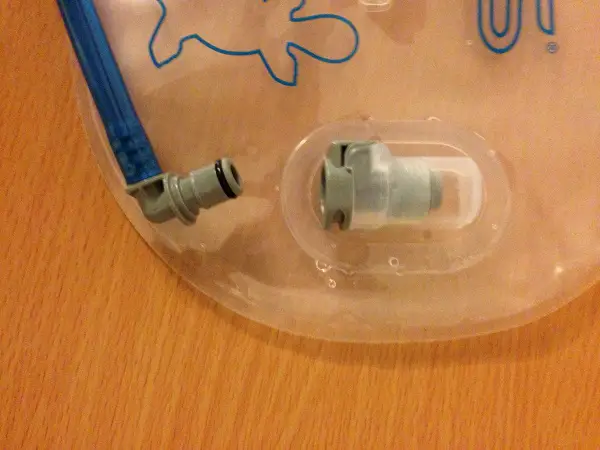 Ideally, especially when you're intending on refilling your hydration system on the go, it's best to look for a hydration bladder with quick-disconnect tubing.
This will allow you to leave your tubing looped through your backpack portal and to quickly and easily remove the bladder for refilling, before reconnecting with minimal hassle.
Tubing is available in different lengths and you can purchase replacement tubing as needed. Some people prefer longer tubes, and different activities can lend themselves to different tube lengths.
It's what works for your needs though at the end of the day, so whatever suits you best.
Clips and Portals
Your pack in which you carry your hydration bladder may include a shoulder clip and a tube portal. The clip on your shoulder strap should help to keep the tube to hand and prevent it getting caught in any obstructions.
The tube portal allows the tubing to pass easily from inside the backpack to the outside. Sometimes you can make use of an existing pack that doesn't have a tube postal by making your own.
Just be sure to reinforce the area after cutting your hole to prevent your pack from coming apart.
Mouthpiece
Some mouthpieces are more sensitive than others and different people swear by different brands. In general, you simply bite down to drink. It can seem a little odd at first, however, you soon get used to the sensation.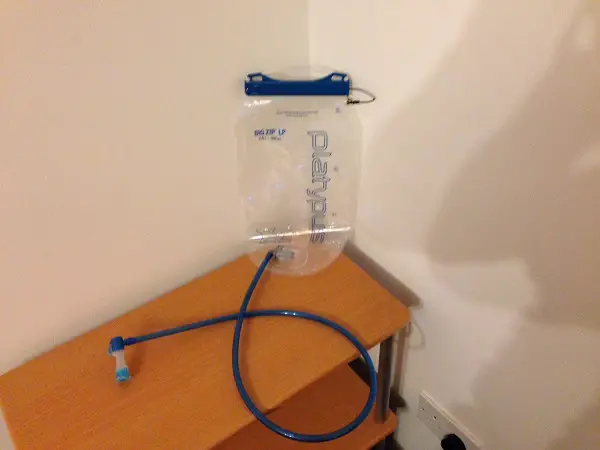 Some bite valves come with a shut-off switch so you can shut off the mouthpiece when it's not in use.
Some may have molded covers available for purchase to place over the mouthpiece when you're not using it, overnight at camp for example, to prevent dirt from getting on to it.
Opening Type
This is important not only for ease of filling and refilling, but also for cleaning a hydration bladder. Some people like the wide slide-open openings, others prefer screw on caps.
I like the former, see the slide closure in the image below, but again it's all about personal preference.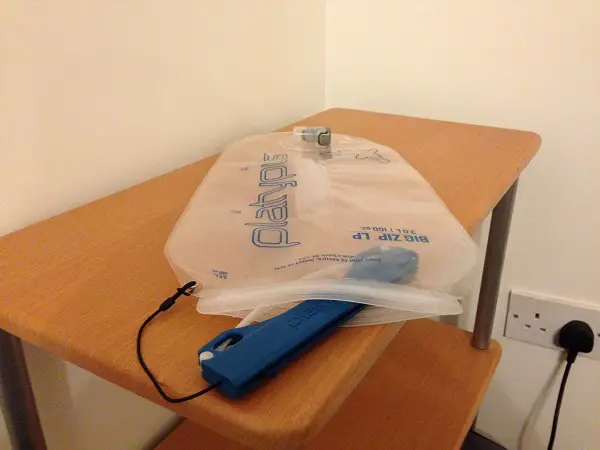 Both have their advantages and disadvantages, it's arguably easier to use a more conventional screw cap style to refill, but wide, slide openings make cleaning much easier.
Pressurized Hydration Bladders
You can also purchase pressurized hydration bladders. They work by sending a spray of water, so you don't have to suck or bite down upon the mouthpiece.
There are positives and negatives about using pressurized hydration bladders, namely they can be great as they take less effort to use and you can get a spray of water which can be useful (clean off camping utensils, wounds, gear, water to share with your four legged friend).
However, they also risk mechanical failure like any complex piece of equipment and they do weigh more. Of course, they're also more expensive.
What Makes Hydration Bladders so Popular?
Hydration bladders are a popular choice for two main reasons, convenience and ease of use.
When you use a hydration bladder, you're able to carry a substantial quantity of water while maximizing available space in your pack.
Carrying the same amount of water in bottles would take up much more space and you'd end up with a bulkier pack, often with room for little else.
Whether you're carrying a large or small quantity of water, hydration bladders are mostly still preferable because they allow you to drink on the go.
Not only is it important to stay hydrated, but it's also quick and easy to do so with a hydration bladder and you don't have to stop to drink, unscrew your bottle or get your bottle out of the pack if it's not in an external pocket on hot days.
Overall, we think that a hydration bladder is the best way to carry your drinking water while you're out on the trail.
Anything Else I Should Know?
Just a few little details, namely about cleaning, the infamous "hydration bladder taste" and hydration packs.
Filling Your Bladder
Remember that you don't have to fill your larger hydration bladder to its maximum capacity. If you know there are reliable refill points en route, save yourself the weight and half fill and refill as convenient.
Water weighs almost two pounds per liter so you could potentially save yourself four pounds by filling up a three liter reservoir with just a liter.
While it may be tempting to go for the largest hydration bladder and just half fill, remember to select a hydration bladder that is suited to your activity and needs.
Fast packing, wilderness hiking and trail running are all suited to different capacities, which will also depend upon the availability of reliable refill points and how often you intend upon stopping.
The area and climate will also dictate how large or small a capacity you'll need.
Cleaning
Cleaning your hydration bladder is important to stop mold from forming. Be sure to empty your hydration system and to wash it out thoroughly after every use.
There are specialist cleaning products available, or you can use regular dish soap. There are other tips for cleaning at the link in the last paragraph (I'm a fan of using denture tablets).
Depending upon the opening of your hydration bladder, you may need a special hydration cleaning kit to reach inside for a thorough clean.
Taste
Possibly the only main disadvantage of hydration bladders, aside from cleaning, is their taste. While some people don't notice anything, others complain of a plastic taste.
It's true that this can be more noticeable in the early days of using a new hydration bladder, however, it does tend to fade, or you just get used to it.
If it still bothers you after several uses and you've tried all the regular tricks (baking soda, lemon juice and so on), you could either try a different brand or just stick to water bottles. 
Hydration Packs
The majority of backpacks today are hydration bladder compatible, however, it is always wise to check just in case. As mentioned earlier, your backpack should have one or two tube portals and possibly also a clip on the shoulder strap.
It's worth noting that your hydration pack should suit your needs and bladder size.
They can very from low-profile cycling hydration packs and running hydration minimalist packs and vests to high-capacity multi-night hiking backpacks.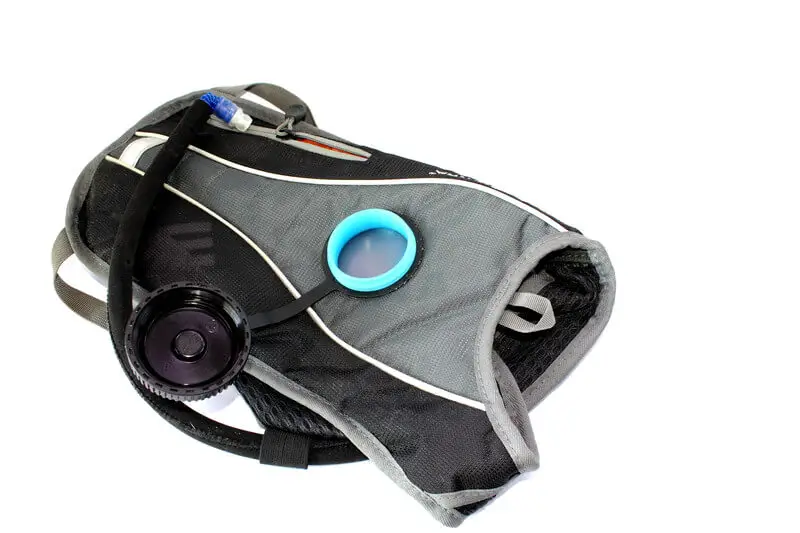 It's important to make the distinction between a hydration bladder or reservoir, and an hydration pack. The former being the thing that you fill the water into, the latter being the specific pack you carry the bladder in.
If you're planning a short hike, run or cycle, somewhere you won't need to carry much, you could consider trying out a hydration waist pack so you can still benefit from the practicality of a hydration bladder, without being weighed down by a backpack.
They're also a good choice for sightseeing in an urban environment if you don't want to carry a daypack or stop regularly for refreshments in hot weather.
Alternatively, if you're intending upon using your hydration bladder in a cold climate or for winter sports, you can purchase special winterized hydration packs that will help to keep your hydration system from freezing over.
They have insulation for the reservoir and tubing and often feature a bite valve protective cover.
Conclusion
So, we hope you're no longer plagued by the question of what is a hydration bladder 🙂 You can decide if you'd be interested in purchasing a hydration bladder for use on the trail.
Everyone is different and what works great for one person may not necessarily be right for the next.
However, I'd certainly recommend trying one out, especially on long hikes with few refill points, you'll be surprised how great they are and I personally am never without one when I go out hiking.