Choosing the best hiking boots for Yosemite can seem a little complicated. No doubt you've planned some hikes, picked out a few must-see landmarks, but maybe the boots you've seen seem a bit like overkill? Or perhaps you're concerned that your boots offer too little, and just aren't up to the task?
There is of course a wide range of features in hiking boots. In this article we help you find out which hiking boot features you really do need, and why, to help you settle on the right pair of hiking boots, so you can make the most out of your Yosemite trip.
Yosemite Hiking
With over 800 miles of trails, stunning scenery and famous landmarks, Yosemite is the third most visited national park. With approximately four million visitors per year, the park prides itself upon making the great outdoors accessible to a huge variety of people.
However, despite certain amenities and some easy hikes, featuring short paved trails, there are still many reasons you should take a pair of hiking boots with you for your visit.
In late spring and early summer, you may get away with a suitable pair of hiking sandals that are adapted for walking on wet rocks, if you stick to the short well-traveled circuits.
You will also see a lot of tourists wearing their running or tennis shoes, and although this may be an option depending on the weather, why risk ruining your footwear, limiting yourself to a handful of popular paved trails and the increased possibility of a slip or going over on an ankle?
If you want to get away from the crowds and have a truly personal experience you're going to need some sturdy hiking boots.
There will be so many more options open to you with the correct footwear, and the stunning views you'll get from the ascents and going a bit more off the beaten track, will really make your trip extra special.
Here's what you need to look for to find the best hiking boots for Yosemite.
Comfort
It goes without saying that your hiking boots will have to be a good fit. However, if they have not been sufficiently broken in before your trip to Yosemite, you're going to risk ruining your enjoyment of the park, a nasty blister can upset anyone's day on the trail.
Break your boots in by wearing them for short periods, building up to day hikes, before your trip.
A complaint people often make when they're not used to wearing hiking boots, is that they feel too rigid. In general, you should actually be looking for a hiking boot with a relatively rigid midsole, this will help to protect your feet from feeling every stone and tree root on the trail, as you would do with non-specialized footwear.
After several hours hiking your feet will feel much better in hiking boots with an EVA or even a firmer polyurethane midsole.
Now, be careful not to go overboard here, for general average hiking your outsole should still be flexible to some degree i.e. you can bend it with a reasonable amount of pressure between your two hands.
You will need extra foot support if you're planning on taking on some of the more strenuous Yosemite hikes, such as the Half Dome Day Hike. Look for boots with good shanks or plates, or even both.
Shanks are thick inserts between the out and midsoles that add extra stiffness, whereas plates are thin and can flex. Plates help to protect the feet from bruising caused by uneven terrain and protruding objects such as roots, stones and rocks. Broadly speaking, shanks are the more common in hiking boots.
Traction
No trip to Yosemite would be complete without visiting Yosemite and Bridalveil Falls. You will need boots with a good outsole to prevent slipping on any wet rocks you may encounter.
In spring and early summer, when the waterfalls are at their most powerful, this is especially important. You will also need great grip during the colder months to navigate any icy areas that make traction difficult.
If you're planning on taking the Yosemite Falls Trail, which is open year-round, you may find yourself struggling in summer with loose decomposed granite on the trail, in spring, there's the waterfall spray and in winter, the upper part receives little to no sunlight so ice can be a problem, combined with snow.
Look for hiking boots that have effective lug patterns on the outsoles. These will give you much needed grip and help to stop mud from building up. Boots with heel breaks are well worth considering for safer descents, reducing the likelihood of a slide or sprained ankle.
Ankle Support
The support provided by hiking boots complements their comfort and traction. While a full hiking boot is often credited with providing ankle support, preventing sprains, it is also provided by a secure and rigid footbed and an excellent outsole.
On the Yosemite Falls and the Nevada Fall Trails, sprained ankles and knee injuries are a common occurrence, due to the many sandy areas and rocky terrain, combined with significant elevation differences.
Slippery footing calls for good support, so having your ankles supported is important. When your feet have a solid, stable base and are securely strapped in, you will be much less likely to have an injury.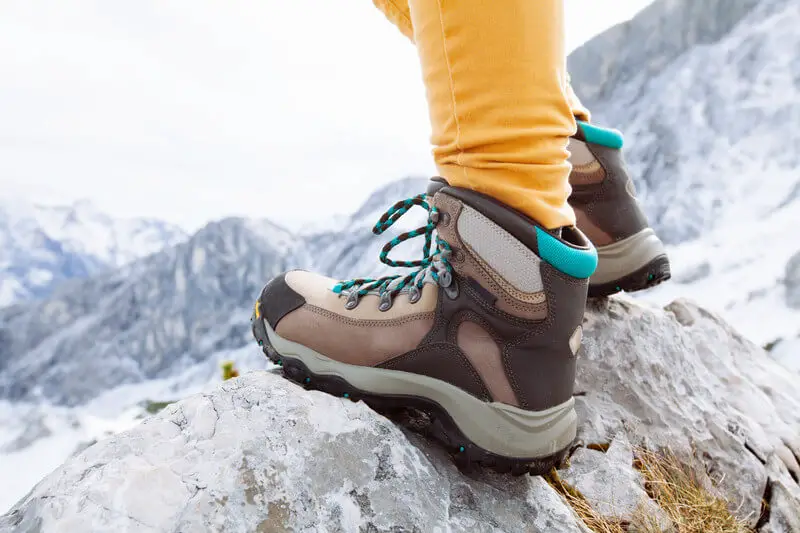 Another benefit to having a full ankle height boot is that it will keep out the majority of stones, twigs, leaves and sand out of your footwear.
This will keep your feet much more comfortable and will be much safer than having to stop and balance on a dangerous descent to pick out stones. You'll also be able to focus much more on your descent without the discomfort of pieces of gravel digging into your toes.
Waterproof Upper
Mud, rain, melting snow and powerful waterfalls, mean that you'll need to make sure your hiking boots are fully waterproof whatever time of year you visit. Wet feet can ruin even the most spectacular of hikes, so when you're looking for hiking boots for Yosemite pay attention to waterproofing.
Leather boots are traditional, durable and will flex over time to the shape of your feet. You can clean and reproof them as necessary to keep them in prime condition for happy, dry feet.
Leather does, however, take a long time to wear in, so if your trip is coming up soon, you may want to choose another type, especially if you're not planning on doing much regular hiking afterwards.
There are also a number of synthetic boots available. Usually made from nylon or polyester based materials, these boots tend to be less durable, but they are lighter weight and wear in much quicker than traditional leather.
Conclusion
So, we have looked at what the main characteristics are that you need to consider when thinking about getting hiking boots for Yosemite. For specific hiking boots recommendations, any of the hiking boots listed here for men and here for women will do the job well.
However, please be sure to keep your requirements in mind. If you are planning on a few a short hikes to the Falls, a full on backpacking boot would be a bit overkill for the job. Similarly, if you are planning on doing a bit of wilderness hiking, a lighter hiking boot or trail shoe, may not be the best option.
If I was pushed to recommend an all round pair of hiking boots for the job, I would probably go with the Lowa Renegade Mid GTX hiking boots, for both men and women. They tick a lot of the boxes you need for most levels of hiking in Yosemite, from Spring through to Fall.
The best hiking boots for Yosemite are, above all, ones that you feel comfortable in and that you have broken in well.
Any hiking, not just a quick mooch around the visitor center followed by a short stroll down a paved path, will require waterproof hiking boots with a sturdy outsole and solid midsole to help you to make the most of your time at Yosemite and to get to experience its amazing scenery close up.
We hope you found this article useful, please share it around your networks if you did 🙂