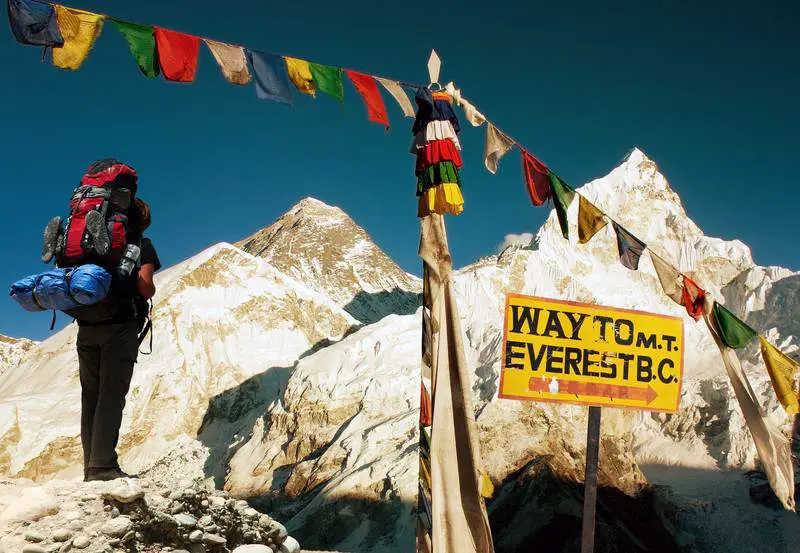 1. Everest Base Camp, Nepal
Used to describe two camps that sit on opposite sides of Mt. Everest, pictured above, (the Southern camp in Nepal and the Northern camp in Tibet) Everest Base Camp is a popular trek for adventurers and keen hikers / trekkers. While trying to summit Everest is too much for most, trekking to Base Camp provides a marvelous opportunity, within many people's capabilities, to get a real taste of the splendor of the Himalayas.
So Much to Explore!
There are so many amazing places to hike on this beautiful planet it can be hard to know where to start when looking at listing out some of the best hikes and trails on the planet.
While there are always the obvious hiking meccas, nearly every country on the planet has its own national hiking gems. Many of those bigger gems also hold many caskets of hiking treasures within them, think of the many different sections of the Appalachian Trail.
Chatting with fellow hikers recently, we got to talking about all the places we wanted to hike in. Once we started, it just went on and on as there are so many places, big and small, near and far, that are so worth going to, to experience the culture, history and of course the hiking!
With that said though, there are some locations that are really special ones that will always leave you speechless if you're lucky enough to get to hike and enjoy the amazing beauty within them.
As the conversation went on we joked that we should all make our own bucket lists of places to hike in before we die. We laughed, but in all seriousness I thought that sounded like a pretty good idea and so I thought a gallery of some of my favorite ones would be fun to put together.
This gallery identifies 40 amazing locations that I would either love to hike in or have already hiked in. In truth, I could probably easily get to 140 locations!
There are no limitations so every continent is taken into account. As already mentioned, some of the locations listed are a mainstay on many well-known top 10 lists, however, the list, in as much as it can be, is in no particular order.
One man's meat can be another man's poison so what's my number 1 may be your number 15. You get the idea. So, with that in mind let's crack on!
2. The Inca Trail, Peru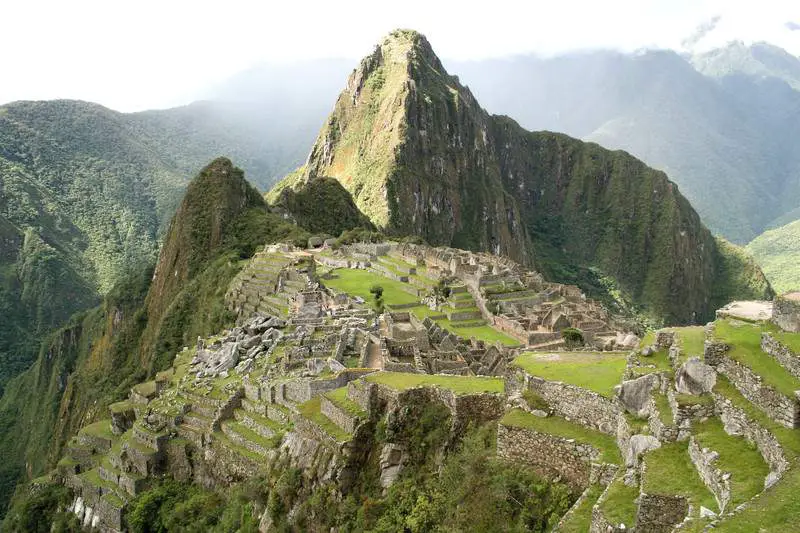 It's hard not to know about the Inca Trail, it's easily the most famous trek in South America. It really is one of the must do's for many hikers and makes an appearance on many folks bucket list. It runs 55 miles (88 km) from start to finish and most hikers take 5 days to do it.
Starting in Cusco it culminates in the stunning Machu Picchu reaching a height of approximately 13,800 ft. (4,200 meters). As well as Machu Picchu, the trail passes through many ancient sites so expect a hike enriched with culture and history.
3. The Pacific Crest Trail, USA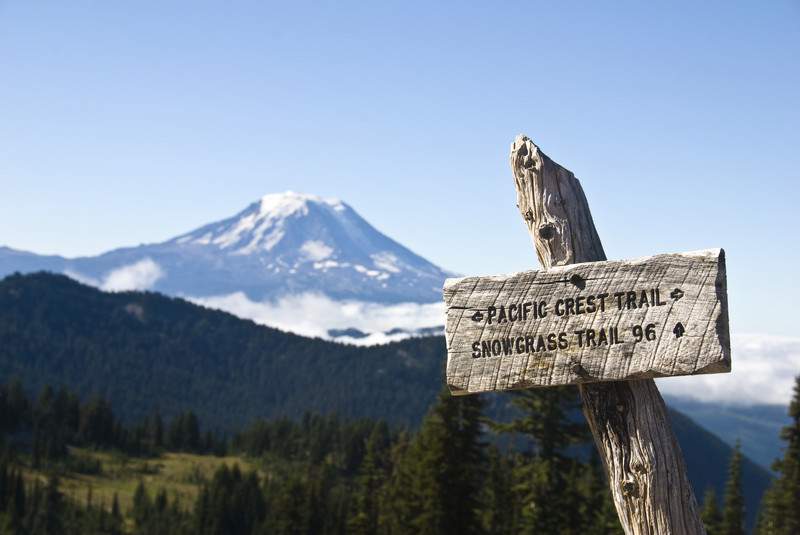 The Pacific Crest Trail runs from close to the Mexican and Canadian borders on the West of the USA. The Pacific Crest Trail is 2,663 miles (4,286 km) long and has varying elevations along the route running from as low as sea level to the highest point being 13,153 ft. (4,009 m) at Forester Pass in Sierra Nevada.
Passing through 25 national forests and 7 national parks, it will take you quite a while to complete it if you wanted to do it all in one go. Stunning views and all sorts of amazing wildlife await you on this marvelous trek though so ducking in and out of parts for a few days or a week is a great option.
4. Mount Kilimanjaro, Tanzania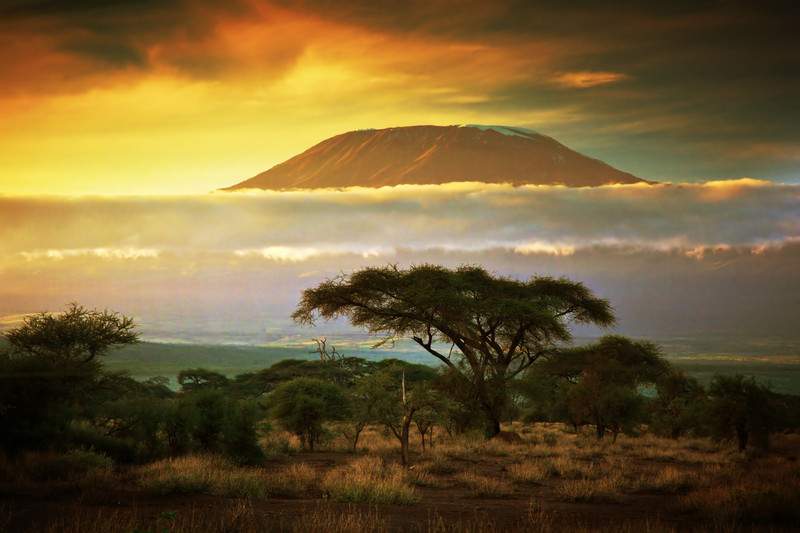 Kilimanjaro is not only the highest mountain in Africa but also the highest free standing mountain in the world. Although it sits at 19,431 ft. (5,895 meters) above sea level, if you don't succumb to any issues with altitude, it is an achievable and very rewarding trek for most hikers.
You need to be very fit though. There are 7 official trekking routes and the trek can be done in about a week. Although the mountain is doable, it of course has dangers like any other mountain so having experienced guides with you is advisable.
5. Tour Du Mont Blanc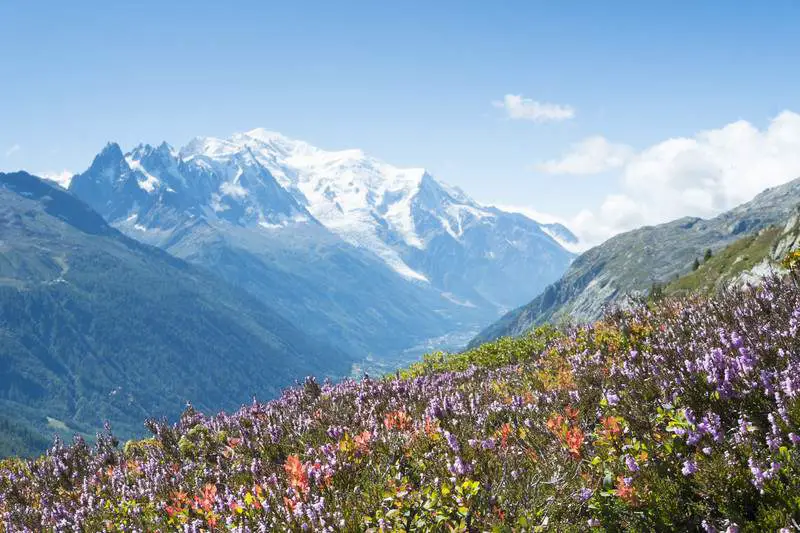 This is one of the most popular hiking routes in Europe. Running in a circle around the breathtaking Mont Blanc Massif, it covers a distance of 105 miles (170 km) with 6 miles (10 km) ascent/ descent.
The Tour Du Mont Blanc doesn't belong to one specific country as you need to pass through France, Switzerland and Italy to enjoy it in its entirety. Whether you take on the whole trek or only take on certain parts, you're guaranteed an amazing hiking experience through a beautiful Alpine wilderness.
6. The Annapurna Range, Nepal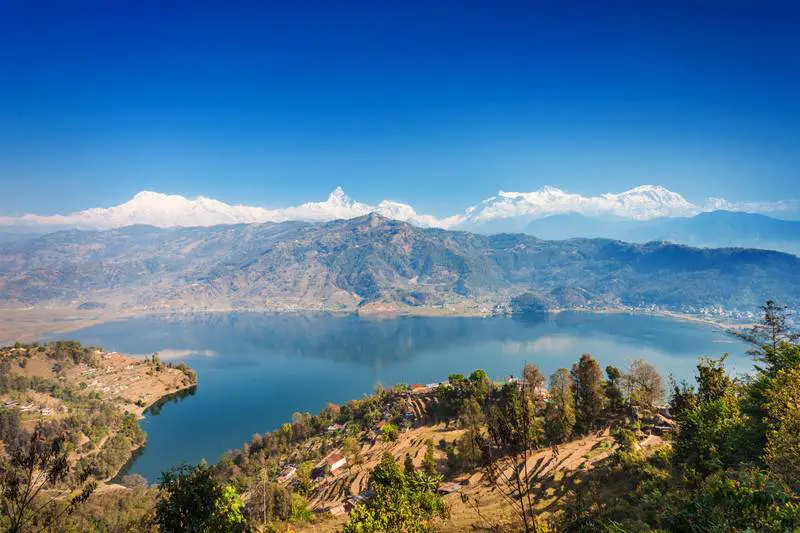 Pictured is an aerial view of Phewa Lake in the Annapurna Range. The Annapurna Range is found in the Himalayas in North Central Nepal. The range is 34 miles (55 km) long with 1 peak over 26,246 ft. (8,000 meter's), 13 over 22,965 ft. (7,000 meters) and 16 over 19,685 ft. (6,000 meters).
Annapurna I is the tenth highest peak on the planet. While these mountains have a reputation of being tough, unforgiving and even dangerous, they are high on the list of many hikers and adventurers.
7. The Appalachian Trail, USA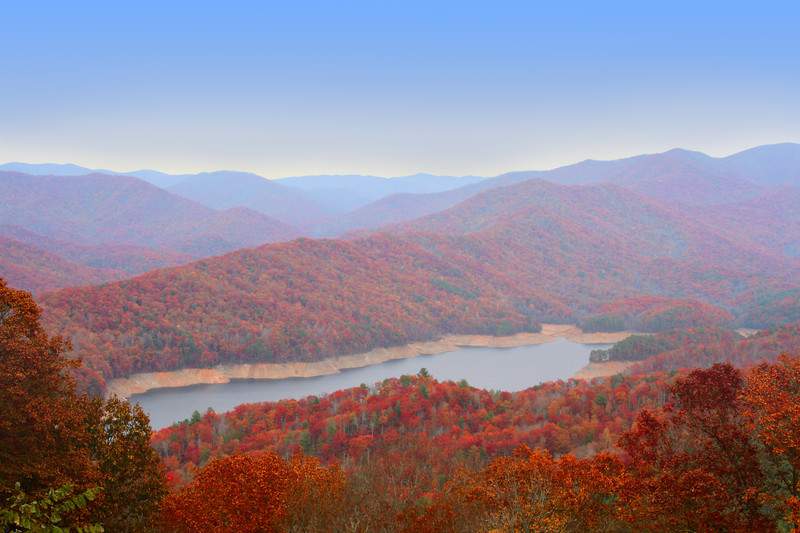 A popular trail with hikers, the Appalachian Trail runs from Springer Mountain in Georgia to Mount Katahdin in Maine. At a distance of 2,200 miles (3,500 km) it is the longest trail on the eastern side of the United States. The trail passes through 14 states with the majority of it being in forest and wilderness lands.
Many hikers, known as thru hikers, attempt to take the whole thing on in one season or one year, while some even try a round-trip. Stunning scenery and wildlife greet you all along the way. The trail is well marked and runs through lots of 'trail towns' where passing hikers are the norm. Expect fun and camaraderie.
8. Pyreneean Haute Route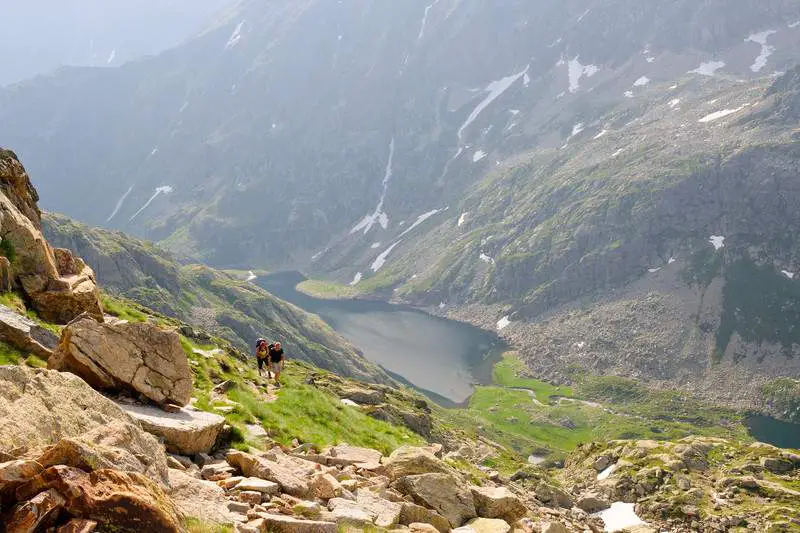 A long distance footpath running though the Pyrenees, the Pyreneean Haute Route takes approximately 45 days to complete for an average hiker. The trail is unmarked so you need to have maps and good navigation skills to be sure you stay safe should the weather turn.
There are many routes to be enjoyed, so there should be something for most levels of hikers. If you choose to do the whole thing, while there are huts to stay in, you will need a tent as you can go for a few days without seeing a hut or people. Many a hikers' heaven!
9. Laugavegur Trek, Iceland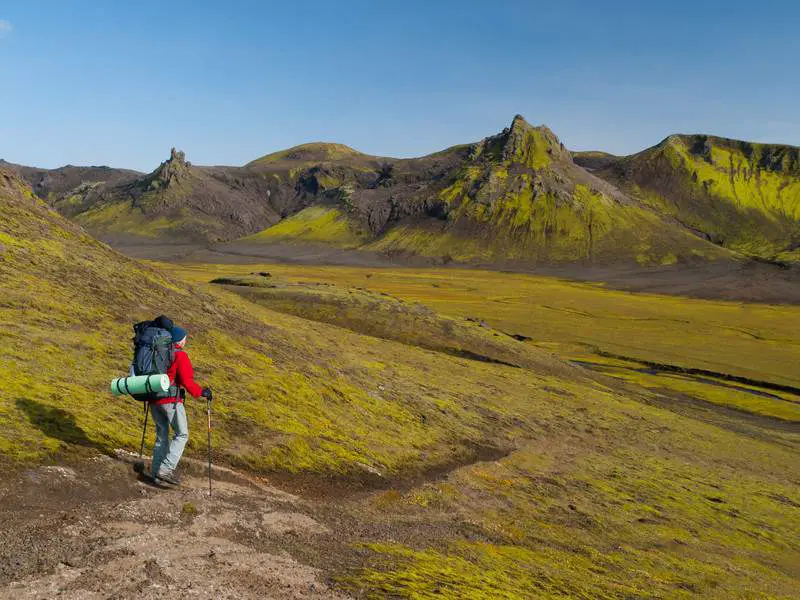 Travelling to Iceland to take on the full 34 miles (55 km) of the Laugavegur Trek in Iceland, is not for the feint hearted. It's advisable to be an experienced hiker with plenty of other hiking challenges under your belt.
The rhyolite hills, black sand deserts and icy glacier caps make it truly a sight to behold, but definitely not one to be trifled with. There are some truly unique features to experience, for example, natural hot springs and black volcanic glass strewn across volcanic wasteland.
10. Haiku Stairs, USA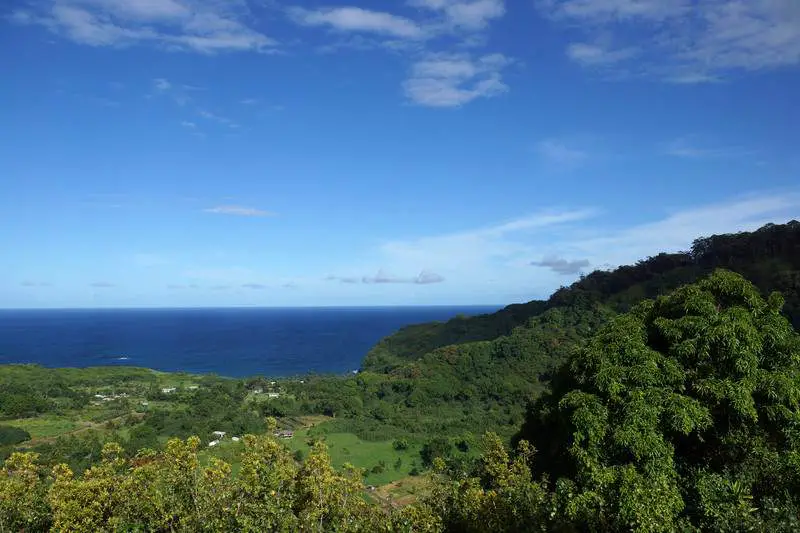 Renowned as a picturesque paradise, Hawaii has to be one of the most beautiful places on the planet. So it's no wonder the Haiku Stairs in Maui are also known as the Stairway to Heaven. It's a staircase with 3,992 steps up through the Ko'olau Mountain Range.
Built by the navy in 1942 to put an antennae in place for a radio station, it is known as a truly beautiful hike. However, there have been access restrictions for some years now so unfortunately may currently not be accessible. Be sure to check before you travel!
11. North Drakensberg Traverse, South Africa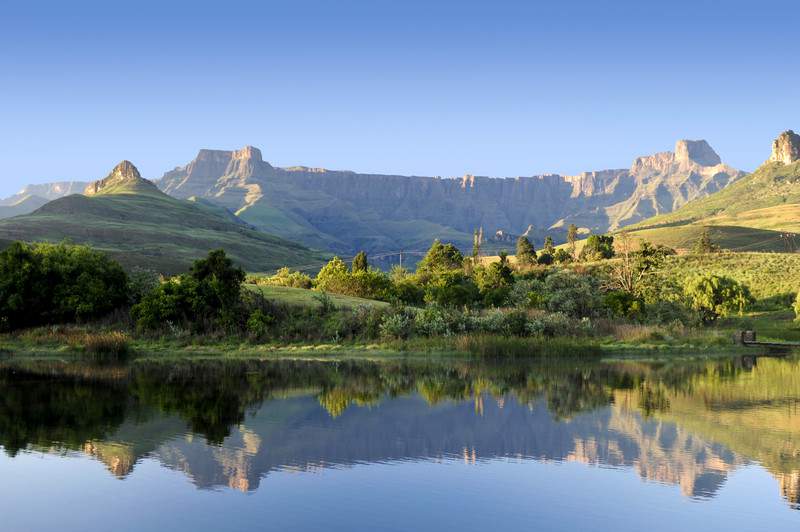 Noted as one of the world's top 10 walks, the North Drakensberg Traverse in South Africa stretches over 40 miles (65 km). Taking about 6 days to complete for most average hikers, the trek starts with an ascent up to the top of a commanding escarpment via 56 ft. (17 meter) long chain ladders.
Highlights such as traversing the natural amphitheater, as shown in the photo, and camping on the edge of the Tugela Falls make this hike one for the bucket list for sure.
12. Mount Kenya, Kenya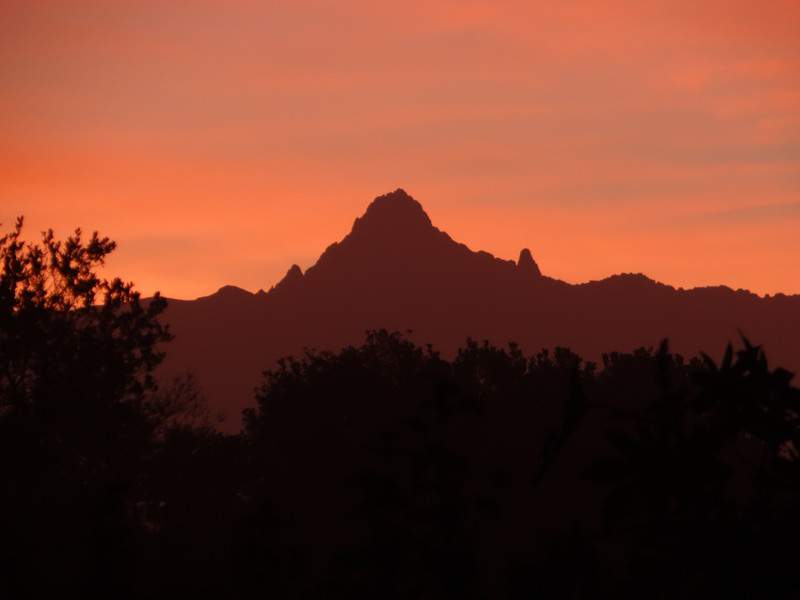 Located in central Kenya, about 10 miles (16 km) or so from the equator, Mount Kenya is the highest mountain in Kenya and the second highest in Africa, with Kilimanjaro being the highest.
The highest peak is called Batian reaching 17,057 ft. (5,199 meters) above sea level. The peaks are nearly all formed from volcanoes and the Mountain itself provides the main supply of water to two of Kenya's biggest rivers, The Tana and The Ewaso Ng'iso North.
13. The Milford Track, New Zealand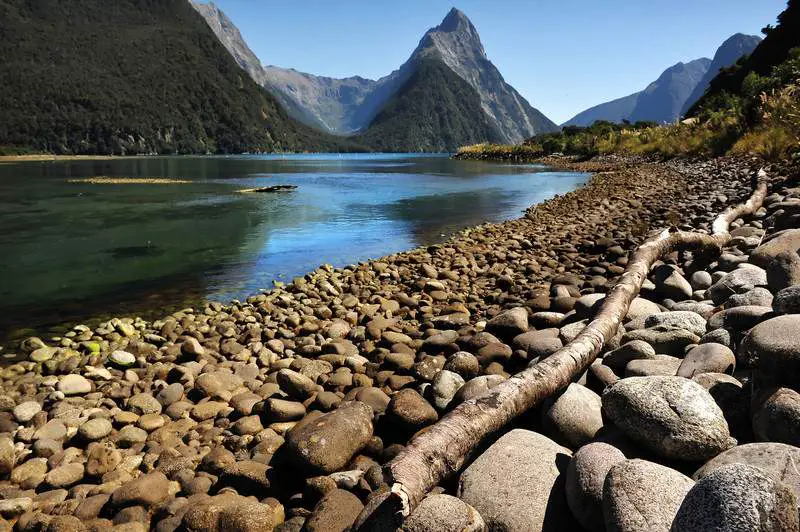 Located in the South West of New Zealands South Island, The Milford Track is a beautiful hiking trail in Milford Sound, a stunning fiord surrounded by steep cliffs and dense rainforest.
Pictured is the highest mountain on the Milford Track, Mitre Peak. At 5551 ft. (1,692 meters), it commands a majestic presence on the fiord. As well as the amazing beauty of this location, there are plenty or Maori legends to keep you entertained at your evening camp.
14. Camino De Santiago, Spain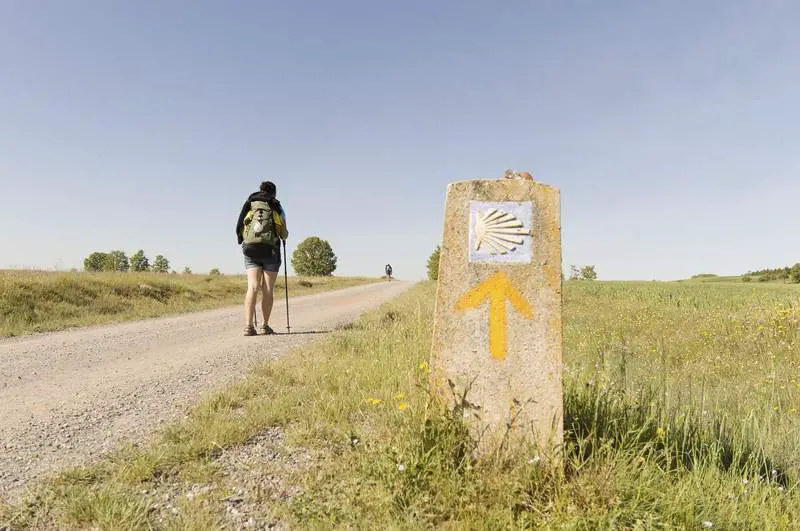 Translated into English as The Way of St. James, the Camino de Santiago is more of a pilgrimage than a hike. There are various routes to choose from but one popular route, the Camino Frances (French Way of El Camino de Santiago) can be split into 3 main parts. Starting at Saint-Jean-Pied-de-Port, on the French side of the Pyrenees, to Granon it covers 133 miles (215 Km).
Part 2 runs from Granon to Leon covering 152 miles (245 Km). And the final leg runs from Leon to Santiago de Compostela covering 186 miles (300km). As you can see, it's a serious trek in terms of distance so expect to spend 6 to 12 weeks if you want to do it from start to finish in one go.
15. The Continental Divide, USA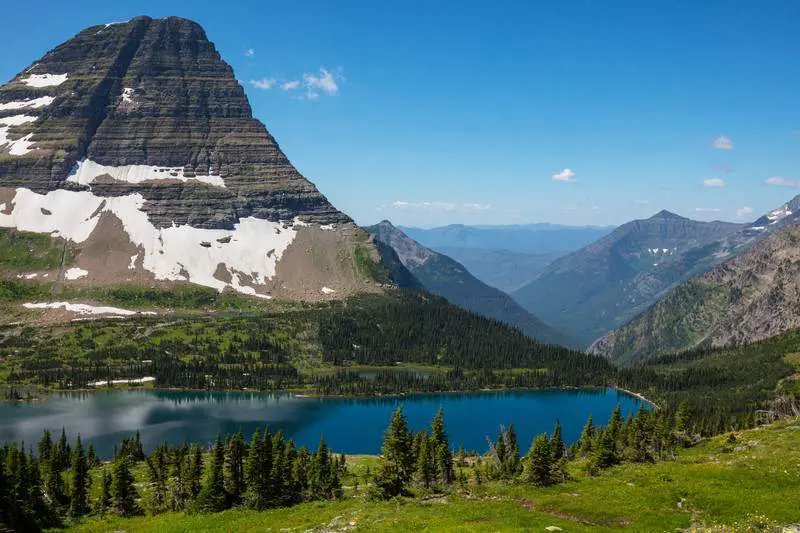 Along with the Appalachian Trail and the Pacific Crest Trail, the Continental Divide Trail is part of a triumvirate which thru-hikers refer to as The Triple Crown of long distance hiking in the United States. It runs for 3,100 miles (4,989 km) between Mexico and Canada passing through 5 US states, Wyoming, Montana, Idaho, Colorado and New Mexico.
The trail runs over small roads and dedicated trail paths and its highest point is Grays Peak in Colorado at 14,270 ft. (4,350 meters).
16. Allgau Alps, Germany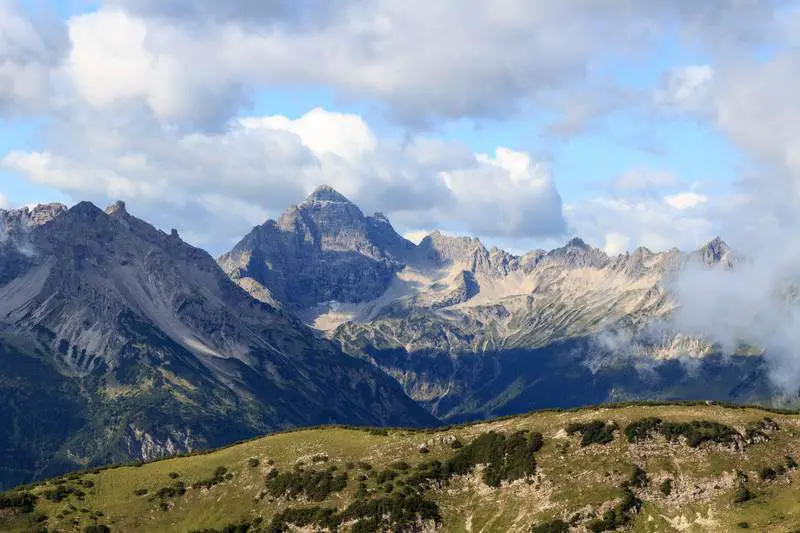 Located mostly in the German province of Bavaria, this range is part of the Alps on the German side but it also spills into Austria. The highest peak is Großer Krottenkopf at 8714 ft. (2,656 meters) above sea level.
Popular with climbers as well as hikers, as with all parts of the Alps, this range offers a selection of hikes for all levels and tastes. From lower valley mountain strolls to scrambling over rocky ridges, all preferences can be catered for.
17. Cradle Mountain, Australia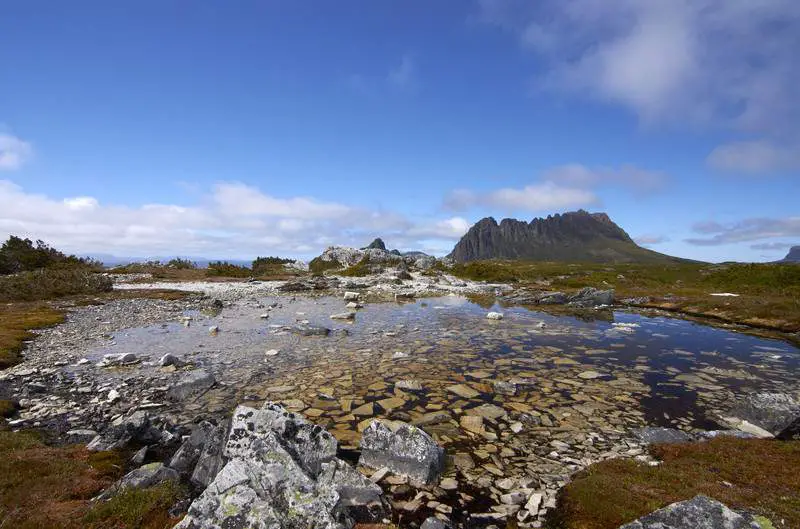 Located in the St. Clair National Park, Cradle Mountain rises to 5,069 ft. (1,545 meters) above sea level and is a popular tourist area in Tasmania, Australia.
The park itself boasts lots of day hiking opportunities while, for the more seasoned hiker, the mountain itself offers a strenuous day hike by most people's standards with average completion times coming in at 6 or 7 hours. Formed by glacial movement, the picturesque Dove Lake sits below Cradle Mountain and provides many great photo opportunities.
18. Half Dome Hike, USA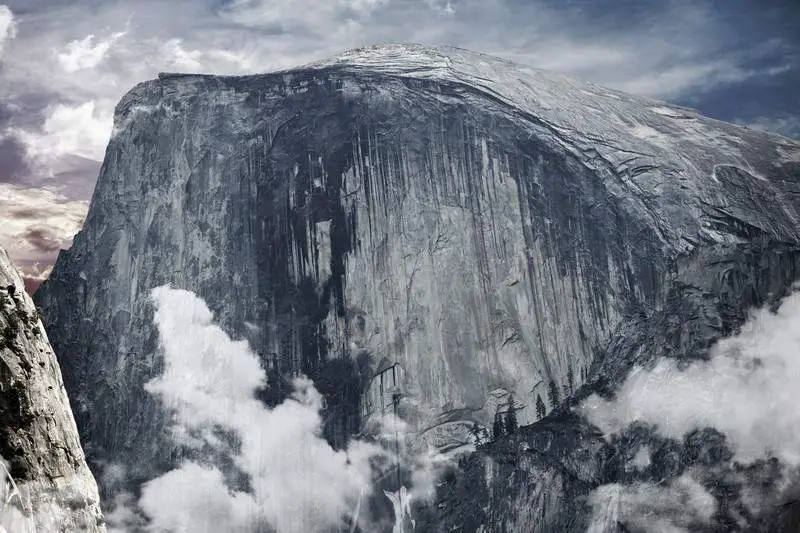 The Half Dome Hike in Yosemite National Park is probably one of the best known hikes in the US. It's a 16 mile (26 km) trek, round trip, rising 4,800 ft. (1463 meters) above Yosemite Valley, so you do need to be in shape to take it on.
Along the way you will see amazing views of Vernal and Nevada Falls. Best to start out early in the day in good summer weather to make the most of the experience. It of course depends how fast you hike but expect 8 to 12 hours to get it all in.
19. Ergaki Natural Park, Siberia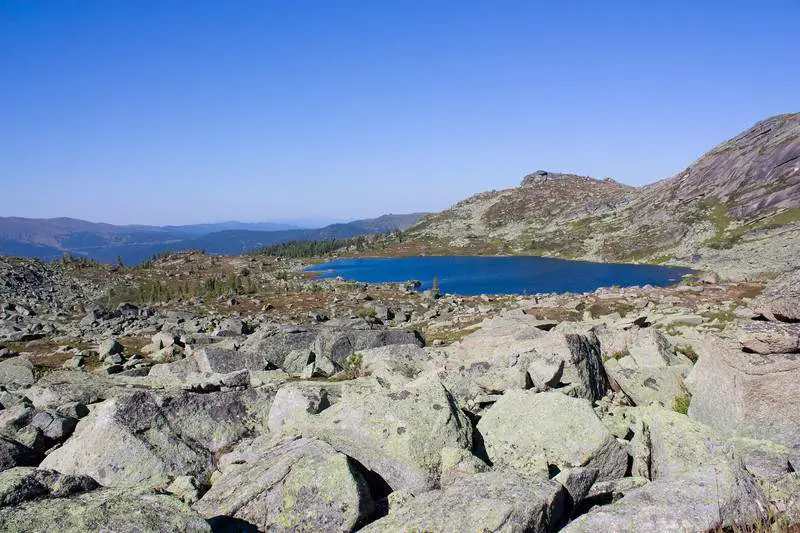 Located in Krasnoyarsk krai between Abakan and Kyzyl, Ergaki Natural Park features some stunning peaks, crystal clear lakes and beautiful forests.
The highest point on the Ergaki ridge sits in the West Sayan Mountains and rises to 7217 ft. (2200 meters). The park of course has abundant wildlife and there is plenty of opportunity for multi day treks and camping should that be your thing. Be sure to bring your tent!
20. The Goechala Trek, India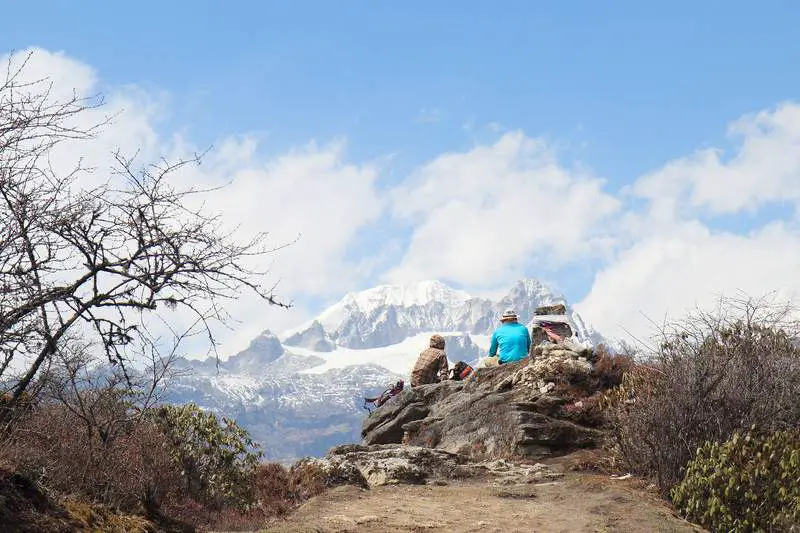 The Goechala trek is in Sikkim, a landlocked state located in the Himalayan Mountains, in India. Running from Yuksom to Goecha La, the trek normally takes about 10 days to complete. Stunning views of the Himalayas await the adventurous hiker including fabulous views of Mt Pandim and Khangchendzonga.
Permits are needed so best to book with a tour company. It is advisable to arrange your own camping equipment and food as the state run government huts can be very busy in trekking season and they're sparsely furnished.
21. Mount Fuji, Japan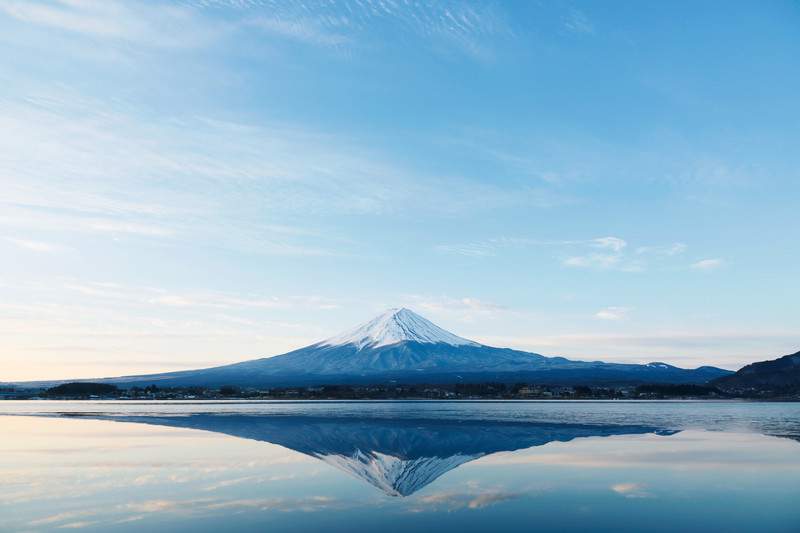 Located on Honshu island, at 12,389 ft. (3776 meters) Mount Fuji is the highest mountain in Japan. Its dome shaped appearance dominates the skyline and can even be seen from Tokyo, 100 km (60 miles) away, on a clear day.
It's one of UNESCO's world heritage sites and has a lot of holy and historical meaning for the people of Japan. If you want to hike Mount Fuji, July to August is the most popular time but it will be busier. It's a very popular place so expect lots of fellow hikers.
22. Roan Highlands, USA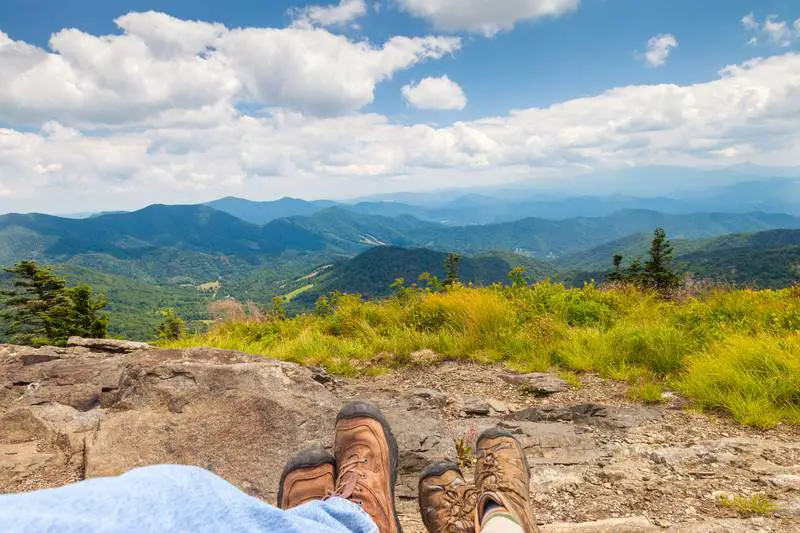 The Roan Highlands are a 20 mile (32 km) massif stretching along the Tennessee / North Carolina border. Forming part of the Appalachian Mountains, The main hiking peak is Roan Mountain. Standing at 6,285 feet (1915 meters), it is the highpoint of the Roan-Unaka Range of the Southern Appalachian Mountains.
The Roan Mountain State Park provides a mixed landscape in an area of 2006 acres. As well as hiking there are a variety of outdoor pursuits that the park caters for.
23. Santa Cruz Trek, Peru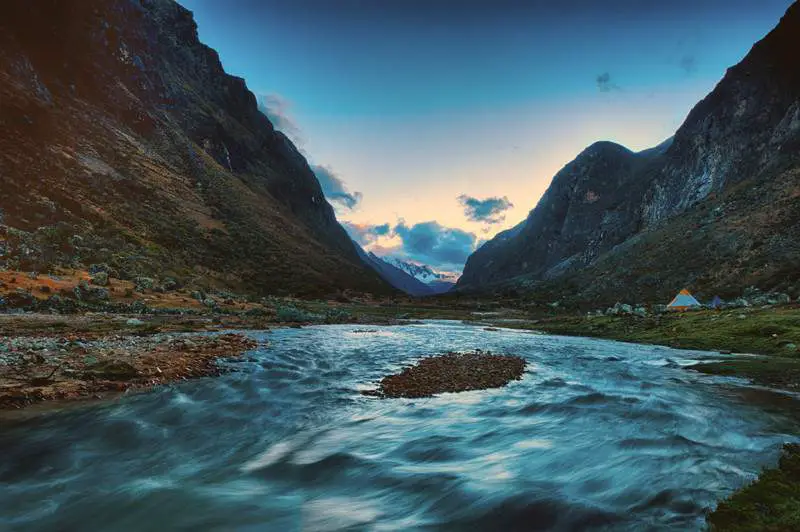 The Santa Cruz Trek in Cordillera Blanca in the Peruvian Andes is undoubtedly one of the world's best hikes. Taking anything from 3 to 4 days to complete, the highest peak on the trek is the Punta Union Pass at 15,583 feet (4750 meters).
You will see spectacular views along the way, from stunning mountains to beautiful lakes, there is much to enjoy. Expect a mixed bag with regards to the weather so prepare for heat, sun, rain and cold.
24. The Israel National trail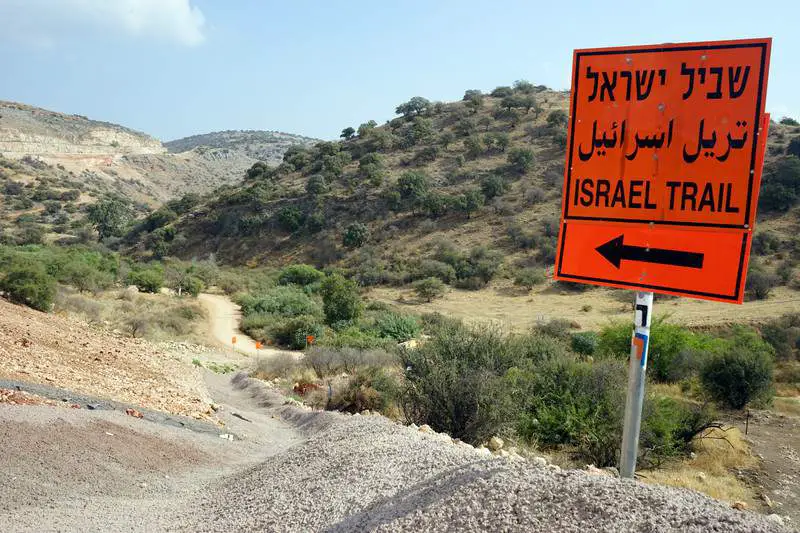 The Israel National Trail crosses the entire country. Running from Dan in the North near the Lebanese border, it runs to Eilat at the southernmost tip of Israel at the Red Sea. At a distance of 683 miles (1100 km), it can take anywhere from 6 to 8 weeks to complete.
Listed in National Geographic's 20 most epic trails it has a biblical feel to it as you traverse the varied and beautiful mix of landscapes.
25. Gros Morne National Park, Canada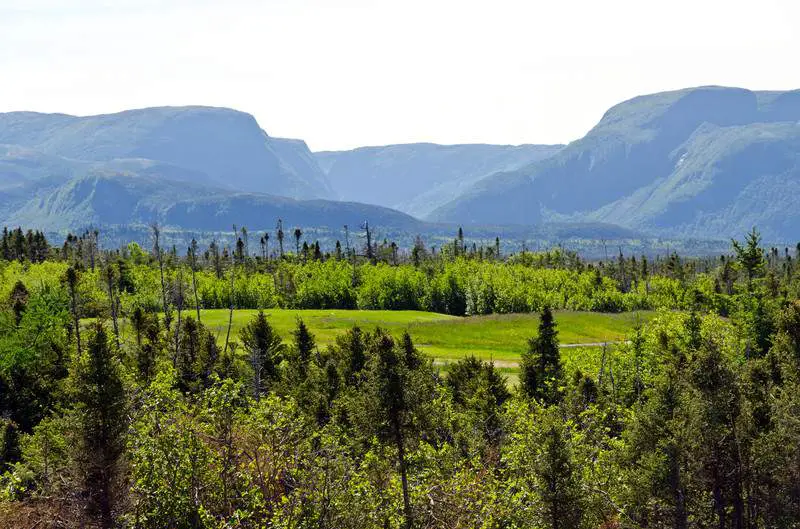 Gros Morne, meaning 'Great Sombre' in French, National Park is a world heritage site on the west coast of Newfoundland. Sitting at 697 square miles (1,805 km²) it is the second biggest national park in Canada. Gros Morne is the second highest peak in the park at 2,644 ft. (806 m).
There are numerous hiking trails within the park and it's a very popular activity with most visitors. The Gros Morne Mountain hike, at 9 miles (16 km), is considered one of the tougher day hikes. There's a great diversity of nature and wildlife in the park too including moose, caribou and black bears to name a few.
26. The Haute Route, Switzerland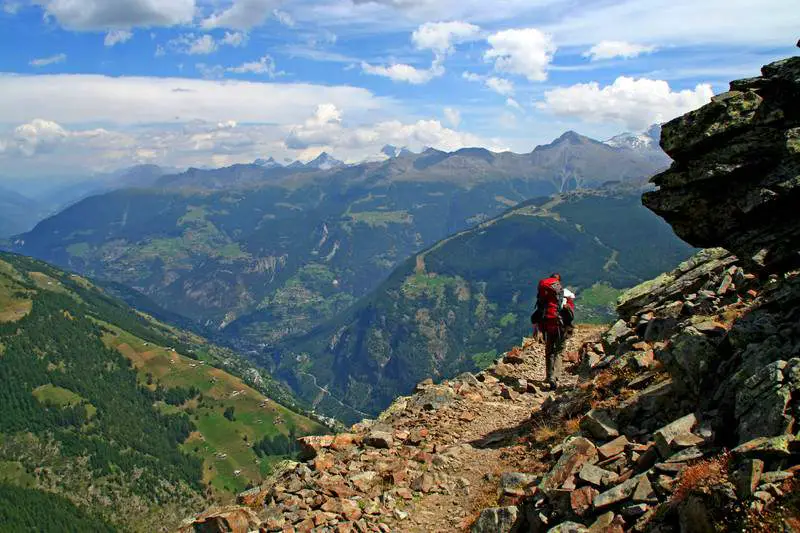 The Haute Route, or High Route, is a 112 mile (180 km) route running from Chamonix in France to Zermatt in Switzerland. Popular with ski tourers, it's also a popular hiking and mountaineering route that takes 10 or 12 days to complete.
As well as the original Haute Route there is also a Haute Route for walkers, which takes a bit of an easier route staying below 9800 ft. (3000 meters). The Alpine hills and the snowy peaks are quite a sight to behold any time of the year, but probably best enjoyed in summer.
27. Superior Hiking Trail, USA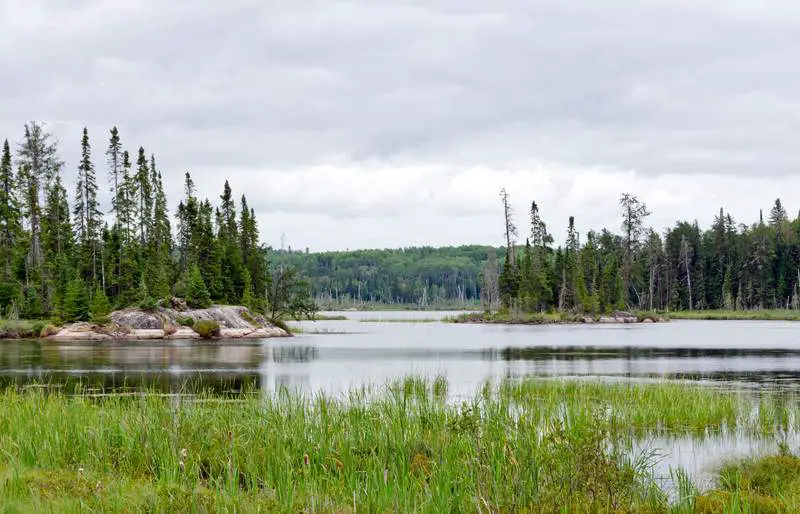 The Superior Hiking Trail is a 236 mile (476 km) trail path in Northeastern Minnesota. A distinct path, it follows a route through beautiful birch, aspen, cedar and pine forests. Some of the treats to behold on the way for hikers are The Sawtooth Mountains, beautiful rivers and waterfalls.
You can expect an eclectic mix of wildlife too on a path that never rises more than 1,829 ft. (558 meters) above sea level. The path itself is actually only 18 inches wide but a clear path throughout makes it very accessible for most hikers.
28. The Great Wall of China
The Great Wall of China is a massive wall structure with initial construction dating back as far as the 8th and 5th centuries. Further development of the wall continued across the proceeding centuries so the history of the fall is both fascinating and long.
The wall is situated in the North of China along the Mongolian border. Stretching for many, many, miles, the Great Wall is not a trail per se although there is a well-worn path along much of it. The only man made structure visible from space, it really is another one for the bucket list.
29. The West Highland Way, Scotland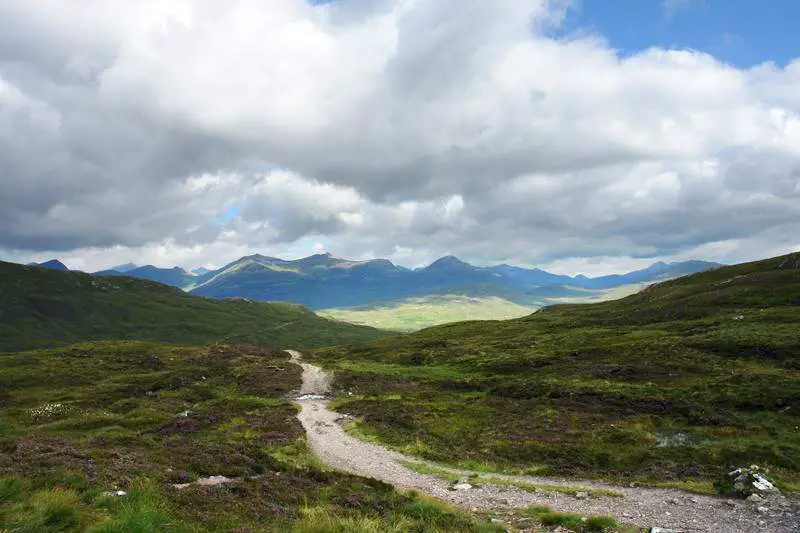 The West Highland Way starts in Milingavie in the north of Glasgow and ends in Fort William in the Scottish Highlands running for 96 miles (154.5 km). If you're travelling between May and August be sure to pack your insect repellent as the midges and mosquitoes can be a real challenge.
With lots of little towns and villages to stay in on the way, the route can be adapted to suit with plenty of opportunity to explore hills and wildlife along each part of it. Scottish weather is particularly unpredictable so be prepared.
30. The Wicklow Way, Ireland
Spanning 80 miles (129 km), the Wicklow Way starts in the southern suburban Dublin park of Marlay park, and runs to Clonegal in County Carlow. Most hikers take 5-7 days to complete it but it's not unheard of for fast hikers to do it in 2 or 3 days.
Whatever pace is chosen, there are plenty of beautiful rolling hills and forest views to be taken in along the way. The medieval monastic site of Glendalough is particularly beautiful to stop off in for a relaxing stroll around the Lower and Upper Lakes (Upper Lake pictured).
31. Tiger Leaping Gorge (hutiaoxia), China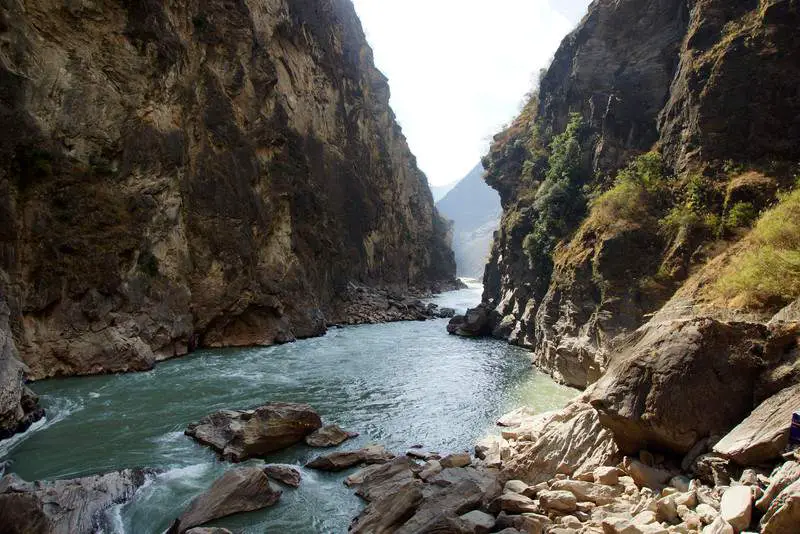 Located near Lijiang, in Yunnan Province, this gorge is a scenic canyon on the Jinsha River. As part of the three parallel rivers of Yunnan, it is a protected area as a world heritage site. The depth of the canyon runs about 12,434 ft. (3790 meters) from the mountain peak to the river.
The Gorge is about 9.3 miles (15 km) in length and is a popular destination for hikers. The canyon takes its name from a legend of a tiger that jumped the canyon while trying to evade a hunter at the narrowest point where it is 82 ft. (25 meter's) across.
32. Torres del Paine, Chile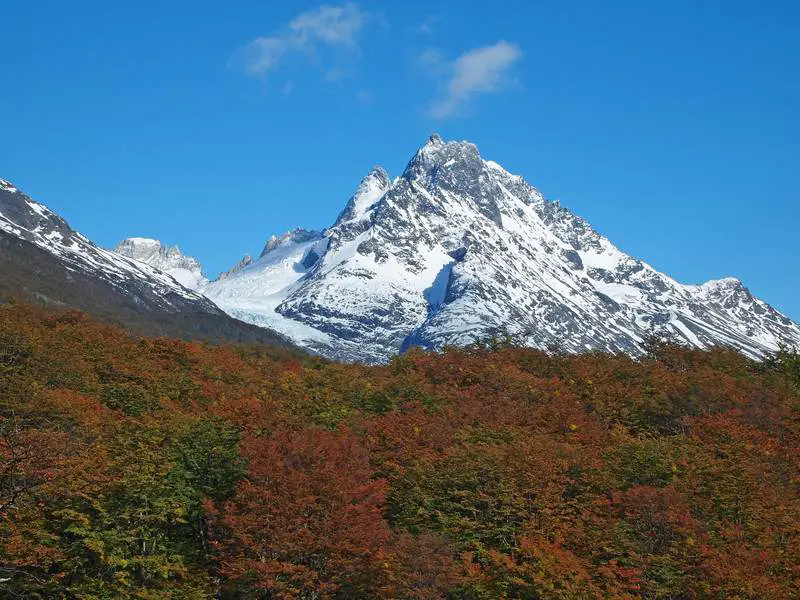 Torres del Paine is a national park in Chile which offers a rich feast of hiking delights. From mountains to rivers, and glaciers to lakes, there's much to see and hike in. The Torres del Paine are the distinctive three granite peaks of the Paine mountain range.
They rise to 9350 ft. (2850 meters) above sea level and they are joined by the Cuernos del Paine. There are lots of well-known lakes like the Grey and the Pehoé as well as glaciers including the Pingo and Tyndall which belong to the Southern Patagonia Ice Field.
33. The Rockies, USA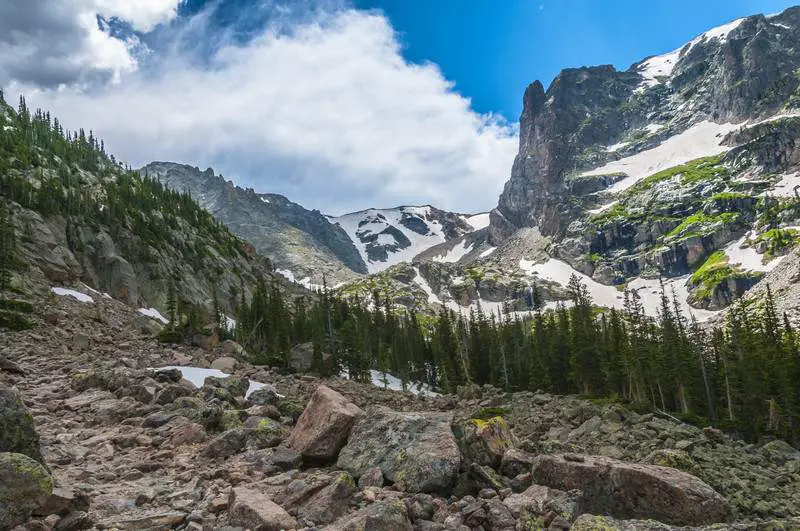 The Rocky Mountains are a major mountain range in the West of the USA. They span about 3000 miles (4,830 km) from Canada to New Mexico. There are of course many popular hikes throughout the range. Pictured above, is a part of the trail from Lake Helene to Odessa in the Colorado Rockies.
This trail takes in some beautiful Alpine scenery. There is much to explore with an accompanying abundance of wildlife including Black and Grizzly bears.
34. Kungsleden, Sweden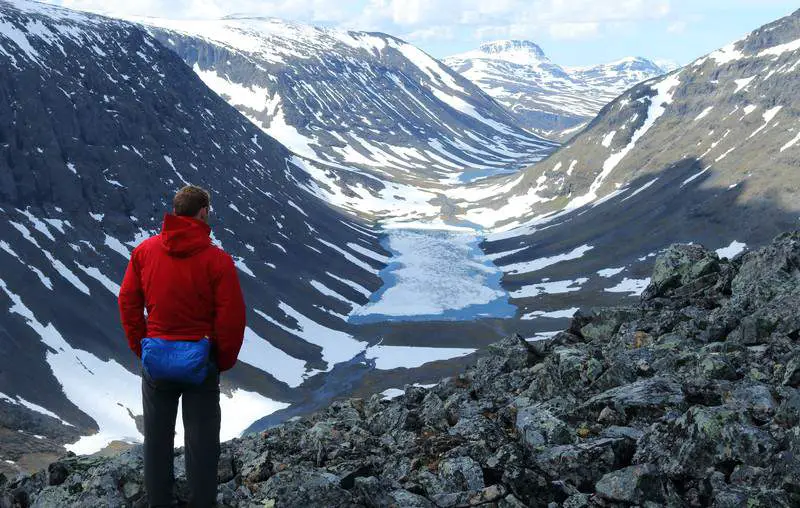 Kungsleden, or Kings Trail, is a hiking trail in northern Sweden that runs 270 miles (440 km) from Abisko in the north to the southern village, or locality, of Hemavan. Created by the Swedish Tourist Association towards the end of the 19th century, the trail is easy to follow as it is well marked throughout with planked walkways in many parts.
The trail is split into 4 main sections with each estimated to take a week to complete. Best tackled between the months of June to September, there are lots of huts along the way to stay in but you will need a tent in places.
35. Zion National Park, USA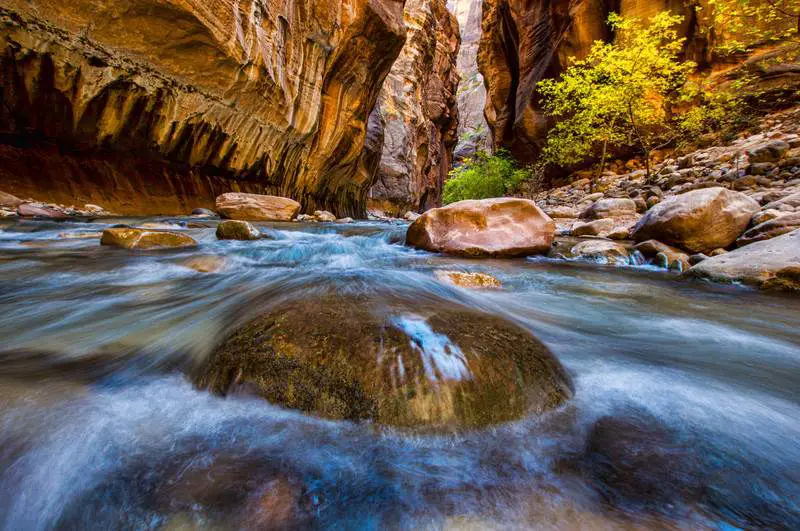 Located in Utah, the Zion National Park spreads across 229 square miles (590 km²). The highest point in the park is at Horse Ranch Mountain coming in at 8,726 ft. (2,660 meters). There is a unique and diverse range of animals and plants in the park and there are lots of hiking trails to choose from including 7 very popular ones in and around Zion Canyon.
The area known as the Narrows, is a canyon that is a popular destination with hikers in the summer. If you take on the Narrows hike starting from Chamberlain's Ranch, expect 10 to 12 hours of strenuous hiking over about 16 miles (26 km). Certain parts of the park may require a permit so be sure to check in advance.
36. Yellowstone's Wild Southwest, USA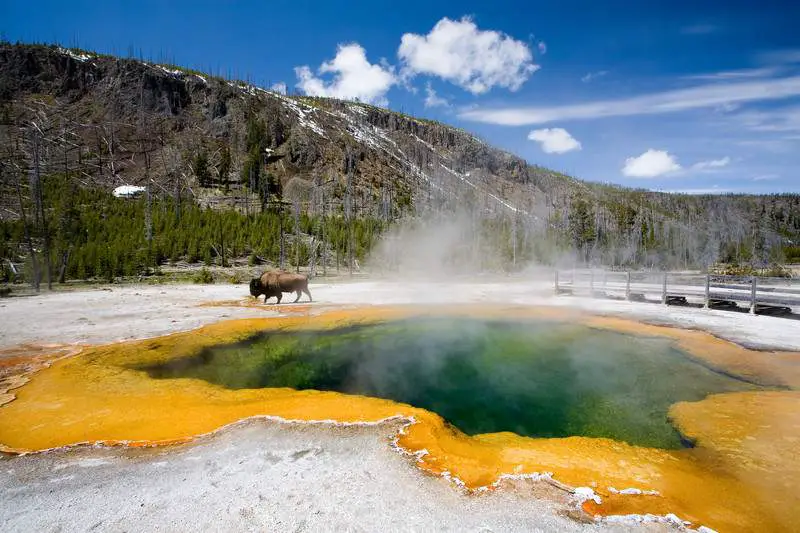 Although there are many hikes on offer in the huge Yellowstone Park, one very popular one is Yellowstone's Wild Southwest. The 27 mile (43 km) hike begins at the Bechier Ranger Station.
There are many little side hikes off the main one with lots of beautiful scenery and natural entertainment in the form of Geysers, including Old Faithful, one of the most famous geysers in Yellowstone, so named as it reliably erupts every 63 minutes. Best to travel there in August and September to avoid the bugs of Bechier meadows in July and the water in June.
37. The Lake District, England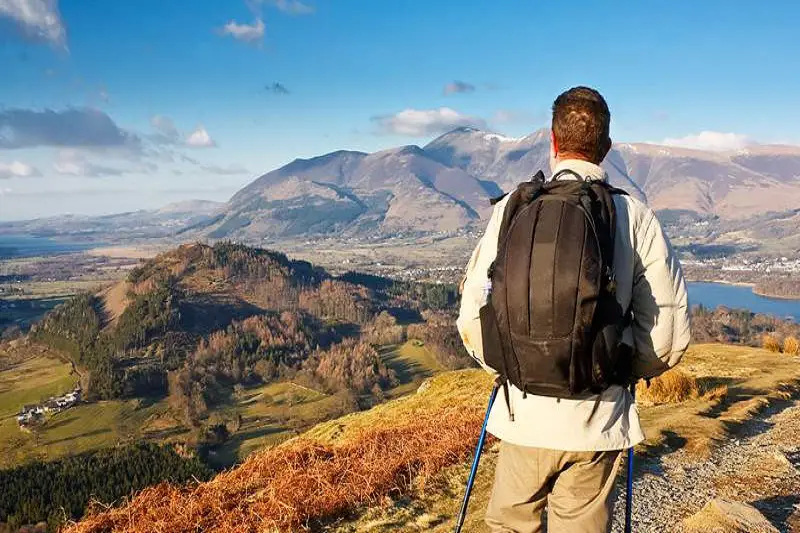 The Lake district is a mountainous area in North West England.  It has the highest mountain in England called Scafell Pike at 3,209 ft. (978 meters) and also has the deepest and longest lakes in England.
Forever enshrined in the poetic words of William Wordsworth, it is a popular hiking location in the UK. Most of the hikes in it are pleasant with nothing overly strenuous. However, the beauty and majesty of the lakes is a joy to behold at any time of the year.
38. The Grand Canyon, USA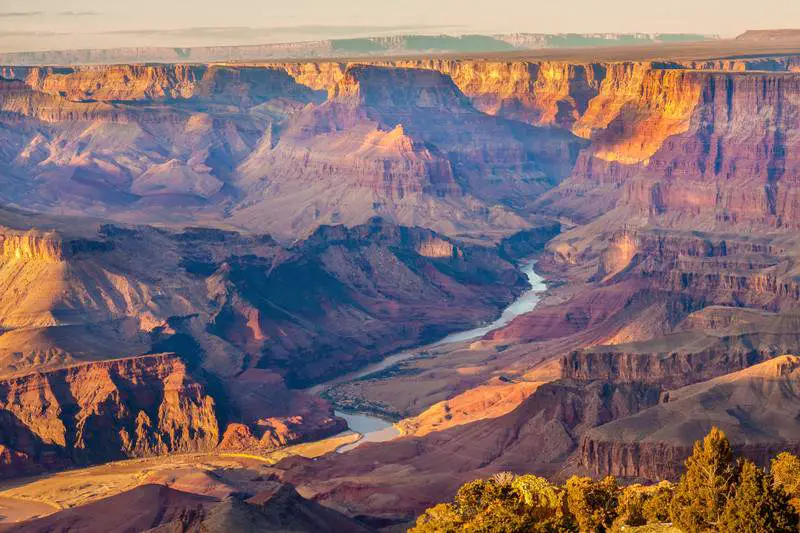 A hike in the landscape of the Grand Canyon can only be one thing, special! The Grand Canyon is a steep sided canyon in Arizona carved out over years by the Colorado river. It is 277 miles (446 km) long, up to 18 miles (29 km) wide and is over a mile (6,000 feet or 1,800 meters) deep.
While a popular destination for tourists of all kinds, there is also a popular hike around the rim of the canyon. Taking 4 to 6 days, the typical hike is 44 miles (71 km) long. The most popular time to take it on is September to October or April to May. You just can't really go far wrong in the Grand Canyon I think, it's just stunning, enough said!
39. Fitz Roy Trek, Argentina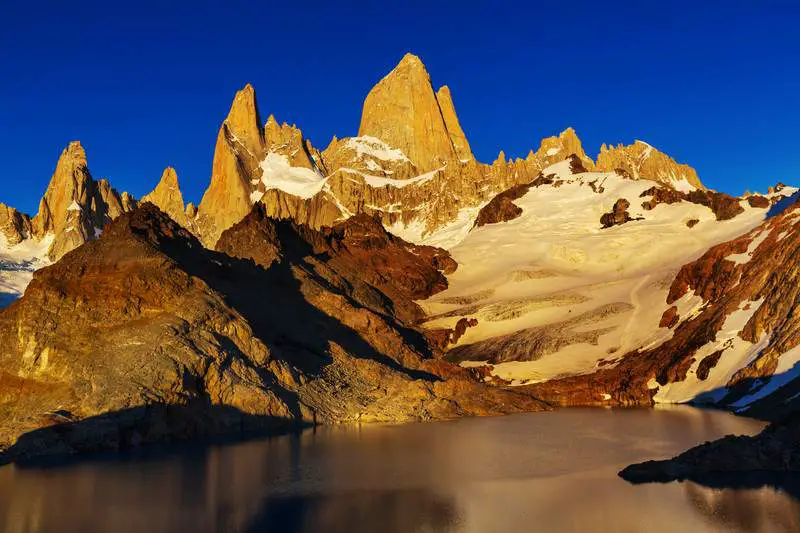 Known as one of the best treks in Patagonia, the Fitz Roy Trek runs 36 miles (58 km) from El Chalten to Laguna Eléctrico and takes from 4 to 6 days to complete.  It is a very popular destination so the best time to go can be earlier in the year, February or March, as it's less crowded.
Glaciers, forests, waterfalls and granite mountains make this a truly beautiful experience. It is highly recommended to hike up onto the Laguna de los Tres to watch the dawn rising on the Massif. Accommodation and food can be found throughout the trail so you should be able to stock up on supplies as you go.
40. The Magillicuddy Reeks, Ireland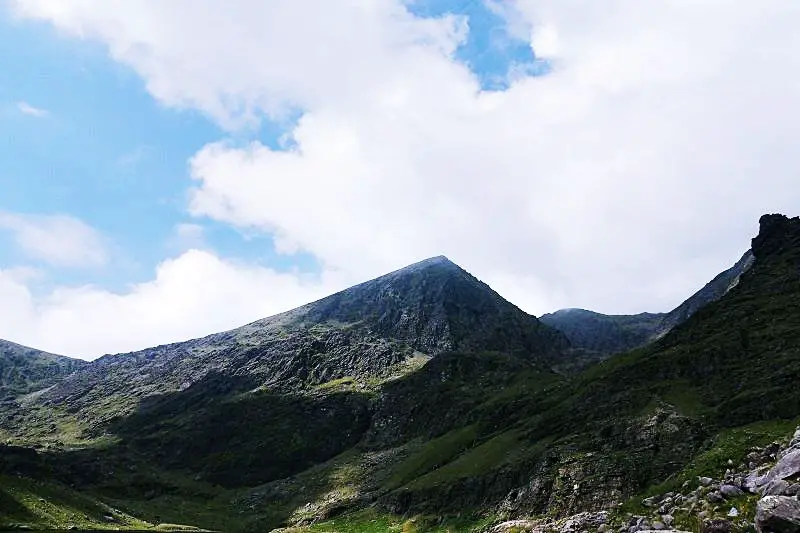 Home to Ireland's highest mountain, Carrountoohil, the Magillicuddy Reeks are a mountain range in the South West or Ireland in County Kerry. They span over a distance of 12 miles (19km) over very rocky terrain. With lot's of opportunity for scrambling and plenty of scenic vistas to enjoy, the main hike along the whole ridge can be taken on in about 10 hours. It's best enjoyed on a sunny day to really take in the magnificent views.
There are several routes to the top of Carrountoohil with Brother O'Sheas Gully and The Devils Ladder being two of the most popular. A hike that can be enjoyed by most levels of hiking ability.
Conclusion
I hope you enjoyed this brief trip around the globe looking at 40 of the Worlds best hikes and trails. As mentioned at the start, you could go on and on and on. There are so many amazing hiking locations on this beautiful planet, it would be hard to catch them all. Hopefully it gives you a good start to your hiking bucket list too 🙂
Please feel free to comment and / or re-share this gallery.