Last year I had the pleasure of travelling to the West Coast of the US to visit some of the truly beautiful and amazing national parks that are on offer there.
It is truly a hikers paradise and while I visited four of the main national parks while I was there, I still of course only scratched the surface of what is on offer.
While I truly loved the four parks I visited (Sequoia, Death Valley, Zion and The Grand Canyon), I have to say that Zion was my favorite. The scenic beauty and the copper and autumnal hues of the sandstone, mountains and canyons against a crisp blue sky setting, was truly stunning.
In this article I thought I'd compile some Zion National Park pictures into a picture gallery to try and give you a feel for what you can look forward to if you are thinking of heading to Zion for some hiking, or just to get away and relax for a bit.
1. Zion National Park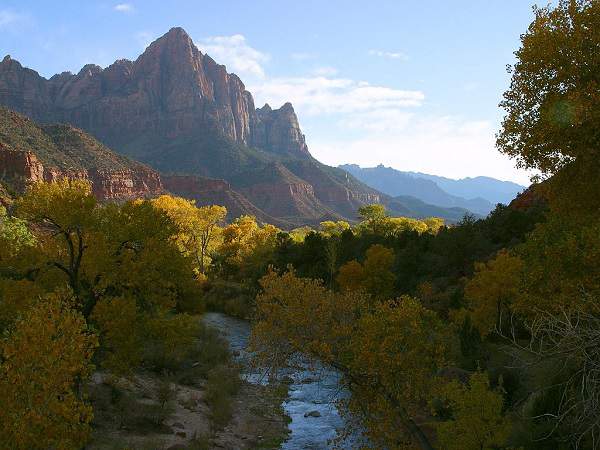 The park is found in Utah in the US, near the town of Springdale, although Springdale is not the only entrance to the park. It is about 229 square miles in size and is predominantly made formed from sandstone, limestone, gypsum and conglomerate.
It was first established in 1919 and is a very popular location for hikers and tourists, with visitor numbers on the increase year on year in recent times.
2. The Virgin River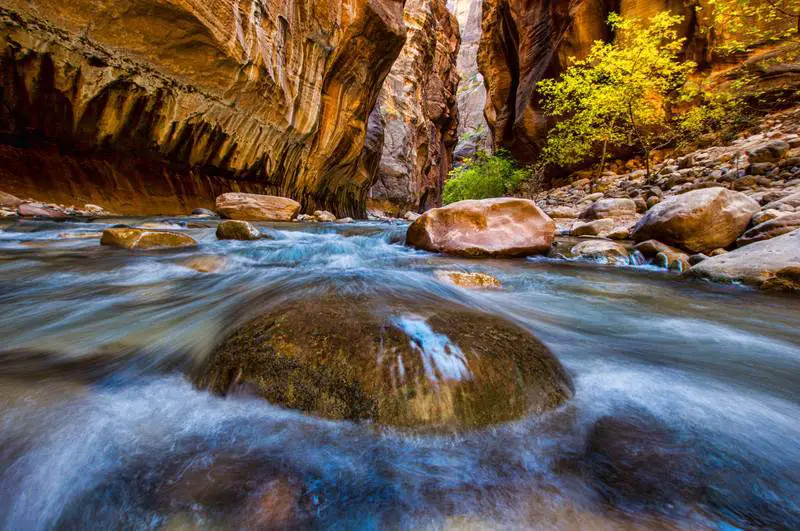 The Virgin River is one of the main attractions in Zion. It is actually a tributary of the Colorado River that runs through Utah, Nevada and Arizona. It is approximately 162 miles long and is named after Thomas Virgin, believed to be the first American to see it while exploring the area.
3. Zion Canyon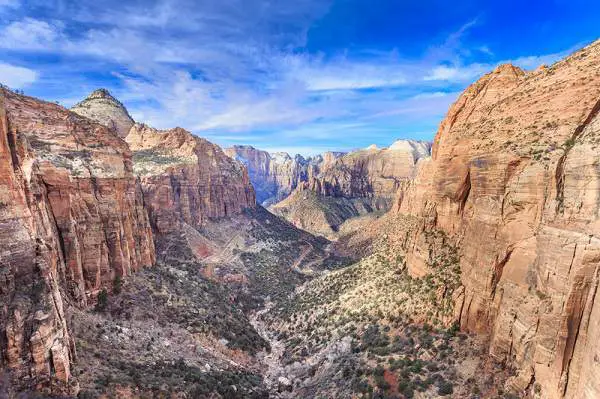 Another Big draw in Zion National Park is of course Zion Canyon. Cut through Navajo Sandstone, it is the main feature within the park and runs 15 miles long and up to half a mile wide. It's a truly beautiful site to behold
4. Angels Landing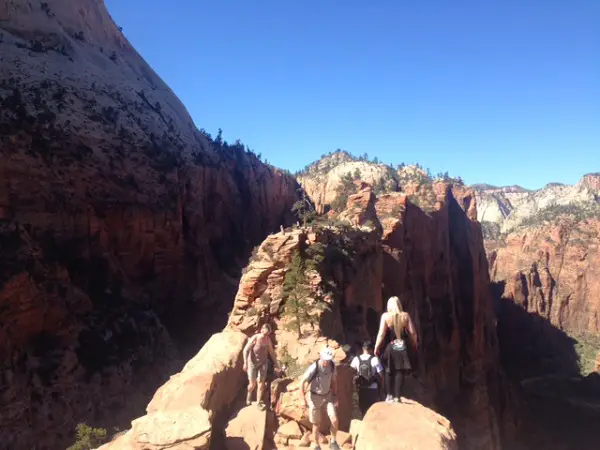 Angels Landing was my main hike when I travelled to Zion. It's one of the better known and more famous hikes in the park and people travel there specifically to do it. Anywhere from three to five hours should you see you around comfortably, depending on how fast you hike of course.
Be careful if you suffer from Vertigo or if heights make you queasy, there are some significant drops and I believe, at least I was told this, that people die falling from it every year.
Mainly from not being careful as opposed to anything else. Take your time, wear appropriate hiking boots or shoes with good grip, go at a steady pace for your party, and you should be fine. As always, bring water and some snacks.
5. The Narrows
When people go to visit Zion Canyon, typically top of their list, is to hike the Narrows. The Narrows trail is basically following the Virgin River through slot canyons.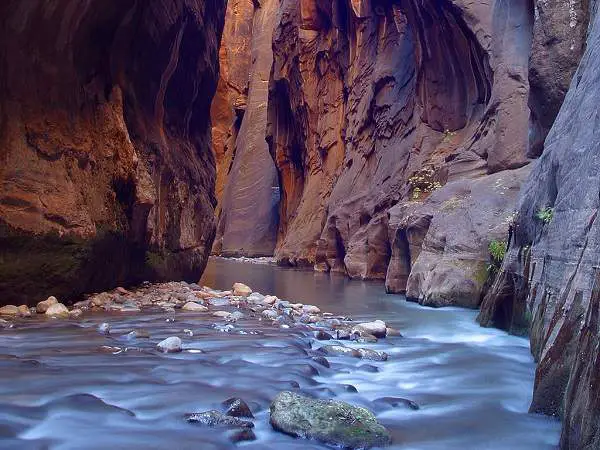 There are different levels of hike you can do, from a shorter 3 to 4 hour hike known as Wall Street, see further below, to the whole hike from Chamberlain Ranch down to the Temple of Sinawava.
If you don't like water, parts of the Narrows may not be your thing as you can be waist deep in places. Next time I go back, hiking the whole Narrows is top of my list!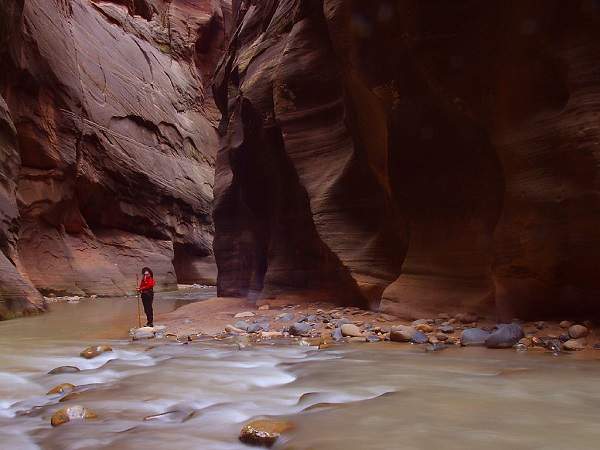 The hike can be anything up to 16 miles, if you decided to do the whole thing. If you want to hike the Narrows, be sure to go at an appropriate time of year as in late Autumn, Winter and early Spring, the water levels can be too high due to run off so hiking the Narrows is not permitted.
Also, be aware that there is a risk of flash floods all year round e.g. from thunder storms.
6. Wall Street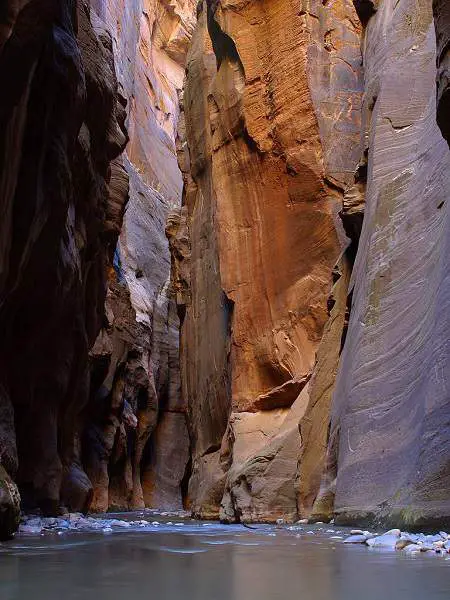 No, we're not getting all financial all of a sudden 🙂 Wall Street is probably the most popular and frequented hike of the Narrows. This is mainly as it the most accessible, suitable for most ages and can be completed in 3 to 4 hours.
It's known as the best slot canyon in America and in it the walls squeeze down to a tidy 20 feet wide, into a mile-long corridor at the mouth of the Orderville Canyon … AKA Wall Street.
7. Some Autumnal Hues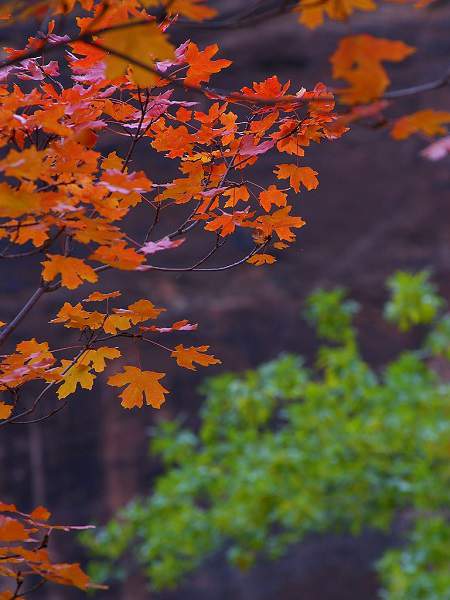 As referenced above, the copper and Autumnal hues that are a standard part of Zion, are what really set's the park alive in terms of its scenic beauty.
The red hued sandstone rock against a blue sky is complimented further by the beautiful ecology and wildlife that is on offer. It all goes to compliment the beauty and majesty of Zion National Park.
8. Temple of Sinawava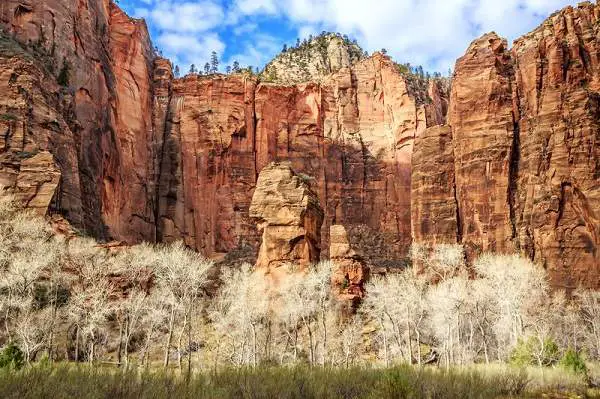 The Temple of Sinawava, is a vertical-walled natural amphitheater that runs nearly 3,000 feet (910 m) deep. Many take this to be the start of Zion Canyon but the canyon actually begins much further ahead where the river splits.
It is one of the most frequented stops on the park shuttle bus as it's the end of the Narrows hike. Pictured above is what is known as the pulpit, a free standing sandstone in the middle of the Temple of Sinawava.
9. Weeping Rock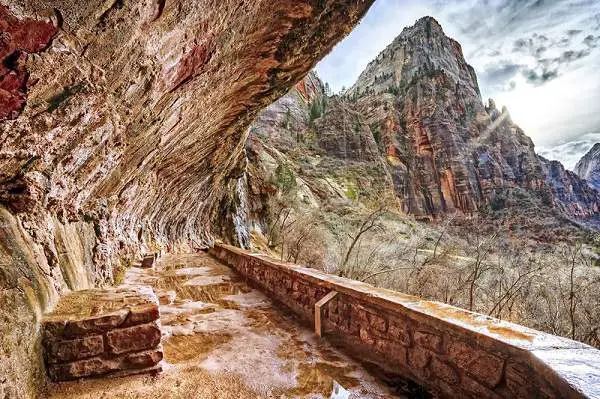 Weeping Rock is a fascinating sight in Zion. It's overhanging blind arch and it "rains" every day of the year.
The spring water seeps out of the rock 100 feet above and takes nearly 1000 years to travel through the porous Navajo sandstone. Another really unique and beautiful part of the park that is worth a visit to hike around in.
10. Kolob Canyons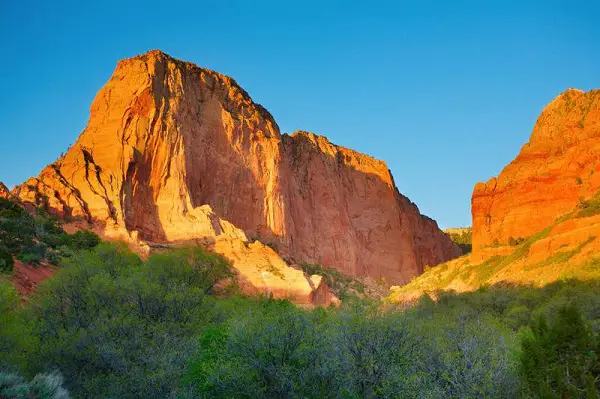 The Kolob canyons part of Zion National park is to be found in the North West of the park. Here you can find plenty more hiking paradise with 2,000 foot cliff walls and plenty of winding trails to explore.
The best starting point is the Kolob canyons Visitor Center. As with other parts of Zion National Park, specific permits are required depending on the activity or trail you wish to do.
Always check with the park service folks in advance, they're very friendly and helpful and will be only too happy to guide you on what you need to do.
11. Springdale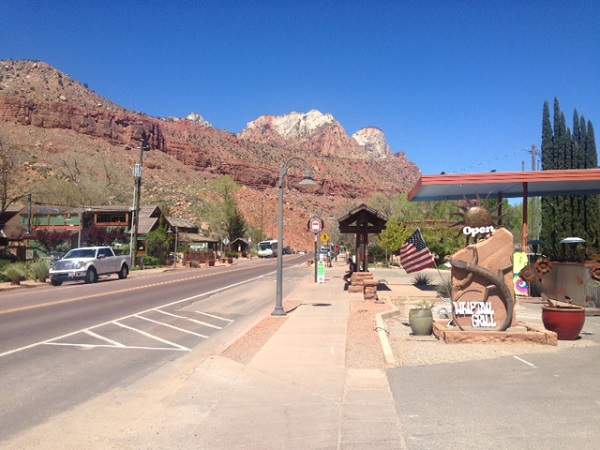 Springdale is one of several available starting points for your trip into Zion National Park. It's quite a sweet little town with a very chilled out vibe.
There are lots of nice eateries and stores to get replenished in after your day in the park. About 12 km's squared in size, it sits at an elevation of 1188 meters and has a small population of about 5 to 6 hundred.
Of course it is always much busier than this as it is the Southern Gateway into Zion. The town is very well set up with plenty of parking lots which are close to a shuttle bus that takes you to the park entrance.
It's a shuttle bus that takes you to the park shuttle bus if you will. It's a beautiful little town and well worth staying in for a few days if you can.
As with many of the big national parks in the US, Zion itself is serviced by a park Shuttle Bus that picks you up and drops you off at your trail head of choice.
It is convenient and easy to use and works well. The buses are propane-powered and so quieter and much better for the environment that lots of noisy cars.
This was introduced in the late 90's to move to a much greener approach to park access and it has been a great success.
The shuttle bus drivers also typically share knowledge and stories about the park as you travel from one location to the next, so it can be a very educational, interesting and humorous trip.
Conclusion
I started this gallery by saying that Zion National Park was my favorite hiking trip in my initial visit to the West coast of the US (although technically it's more inland, I started by flying into L.A.), and I'll finish by reiterating the same.
It's a truly beautiful place and somewhere I look forward to visiting again. Next time, I will most likely spend up to a week in the area exploring more as I only got to hike Angel's Landing as my schedule was tight and I needed to move on to the next adventure on the trip.
If you are thinking of visiting, be sure to check out the Zion National Park website in advance. It has loads of useful information to help you plan your visit.
Also be sure to check on the time of year you plan to visit. In and around 3 million people travel to Zion National Park every year, so the numbers visiting can be very high at peak times of the year.
Queues will obviously form and you may have to come back another day, so it is always best to plan ahead so you make the formalities as smooth as possible to give you more time to do what you came there to do, which is of course to explore the Majestic Beauty of Zion National Park!
I hope you found this gallery enjoyable, useful and possibly inspirational! Please share it and leave a comment if you do.