So, as we drew closer to the end of our trip, we had one more major national park on our list to visit. We had to go hiking in the Grand Canyon! How could we travel all the way over there and not pay a visit to that amazing wonder. For sure, it had to be on the to do list.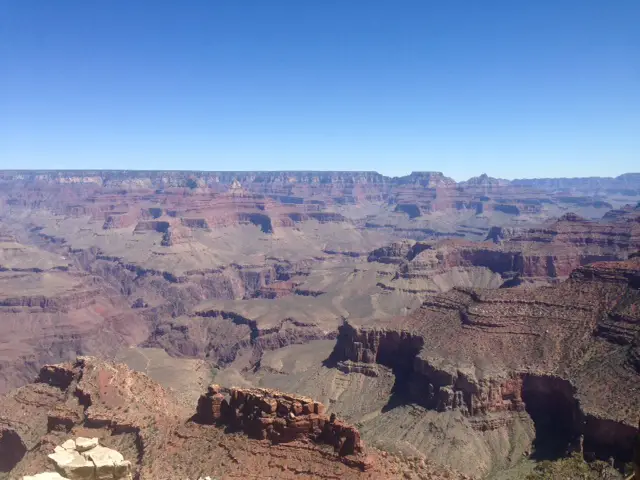 With our base being Las Vegas, it was about a four hour drive each way to get from there to the Grand Canyon National park. With the trips to Sequoia, Death Valley and Zion National Park, I had already put in a lot of miles driving over a few days so I wasn't keen on spending another 8 hours driving to and from Las Vegas to the Grand Canyon.
As Las Vegas is so close, luckily, there are plenty of tour bus options you can take to get to see the Grand Canyon. Just do a Google search and you'll get a load of options. From helicopter rides to day trips and longer excursions staying in Grand Canyon Village.
I did a Google search and found a company called Grand Adventures … they had a lot of good reviews. One of their options was the South Rim Express Tour, $125 per person at time of writing, which left at 6am and took in a hike of the the South Rim of the Canyon.
As the tour purposely beelined for the Canyon at that early hour, they were able to spend that little bit longer at the Canyon that most of the other tours on offer and still get you back to Vegas early enough. I liked the sound of that as it would give us more time at the Canyon itself.
An Early Start
We booked the tickets and the day after our Zion trip got up at 5am to get ready to make our way to Bally's casino in Vegas to the pick-up point. An early start indeed after our hiking trip the previous day in Zion National Park!
As it turned out, there was only four of us on the day trip which was great from our perspective. The two of us and two other ladies who were on the trip got to have the whole mini bus to ourselves for the journey there and back. That meant we had a long seat each. Nice to have for sure having gotten up at 5am! Could stretch out a bit and have a snooze on the journey.
Our guide for the day was a Guy called Kevin. Very nice Guy who knew a lot about the Canyon itself and places on the way. He had lot's of interesting and funny stories for us and kept us entertained and informed throughout the trip. From all the movie and music stars living in and around Lake Mead to interesting stories on sheep crossing bridges on the highway that he's never actually seen sheep on. It was all very interesting.
He also really knew his stuff in terms of history about the Canyon and so on. Any question I asked he knew the answer to. Kevin knew some excellent spots to get good photo shots, see below. Of course, it's the Grand Canyon, so there are numerous opportunities for getting some good photos in.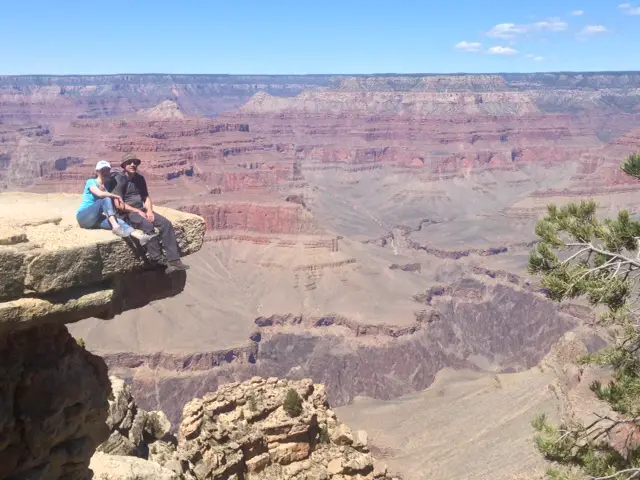 Hiking the South Rim of the Grand Canyon
When we got to Grand Canyon park, thankfully the traffic queues weren't too bad, another benefit of the early start. After a rest break in the visitors center we made our way to start our hike.
We hiked for about 3 hours around the South Rim of the Canyon. We were totally blessed with the weather and we had a perfect day for it. Clear blue skies as far as the eye could see. It really lent itself to seeing the majesty of the Grand Canyon. Notice the mountains in the distance in the shot below, we really could see for miles!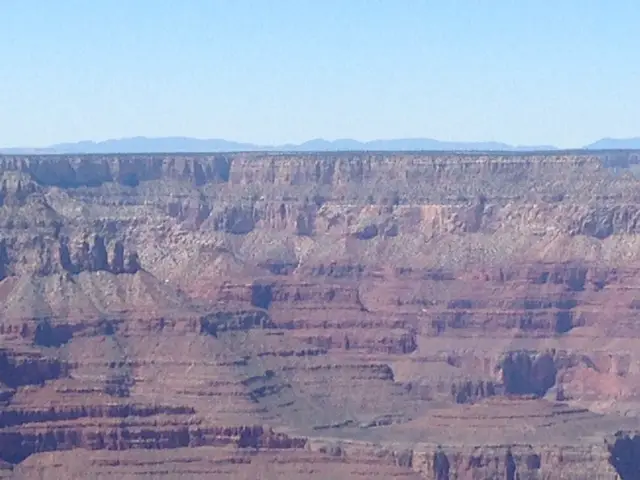 The Colorado, Spanish for red, River flows through the Grand Canyon and has been shaping it, cutting through the stone over time, for years. We could only see it in the distance, you can just about see it in the center of the photo below, as we were staying at the rim of the canyon but you can hike down to it. With the sheer size of the Grand Canyon, you could easily spend weeks, months and possibly years exploring it.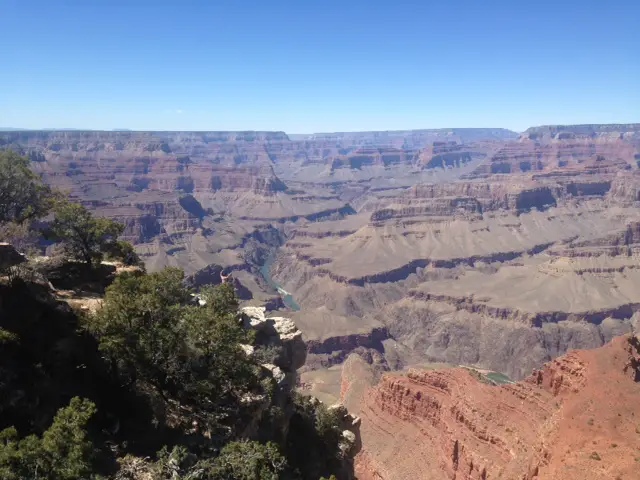 The Grand Canyon is definitely a tourist mecca and so it has a lot of facilities within it, including a shuttle bus to help get you trail heads and so on through out the park.
There are numerous places to stay, lodging, camping and so on. It is busy all year round and of course much busier at peak times in Summer. I think, from chatting with Kevin, it can be pricey enough to stay within the park itself though and you need to book well in advance.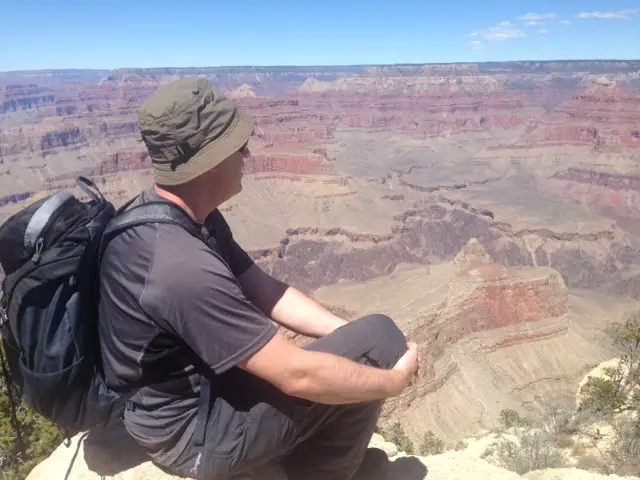 I was considering writing more about the short trip to the Grand Canyon but I think the photo's really speak for themselves so why bother 🙂

This was the last hiking trip of our trip to the West Coast. Two more days and we'd be heading back to LA to get our flight out. It was quite a way to end it with such spectacular views and scenery. The sheer size of the Grand Canyon is amazing, let alone the endless opportunities to hike and experience the natural beauty of the area.
Conclusion
As with all the other parks I visited on this trip, I can't really do the Grand Canyon justice with a short fly in day trip. Like Sequoia, Death Valley and Zion, you could easily spend a couple of weeks / months in the area enjoying the many hiking opportunities that are available.
In terms of preparation, as with Death Valley and Zion, bring plenty of water and snacks as well as sun protection in the form of sun screen, hat, sun glasses, appropriate hiking gear etc. check out the complete day hiking checklist in pictures for a reminder of stuff you may need to bring.
There are lot's of easy trails to hike on so if you're new to hiking you can enjoy lot's of hiking in basic trail shoes or running shoes. I prefer hiking boots for all my hiking though and they would likely come in more useful if you went further afield into the less frequented areas within the Grand Canyon National Park. However, if it's a hotter time of year, lighter trail shoes might be a better option for sure.
So, that was it. The last hike on our trip. We got back in the van and headed back for Las Vegas. It was a great day out and it was a marvelous way to finish things up, in terms of hiking, after the rest of our trip! I highly recommend a visit to go Hiking in the Grand Canyon, and ideally spend a few days if you can to get a chance to really explore the place a bit. I know I certainly will the next time I visit 🙂
I hope you enjoyed this short post, please like and share.