After we finished in Death Valley, we made our way to Las Vegas which was to be our base for the remainder of our trip. While you immediately associate Vegas with several obvious things, casinos and partying to name just two of them, there is actually quite a lot of nice places to go hiking in and around Las Vegas.
Now, I only discovered this from speaking with a tour guide at the Grand Canyon so it didn't form part of our hiking plans but I thought it is worth mentioning here before getting into things further.
We of course wanted to check out Vegas itself, take a show in, hit the tables for a little bit and all that kind of stuff, but Vegas was a good spot to pick as a base for the last 6 days of our trip for a couple of reasons. First and foremost, there are several awesome national parks not too far away and secondly, you can get really good accommodation at a good price. Winner!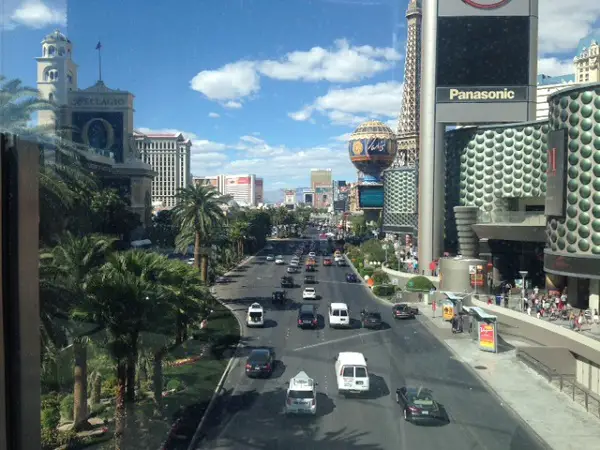 One of the main areas I was really looking forward to hiking in was Zion National Park in Utah. Roughly a two hour drive from Vegas, it's very accessible for a day trip.
I had two hikes that I really wanted to do in Zion, Angels landing and the Narrows, two of the most famous on offer there I would say. Angels Landing in Zion National Park is a strenuous enough hike up onto a beautiful ridge that offers marvelous vistas.
The Narrows refers to hiking through a canyon which the Virgin River flows through. For much of the hike, there is no trail so you basically hike up or down the river itself. The full hike runs quite a distance, up to 16 miles I believe, but you can of course choose how much you do or don't want to do.
Now, with the time available to us, I was going to have to make a call on which one to do as it was unlikely I'd get both in. The river water would probably be pretty cold in March to do the Narrows and there was something about Angel's Landing that really appealed, so we decided to go with the 5 to 6 miles hike, round trip, up to Angels Landing. If we had enough time, we'd try get up to the Narrows afterwards.
Now, for some reason, Zion was one of the National Parks I was really looking forward to hiking in. From photo's I had seen, it just looked really beautiful so I was very excited to go there. What can I say, except it didn't disappoint!
Getting to and Around Zion National Park
As mentioned already, Zion was very accessible from Las Vegas where we were staying and I am sure it is very easy to get to from various other locations as the roads are excellent getting in there.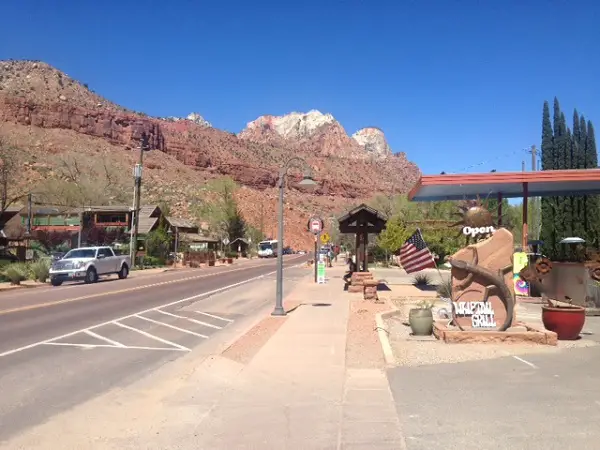 When you arrive, the little town just beside the park is really pretty and has lots of nice shops, restaurants, etc. There is lots of parking available in that area. You can park up and there is a free shuttle bus that takes you up to the gates of Zion ( That sounds like a religious text lol 🙂 ) When you get there, you pay in, same rates as other parks from what I could see. 15 bucks per person and you have a week long pass to get access into the park. They also provide you with a map and information newsletter.
When you're in the park itself, they have another shuttle that drives around numerous stops throughout the park which you can stop at and explore. These stops are the starting points for many of the hikes available in the park. This bus shuttle system is common in the National Parks and I have to say, I was very impressed with it. Made getting to where you needed to be, much easier as the parks are so big.
So, between the shuttle bus to the gates and the shuttle bus within the park, it's very easy to get to and around Zion National Park.
First Impressions
It's hard to get across the real beauty of Zion. The red and copper hues mix effortlessly with the blue skies providing endless panoramic vista's any direction you look.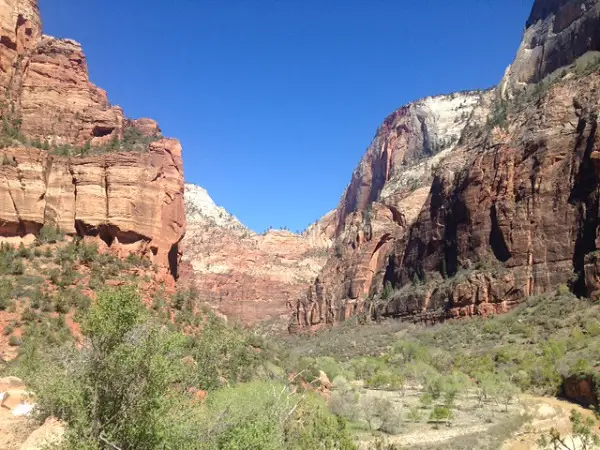 I got a real sense of earthy space in Zion as well, not sure why exactly, probably the wide openness of the surrounding area. I could tell that Zion was quietly stacking up to be my favorite hiking spot of the trip so far. I was really enjoying it and I hadn't really even started hiking in it!
When we got on the internal park shuttle to make our way to the Grotto to start our Angels Landing hike, the bus driver started to provide some history of the park which was very interesting. The park has been prone to floods and landslides in recent times some of which actually took out the main road in the park leaving some people already in the park stranded for several days.
He also pointed out, and I hope I am recalling this more or less accurately, that when the park started back in the day, it had less than one hundred visitors in its first year of operation. The Visitors Center was also a small cabin and one of the shuttle stops on the existing route.
Today, the park gets millions of visitors every year and the new Visitors Center at the gate is a series of large buildings with information, gear, gift shops, etc. I had noticed that there was a lot of advertising on the TV for the 5 parks in Utah, Zion being one of them. Whatever, they're doing to promote the place, it certainly seems to be working!
Preparation
The weather was hot but pleasant with the sun shining. I covered myself up pretty good with light hiking pants, a tee and hiking hat as well as sun glasses. Sun screen is a must as well as the hat and glasses but you could opt for shorts if you preferred.
I recommend wearing hiking boots, just my preference, but trail shoes will also work well. There are plenty of people hiking it in jeans and running shoes as well, so you can go down that route too if you wish but I always think suitable hiking gear is the best option.
As mentioned above, you'll get your map when you pay in and the internal park shuttle will take you to the Grotto to start the hike. The hike is well marked with signs, like the one below, so it's easy to follow and as it's such a popular hike, there will most likely be plenty of people on it. I would say you pretty much have zero chance of getting lost or going the wrong way.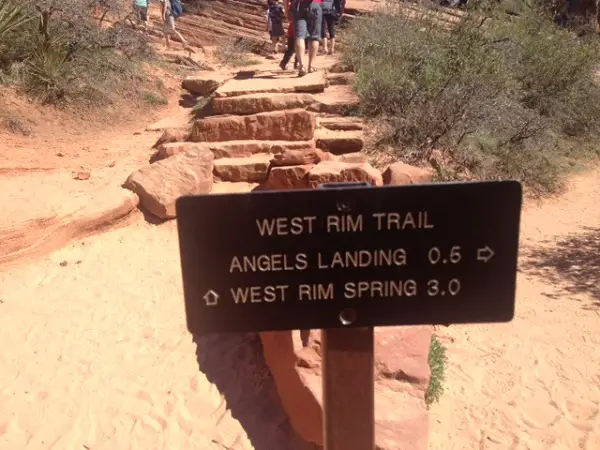 As it's hot, it's wise to pack a bit of extra water as well as some snacks to keep you going on the way up over the steeper parts of the trail. A small day pack should do the trick nicely to carry your stuff.
Angels Landing
To do the Angels Landing hike, you jump off at the Grotto stop and follow the signs. There are amenities at the Grotto stop. This is another thing I like about the parks. For these well-known hikes, there are a lot of visitors, so of course, It's a good idea to cater for their 'needs', shall we say.
This also comes in to the area of trails too. Many, especially the very popular ones, are very well marked and you are strongly encouraged to stick to the trails to protect the local environment. As with all the National parks though, wilderness permits are available in Zion.
As already mentioned, the Angels Landing trail is very well marked out. There are signs and clear paths to follow to get up to the ridge. It starts on the flat before starting to veer upward on a steeper and steeper gradient.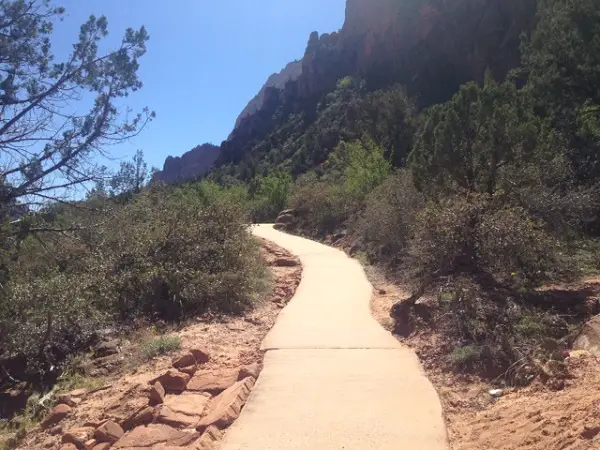 This first part of the hike is very pleasant, a bit strenuous but nothing of any major difficulty for an average regular hiker. As with all the hike, there are lots of excellent photo opportunities as you make your way up. We had a beautiful clear day so I was very trigger happy on my iPhone lol 🙂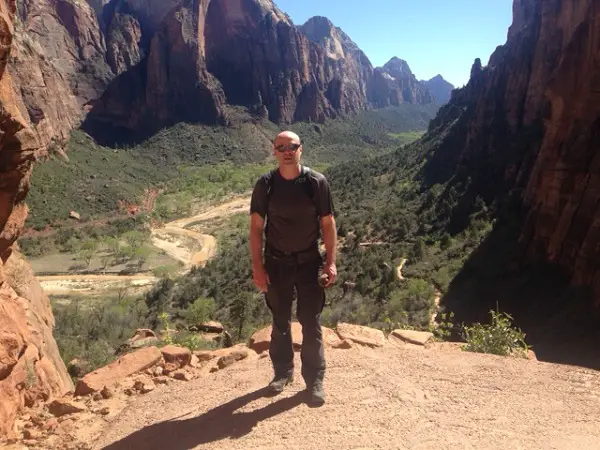 This first phase of the hike ends when you reach a plateau and you walk for a bit on the flat again through, what I think is, a canyon. You move inward into the rocky mountain before you again start to head back upward again on steep enough paths. You follow that up the whole way to the first top, or flat level on the ridge.
Now, this is where the hike starts to get really excellent. As you follow this first plateau along you see for the first time the metal chain attached to posts which will be your companion, which you will be grateful of, as you move further up a long on the ridge towards Angels Landing itself.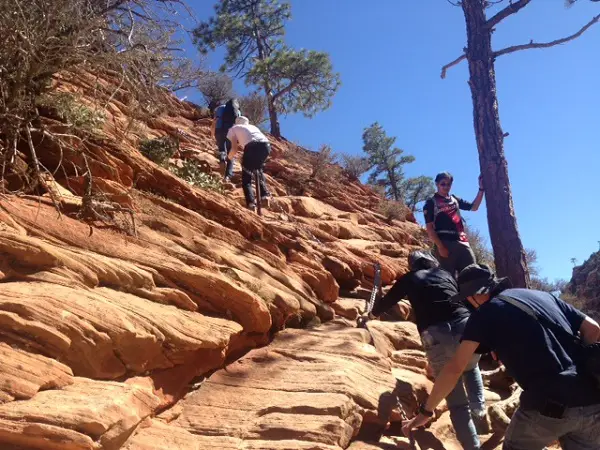 This is certainly where the hike does start to get a bit trickier and if you have any fear of heights, you may wish to consider if continuing on is a good idea. As you go further up, there is a drop on either side most of the way to angels Landing and it can be a bit hairy in places. People do die on the hike every year apparently. Someone gave me a figure of an average of 5 people a year falling of it and dying but I don't know if that statistic is accurate.
At the early stages of our hike, we had Asian couple in front of us. The lady was having a really difficult time getting up over the first part of the hike with the chain on it. She was very nervous and taking a very long time. It definitely didn't bode well and I really hoped she wouldn't continue. They found a spot and let us and a few others pass by them.
This part of the hike was just beautiful. As mentioned, you need to keep your wits about you in certain places and use the chain to support you to prevent you from falling off. Anyone can have a slip so you just need to take care. You also need to be wary of the biggest danger on the hike to Angels Landing, namely, other people.
As Angels Landing is of course very popular, there is a fair bit of traffic up to it. On more than one occasion, I saw people barge past other people on the chain, or they would continue upwards while other people were trying to come down in places where only one should pass at a time. The terrain was such, that at some point, one of the parties would have to let go of the chain while the other passed leaving them helpless if they slipped.
One man in particular sticks in my head, on two occasions I saw him pushing upwards while people were trying to come down. The first was more rude than anything, the second was just dangerous. This second time, people who obviously weren't hikers and were somewhat shaky to say the least, where trying to negotiate a tricky bit on the same way down. Regardless, he just pushed upwards hogging the chain forcing them to stop and let go. Just plain stupid of him.
It's worth taking your time and being courteous to others is always a good idea, it is just safer in places like Angels Landing. It's OK to stop for a few minutes and let people get down past you, you'll get there in a much more safer way and you get a few moments to stop and enjoy the views in the process.
The terrain is more or less rocky and you make your way up through the rocks at various points as well as over them. You need to use your hands a lot, so a bit of scrambling is required. I personally love scrambling but it's too much for some, be prepared for a bit of it on the way up to Angel's Landing.
The Summit
When you get to Angels Landing, you definitely feel like you earned it. It isn't an easy hike and the last section over the ridge adds a challenging and exciting dynamic to it.
What awaits you, is stunning views. The weather stayed perfect for our whole time on the hike so it was just beautiful at the top. We spent about 15 minutes on the top, took some photos and sat down for a bit just to take it all in. There are a few outcrops from the top that you can walk out onto if you're feeling adventurous but we were happy sitting back taking in the view.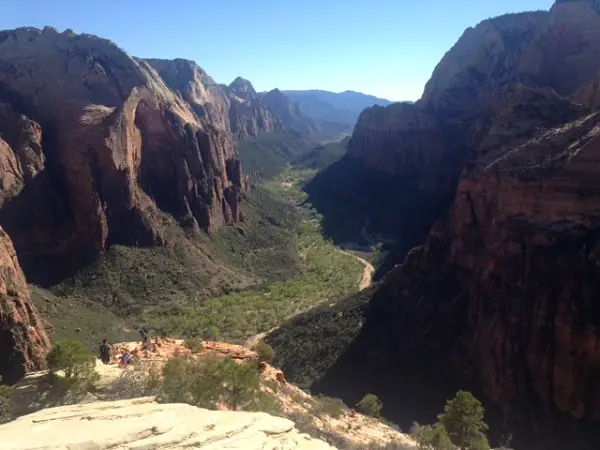 As it's so popular, it can get busy on Angel's Landing itself so we didn't want to stay too long, let others get to spend a bit of time on the top.
The Way Back Down
The way back down, over the ridge, is probably a bit trickier than on the way up. It usually is, gravity being what it is. Again, be patient and don't rush needlessly. A bad slip in the wrong place likely won't end well so take your time. The chain is even more useful on the way down I can assure you 🙂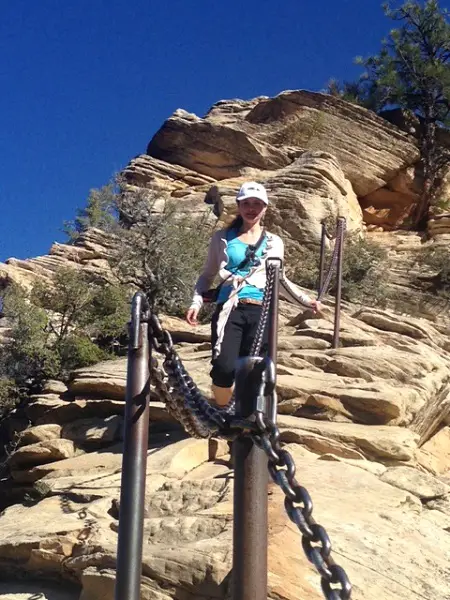 On the way back, when we got to the first plateau we had reached on the way up where we passed the Asian couple, I was happy to see the Asian lady sitting there. She had obviously decided to sit it out and let her partner, and I think they had a kid with them too, proceed. Always good to see some common sense, I just hope she got back down over that first bit OK as it is actually one of the trickier parts of the ridge part of the hike.
When we got back down, we headed over towards the Virgin river to take a closer look. It's brown so the water must have a lot of silt in it. It is beautiful though and the brown water fits right along with the red and copper hues of the landscape against the backdrop of an almost bright Azure blue sky just perfectly.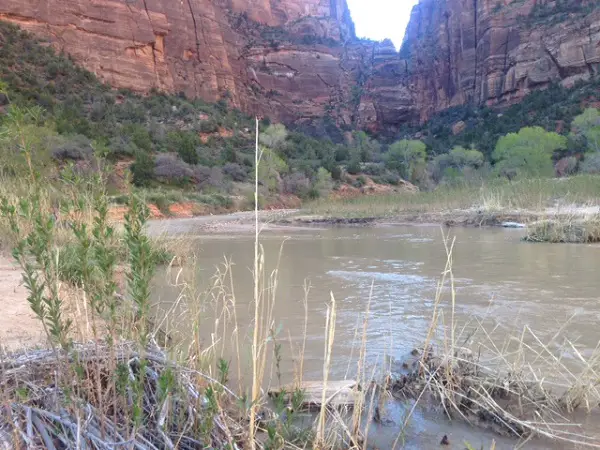 The hike had taken us about 3 hours in total. When we looked at the time, we decided that we would have to leave the Narrows for another time as we needed to hit the road back to Las Vegas a bit earlier as we were getting up at 5 am the following morning to head off to the Grand Canyon, the last national park on our visit list for this trip.
So, reluctantly, we got back on the shuttle and started to make our way back to the car and grabbed a bite to eat before hitting the road. The Narrows would have to wait till another time but that's cool … more reason to head back soon!
Conclusion
I'm going to make a big statement for me here. I visited four national parks on this trip (Sequoia, Death Valley, Zion and The Grand Canyon) and I have to say that Zion was my favorite. I of course loved all the others too but there was something very special about Zion, something I really liked about it.
I can easily see myself going back there and spending a week chilling out in the cool little places beside the park and taking in the stunning scenery on the many hikes available. I will be back for sure and I look forward to hiking the Narrows the next time as that is probably at the top of my list when I return.
The landscape and scenery is just special in Zion and there are lots of great photo opportunities along the way. I definitely made some memories that will stay with me for a life time. Angels Landing in Zion National Park has definitely hit my top ten hike list for sure, a great hike in a beautiful park!
I hope you found this article useful. If you did, please like, share and / or comment.