After finishing up in the Giant Forest in Sequoia, we hit the road for Lone Pine. We had planned this as a stop off point on the way to Las Vegas as we were hoping to maybe have a look in and around the Whitney Portal area. Lone Pine is the gateway town to the Whitney Portal i.e. the route to climb Mount Whitney but as we had to stay longer in Three Rivers and use the morning of our second day to see the Giant Forest, this probably wasn't going to be as likely.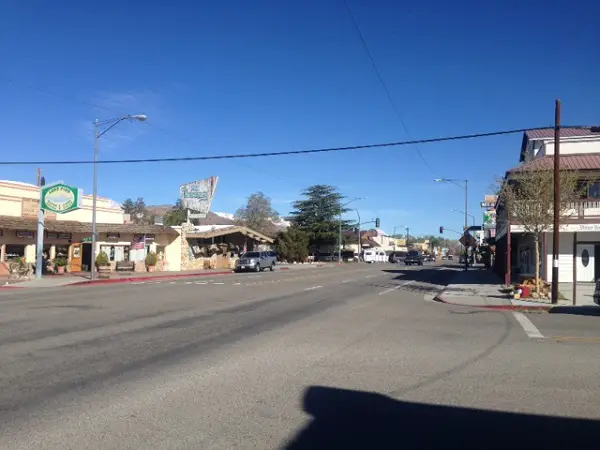 As it turned out, one of the Rangers in Sequoia told us that there was a lot of snow in the Whitney Portal, with that in mind so we probably would not have got to do too much there although I had a hike in the Alabama Hills in the back of my mind too.
It's about a 4 to 5 hour drive from Three Rivers to Lone Pine, so leaving Three Rivers around 2 pm meant that we didn't get into Lone Pine until about 7 pm. We checked into our hotel on arrival, a neat little spot called the Dow Villa Motel/Hotel that a friend recommended.
Movie History
It has a lot of history as back in the day, a lot of the old western movies were filmed in the Alabama Hills. So the movie stars, people like John Wayne and so on, stayed in hotels in Lone Pine, in particular the Dow Villa Hotel. that's my understanding anyway. Modern movies still regularly use the Alabama Hills for filming in. The hotel itself has a lot of classic movie pictures of all the old actors, it's pretty cool.
The staff are very friendly and they'll be happy to walk you through the history of the hotel. There's a museum further up the town in Lone Pine as well so if you're a movie buff, for old Western movies, you would enjoy taking a look. The decor inside the hotel is also from back in the day so it is kind of fun and different, not your average hotel for sure. A good spot and a nice place to stay.
Back to Hiking!
The other idea we had on our agenda was to do some hiking in Death Valley National Park. We would be driving through it on our way from Lone Pine to Las Vegas so we planned to stop off on the way to get a hike or two in. As we'd arrived so late to Lone Pine, following our later than planned exit from Sequoia, on Wednesday 30th March, we decided we'd rest up that evening and plan our hiking in Death Valley for the following day.
That meant we'd skip the Alabama Hills and the Whitney Portal but we figured there may not be much easily accessible there anyway due to the snow. There are some excellent views of Mount Whitney from Lone Pine which we got to enjoy the following morning, Whitney looked truly beautiful and majestic from the main street in Lone Pine.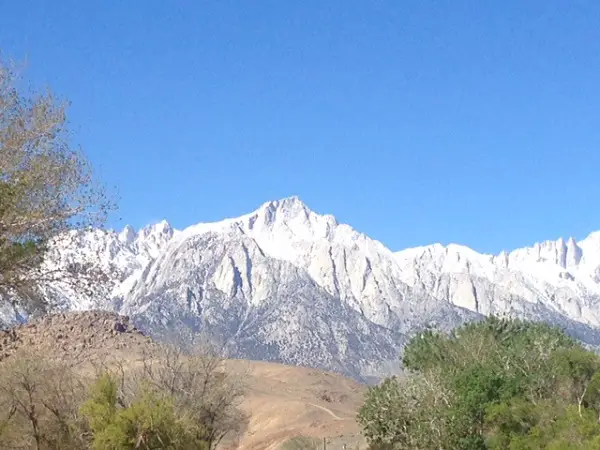 I will definitely be back to Lone Pine as I want to hike Mount Whitney but I would need to do it in Summer time when all the snow is gone. It can be done at other times of the year too of course but, as snow and so on will be involved it adds more complexity to it for sure e.g. crampons, etc.
Mosaic Canyon in Death Valley
So, before we left Lone Pine we spent time reviewing the map of Death Valley to see where might be good to check out for a bit of hiking as we passed through. Technically, I guess you could hike in many places in Death Valley that aren't official trails but we wanted to stick to something pretty well known and well marked. I just had to do the tourist photo at the Death Valley sign 😉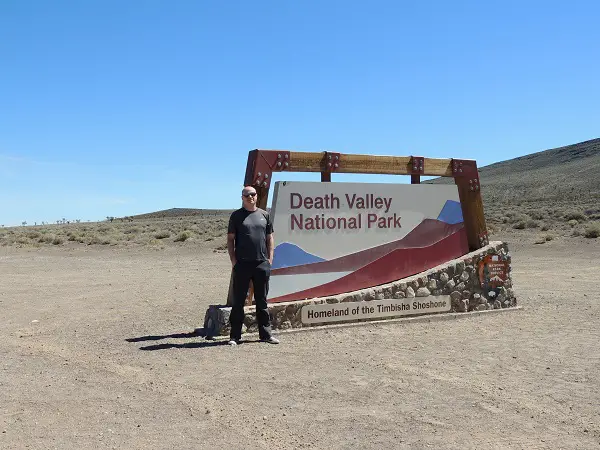 I'm not overly familiar with hiking in deserts so I wanted to take every precaution as Death Valley, being in a desert, is of course very hot. Therefore, a whole different set of challenges need to be taken into consideration, ones that I don't work with on a regular basis.
After a review of the map, we decided to try and take in Mosaic Canyon before heading to do a bit or hiking in Badwater Basin. Mosaic Canyon is, roughly, in the middle of Death Valley, just beside one of the few habitations in the Valley, Stovepipe Wells.
Easy to Find
The start of the trail is well marked with a sign post pointing to it from the main road. You have to go off the main road for it and the off-road to get to the parking area is pretty rough. No problem in a 4X4 but not ideal in a hired Ford Focus lol 🙂 We took our time on the way up though and it was fine. We got to the parking area which was actually quite busy.
The hike itself runs anywhere from 1 mile to 4 miles round trip. We probably did about 3 miles, 1.5 in and 1.5 back out. Mosaic Canyon is really beautiful and there are plenty of excellent views to take in. There are some parts of it where you need to do a little bit of scrambling which added a nice extra dimension to it. The trail is mostly rock and sand on tough, but mostly flat, ground so it's very easy to hike on.
I didn't see any but I am told that Death Valley has plenty of Rattlers floating about so I would recommend a pair of hiking boots, just in case! You could comfortably hike in trail or even sports shoes though. Aside from snakes, there is a diverse range of wildlife in Death Valley. We ran into a coyote (At least I think that's what it was) on the way to Mosaic Canyon and it wasn't the least bit bothered by us as we drove by.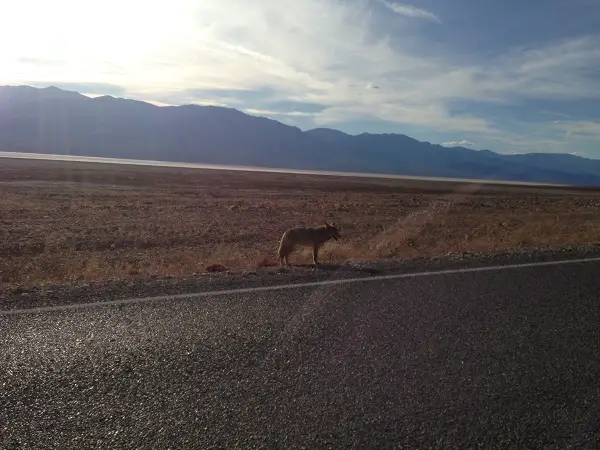 It's Hot!
The coves and nooks along the canyon are fun to explore and there are plenty of great photo opportunities. All in all a really nice hike. Now, as I mentioned, we only did about 3 miles round trip. I normally hike anywhere between 10 to 15 miles on a day hike so this was quite short. However, the heat adds a whole different dimension to it.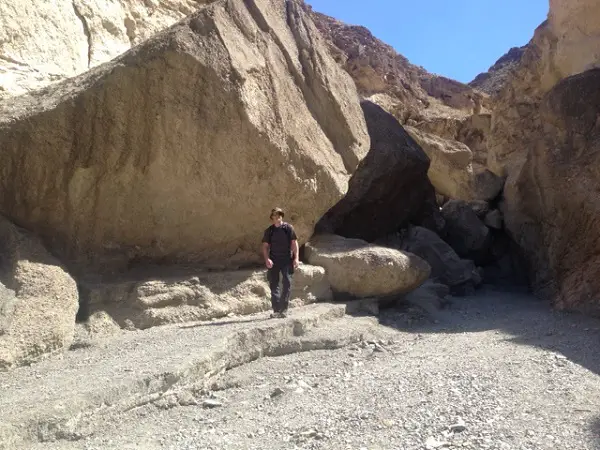 As mentioned, I'm not used to hiking in desert environments and the temperature was between 77 to 90 degrees Fahrenheit (25 to 32 Celsius) so it really does drain you quite quickly. Of course, you need to carry a lot of water with you and be sure to take an adequate amount.
You can see how easily you could get into trouble if you ran out of water and couldn't make your way out of some place for whatever reason, the heat would dehydrate you fast! That's also why I really wanted to stay on very clear trails as if something was to happen, someone would be along at some point.
Sunscreen is also essential as well as covering your body up to protect yourself from the very heavy heat. You could do shorts and a tee but I chose to cover up with light hiking pants and a tee as well as a sun hat. A sun hat of some kind is strongly recommended. It will protect your head from the searing heat which I for one was very grateful for.
So, in summary, those few miles, took a fair bit out of me. Just with the heat factor added in it was definitely tougher hiking in it but of course, still very enjoyable.
Badwater Salt Flats
After we finished up in Mosaic Canyon, we made our way to Badwater Basin to see the Badwater Salt Flats. The Badwater Salt Flats are located well below sea level but it seems the sea was never actually in the valley in the form it is in today.
However, it may well have been a seabed millions of years ago. It is also North Americas lowest point in terms of elevation. It's hard to make it out in the photo below but I've highlighted it in the green box where the sign on the side of the basin says 'Sea Level'. As you can see, it's very high up.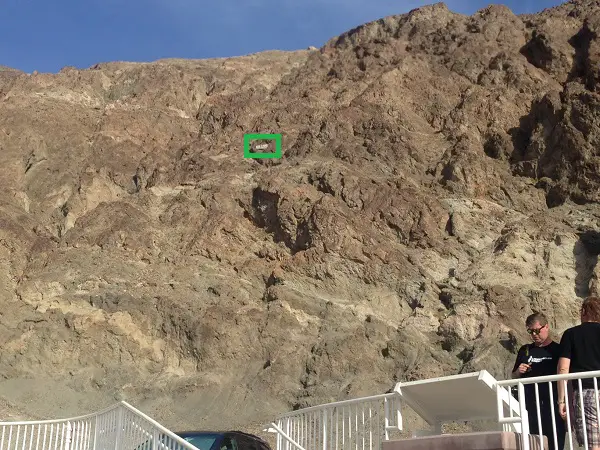 The Green Box above is blown up below … hopefully you can read it OK: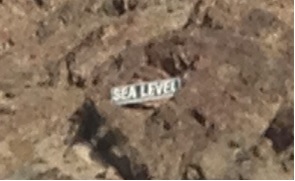 I was laughing thinking that while I couldn't get one of North America's highest points, Mount Whitney, on this trip I would at least get it's lowest 🙂
As mentioned, Badwater Basin is covered in salt flats. I assume the name comes from the water being bad with all that salt. You can hike out across the flats if you want to. They run about 5 miles in distance across so you can get a 10 mile hike in round trip.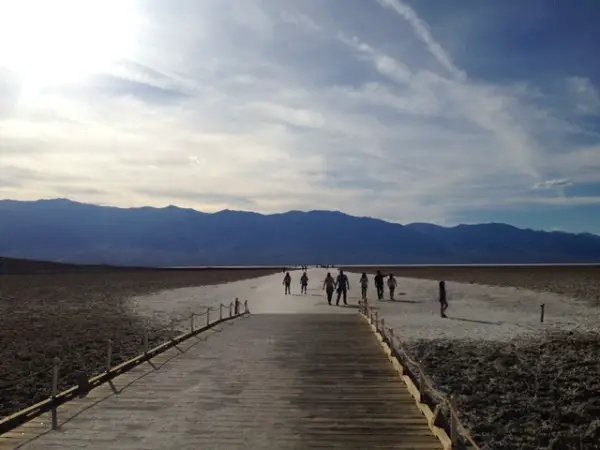 However, Badwater adds an additional and unique challenge to a hiker which is worth noting. The salt flats are of course a large flat area of ground covered in salt, see the picture below, which is of course white. White, as you probably know, reflects the sun, similar to how snow does. So when you hike out across the white salt flats, you not only have sun beating down on you from above, but also reflecting back up at you from below!
Sunglasses
If you're spending any length of time hiking on the flats, I would think suitable sun glasses are also a must as I assume a similar problem to snow blindness could result from the reflecting UV rays hitting your eyes.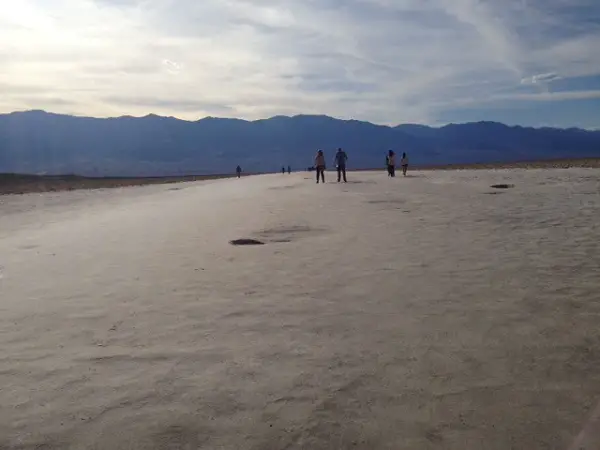 As mentioned, you're also at the lowest point in North America. As you also probably know, if you go up in altitude, the temperature cools so the opposite applies here. As you're down so low, the temperature which is really, really hot anyway, is hotter! Add that to the general desert environment and the reflecting salt flats, and you more or less have a cooker lol 🙂
To add some numbers for illustration, Death Valley itself can easily reach 122 degrees Fahrenheit (50 Celsius) plus in the Summer so you can just imagine what it is like in Badwater at the height of summer. In short, while it can get intensely hot in Death Valley alone, it can get ridiculously hot hiking in Badwater Basin.
I shudder to think! Frankly, I wouldn't consider hiking in Death Valley in Summer as the temperatures would just be too much for me personally. I think, visiting in March was a good idea as although the temperatures were hot, they were manageable.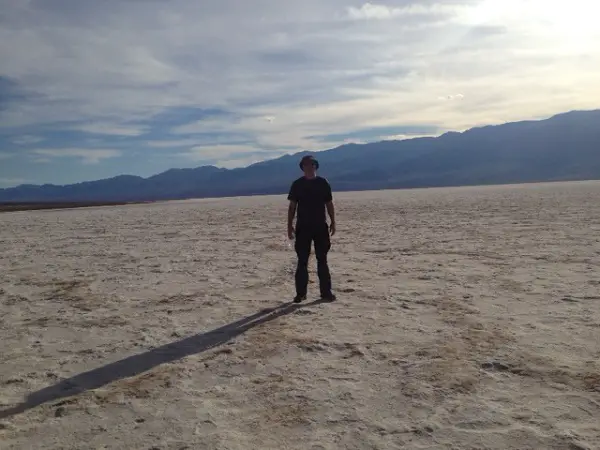 We hiked out into the flats for a mile or so and then headed back in … before we frazzled lol 🙂
Death Valley is most definitely worth a visit. It's a special place with a very unique character. I recommend you check out all information on the National Park sites to ensure you're well prepared for your trip before you go there. Planning as always, but especially for this type of hostile environment, is critical. You need your supplies and protections to prevent you or any member of your party from getting into difficulty.
Conclusion
While every hiking environment will have it's own set of challenges, there is a very particular set of them in Death Valley. From extreme heat to flash floods, from rattle snakes to other not so friendly variations of snake and other wildlife. Be sure you do proper research in advance of any trip to Death Valley and prepare yourself appropriately.
If you want to hike in Death Valley, I recommend going there at a milder time of year (which is still really hot I hasten to add) as visiting in mid summer would be tough going and I think hiking would probably not be enjoyable for many at that time as it would just be too hot. It's not uncommon for cars to give trouble in the burning summer heat as well, AC's have a tendency to break. Not the most ideal place for that to happen!
Bring plenty of sun screen and cover up to protect yourself from the sun. I'd run with Light hiking pants, with UV protection, and a suitable tee or shirt. A proper sun hat is a really good idea as well as sun glasses, especially if you plan to hike in Badwater.
It's worth noting that I only touch on two spots in this post, there are lots of other really neat places to visit and great opportunities for hiking in Death Valley National Park. For example, old abandoned ghost towns like Rhyolite and Leadfield sound awesome and there are numerous canyons and viewpoints throughout the park for you to explore. I'll be back to hike in Death Valley again at some point in the future for sure.
If you enjoyed this post and found it useful, please like, share and / or leave a comment.