This is a kind of funny topic to think about as I have never really had any issues with finding people to hike with. However, it can be pretty common for some.
I remember it a little myself when I first started out hiking, I just didn't know any hikers so I had to have a think about the best ways to get some folks out hiking with me.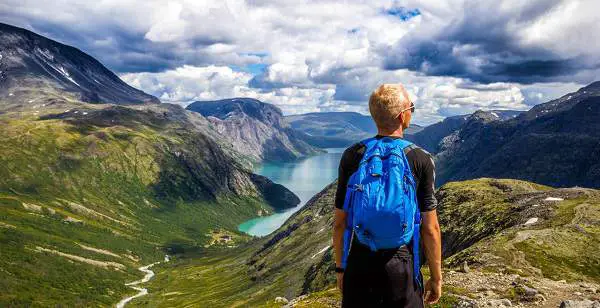 So, in this article I want to make some suggestions to help get you out to meet like minded folks to get started on the trail and save you having to hike on your own.
Join a Hiking Club / Group / Association
Far and above the best way to get started on the trail and to meet like minded folks, is to join a hiking club or association. They are built for beginners and will have all the necessary things in place to help a new hiker get started.
For example, typically they will have graded levels of difficulty hikes, transport (possibly), experienced hike leaders and so on. Getting started this was is my number one recommendation and you will quickly make lots of new friends.
But What if a Club Doesn't Suit?
When you're just getting started hiking, maybe you feel it's too early to go hell for leather and join a club or association. That may be too much of a commitment for you at the start and you just want to give it a try to see if you will like hiking as a pastime.
It could also be that there just aren't any hiking clubs or associations in your local area so you have to work it out yourself. Having never been to the mountains before, you should always do plenty of research on what to expect, how to prepare etc. Check out the hiking for beginners guide for more information on that.
However, assuming, you have done your research and you are ready to safely hit a trail near you off of your own bat, you could find yourself stuck with no-one to go along with you on your adventure.
If that is the case, fear not, as with anything in life, you can always get creative to try and recruit people to head out on the trail with you!
Your Buddies
Yes indeed, some of your friends may look at you like you have ten heads when you suggest to head to the mountains for a hike … for fun!
However, mixed in among them you may well be able to find some willing resources who just need a little bit of cajoling. You most likely already have fit and healthy friends who maybe get their kicks from lifting weights in the gym or running miles on a treadmill.
These are a good bunch to target. Already fit and healthy, they are probably not averse to a challenge. If you get rebuttals at the start some simple reverse psychology could easily do the trick.
For example, cajole your weight lifting friends that they probably wouldn't be able to hike up a mountain as it's a different kind of fitness than they're used to … that can get a very swift 'Yes I can' reaction as no-one likes to be told they can't do something.
Another example, you have a friend who is big into yoga. Tell them that there's nowhere more peaceful and spiritual than the mountains with nature all around. This is of course actually very true and it may just appeal to their mindful nature!
For friends in general, always start with highlighting the benefits of hiking. Match up what they think they would like with their personality and what they already enjoy.
Work Colleagues
If you have no joy with your friends, you could always look to your work colleagues. This may not be a runner for some, I totally understand that. But for others it could be a winner.
Just think about it, a common pastime among work folks is heading for a few beers after a hard week at the office. What better time to put forward a suggestion to head for the hills over a weekend than when everyone is winding down after a relaxing beer or five 🙂 You could get a lot of takers!
Think about taking a wider initiative too. Does your workplace have a sports and social or some kind of extracurricular activities club? Why not put a hike in the mountains forward as a suggestion for them for their next big trip away?
You can easily hire a guide to take you on a tour of a mountain or two in a range close to home. There are all manner of tour companies available too
If that's not an option, just start to talk about a hike to help with team bonding and you could start to get people interested. What better way to get to know some of your work mates than to head out into a totally new and challenging environment for some team bonding!
Family
Are you not keeping in touch with your extended, or connecting with your immediate family as much as you should? Not enough family time going on? What better way to sort that out than to get a bunch of the relatives out on the mountains for a day out!
It could be novel … it could be hell … who knows until you try! Of course, similar to the work colleagues option above, this is possibly just a very bad idea for some.
However, if you and your extended / immediate family get along (at least a bit) and you fancy a hike in the hills, it could be a great source of folks to get to head out with you.
Don't be limited by age barriers either! My uncle still hikes in the mountains in his 80's and at the other end of the age spectrum, what better kind of adventure can a kid have than heading into the wilderness and the mountains. A break from video games and the internet could be a winner!
Also, if you haven't taken some time out with that special someone in a while, a romantic trip into the wilderness could be just the ticket!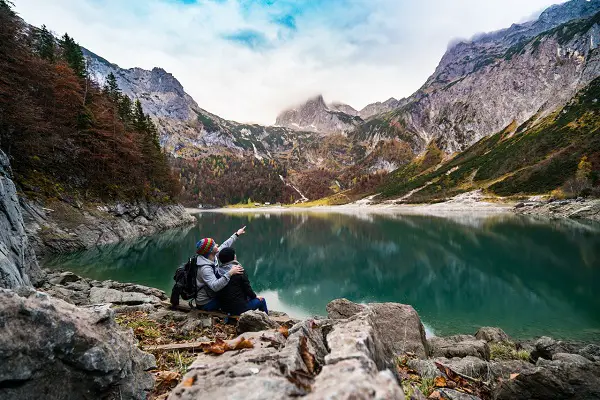 Most couples and families like the idea of spending time together so this could be a great option to suggest to do just that!
Conclusion
As I stated at the start, if you're stuck for people to hike with, it can be best to seek out a hiking club or association. Meetup is also another really good way to see if there are hiking meetups in your local area and a great way to meet folks.
If that isn't an option, why not try and use one of these options to see how you get on. When you head out on your first hike into the mountains, I recommend that you don't go out on your own if possible.
It's nearly always better to head out with other folks when it's your first few times out. Just to get comfortable before you get more adventurous. Heaven forbid that anything should go wrong but if you happened to get unlucky and take a tumble, there is safety in numbers, to get emergency help, for sure!
I hope you found this article lighthearted and useful! What do you think? Is there anyone else you could call if you're stuck for a hiking buddy? Please let me know in the comments below!