So, can you wear sneakers hiking? Well, the short answer is yes, but you could probably wear stilettos too however you are not likely to get very far in them 🙂
In all seriousness though, this is a question that there are a lot of differing opinions on so I thought today I'd do a short post giving my two cents on it.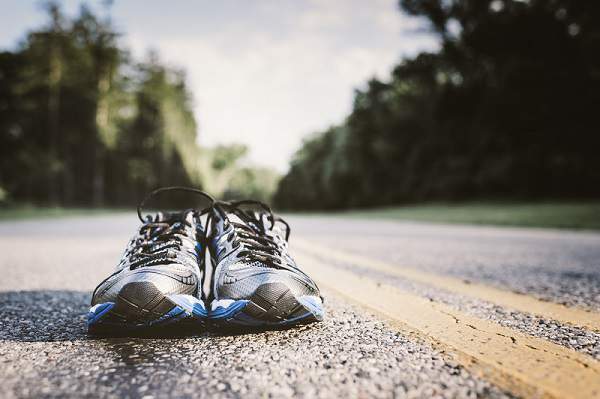 If you don't want to go through the whole article, the synopsis is that we don't think hiking in sneakers is a good idea, you are far better off with buying hiking boots or trail shoes.
You can check our best hiking boots for men and best hiking boots for women, to get a low down on some of the best hiking boots available on the market today.
If you prefer a shoe as opposed to a boot, then check out our best hiking shoes for men, and our best hiking shoes for women. Not the best option for anything off trail or on rocky or challenging terrain, but still very functional for light trail hiking and way better than standard sneakers.
Some Definitions to Begin …
First thing, I think is important to clarify before continuing, is what we mean by 'sneakers'. In this article I am referring to anything from tennis shoes to standard running shoes (not trail running shoes).
Next up, we need to define what we mean by 'hiking'. Hiking can mean lot's of different things to lot's of different people so I think context is important.
By hiking, I am referring to walking up and into mountainous terrain both on and off trail. With that in mind, terrain is a good place to start so let's look at this under that heading first.
Terrain
For me, the terrain you are hiking in must play a huge part in what you wear on your feet. If you are heading out into a marsh or boggy area, sneakers are not going to cut it. They will get waterlogged very easily and I can see no way how that can be a pleasant experience.
If however, you're hiking on well marked man-made trails and paths, it's probably more reasonable to wear sneakers (Not that I recommend this I hasten to add).
Again though, there are other factors to consider. For example …
Season and Weather
If it's mid winter and you are out hiking on the same very well marked man-made trails mentioned above, but they are covered in snow and ice, obviously, sneakers are definitely not a good thing to be wearing on your feet.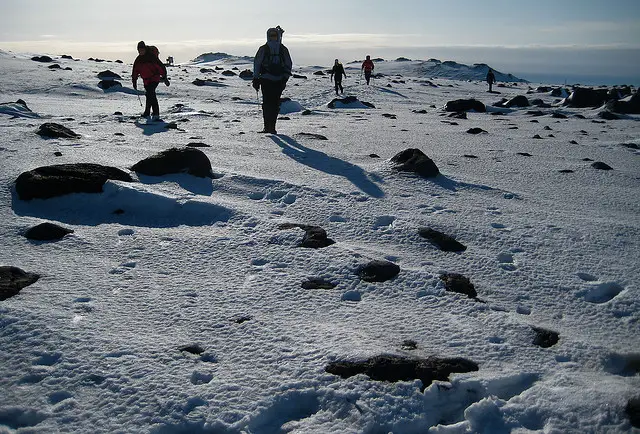 Even if it's Summer but you're up high enough in the mountains, there will quite possibly be plenty of snow and ice. Would I personally want to walk into that environment in sneakers? No, I can't say that I would.
Also, if you are unfortunate enough to have something happen to you and you can't walk out, you have to sit and wait in the elements for help to arrive.
If it starts pouring rain, your Nike or Reebok tennis or road running shoes aren't going to be able to keep your feet too dry or warm for any length of time, and it is possible, depending where you're hiking of course, that things like hypothermia could start to pose a threat.
A sturdy pair of hiking boots on the other hand, will obviously hold out the worst of the weather and keep your feet warmer for longer in bad conditions.
Grip and Traction
One thing you need on the trail is good grip, especially if you go off trail or like to scramble a bit. Crossing rivers, using stones to step across is another common example where you need good grip to prevent you from slipping.
Sneakers just aren't made to take on that kind of job. Hiking boots and trail shoes will have specially made soles with lugs on them, as pictured below, designed to give good grip.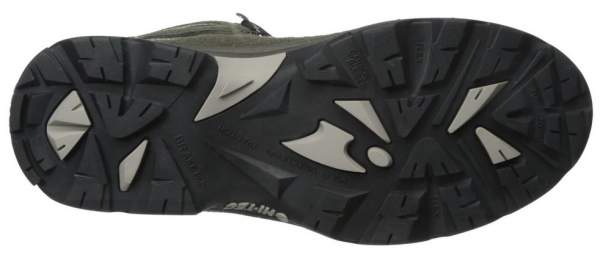 They are also commonly made from materials which are much better at handling wet and slippy terrain.
Ankle Protection
I see many debates on whether hiking boots are better to protect your ankles as opposed to trail shoes. From what I can pick up, many hikers prefer the freedom of motion trail shoes provide and they think it is better than the restrictive limits of hiking boots. This is especially true for people wanting to hike very fast.
I can see the logic of this and I of course have and use trail shoes but for me, even though I love them, they just don't provide the same level of protection as when I wear a pair of my hiking boots. We are talking about sneakers here though, not trail shoes.
Whether hiking on mucky trails or stony paths, I think ankle support is really important and you never know when you will really need it.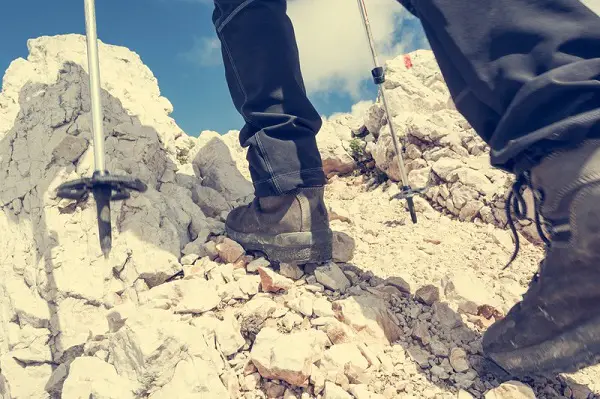 To help illustrate my point, just last weekend, I was out hiking in and area I had never been hiking in before. My route was to be dictated on the day by the map.
All good. I followed my route on the map and it was going fine. After reaching the summit of the main peak I was hiking to on the day, I headed down towards a trail I wanted to pick up.
On the map, all looked fine. The contours were well spaced out so the land wasn't too steep and there were no obvious map key indicators of anything that could cause problems. I decided to head for that trail and pick it up to get me back to the forest and a further path back to my car.
Things aren't Always Straightforward
When I got to that area, the summer over growth was significant. There were lot's of overgrown ferns covering the trail for the starting section of it.
I didn't really have much of a choice and it didn't look too bad so I continued. The ferns were very thick for about 400 meters, not a large stretch really which was one of the reasons I pushed on.
However, as I got to the end of the patch of ferns, they got even thicker and I had to really tread carefully, which I did. However, just 20 meters from the end of that patch, my right boot went down into a hole in the ground that I couldn't see because of the ferns, even though I was paying close attention.
I twisted my ankle, letting out a yelp at the time 🙂 , and one week later, it is still sore. However, I was lucky as although it was sore when it happened, I was able to walk out with it.
The way my foot landed, I could feel the support of my hiking boots stopping me from twisting too far. If I had been wearing sneakers, I dread to think! Most likely a snap could have been on the cards and time for calling some emergency help!
Conclusion
To conclude, if you are looking for the best sneakers for hiking, given the context and definitions of hiking and sneakers I listed at the start of this article, I personally do not think it is a good idea to wear sneakers (tennis shoes or standard running shoes) out on the trail.
Even if it is on well marked and even trails, I think you are much safer and better to be in trail shoes or hiking boots.
Personally, I always wear hiking boots when I go hiking. I do use trail shoes a lot but normally for day-to-day use. When I go into the mountains, I nearly always wear a pair of my hiking boots.
I vary between different pairs depending on the conditions. For example, in Summer I wear lighter mid style Gore-tex boots, in the depths of Winter I wear tough and heavy leather boots.
Of course, as always, you need to take the circumstances and your requirements into consideration but as a general rule, I think wearing tennis shoes and sneakers to go out hiking on the trail is not a great idea. At the very least, I feel a decent pair of trail shoes is the minimum requirement.
What do you think? Do you think it's OK to wear sneakers out hiking in the mountains? It's an interesting question with many different opinions.
Remember to check out our best hiking boots for men and best hiking boots for women, if you are looking for a great pair of hiking boots. Or, if you prefer a hiking shoe, check out our best hiking shoes for men, and our best hiking shoes for women.
We hope you found this useful, please share, like, link to and generally display love for it if you did 🙂