When you start to look at hiking and what type of outdoor jacket could be good to get, you could easily get confused quite quickly, especially if you're new to the them.
There seems to be so many different types of jackets for the outdoors, it can be hard to know what the purpose is for each of the different types, and what is good to get for your needs.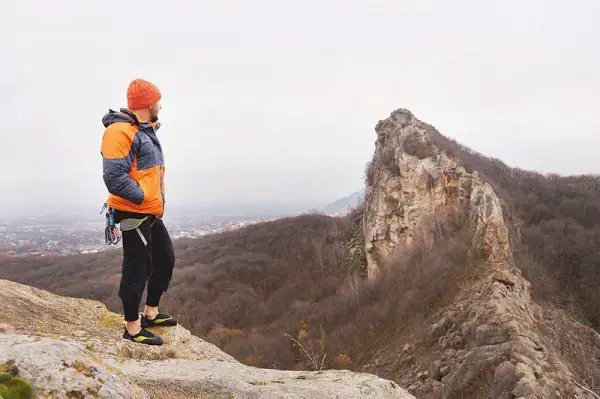 Sure, some of them are straightforward e.g. a rain jacket is obviously a jacket that is used to protect you from the rain. But what about say a down jacket, a soft shell jacket, or a hard shell jacket?
All of these are created with a specific purpose in mind, so in this article I want to run over a brief summary of each type of jacket category there is available, and what their core purpose and function is.
I say core, as many jackets will server multiple purposes e.g. a rain jacket will also give you some protection from the wind, but there is a whole specific category of wind jackets in their own right.
Note, for this article I am not looking at the complete and full range of outdoor jackets, only ones that can and do have some use in the context of hiking. There are outdoor jackets designed specifically for other outdoor sports and activities e.g. skiing, running, etc.
The jackets and their core purpose that we will review in this article are:
Rain jackets
Down jackets
Fleece Jackets
Hardshell jackets
Softshell jackets
Insulated Jackets
Wind Jackets
Winter Jackets
Rain Jackets
Well, this one is pretty clear. A rain jackets core purpose is to protect you from the rain. In terms of hiking, these will typically be very lightweight and packable.
Often times, they can be referred to as a rain shell which is a very literal description i.e. a shell, so on the outside, over you to protect you from the rain.
Their construction aims to keep rain from getting in while allowing the inside area, between the torso and the inside of the jacket, to breathe i.e. perspiration can easily get out so you don't get wet from the inside.
These jackets are built with motion in mind, so they tend to be designed to allow a lot of movement and room for additional clothing e.g. layering, helmet, etc.
Rain jackets are versatile and perfect for hiking but also can be used for a variety of other outdoor activities, as well as typical day-to-day use.
You can check out our top hiking rain jacket for men recommendations here and our top rain jacket recommendations for women here.
Down Jackets
Down jackets are made from 'Down' which is the soft and warm feathers from the underbelly of ducks or geese. The core purpose of these jackets is to provide warmth.
Down is an excellent insulator and so, a very warm material. Down utilizes fill power as a measure of the loft or 'fluffiness' to provide an indicator of its insulating properties. The higher the fill power, the more air pockets in the down and the more insulating the jacket will be for its weight.
Down does have a synthetic counterpart, see below, and while it may hold its own against down in terms of warmth, it generally loses out in terms of overall comfort as Down is much more breathable.
While some Down jackets will have waterproof capabilities, Down is not good if it gets wet so that is something to be wary of. If you're making camp on a cold and crisp evening, a Down jacket really comes into its own to help keep you warm when you stop moving, and the evening gets cool as the sun goes down.
Fleece Jackets
A fleece jacket is a key part of any hikers gear list, definitely a key part of mine anyway. A fleece is usually constructed from polyester synthetic wool and is typically used as part of a layering system.
It is typically not supposed to provide protection from the wind or rain, although you can get some crossovers which may provide some rain resistance.
The core function is to provide warmth while also providing a good level of breathability to let your torso breathe.
They come in different thicknesses, with the thicker ones providing more warmth. In my opinion, they're perfect for hiking, I have several of these, of different thicknesses, which I use on the trail throughout the seasonal changes of the year.
I also find that good quality fleeces, tend to have a long life so I am ok to spend some decent money on them, as I know I'll get years out of good quality ones.
Hard Shell Jacket
A hard shell jacket is, as the name implies, a shell you wear on the outside, which is, you guessed it, hard. A hard shell jacket at its core will protect you from rain and wind and is again a key part of any layering system.
Breathability will also form an important part of the functioning of a hard shell jacket, but that is very closely linked to your entire layering system i.e. it all needs to work together. As with a rain shell jacket, If you're too warm from your inside layers, you will get wet from the inside as perspiration can't get out.
The best advice I could ever give in this regard is, you have to find out what works best for you, as breathability ratings provided by manufacturers are not definitive, and in my experience are at best a guideline. You may also rightly wonder what the difference is then between a hard shell and a rain jacket!?
The main difference will be quality of construction and level of protection. Hardshells are typically better performers in terms of rain protection than rain shell jackets. However, they can be bulkier and heavier, and usually cost much more than a basic rain shell jacket.
They all have their place though and if I'm day-hiking in heavy rain in winter, a hard shell would usually be a better option.
Soft Shell Jacket
So now we move onto the soft shell jacket. A soft shell jacket will typically not be waterproof, but will usually have some element of water resistance. Its construction will also aim to be exceptionally breathable.
Similar to a fleece, a soft shell jackets core function is to provide warmth, while allowing moisture to wick away from your lower layers closest to your body.
They are usually very flexible so excellent for any activity where you need to stretch e.g. climbing. In terms of hiking, they can form part of a layering system and be used as an outer layer under the right conditions e.g. when you need a bit of warmth on the move on a crisp Spring day on the trail, but it isn't raining.
Insulated Jackets
These are pretty much the same, in terms of function, as down jackets, but with one important distinction. As far as I can tell, the main difference is that an insulated jacket is made from synthetic fibres as opposed to natural down material.
The core function is the same, primarily for warmth, say on a cold evening at camp. You can of course wear them as part of a layering system, under your outer shell jacket for example, but as referenced above, they are usually not as breathable as a down jacket.
However, they are much better at retaining warmth when wet, than a down jacket, so that is an important thing to take into consideration too.
In my experience, I have always only ever used down / insulated jackets when I stop for a time e.g. stopping to eat lunch on a day hike on a cold day, pitching camp for the night on a cold evening, etc. When on the move, I use a fleece in conjunction with my lower layers for warmth and breathability.
That doesn't mean you couldn't use one in place of a fleece, as long as it worked ok for you in terms of letting perspiration out. If it was cold enough, it might well be needed and as with all things related to hiking gear, you need to find what works best for you, so don't be afraid to experiment with different combinations, in different conditions, etc.
You can find some insulated jackets that roll up into their own pocket to form a really tidy bundle that is great for packing into a day pack.
Wind Jackets
The core function of a wind jacket is of course, protection from the wind. They will typically have some element of water resistance and they should be very functional in the breathability department. I imagine these could be very useful on boats, or out fishing where you could be exposed to higher winds.
They are made from synthetic materials and act as a windbreaker / windcheater. If the wind chill is a major factor, something like this might be a good addition to your hiking kit.
I personally have never had a big need for a jacket specifically designed to protect from the wind only. I rely on my rain shell jacket for that purpose.
Winter Jackets
A winter jacket is a jacket that is used for warmth when the very cold times of year roll around. They will have broad elements of weather protection, and will offer rain resistance as opposed to offering waterproof protection. Pictured below is the Canada Goose Expedition Parka jacket.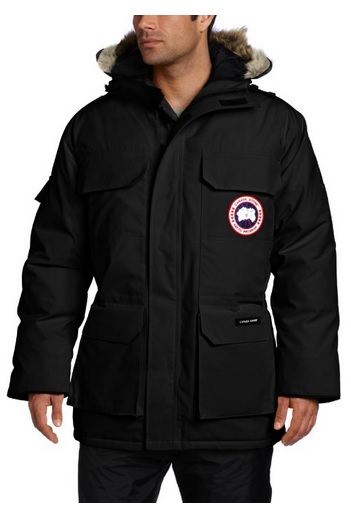 A winter jacket is not something I personally associate with hiking as it's too bulky, but I thought I would add it in here, as it could come into play as a general jacket for warmth, say if you're bunking in a cabin as a basecamp at the foot of some mountains for example. Could be a very nice to have, as you collect you firewood or go about other chores about camp.
Conclusion
I hope you found this article on the various different types of outdoor jackets and their purpose useful. It is not meant to be a detailed deep dive into each category or type, rather an overview to give you an idea of what they are, so you can more specifically identify what you may need.
In the context of hiking, all the above could come into play although not always on the trail, as in the case of a winter jacket.
I have owned or used nearly all of the above, except for a wind jacket, so they all definitely have their place and function for a hiker and other outdoor activities. They can all also be used for general use as well, so they are versatile and they, largely speaking, look pretty stylish.
Remember, if you're a casual hiker, a quality version of one the above, may cover many bases so you may not need to get all the various different types.
As always, please like and share if you found this useful 🙂