A good quality winter hiking jacket is a must for any serious hiker. As with any major purchase, it's well worth going over your needs, budget and must-have features beforehand to help decide what's the best jacket for hiking in the winter months.
Let's take a look at the types of winter jackets you should be considering to keep warm and active on the trail this winter.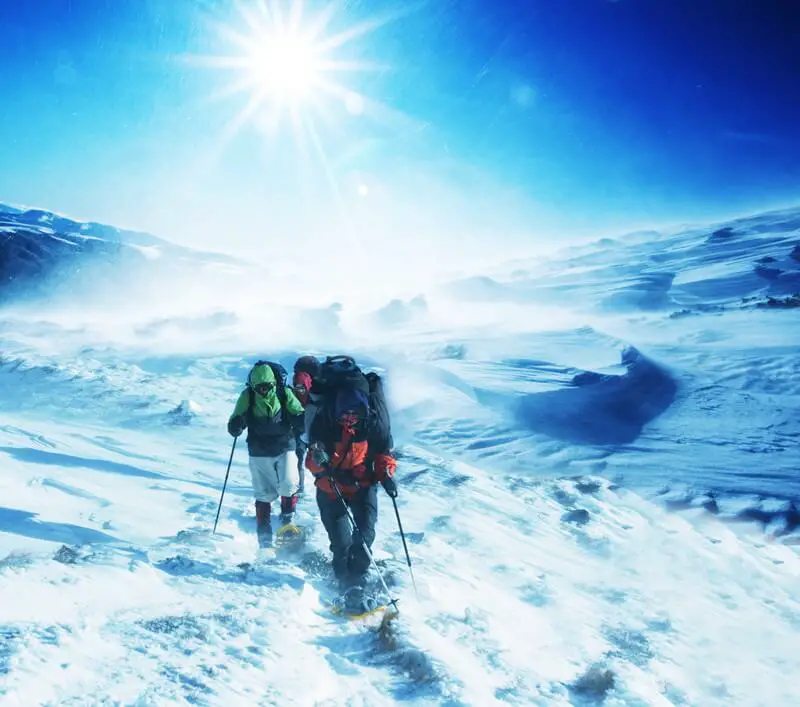 Benefits of a Good Winter Hiking Jacket
A good winter hiking jacket is about much more than just keeping warm in cold conditions, it should enable you to stay active throughout the coldest months in comfort. A winter hiking jacket needs to have two main qualities: it should be breathable and weatherproof.
Breathability is an essential quality for any kind of hiking jacket. The more challenging your hikes are, the more you'll perspire.
Even in minus temperatures, you'll still appreciate a jacket with good breathability that will help regulate the temperature around your torso, rather than stopping to adjust layers, fiddling with gloves and interrupting your hike. The same goes for wet weather, you don't want to have to remove your outer layer and risk getting drenched.
Most modern winter hiking jackets are made from advanced materials that have weather resistant qualities, to ensure that you stay warm and dry.
Depending upon your level of activity and where you do most of your hiking, you'll probably be best off with a robust hard shell jacket or a quality rain shell jacket used in conjunction with appropriate layering. This will offer extra protection against the wind and rain, as well as insulation.
A good winter hiking jacket will keep you warm, but more importantly dry, allowing perspiration to pass through micro pores away from your skin, whilst keeping the elements out. Many people new to hiking envisage thick padded coats.
However, thanks to advances in modern technology and the creation of new lightweight, robust materials alongside the tendency to layer jackets with clothing for an adjustable level of warmth and freedom of movement, winter hiking jackets are much less bulky than your average winter coat.
Features to Look For in a Winter Hiking Jacket
Now that you know what kind of jacket you'll need, time to take a look at some of the top-rated features, to help you to really make the most of your winter hikes. Whilst these aren't strictly essential, they can make a huge difference to your comfort and performance.
Adjustable Hood
When it's cold and wet, or snowy, you'll need a hood that adjusts to keep the elements out. Adjustable hoods allow for bulkier headwear and stay up in strong winds. A nice addition is a brimmed hood which can be very useful to keep your line of sight clear while you hike, read a map, etc. in very bad weather.
Air Vents
Although most jackets are breathable, if your trail features challenging sections of intense activity, you're going to need to cool off quickly and easily. Air vents are the best way to do so in bad weather as you don't need to remove your protective outer layer, or indeed any layers.
Especially popular are full torso vents for rapid cooling and armpit vents, also known as pit zips. If you're considering any kind of strenuous hiking in colder weather, you'll definitely want to make sure you have vents in your winter hiking jacket
Large Zipped Pockets
This may sound like a minor detail, but when you're out in the cold with thick gloves, large pockets with zipper pulls will make your life a lot easier.
The size and number of pockets depends on your personal preferences, what you keep on your person and what goes in your backpack. Just make sure you can easily open and close with gloves.
Adjustable Cuffs
Adjustable cuffs help keep warmth in and allow you to put gloves under or over your sleeves. This also sounds like a minor detail, but you'd be surprised just how much heat you can lose from ill-fitting cuffs and if its wet you risk the rain getting in.
Recommended Layering with a Rain Shell Hiking Jacket
Now that you know what to look for in a winter hiking jacket, how do you wear it to optimize warmth whilst allowing for episodes of perspiration and heat generation?
It's highly recommended to start with an absorbent base layer next to the skin that will wick sweat away to the outer layers. Your base layer should be tight fitting and as lightweight as possible. This will allow it to wick better and to dry faster, keeping you drier.
The following layers can be multiplied if required, depending upon temperatures and activity levels.
Mid-Layer
In winter you'll likely need a mid-layer or two, typically a long sleeved top. This layer should also be lightweight with good wicking properties to ensure moisture flows away from the skin.
After your mid-layer, the standard outer mid-layer would be a fleece or similar garment, that will add extra warmth, without weighing you down, and finally you have the outer layer, your hard shell or rain shell jacket to protect you from the elements.
Layering allows you to alter the level of warmth depending upon the temperature. It is important to choose merino wool, silk-based or synthetic-based materials for clothes close to your skin, as they help to ensure that moisture is wicked away to the outer layers so you don't get wet from the inside.
Cotton is to be avoided where possible, especially near to the skin as cotton absorbs and holds moisture, quickly becoming and staying wet and weighing you down. Ever wonder why bath towels are usually made from cotton? Yep, because they're so good at absorbing and retaining moisture!
In terms of wearing cotton clothes hiking, this can also contribute to you getting very cold e.g. if you sweat when hiking, when you stop the sweat absorbed into the cotton will rapidly cool down, and it will be like wearing a wet and cold towel after a while … not good!
If you were unfortunate enough to become immobilized for some reason, your chances of getting hypothermia will also shoot up if you have damp clothes close to your skin in very cold temperatures.
Conclusion
What's the best jacket for hiking in winter? In short, we think a good hard shell jacket or a quality rain shell hiking jacket that's lightweight, strong, breathable and weatherproof is the way to go.
Whether you choose the hard shell or the rain shell, really depends on the toughness of the conditions you plan to hike in.
If you're a regular year round hiker, it is worth investing in both so you have the option and you can try out different combinations of layering in different conditions to see what works well for you.
When used with appropriately layered garments and accessories you'll have a jacket that will be suitable for a huge range of hiking in winter weather and temperatures, as well as for practical day-to-day use should you need that.