Many people when they are getting started hiking, typically plan a day hike on a weekend. One of the things that should be on their planning checklist is to of course check the weather forecast. When some folks do this, they may see rain on the way and automatically think that their hiking plans are scuppered.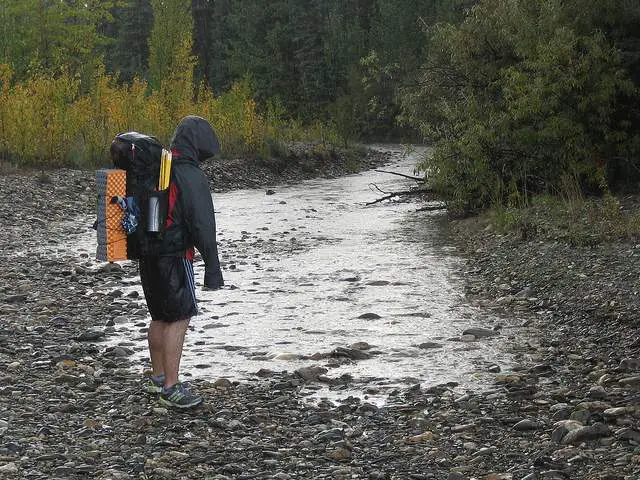 OK, if a torrential downpour is on the way, or if the rain will be so heavy that the hike will be unpleasant, and potentially unsafe, then of course a hike should be cancelled. Safety always comes first.
However, if the day ahead is only dotted with patches of rain, then there may well be no reason to not go ahead with your hike. In fact, rain can add a beautiful dimension to your day out on the trail.
If you want to head out in the rain, there are a few simple things you should take into consideration, to help ensure you enjoy your day as much as possible.
Rain Gear
A must in any hiker's gear, is of course rain gear. As a general rule, you should have a rain jacket and rain pants in your day pack as well as a suitable hat and gloves. These are your outer shell against the elements so you need to factor appropriate hiking pants, fleeces, tees, etc. for warmth and so on as well.
Of course conditions play their part here too, if the sun is splitting the sky, and you're in the middle of a warm spell, sure it may be fine to not pack your rain gear.
Typically, I will always pack a light rain jacket, even in really good weather. It takes up minimal space in my day pack, and you never know when the sky may choose to open up for a ten minute blast of rain, so it's good to have something on hand.
In terms of rain gear There are oodles of types of rain jackets and rain pants to consider, some being more resilient to the elements than others, so you need to spend a little time choosing the right rain jacket and getting good rain pants that are easy to use and of course functional for your needs.
The main point here, is that just because the rain is on the way, it doesn't mean you can't still get yourself out and about to enjoy the mountains. Some appropriate clothing gear in your pack, and you should be good to go.
Safety
I mentioned this briefly above, but it is of course a key factor in going out hiking in more inclement weather. If you're going to hike in the rain, you of course need to be that bit more careful.
For example, terrain like rocks will be slippery to walk on so you need to ensure you have appropriate footwear to prevent a slip. Muddy areas will naturally be harder to walk on when they are wet, again you can slip more easily so trekking poles can really be a huge help, to help you keep your stability.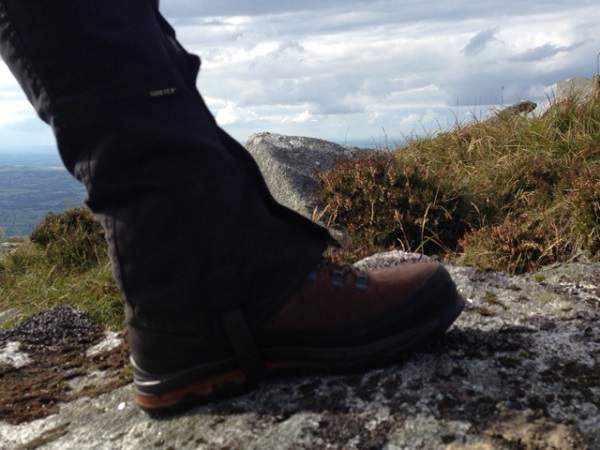 Similarly, gaiters are a great investment for muddy and boggy areas, they will protect your feet and the inside of your boots by keeping mud, rocks, etc. out of your boots, as your feet sink into the wet ground.
As well as that, packing some basic first aid is a good idea and if you're pushing the boat out and planning to go into tougher terrain off the beaten track, it is always a good idea to have an emergency blanket and a bothy bag. Just in case someone in your party has an accident and you need to keep them comfortable until you can get help.
I should add a cautionary note here, that if you're a relative newbie to hiking, you probably shouldn't be going off trail in this manner. However, for the more experienced hiker, going further into the wilderness on a hike can be a natural progression, and so carrying safety gear for the group is a good idea.
Think Ahead
As well as having gear to protect and support you and your friends, simply making better decisions on your day out on the trail will help keep you safe.
For example, say there was a lot of rain the previous week, and there will be blasts of rain throughout the day ahead for your hike. Your planned route was to cross a small river. It's normally no more than a few inches deep over a few feet.
However, given what you know the weather has been doing running up to the day of your hike, and what it is likely do in the day ahead, a simple route adjustment to completely avoid having to cross the river, will prevent any problem from arising. It's worth noting that this safety decision is made before you even set out!
As you can probably tell from the way I am going with all the above, the point is that for every challenge that the rain may bring up, there are things you can use and do to help you counteract any potential problems, to help keep you safe.
Whether that be having appropriate gear, or making better route planning decisions, you can still enjoy your day out and stay safe.
Conclusion
Hiking in the rain can really be a lot of fun. Of course the intensity and parameters need to be appropriate, as there can be a fine line between enjoyment and fun hiking in the rain, to being dripping wet, miserable and potentially unsafe.
You always need to be smart and assess the challenges the weather on the day might bring to you, but just because it is raining, it doesn't mean you can't get out on the trail.
I know some fair weather hikers who love to hike, but hate being out in the rain under any conditions. If you fall into that group, well then obviously hiking in the rain isn't your thing and you should never head out in the first place.
However, for those of you who aren't that particular, if you've never experienced it, I can assure you that standing on a peak with the wind and rain hitting your face, can often be an exhilarating experience.
At least it has been for me on many occasions, so don't think you have to pass up the opportunity to get out on the hills just because there might be a bit of rain forecast!