If you're wondering how to make your backpack lighter, packing smarter and focusing only on appropriate gear can shave pounds off your base weight.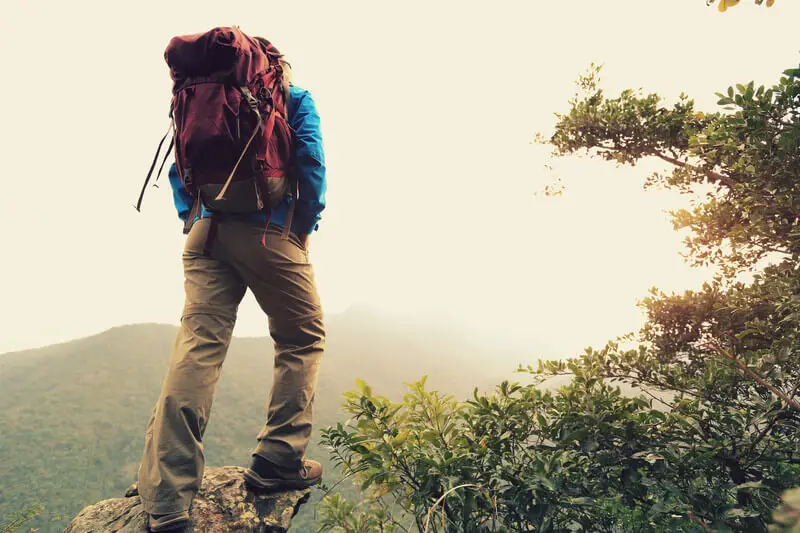 Read on for some simple, effective ways to get your backpack weight down without compromising on the essentials.
Correct Backpack Size
When you're planning a hike, be it a short day hike or an extended backpacking trip, be sure to use the correct sized backpack for the trip.
Taking a backpack that has a much greater capacity than you need will encourage to you pack more than you actually need, resulting in a heavier load.
A half-packed, larger backpack is also more difficult to carry than a fully-loaded, smaller backpack, even if the two weigh in at around the same. So be sure to use the correct capacity backpack for the trip
Plan Thoroughly
Before setting off on any hiking trip, preparation is the key. By planning your trip thoroughly, you can not only cut down on unnecessary items but also make sure that you have the essentials that you will need for that particular area, time of year and terrain.
For example, if you plan where and when you can refill your water supply on the trail, then you can plan how much you'll need to take with you to get you between stops.
Knowing as much as you can in advance about the area, the terrain, any wildlife and insects will allow you to be able to plan more efficiently for exactly what you need.
This means you can then cut out what you don't need and see if there's any room for any non-essentials that you'd like to take. This is much more practical than packing everything you think you'll need, then sticking in a lot of extra last-minute, might-come-in-use items.
Only Pack The Essentials
It may be hard at first, but try packing just the very bare essentials for your trip.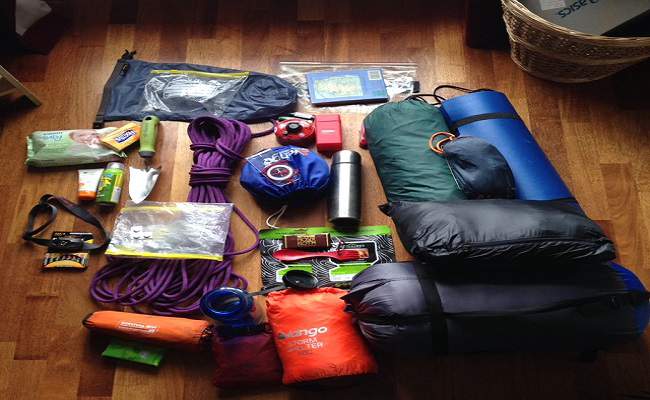 Remove any unnecessary packaging from any items before packing and with your detailed plans pack only what you will need. Remember food and water will substantially add to your pack weight.
Don't forget that especially on extended trips into the backcountry, your life may well depend upon what you've packed, so although you'll have a more enjoyable trip with a lighter load, don't take it to the extreme where it becomes unsafe.
Remember to always ensure you have the "Essentials" when heading off into the backcountry, even just for the day.
Reducing Your Base Weight
With some careful thought and meticulous planning you can get your base weight down without compromising on the essentials.
Reducing your base weight can be done gradually mainly by cutting out non essentials and replacing heavy items with lighter ones.
Here are some tips …
Invest in New Gear & Multipurpose Items
When you replace items or have the opportunity to purchase new ones, you can potentially save a lot of weight, although often at a greater price.
By paying attention to the weight of any replacement items and choosing new lightweight ones, you can gradually reduce your load without having to cut back.
Quality gear, that is lighter does tend to be more expensive, however, good gear usually has a longer life and so you get more use from it.
Purchasing multi-use items can also allow you to save weight and space in your backpack. Here's some ideas on how you can choose new essential gear items that will help you to lower your backpack base weight.
Backpack
Choosing a lighter weight backpack can make a big difference, just be careful that you're not compromising on comfort or durability.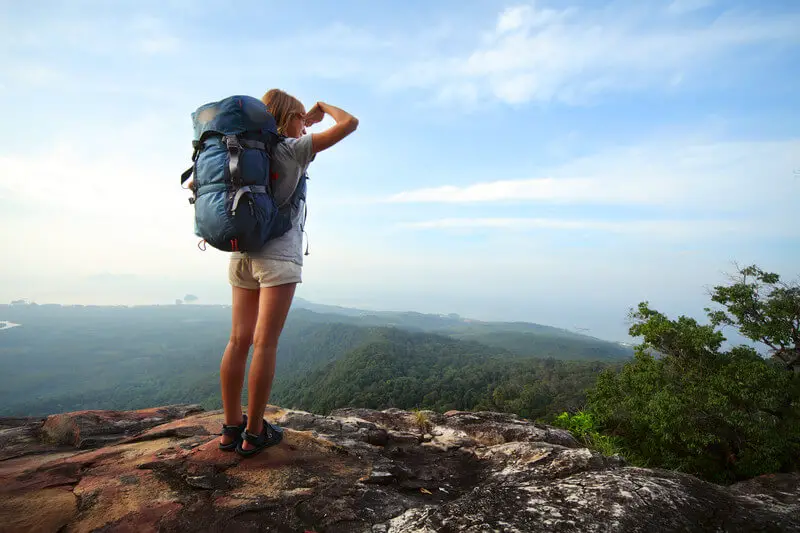 Having a slightly heavier backpack that is more comfortable is well worth the extra weight.
However if your backpack weighs a lot more than necessary, especially for shorter trips, then you may be better changing it for a lighter weight model.
Tent
Ultralight tents for one person often weigh in at around two pounds, making use of one of your trekking poles.
If you're camping during the summer months and you're not anticipating any storms or mosquitoes on your trip, swapping your tent for a tarp tent or bivy sack could save you extra weight.
Alternatively if you're not hiking solo, then you could share the weight of your tent by offloading some of the rest of your items to a partner or other group members, in return for carrying the sleeping arrangements.
Sleeping Pad
You could consider going with an inflatable sleeping pad or a torso-length one. Remember to take durability and your personal comfort levels into account.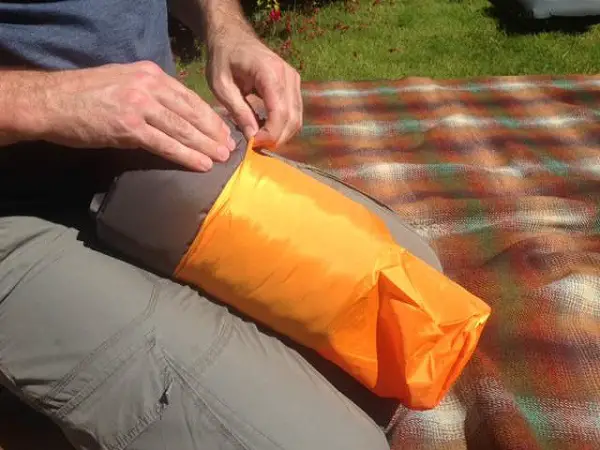 If you're uncertain about any new sleeping arrangements, be sure to test them out before heading off into the wilderness.
If you're too uncomfortable to sleep well after a hard day's hiking, then the next day your light weight load will feel much heavier regardless, which kind of defeats the objective.
Sleeping Bag
If you can, go for a water-resistant treated down sleeping bag. Down is lightweight and highly compressible, saving you weight and space. It's also very warm.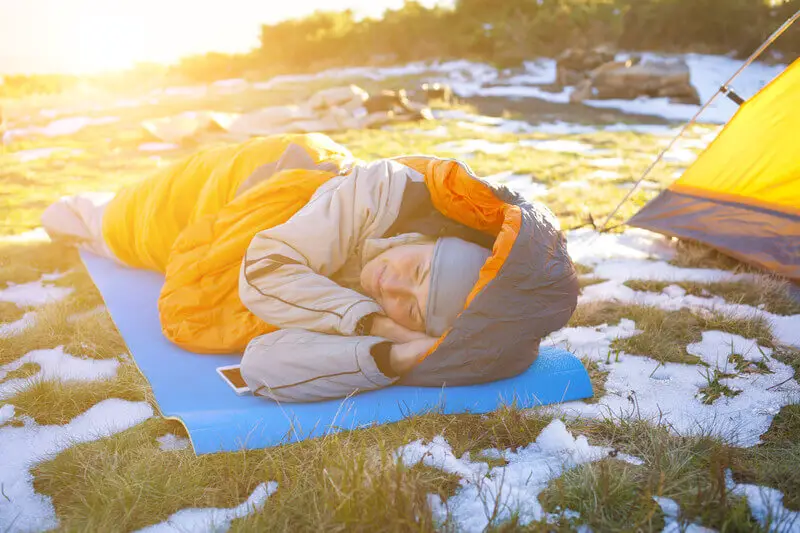 Stove & Utensils
Alcohol stoves are light weight and a popular choice for cutting back on the pounds. If you're hiking in a group, you could bring a heavier stove and split the weight between you.
Special lightweight systems, such as the Jetboil, will provide you with boiling water for dehydrated meals and instant coffee within minutes.
As far as utensils go, if you want to really cut back on weight you could use an all-purpose spork.
Clothing
Cut back on clothing and only take the essentials depending upon the weather and climate, as well as your personal preferences.
Down jackets are lightweight and compressible for colder seasons or destinations, while multipurpose items such as a Buff can serve as a scarf, protection from the sun or a water filter when using purification tablets.
Reducing the Weight of Consumables – Water, Food & Fuel
Water
Plan where you can refill carefully and avoid carrying more water than you have to. Drink a large amount before setting off and at all refill points.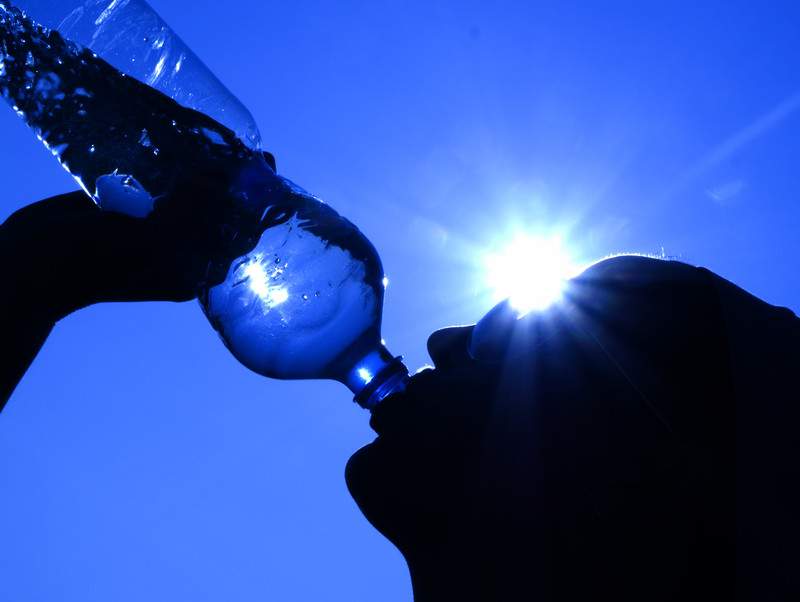 You could also use a mini water filter to cut down on the amount of water you need to carry. A LifeStraw or similar will allow you to stop off and drink quickly at any water sources you may pass.
You should also pay attention to the weight of any bottles you're carrying, soft, collapsible bottles can weigh much less than rigid ones.
Food
While you'll need to carry a lot of calories to keep you going, your food rations don't have to weigh an awful lot provided you choose calorie-rich, instant items.
Dehydrated meals can save on weight and preparation, requiring only boiling water. Ready-to-eat items such as protein bars, nuts and dried fruit are lightweight and easy to snack on to help keep your energy levels up.
Fuel
This will depend upon your choice of stove or other equipment. Whatever you have decided upon, don't take more fuel than you'll need.
Remember by eating instant items at lunch, you should only need to use your stove once in the evening and again in the morning at the very most.
Hygiene
Don't pack full-sized items for a few days hiking. Wet wipes can be used for general cleaning and travel sized hand gels (aim for biodegradable if using in the wilderness) for washing your hands.
Other mini travel size items such as toothbrushes and toothpaste will also come in handy and you can portion up tissues or toilet paper as required.
Conclusion
With a little planning and imagination, you can reduce your backpack weight and enjoy hiking with a lighter load.
So now you know how to make your backpack lighter, you can put these ideas into action and see where you can make changes until you find your ideal comfort vs weight balance.
Remember to stay safe and always pack the '10 essentials' to ensure that you're prepared for any eventuality.