Today's post is about hiking trail etiquette. While out hiking recently with a group, we came across a small river that we had to cross to enable us to continue on to the top of the mountain.
As we approached the river, we could see there was another group of hikers approaching from the other side who would reach it at about the same time as we did. There was only the one place to cross, a series of stepping stone rocks sticking out of the river, which we were both walking towards.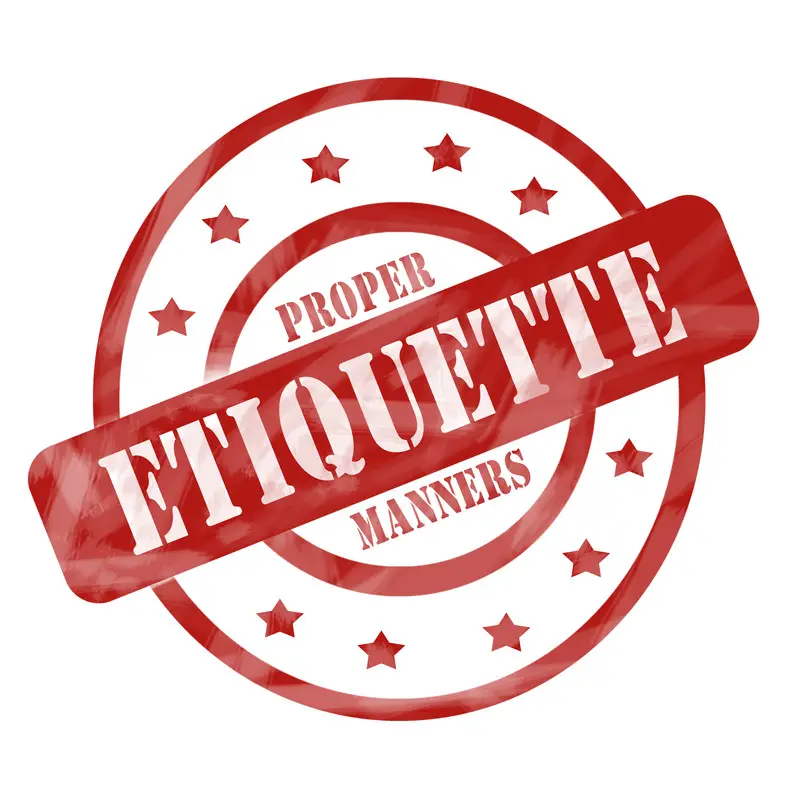 As expected both groups reached the stepping stones at the same time and one of the other party went to start to cross but another man in their group told them to stop and let us pass first.
This is correct based on standard hiking etiquette as they were coming down the mountain and we were going up. It was interesting to witness while out on the trail and afterwards, when I queried some folks in my group on it, most didn't seem to know that there were 'rules' as such. So, I thought a post on hiking etiquette might be useful!
Common Sense
First and foremost, common sense prevails. Even if the rules state that you should do one thing but the situation clearly indicates the opposite is a better course of action, then common sense wins every time.
However, there are some basic rules of etiquette out on the trail which provide general guidelines to follow to help ensure everyone can have as an enjoyable a time as possible.
Right of Way
As already mentioned, if two parties meet on a tight spot on a steep trail, as a general rule the group going uphill has the right of way. Also, when trying to pass someone out, follow the rules of the road in the country you are in. So if you're in the US, pass on the left. If in the UK pass on the right. Again though, common sense applies, so if it isn't wise to pass in a standard way, then use your best judgment to do it.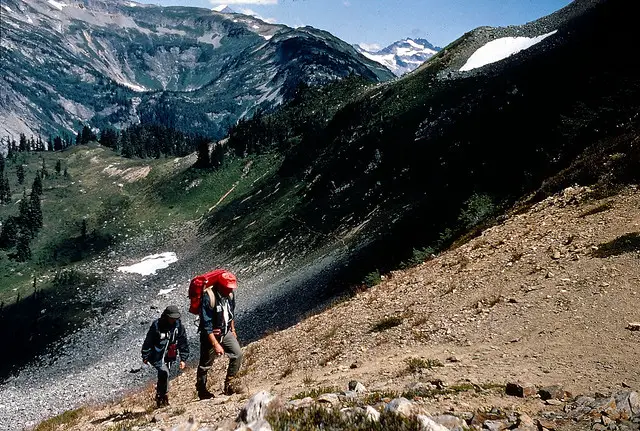 Another aspect to this I came across just now, which I honestly hadn't considered before, is to do with other users of the trail. In places, it is possible that you could be sharing the trail with other non-hiking parties. For example, mountain runners, people on horseback and people on bikes.
For runners, they should follow the same etiquette as hikers but if they're running at pace, it might be considerate to let them pass first even when you're going uphill. Horses are one that I have not personally encountered on the trail but it is bound to be a regular enough occurrence in certain places. Horses have right of way over people so step back and if you can, step off the trail away from the direct line of the horse to avoid giving it a scare.
Finally, as mentioned above, another party who you might bump into on the trail are mountain bikers. When encountering bikers, bikers should give hikers the right of way. However, be careful with this.
I was hiking up near my hometown not long ago and they have recently opened mountain bike trails there. Some of these are clearly marked for bikers only so keep an eye out when you're in places that have marked trails specific for mountain biking.
In summary, when meeting other parties on the trail, right of way normally goes to horses, hikers and then bikers in that order.
Close That Gate
!
First off, my thanks to Mark for mentioning this one to me in the comments below. I am not quite sure how I missed it as it's one I regularly come across!
When you're out hiking, sometimes you may cross farm land or other types of private property. Always respect the fact that you're on someone else's land and close all gates or follow any other rules the landowner may ask of you. If they're good enough to let you cross their land you should always show your respect in return by following any rules they have while you're on their property.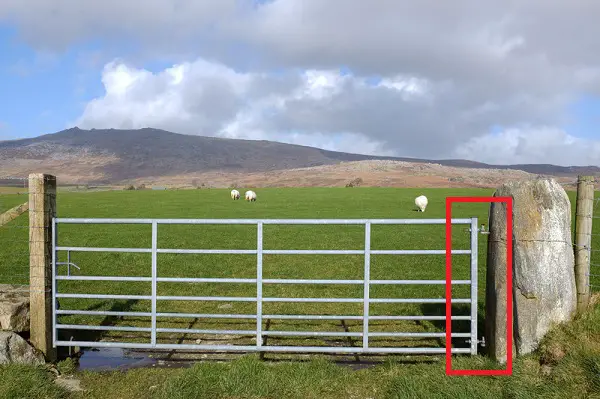 Leaving a farm gate open can have serious consequences. For example, if a herd of cows gets out onto a public road, it could cause a lot of problems and possibly accidents! Many times when I've came across open gates or that, I like to think that people do it because they just don't realize rather than with any malicious intent. However, it's still something that needs to be taken seriously.
As per the final key point below, leave no trace you were there! If a gate was closed when you found it, be sure to close it again when you go through it! If you find a gate lying wide open, it's no harm to take the time to close it over if it looks like it should be closed. Common sense again comes into play here too 😉
Speed
Sometimes, it can be good manners to let the slowest hiker set the pace if you're in a group. This will ensure that a gap does not develop between the slower and faster hikers.
I know from personal experience however, that this can drive a lot of faster hikers crazy though. That is why in hiking clubs and associations, hikes are normally graded putting people of similar ability together.
Safety
As well as having someone leading a group hiking, following the chosen route etc., it is normal an experienced hiker takes up the rear of a party or group. They can help keep an eye on everyone and ensure that no-one falls behind, gets into difficulty, etc.
This is not always required e.g. in smaller groups. Either way, safety is paramount when out on the mountains and whomever is leading the group should always act in a safe and conscientious manner taking the safety of all the group into consideration.
Noise
Generally, avoid making lots of loud noise while out hiking. This would mainly be described as needless and loud shouting. However, I have read that making loud noises can in fact be a good thing though when hiking in certain places e.g. if you're hiking in bear country.
I have hiked in bear country, only a couple of times, but I've never encountered a bear, thankfully! Apparently some noise gives the bears some warning of your approach which I assume is overall a good thing, as if you surprise a bear they are probably going to be more aggressive and freaked out into the bargain. Probably depends on the bear though, I doubt a grizzly will have too much concern about a few humans coming their way 🙂
Also, while you should always have your phone with you as your most important emergency device, don't abuse it on the trail by playing music or having loud conversations on it, etc. The trail is the place to get away from the technological joys of life, not to indulge in them!
Leave No Trace
I did a detailed post on Leave No Trace which is worth checking out but in brief, when out hiking, leave the land and space exactly as you found it. Their mantra, which is pretty succinct and cool, is:
"Leave nothing but footprints. Take nothing but photos. Kill nothing but time. Keep nothing but memories".
Conclusion
I hope you find this post on some of the basic rules of hiking trail etiquette useful. When out on the trail, as in life in general, it is good to give some consideration to others.. Overall, as said at the start, common sense should prevail and it would seem odd to me that there would be any reason to have disagreements or problems. I've never seen an argument on the trail and most times hikers will be well spread out so bottlenecks are unlikely, even with big groups.
However, good manners is always a good thing and costs nothing to offer. With that in mind always be mindful of your responsibilities, in the guidelines listed above, to your fellow hikers and other trail users while out enjoying the mountains.
Happy hiking 😉
Have you ever encountered bad manners on the trail? We'd love to hear about it in the comments below!