I was in the Canary Islands some time back and I had a blast. It's a really beautiful spot with lot's to do and the weather is of course absolutely amazing! The Canary Islands are a series of Spanish Islands off the south coast of Morocco and for my trip there, I was in Tenerife, the biggest of the Islands.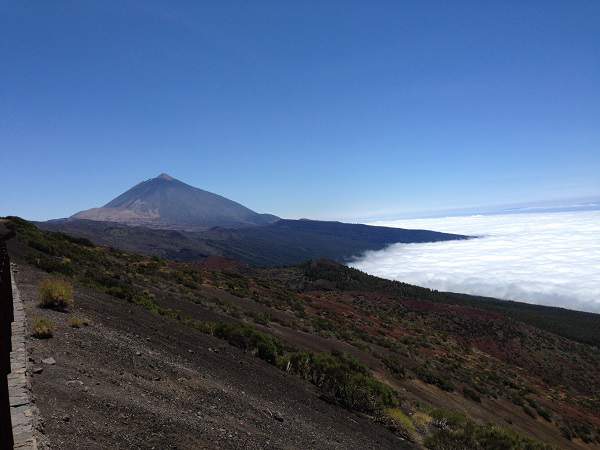 While the Island is relatively small (785 Square miles), it is of course a mecca for tourists. The more or less guaranteed sun combined with sandy beaches and night life is a winner for most, and so the Islands are a popular destination for many, particularly for folks from the UK, Ireland, Spain and Germany.
It's worth noting that Tenerife is effectively a Volcano and Teide is the name of the big volcano on the island, It's a majestic site to see as you fly into the airport, Teide rising high in all it's glory from the ground in the center of the Island.
Of course, I am all about hiking but I too wanted to relax on a volcanic sand beach, enjoy the sun and sample the many delicious restaurants on offer, like any typical tourist 🙂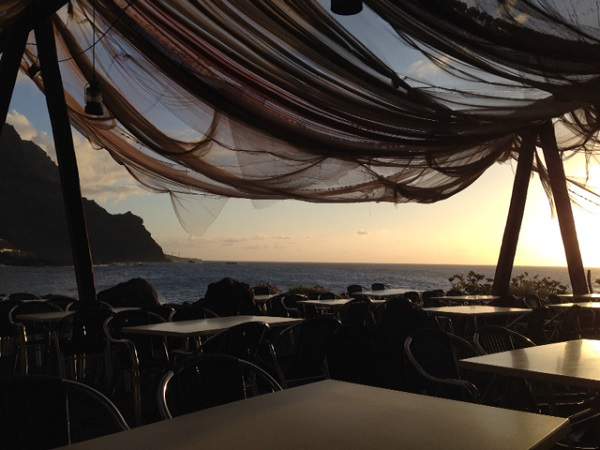 I of course had my eye on some hiking though too 🙂 When I first started researching it I was happy to find that there are quite a few really nice hiking opportunities on the Island.
I thought it might be useful to add some thoughts on them here in case you're planning to take a trip to Tenerife anytime soon and would like to get out on the trails there.
Stunning
First off, I should reiterate just how beautiful the Island is, it really is a gem. Tenerife is unique in that there are effectively lot's of little micro climates all over the island.
For example, moisture comes off from the sea in the winds and rises up against Teide, the big volcano on the Island which we'll look at some more below, on one side.
The moisture however, can't always get up over the volcano. This means that one side is exposed to moist air regularly, while the other side is kept in more arid and hot conditions.
It follows then, that this type of weather diversity on the island,  means that the flora, fauna and wildlife on the island is similarly varied and really beautiful.
I'll go into that some more later too but for somewhere so small, the land is rich with unique landscapes with varied wildlife all within a few miles of each other.
You can be walking on a black sand beach and then in a few minutes be on martian like landscape. It's pretty cool!
Teno Alto
OK, so Teno Alto was the first hiking location we checked out. Before getting into it, I should give an idea of where we were staying. The town we were staying in was Buena Vista Del Norte, a quiet little down on the West coast of Tenerife.
We were staying in a beautiful hotel on the coast there and as we were on the West side of the Island, the cool breeze was delightful coming in from the sea. Really excellent to have this while lazing about in the sunshine.
As mentioned, Teno Alto was the first place we decided to go hiking in as it was the closest to the hotel. There is lot's of information available in the town center in the tourist office on hiking routes and they'll happily help you out with any questions you may have.
How to get there
So, to get to Teno Alto, you need to head up into the hills. Now, Tenerife is pretty easy to get around by car, there are main motorways around the island but also lot's of old roads that lead up into the hills.
These roads are really, really small and windy and so you need to be careful on them. It takes a while to get used to driving on them for sure.
You can see the location of Teno Alto in the map above. If you don't have Google maps, fear not, you simply follow the map given from the tourist office and the signposts on the road. It is not hard to find but the roads do really get very small in places and they wind round and round on the way up.
So take your time heading upwards as there can be traffic on the road and in many spots, two cars abreast just isn't possible, and you definitely don't want to fall over the side 🙂
We parked the car at the top of Teno Alto and basically headed off on the winding paths into the hills. you can follow these, they're all well marked, in a few directions and there are lot's of pleasant hiking opportunities.
As you progress a long, you are greeted at the top by some farmhouses which sit lazily on the landscape.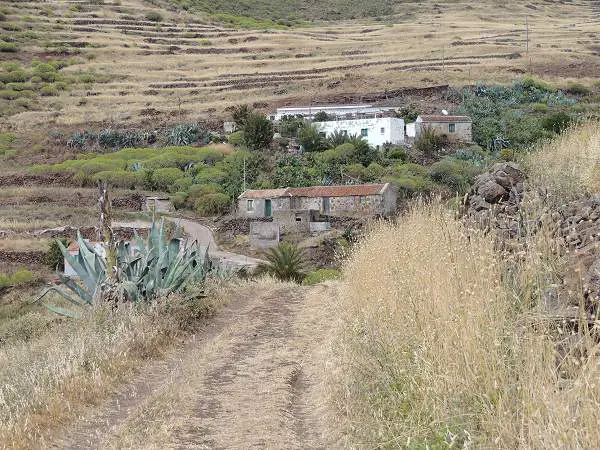 As you go further into the hills you leave the farmhouses behind and you are greeted with lot's of beautiful rolling hills like in the picture below.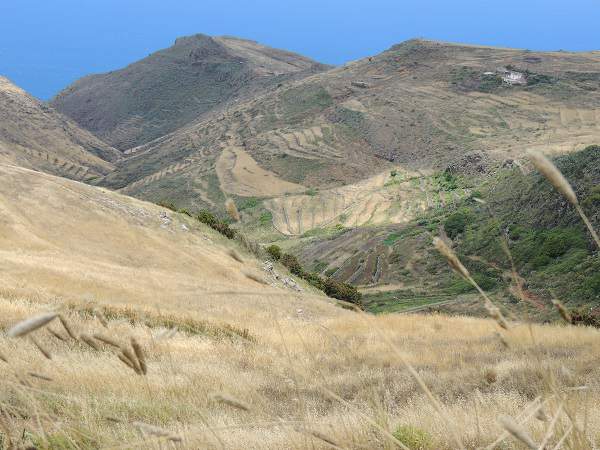 You can also head over these hills towards the sea. You get some fine views of the edge of this part of the island. There are many viewing spots along the route, that's me at one of the many of them below.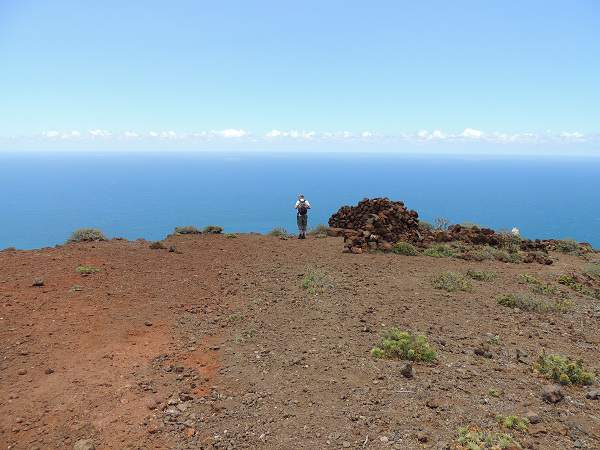 Lighthouse
After taking some of the amazing views in there, you can head downward towards a lighthouse at the far side of the mountain. This is a much longer hike and one we decided to have a go at.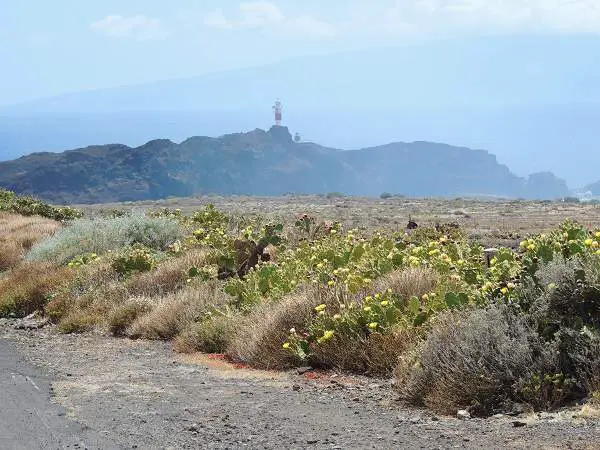 While we made it to the road, we decided not to push on to the lighthouse as we were running short on water and had to head the whole way back up the mountain to get back to our car.
Lesson 1 here is obvious 🙂 I'm an experienced hiker and so figured I had plenty of water with use for the journey we took on. However, the temperature was very temperamental. Remember that micro climate thing I mentioned?
Well, we enjoyed cool temperatures and it was breezy when we parked the car up. As we headed on the trails into the mountain and eventually down towards the lighthouse, the temperature seemed to sore!
We had enough water to get back to the car but I didn't want to risk going to the lighthouse as that would have been too much adding another two to three miles to the hike.
The main coastal road was also closed off in this area for some road works so there was zero traffic around and no shops in sight to get some water. Better to head back to the car where we had lot's of water!
When we got back to the vicinity of the car, sure enough, the nice cool temperatures came back. It could just have been the day that was in it but I suspect this was my first experience of the varied climates on the Island.
Wildlife
It's worth mentioning too that we encountered our first wildlife on the Island on our Teno Alto hike, a Hen hiding in among the vegetation!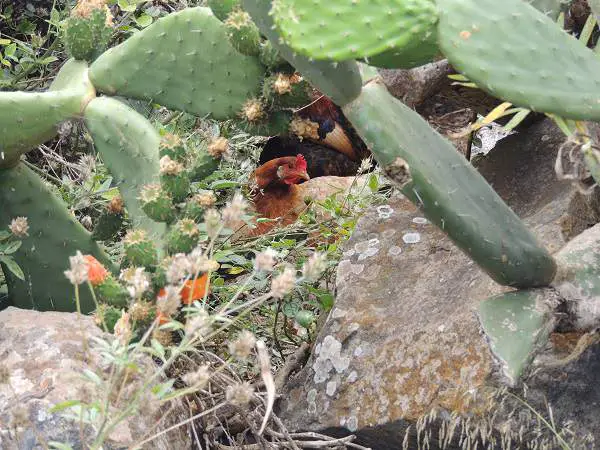 Teno Alto is worth a visit. It's beautiful and quite secluded. Aside from some farmhouses, you won't see too much habitation and quite  possibly not many other people. We met only two other hikers in the 5 or 6 hours we were there so it felt very remote.
While probably not the most famous place for hiking on Tenerife, it is really pleasant with beautiful rolling hills and some fantastic views out over the sea when you get towards the side where the lighthouse is. Definitely worth a look.
El Teide
I'm putting El Teide next as this was the order in which we did the hikes. El Teide is the name of the volcano on Tenerife.
It's summit reaches 3718 meters into the sky, from sea level, and 7, 500 meters from the ocean floor so it's no small thing and is actually the highest point in Spain and the third highest volcano, on a volcanic ocean island, on the planet.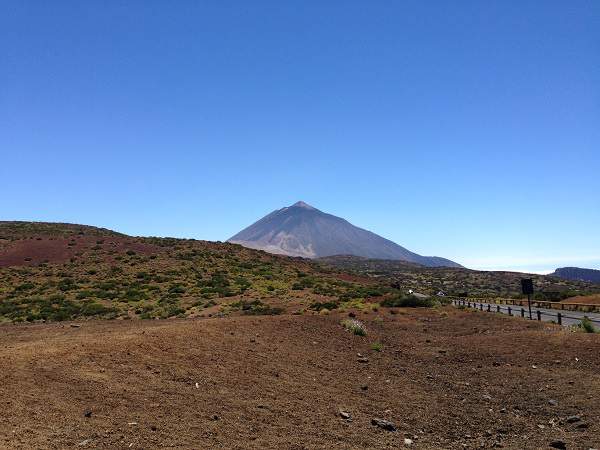 I'm not going to insert a map for El Teide as to get there is pretty easy as it is very well signposted from just about everywhere on the Island and it's also pretty hard to miss 🙂 as it towers right bang in the center of the island.
When you travel to Tenerife, Teide is easily accessible and there are several options to get to it. You can drive up to the visitor center, park and take the cable car up to the summit. Once at the summit you can then travel along few of the well marked trails there.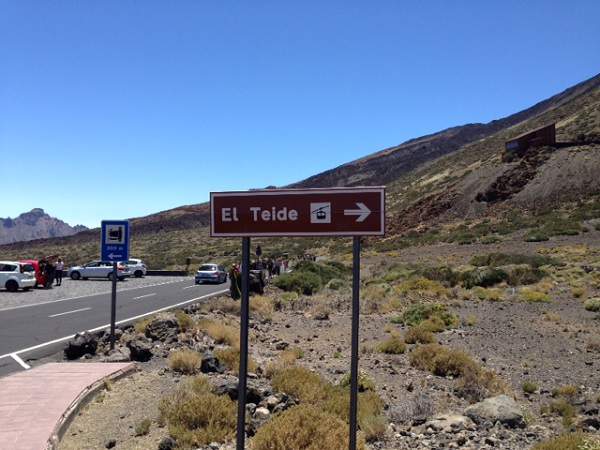 There also several other trails which lead from lower down on the volcano to the summit. For example, if you're up for a challenge, you can also approach Teide from Montana Blanca.
That's a much different affair and it will take you about 5 to 6 hours to reach the summit of Teide. It's no mean feat in the Spanish heat I can assure you.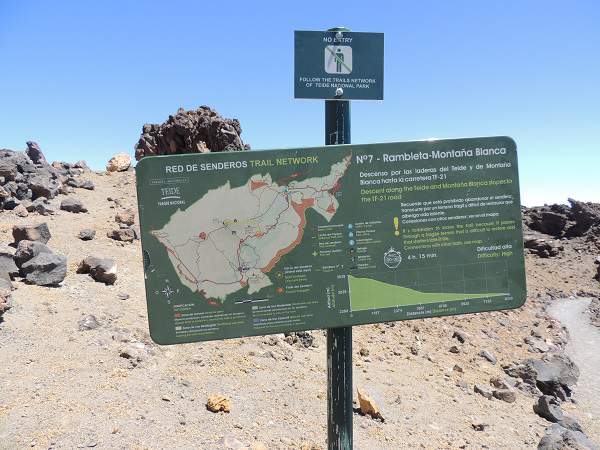 Pass
Now, I should add here that to truly go to the summit, you need to apply for a pass and you need to do this well in advance. If you don't have a pass, the cable car point is the highest point you can go to.
Only a certain amount of people per day are allowed to go up to the top of the actual volcano, the edge of it. To the best of my knowledge, the volcano is still active, so be careful if you do 🙂 Kidding! It is still active though to the best of my knowledge …
Whats really cool are the clouds that I mentioned earlier. They come in from the Western side of the island and push up against the side of Teide.
They quite often stay there and as you drive up through the park you actually drive up through and eventually above the clouds! Plenty of amazing views to be had for sure!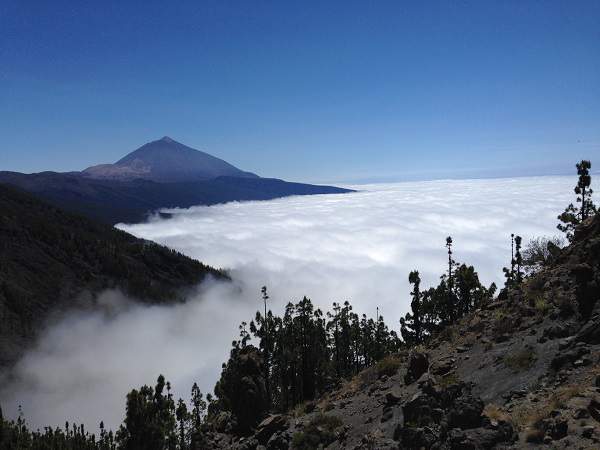 What to Expect?
If you've ever wondered what hiking on Mars might be like, this is probably as close as you'll get to experience that on Earth. The ground is, obviously, all volcanic rock. Therefore it has a lunar / martian feel and look to it. It's pretty cool, I have to say.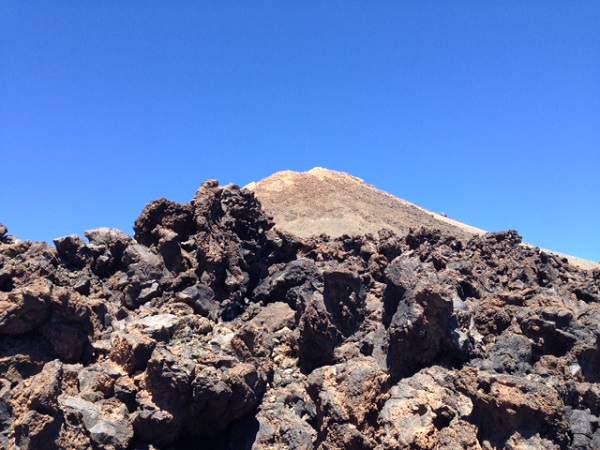 The rock itself is very dense, or at least that's how it felt to me when hiking over it. My feet got pretty sore quite easily, felt like the ground was much harder than anything I normally hike on.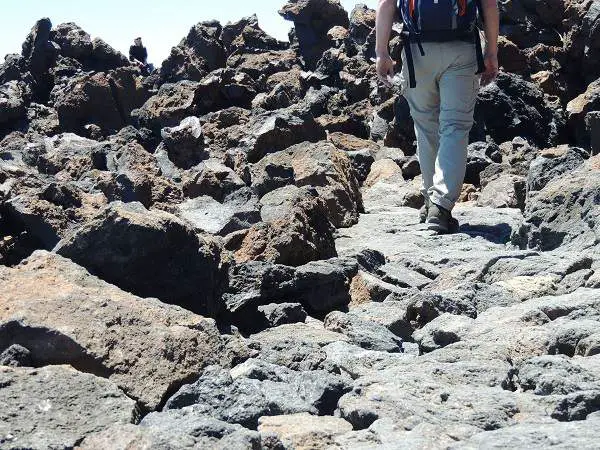 As mentioned above, there are trails and you need to stick to those. They don't want people wandering off onto the volcano itself as it can be very dangerous.
You can easily slip on loose stone, which there is lots of, and as the ground seems so hard, at least it did to me, impact from taking a tumble would not be pleasant!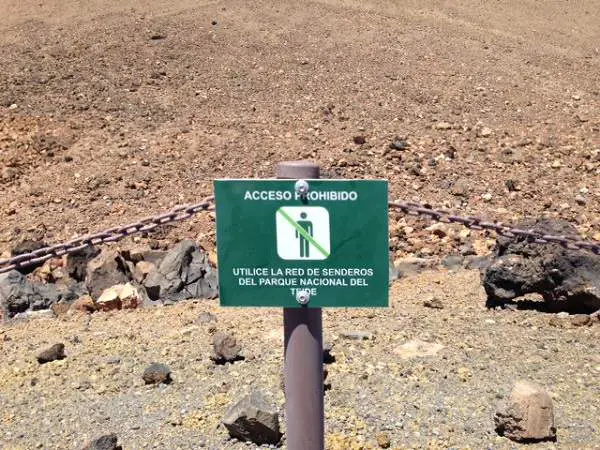 What's kind of fun about Teide is that the summit moves. Yes indeed, as it's a volcano, that has from time to time went off, it has rearranged the landscape. The Volcano has actually got higher over time!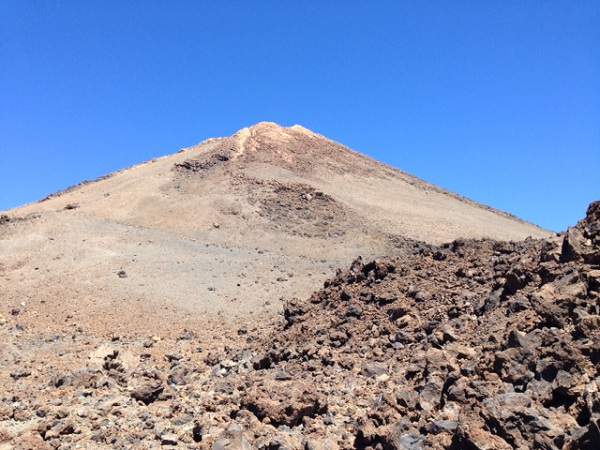 Historically, Teide was a sacred mountain to the Guanches, the original island people. Teide last erupted in 1959 and it has been known to be active throughout the centuries.
There are numerous recordings of volcanic activity in the history books. Christopher Columbus apparently witnessed an eruption on Teide back in the day.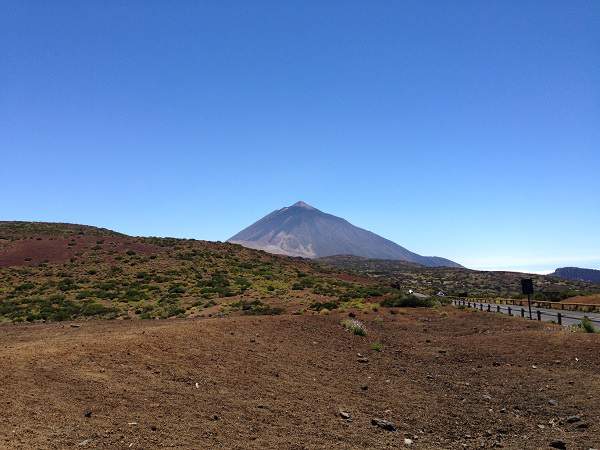 As you travel further down around the volcano, you will see all manner of beautiful plant life. Volcanic soil is nutrient rich so that mixed with the climate and the secluded location has led to some unique and beautiful flora, fauna and wildlife.
Masca
Masca is probably one of the most idyllic places to visit on Tenerife. Located in the North West at the foot of the Teno mountains, this lovely little village isn't the easiest to get to and can be very busy with tourists. If you get a few tourist buses up there, it can be difficult to get a car through for sure!
Historically, apparently Masca was once a hideaway for pirates and one could see why, even today it's hard to get to. For that reason, we decided a tour was the best way to visit this place, a hiking tour to be precise 🙂
As mentioned, Masca itself is a small but beautiful little village. The stone streets are really pretty and overall, the town area is really quaint and picturesque.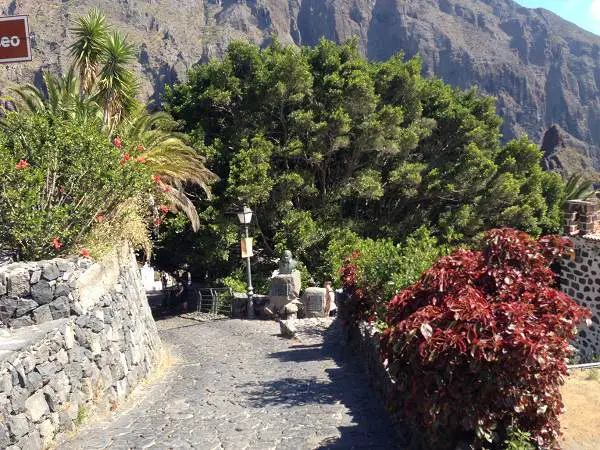 There are one or two cafe's and shops there and some houses, but not much else.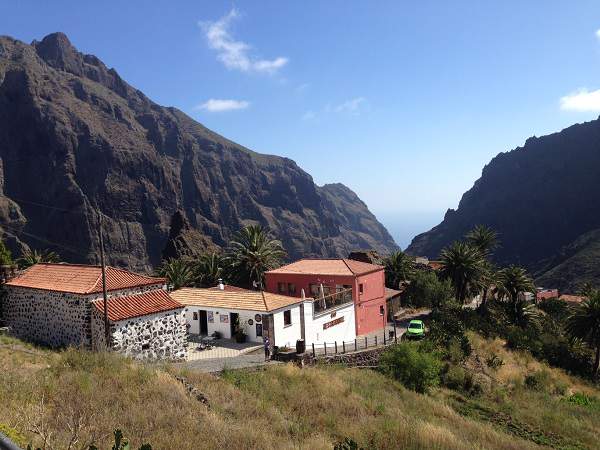 The hiking tour started in the center of Masca and headed down through beautiful ravines into Masca bay. This is a popular hike and one I really recommend checking out. 
However, be warned. If you hike down from Masca to Masca Bay of your own accord, you have to hike back up! There's no way out from the bay unless you have a prearranged boat ride.
It's about a 3 hour hike down so it will definitely be longer going back up … a lot longer. With the heat factored in, you also need to be very careful on the water supplies although there are usually people selling water and so on in Masca Bay.
I don't want to give the impression it's a popular beach resort 🙂 far from it, I mean it's some enterprising dude with an ice box filled with drinks.
I wouldn't fancy lugging a freeze box full of drinks down from Masca town into the bay I can tell you 🙂 I assume he get's dropped off by boat with is a neat little sedgeway into what we did.
The Tour
To give a general outline of our tour, which is a popular one on the island, picked us up at our hotel and drove us by minibus up to Masca. We then hiked down from there into Masca Bay, and from there took a boat to Los Gigantes.
We finished up by taking a taxi back to Masca back to our minibus to be driven back to our hotel. Sounds complicated I know but given the terrain and the heat, it makes sense to do it that way. The boat ride is beautiful too.
As we passed down through the ravine, the scenery was just stunning.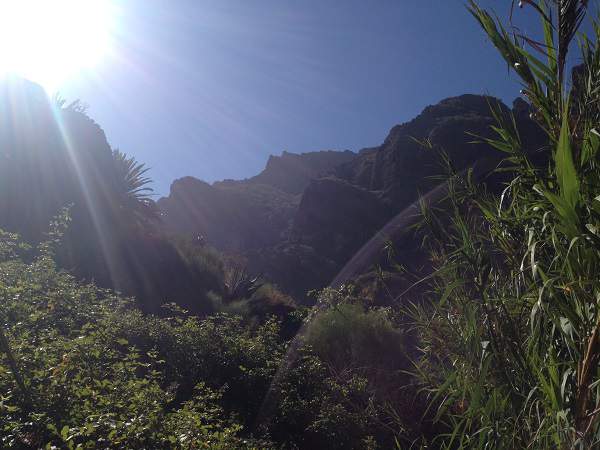 In geological terms, if you're into that, there is a gold mine of stuff to see. Some of the patterns in the rock show where some serious geological action took place over the years. Note the train track type line in the rock in the photo below.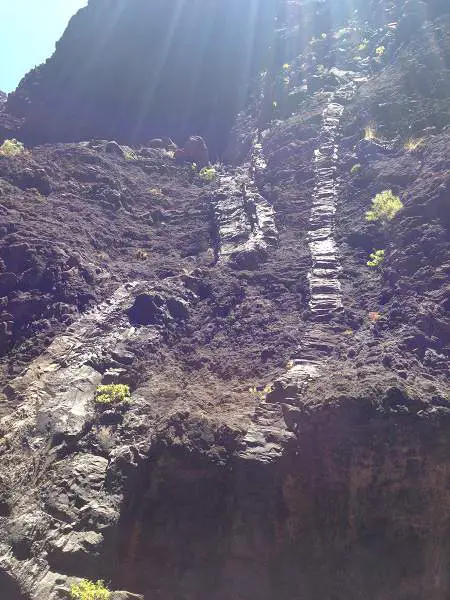 You can also see all manner of shapes in the lava formations that have built on to one another over the years, it's beautiful. I can't for the life of me remember but I can't help but wonder if these shapes may have actually been fossils … I'll stick with hardened molten lava shapes though I think 🙂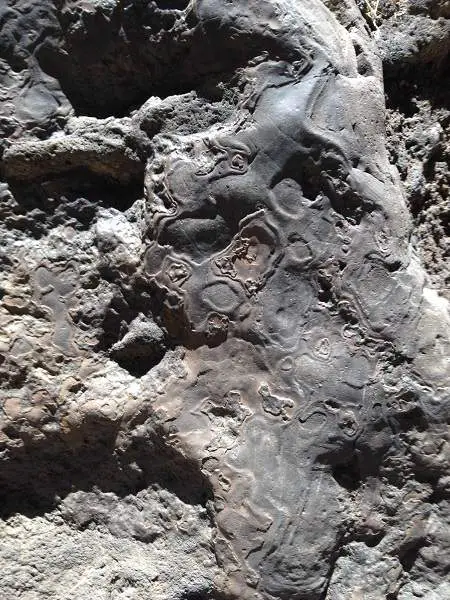 As already alluded to, the plant and animal life on Tenerife is beautiful and varied. There are so many diverse ecological environments, it's a breeding ground for all sorts of magnificent creatures.
For example, have you ever seen a frog plant? As we were hiking down passed some trees the guide brought our attention to a few plants.
When we took a closer look, there were loads of little frogs on the leaves of the plant! It's not really called a frog plant of course but these little Guys hang out there, blissfully chilling out 🙂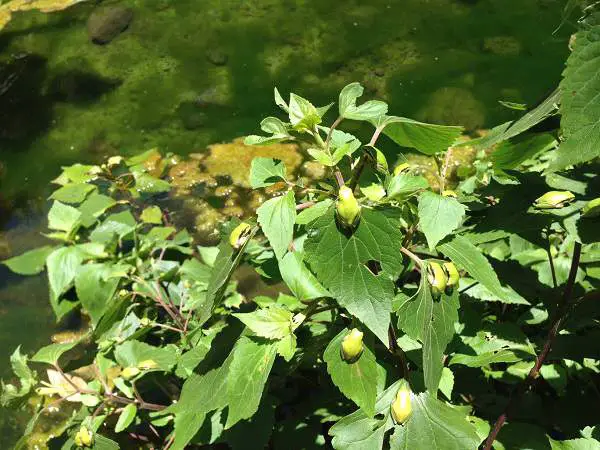 How often have you seen something like that? Not often I'd bet. Again, loads of variety and beauty all around the trail down to Masca bay. As you head further down, you eventually reach the beach.
It's a really welcoming approach as you start to feel the cool sea breeze hitting your face, really nice after a long and hot hike.
What a Treat!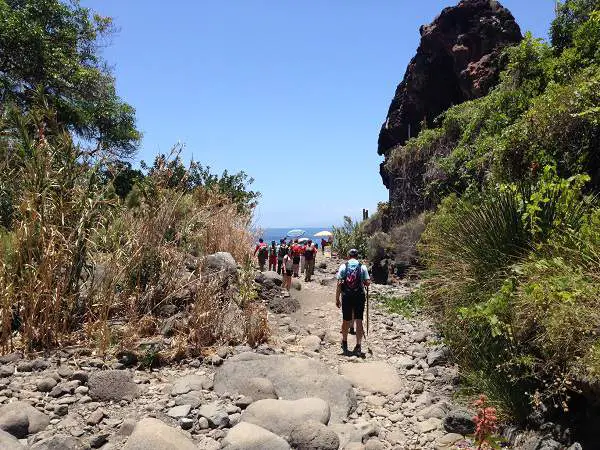 Then when you finally come out on to Masca Bay, oh man, what awaits you is something from a classic paradise island. Beautiful deep blue sea in a secluded little bay.
Just stunning! It's a good idea to have your swimming gear with you so you can take a quick dip in the sea, a great way to cool down after a long hike!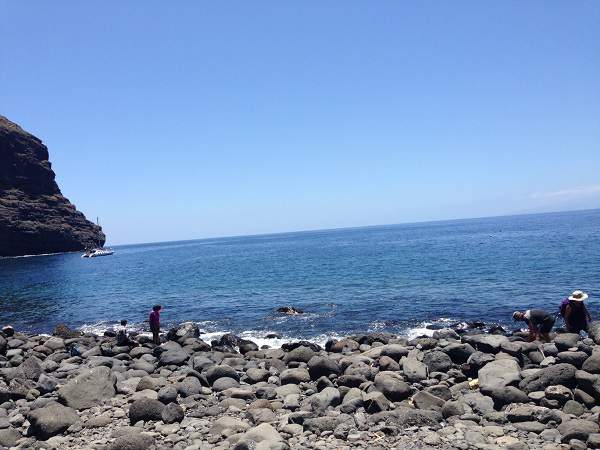 After a 30 minute rest in Masca Bay, our boat arrived to take us off the island and over to Los Gigantes where we would take a taxi back to Masca Village to get the shutttle bus back to our hotel.
The boat trip was really great and we again got to take in a lot of beautiful views like the rocks of Los Gigantes below. Again, what can I say, just really beautiful.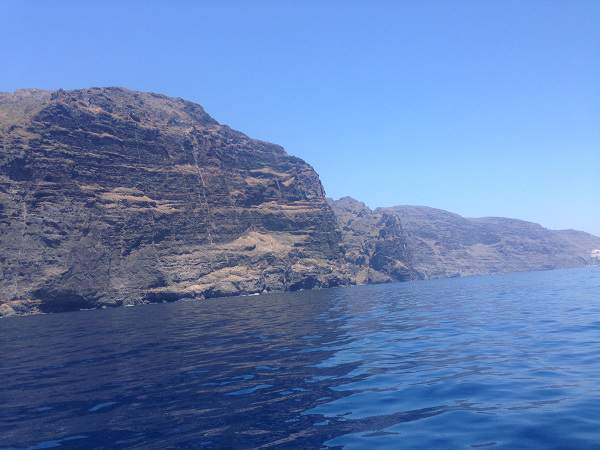 We also get treated to beautiful sea life on the trip back too … dolphins paid us a visit as we made our way back. Dolphins live in the sea and it was awesome to watch them jumping in and out of the sea.
Before wrapping this section up, to reiterate, it's a long hike down from Masca to Masca Bay, and if you don't do it on a tour, and so have a plan to meet a boat ride out of the bay, you have to go the whole way back up the ravine to the village.
If you choose to do that, it is definitely better to do it with a few people, plan your route well and definitely have a map. If you were on your own and something happened to you, you could be stuck alone for some time.
What to Take Hiking in Tenerife?
I think hiking in Tenerife will be impacted by what time of year you go. We were there early June and the temperature was roughly 77 Fahrenheit / 25 Celsius. However, as you're so close to the equator, the heat is powerful. Just isn't the same as the same temperatures further North in Europe.
With that in mind, you need all the usual stuff in your hiking kit. Light hiking pants with a shorts option are a good idea as well as a hat and sunglasses. Definitely be careful with the sun at all times, sunscreen is a must of course and water is critical. I drink a lot of water and so I need to carry a fair bit of it with me hiking in that kind of heat.
A day pack to carry some extra's is a must and the usual basic first aid stuff for blisters and what not. Check out the complete day hiking checklist for an extensive list of things you should bring with you.
You won't need all of the stuff on that list mind you due to the heat but what you need is on the list so it's worth looking through it.
All the trails we went on were very well marked so you can make your own way around pretty easily but always have a map when you head into new territory, the trail maps are free and I thought they were very good and easy to follow. We did have a guide for the Masca day hike though.
Apres Hike …
Aside from a few nice hikes, as the island is relatively small, everything is very accessible. After a hike, you can head down to one of the volcanic beaches to have a sun bathe on the black sand, another pretty cool thing to do for sure.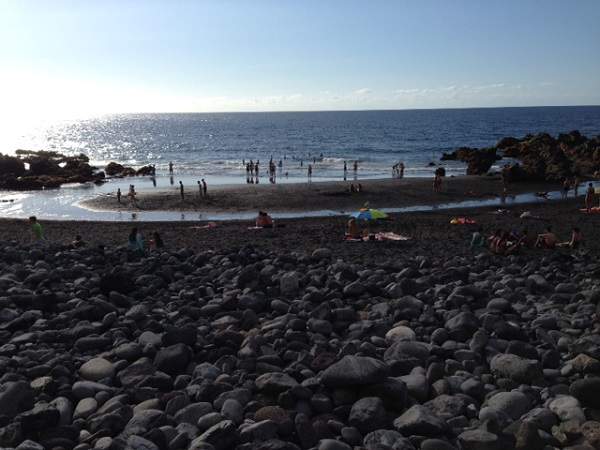 The water is great for swimming and there are all manner of other activities to keep you entertained when you're not hiking. All in all a fantastic spot for a trip!
Conclusion
If you're travelling to Tenerife soon and you like a bit of hiking, you're in for a treat. There's a lot of very accessible places you can go to and the variation between them all is tremendous.
There are several other well known spots on the island which are popular for hiking which we didn't make it to but I will the next time for sure.
As a holiday destination, I can't recommend it enough, it does have it all … well most things I would be looking for anyway 🙂
I hope you found this article useful. If you did, please like and share. If you're going there soon and you're wondering what to do, some hiking trips on the island are definitely recommended.
If you have any questions about any of this, please leave them in the comments and I'll be happy to help if I can answer them.
The last word? Tenerife gets top marks in all areas as far as I am concerned. It's a winner of a spot to visit and there are some really nice hiking opportunities on offer all over the island … Hiking in Tenerife gets the thumbs up 🙂