Just over a year ago, August 2013, I did one of the most popular and well known hikes in Europe. Calling it a hike would, to some, be incorrect as for many, it is first and foremost a pilgrimage.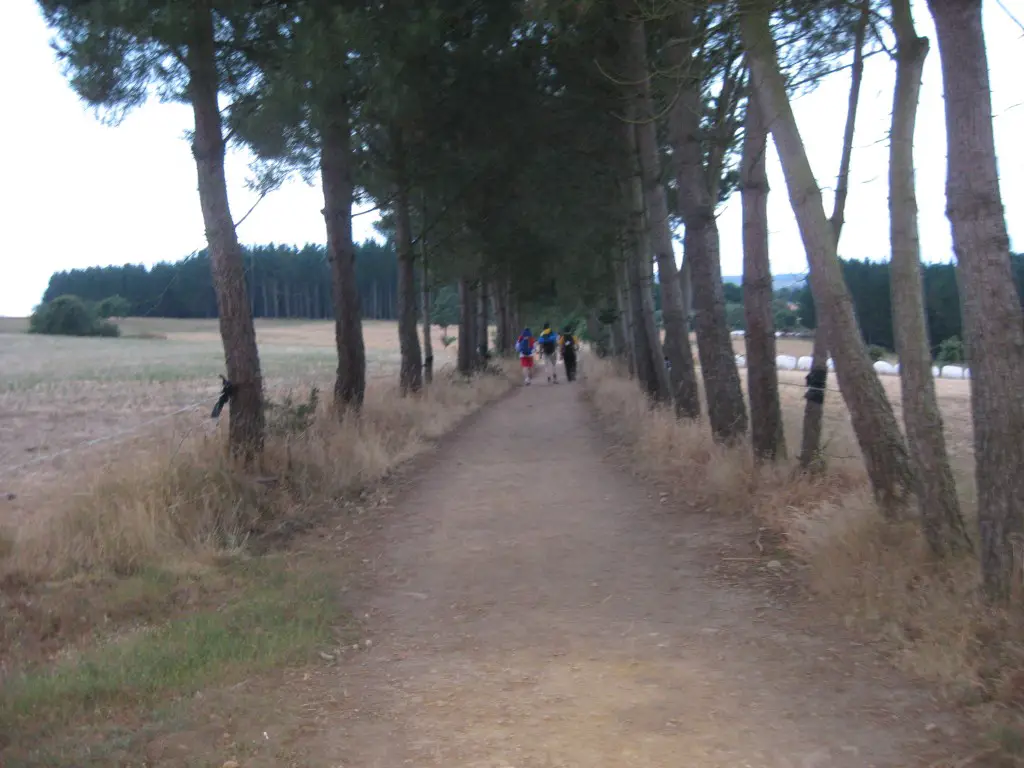 The hike was on the 'Camino de Santiago' or 'Way of St. James'. Recently I was chatting with a friend about the experience and he asked me what tips I had for it as he was thinking of putting it in on his travel plans for next year. After that conversation, I thought it might be useful to capture those tips in a post and share them here.
The Camino is a very popular hike. There was even a Hollywood movie called 'The Way' made about it some years back starring Martin Sheen and Emilio Estevez to name just a couple of the actors. I watched it before I went actually, it wasn't bad.
What Is The Camino de Santiago?
Before getting into things, some background information on the Camino de Santiago might be useful.
Historically, the way of St. James was one of the most important pilgrimage routes in medieval times. Legend has it that after St. James died, his remains were carried by boat from Jerusalem to northern Spain where he was buried on the site of what is now the city of Santiago de Compostela.
I actually did a post about a year back explaining more about the history of the Camino de Santiago so you can check that out here. Or if you would like to check out some more in depth information, you can follow my trip here.
The Camino attracts all types of hikers and travelers all of whom have their own unique reason for walking it. For many it is a spiritual journey that can be symbolic of leaving something behind on the Camino, for example after a major change or transition in life. For others it is simply a beautiful hike.
The symbol of the Camino is the scallop shell, pictured below. There are many thoughts as to why this shell is the symbol of the Camino. From being used as a drinking vessel to scoop out water from a trough in medieval times to representing the nice idea, if you follow the lines on the shell, that all roads lead to one. Every Pilgrim will have one though, usually attached to their pack. You can get them in any shop for a euro or so.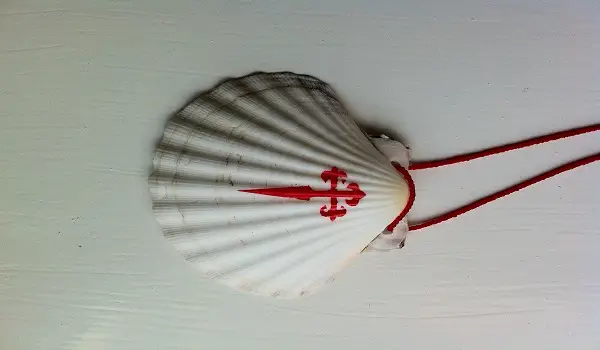 The pilgrimage can take a number of routes but the main one starts in St Jean Pied De Port in France and ends in Santiago in Spain. Most people travel to St Jean via Biarritz or Pamplona.
The main Camino route can also be split into three parts, the hills of the Basque country, the hot and flat section of the 'meseta' and the beautiful green hills of Galicia. It's common for people to opt to do one section at a time on different trips, mainly due to the time it takes to hike the whole way.
The minimum distance you need to complete to officially complete the Camino de Santiago, defined as qualifying for a certificate of completion or Compostela, is sixty two miles on foot or one hundred and twenty four miles by bike, cyclists are just as common on the Camino. The closest big town to start from on foot, is Sarria.
Anyway, back to the main event so to speak. Below are some of the top tips I learned from my own and other peoples experience on the Camino. If you're planning on travelling to hike the Camino anytime soon, I recommend taking a look through them as they will help maximize your experience there.
Travel Light & Smart
Whether you're planning to do the whole five hundred plus miles of the Camino or just one or two of the stages, remember that you will need to carry all your gear with you on your back for the whole journey! Unless of course you plan to have porters 😉
You can arrange to have your gear moved on to your next location by taxi drivers and so you just have to do the walking. However, I think to really get the experience it's better to carry it yourself. While it is advisable to book accommodation ahead it is nice to have the freedom to do as you choose as things present themselves. That is, you might take a notion to sleep by a stream out underneath the stars, and why not!
Five hundred miles is a lot of walking so first and foremost, you'll need a good backpack to carry your stuff in. Also, you need to pack sensibly and pack light. If you bring any unnecessary stuff with you, be prepared to lose it as you will dump all unnecessary stuff as you travel. I can guarantee this as you just won't be bothered carrying anything more than you need. You have been warned!
Bring Clothes Pegs
Following on from the traveling light point above and in line with it, you should bring some clothes pegs with you. Why clothes pegs? Well, it's better to pack several pairs of socks and underwear that you wash every other day to reuse rather than gathering up lots of washing. Having a few clothes pegs handy means you can hang them up to dry either in your hostel or on your pack as you hike, the latter being a very common sight on the Camino.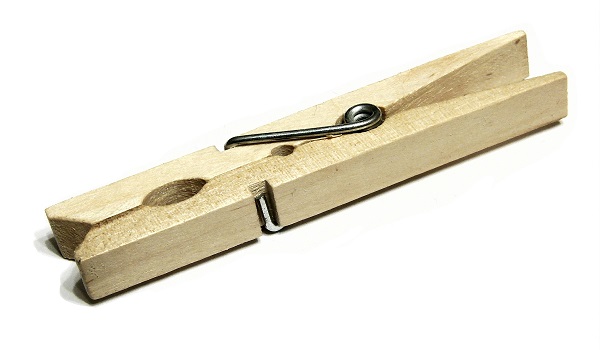 Trust me, as already mentioned, you just won't carry any extra unnecessary clothing or materials with you when you get going and you will happily dump anything like this in the nearest bin rather than carry it needlessly for a hundred plus miles!
It's worth noting as an aside here, the nice spiritual symbolism of this i.e. not carrying any extra baggage and dropping stuff as you go. I don't think it's intentionally connected but it's a nice metaphor for what the Camino represents for many. Anyway, on to the next tip …
For Accommodation – 'Albergue' it!
If you want the full Camino experience, I recommend that you stay in the hostels (Known as an Albergue). In the Albergues (Not sure of the plural in Spanish!) you will be sharing dorm type rooms, see picture below, with many folks from all walks of life. The downside to the hostels is that the sharing of snores and odors is a given!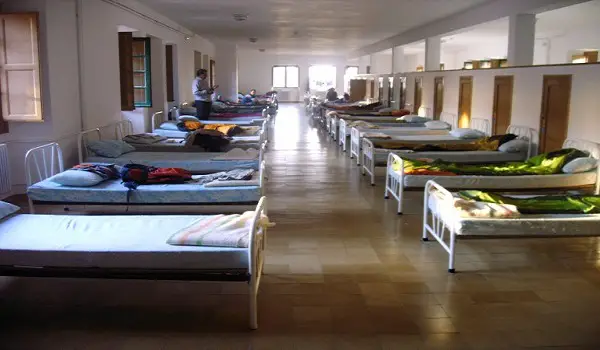 However, this is where you will meet your fellow Pellegrinos (Pilgrims) and make friends. You will also find that as you travel along the Camino you can repeatedly meet the same people from one place to the next and a sort of camaraderie and an attitude of helping one another out naturally develops which is kind of cool.
Some of the stories you'll get to hear from the folk you'll meet in the hostels will be well worth any snores you may have had to endure while crashing in them! Some will make you laugh but many will make you cry too.
Food – The Pilgrims Menu
You will see these offered in most restaurants as you travel through the various towns and hamlets on the Camino. The Pilgrims menu is a bargain three course meal for Pilgrims. The cost, when I was there last year, was anywhere from nine to twelve euro (eleven to fifteen US dollars exchange rate at time of posting). Standards will vary from place to place and you can of course opt for more expensive options. Generally speaking, the standard at these prices was pretty good. Look out for it on the menus!
On the trail, a standard sandwich (bocadillo), which is a hefty feast in itself, will cost you around three euro or five US dollars in a cafe along the Camino. The quality is generally very good so you can't go far wrong at prices like that!

Pictured above is a typical bocadillo I ate on the Camino. It gives you a good idea of what you can expect for an average sandwich on the trail. As you can see by its size, at only five bucks, you won't go hungry!
Bring Suitable Hiking Gear
It's crucial you have the right hiking gear with you for walking the Camino. I walked it late July and the weather was very changeable. Some days it was hot and other's it was very overcast and cloudy.  I was also caught in several downpours.
As part of your main gear, be sure you wear appropriate hiking boots or shoes that are well broken in, to avoid the dreaded blister, and definitely have a light hiking rain jacket with you for the inevitable rainy spells. As already mentioned, when it rains it can rain heavily so be prepared!
If you're hiking at a cooler time of year you will need rain pants and more layers for warmth. Most people choose to walk the Camino over the Summer period and I recommend this, definitely a better time to go and I think many of the hostels and restaurants are closed at colder times of year.
Always Wear Good Hiking Socks
I could have put this under hiking gear but I feel so strongly about this one I think it deserves a special section all on its own! I can't emphasize enough the importance of having good hiking socks with you.
I've said this many times before and will continue saying it. I think your hiking socks are as important as your boots or shoes. You need good quality ones that will not help lead to blisters, a very common complaint on the Camino, or other sores on your feet.
As well as the sock option above I recommend the two sock strategy as well as using Vaseline on your feet. You need to do your best to keep your feet in good shape as it's the fastest way to a miserable hike on the Camino. There are some free medical clinics for Pilgrims all along the Camino that will treat minor ailments for free but Prevention is always better than cure!
Getting the Certificate of Completion or 'Compostela'
To get the certificate of completion for the Camino or 'Compostela', as it is known, you need to acquire a 'Pilgrim's passport' in advance, also known as the 'credencial'. These can be acquired on arrival on the Camino.
Remember, you need to get the passport stamped in locations with the official St. James stamp in each town or village you pass through. Every bar, cafe, restaurant, church, etc. will have a stamp. Remember, to be sure you have no issues getting your 'Compostela' on arrival in Santiago, you should get at least two stamps from two separate establishments every day!
On arrival at the certificate office in Santiago they will inspect your passport to be sure you have the correct amount of stamps. They will then ask you to pick why you did the Camino from three options: 1. religious reasons 2. religious and spiritual reasons 3. recreational reasons. When they have that they will then prepare and give you your personalized 'Compostela', with your name on it, in Latin.
I did actually witness an Asian couple getting refused their Compostela's as they hadn't got it stamped correctly. They weren't happy campers! It goes to show though that they do take it seriously enough so be sure you get your stamps as you go.
Don't be Afraid to Travel Solo
The final note I will add here is don't be afraid to walk the Camino on your own. Many people do it this way and if you are on your own, you will make even more of an effort to meet people and make new friends on the trail. Meeting people from all walks of life and from every corner of the globe is a majorly cool part of the whole Camino experience so don't be afraid!
On the other hand, if you've some stuff you need to process or things you need to let go off, being on your own will give you the time and space you may need.
Conclusion
And thus concludes my main tips for walking the Camino. If you're planning to do it in the future, you won't be disappointed, it's a wonderful and unique experience! If you follow some or all of the tips listed, I can assure you, it will only add to the whole experience.
If you've any questions about the Camino I am happy to answer them if I can. Leave a comment below or drop me a line via the contact page.
Have you hiked the Camino? What was your experience? Have any top tips for it? I'd love to hear about it in the comments below!