Today's post is a brief but important one. It's about the international emergency mountain distress signal. The distress signal is an internationally recognized visual or audible signal that is used to draw attention to others that you or your party are in distress and need help.
What Is The Signal?
It is based on groups of three or six. For example, three fires or three mounds of stones in a triangle signals distress. Similarly, repeating three flashes from a light or three whistle bursts for a minute, followed by a minutes break and then repeating signifies the same.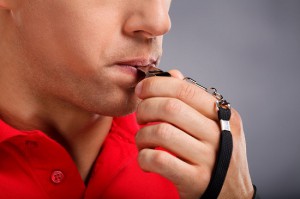 In the UK and the Alps, the signal is made up of six rather than three short repeated signals followed by a minutes silence before then repeating.
The rescue team responds using three signal blasts repeated in a minute to acknowledge receipt of the six blast signal.
The short signal bursts can really be created using anything you can use that will create an audible or visual signal that will draw people's attention to your distress. This is why an emergency whistle and a head lamp are two critical pieces of kit you should always have in your pack.
When buying a day pack, getting one with a whistle already attached is a good feature to look for.
The Importance Of This Signal
The reason knowing this simple signal is important is that as a hiker, you really never know when you might need it to draw attention to your location if you get into difficulty.
Rescue teams or experienced hikers will automatically recognize what it is if they hear or see it. However, what makes it even more important is that even if people, who are not familiar with it, see or hear it, they are going to know that something is up.
To see a repeating pattern like that will draw attention to you and your plight should you be unfortunate enough to need it.
It can also be a very helpful way to signify to a rescue team your exact location as they approach you or, if they just know the general area you are in and can't pinpoint your location, this will of course be a great aid to help them find you.
Conclusion
By now, this signal should be stored in your memory banks as it isn't at all hard to remember. However, just to reiterate. In the UK and Europe it is six short bursts, followed by a minutes break and then repeat. Other locations in the world, you can use groupings of three for a minute, followed by a minutes silence and then repeat.
When you're out hiking, safety always comes first and you should always take the appropriate preventative measures to not get into difficulty in the first place. However, sometimes no matter how much you prepare, accidents can and will still happen.
Finally, if you don't have one already, an emergency whistle and a head lamp are good investments to make to add to your hiking kit.
I truly hope you never need to use this signal and all your hiking adventures will be happy and safe ones but just in case, it's good to know!
Have you ever had to use the emergency distress signal? Let us know in the comments below.