With the advent of modern technology, knowing how to read a compass is becoming an increasingly unpracticed skill. Little wonder that if you're looking to purchase one for hiking, you're probably left scratching your head a little when it comes to seeking out the best compass for the money.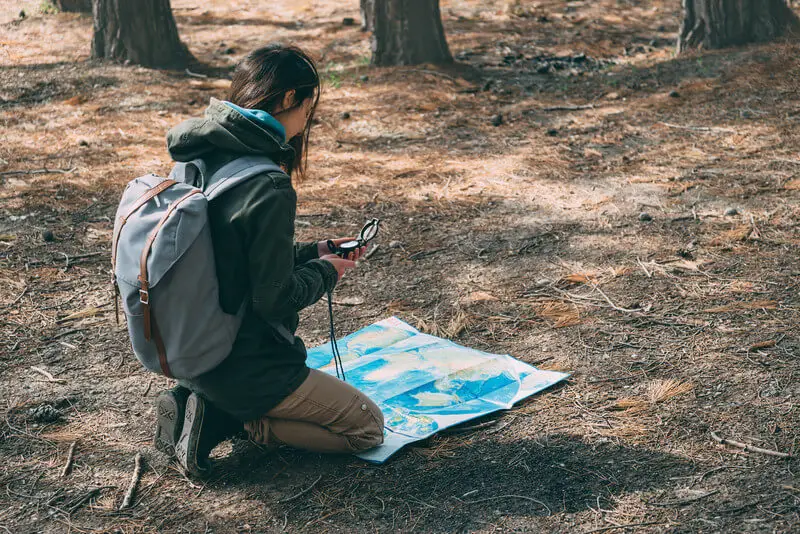 Some seem terribly complex, while others look overly simplistic. So, what should you be looking for in a compass for an average hiking trip? Let's find out.
Why you Need a Compass for Hiking
Having a map and compass (and knowing how to use them) could save your life, especially if you're out in the backcountry. If you get lost, take a wrong turn or your trail peters out, using a compass can get you back on track or help you to find the shortest route back to civilization.
Although smart phones with their huge range of applications and GPS technology have revolutionized our lives, they are not infallible.
Three main factors, for all of their ease of use, put your phone at a distinct disadvantage to a compass, namely: battery life, fragility and signal. All it takes is one drop and a cracked screen and you could be missing for days.
A recent cold spell killed my phone battery from 70% to zero within minutes, luckily I wasn't relying upon it, but it was an inconvenience. And you can bet that you'll lose signal on that scenic hike with ravines and forested areas or out in the backcountry.
All of these disadvantages go for any handheld electronic positioning device that you may use to navigate. Nine times out of ten you may have no issues whatsoever, but taking unnecessary risks is not smart. Especially when it's so simple to pack a compass and forget about it until you need to use it. So why take the risk?
Different Types of Compass and Features
Whether you're unfamiliar with compasses or it's been a while since you last used one, if you're looking for a new one, it helps to know a little more about the different types and features on offer and what they're used for.
After all, you may have slightly different needs or circumstances than the average hiker.
Here's a quick look at some of the main compass types and features, followed by my personal recommendation and why I think it's the best choice for the average hiker.
Baseplate Compass (Orienteering Compass)
The baseplate or orienteering compass is a compass and protractor combined, making it extremely useful for using with a map.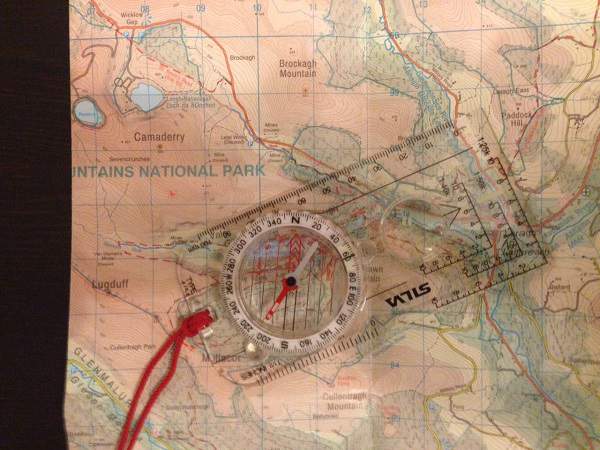 You can also use it as a sighting compass. A standard baseplate compass will be more than adequate for your average hiking trip.
Lensatic Compass
Used by the US military, the lensatic compass is slightly more accurate when it comes down to determining the specific compass direction to a designated position.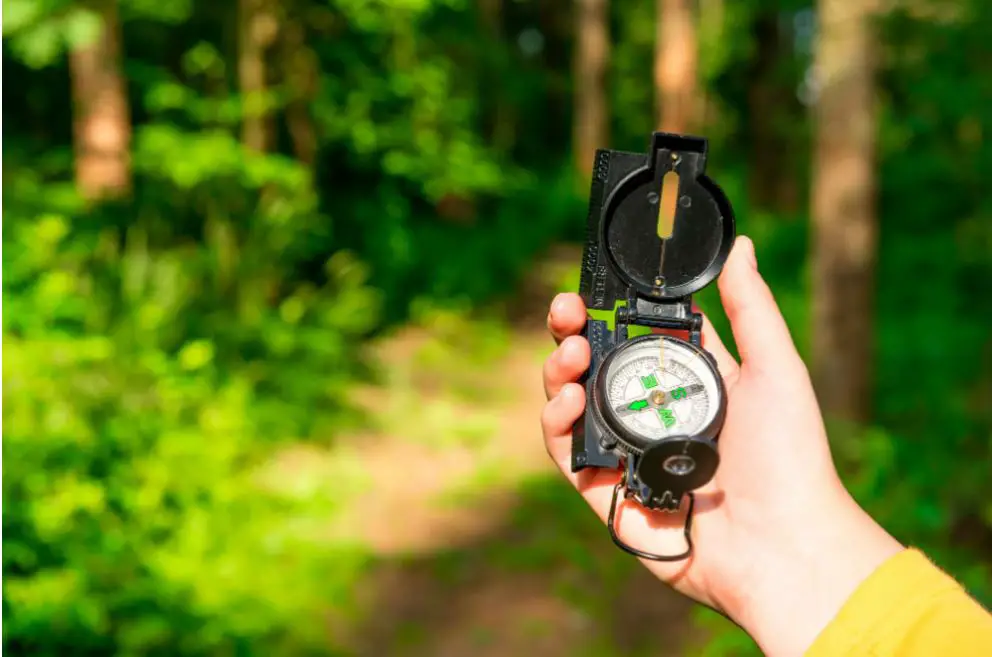 However, unlike the baseplate compass, you'll need a separate protractor for using it with your map.  
Prismatic Compass
Primarily a surveying compass that uses a prism to provide a highly accurate reading. This goes beyond the needs of hiking navigation in general.
Extra Features:
Luminescent needle and markings – Bordering on the essential, luminescent needle and markings allow you to navigate in poor light and at dusk.
Magnifying lens – Some compasses may have a small magnifying lens built in to the baseplate. This can be a useful feature to make out small details on maps.
Mirror – A sighting mirror can come in useful to help you to aim for a distant landmark with greater accuracy. It can also come in useful for emergency signaling.
Declination adjustment – With adjustable declination you can set the declination for your trip and forget about it. Reminder: Declination is the difference between true and magnetic north. Your compass points to magnetic north and your reading will need to be adjusted to show true north to use it on the ground.
Clinometer – clinometers enable you to measure steepness, for example the vertical angle of a slope.  
Hiking Compass Recommendation
For the average hiker, a standard baseplate compass provides everything you need and more. I personally use the the Suunto A-30. Suunto is a respected, high-quality compass brand that is based in Finland, where they make their compasses.

Here's why it's my Number One Hiking Compass:
1. Simplicity: Sometimes less is more. When you're out in the backcountry in unfamiliar territory and possibly with a storm on the horizon, you want a simple, hassle-free way to navigate.
If you're not a habitual compass user and you simply need to navigate your way using a map and local landmarks, then in my mind, it's pointless complicating the process. The less distractions and supplementary readings, the better and the more confidence you will have in your readings.
2. Solidity: When you're out over rough terrain, things get dropped and occasionally broken. If you're going to be relying on your compass to potentially save your life, it needs to be a solid piece of kit. This compass fits the bill.
3. Transparent baseplate. Easy to use with a map, you can easily position this compass without losing sight of potentially important information.
4. Lightweight: We're not all fast packers, but why weigh yourself down unnecessarily?
5. Easy to read: With an uncluttered layout and luminous bezel and markings for navigating in poor visibility. This really is an important point. While a more complex layout may look good, the clearer the better when you're trying to take a bearing in harsh conditions.
6. Magnifying lens: For reading those tiny map symbols with ease.
7. Fixed declination correction: Allows you to set true north for your trip.
8. Scale markings: Handy for easier map reading and trail planning.
9. Price: Why spend more on features you don't need and that could cause confusion, or make a simple reading more complex than it needs to be?
That said, if you choose to go for another compass for hiking, make sure that it a good quality model and is from another reputable brand.
10.  Lifetime warranty: I'm not suggesting you'll need to use it, however, the fact that this compass comes with a limited lifetime warranty shows the confidence that the manufacturer has in this product.

If you have other needs apart from those of the average hiker, you may of course wish to look for a compass with additional features.
I've been hiking for many years with a basic baseplate compass and even on more difficult, technical hikes, I've never needed anything more complex than a standard baseplate compass.  
Tips for using your hiking compass
Take the time to learn how to use your compass. If you need to brush up on the basics or learn from scratch, make sure you do so well before heading off into the wilderness.
The video below shows you how to take a bearing, this is just a flavor, and as you can see that in and of itself, it is straightforward and easy to do.
However, you need to have the knowledge on how to read maps properly, align them to the land, etc. so taking a proper navigation course is my recommendation.
Try out your compass in familiar territory, near your home or on a well known trail and use it to find your way. This will help build your confidence and take some of the mystery out of compass and map reading.

Be careful where you read your compass. Metallic objects can throw your compass' accuracy off course. Check the vicinity for large metal objects, for example, don't check your reading in your car or with your map spread out over a metal-based picnic table.

Store your compass away from electric fields and magnets, they can lead to permanent damage over time by demagnetizing your compass' needle. This is especially important if you're going to be putting your compass away for long periods of time.
Check the immediate vicinity of your storage place for magnets and electric fields, this also includes simple things like magnetic clasps that keep certain items closed.
Test your compass from the comfort of your home if you've not used it in a while, it's better to be safe than sorry as the adage goes!
Remember, if you're planning any far away trips, bear in mind that may need to change your compass. Purchase a southern hemisphere compass for trips south of the equator, or if you're from the south visiting the north, you'll need to change to a northern hemisphere compass.
Conclusion
If you're not accustomed to using a compass, finding the best compass for the money can seem like a complicated decision. However, both novice map readers and experienced hikers alike can benefit from the simplicity of a basic baseplate compass.
Check out our top compass recommendations, the Suunto A-30 is my personal favorite on that list. I think you'll struggle to find another high-quality, easy to read compass for the same price.
Whichever compass you decide to choose for hiking, make sure that it's from a reputable brand and learn how to use it before you head out into the wilderness.
While mobile phones and electronic positioning devices have made life easier in many ways, our over reliance on electronic gadgets that can fail when we need them most, can make some hikers unnecessarily vulnerable. Hence the importance of always packing a compass and map and knowing how to use them.
We hope you found this useful, please share it round your networks if you did 🙂