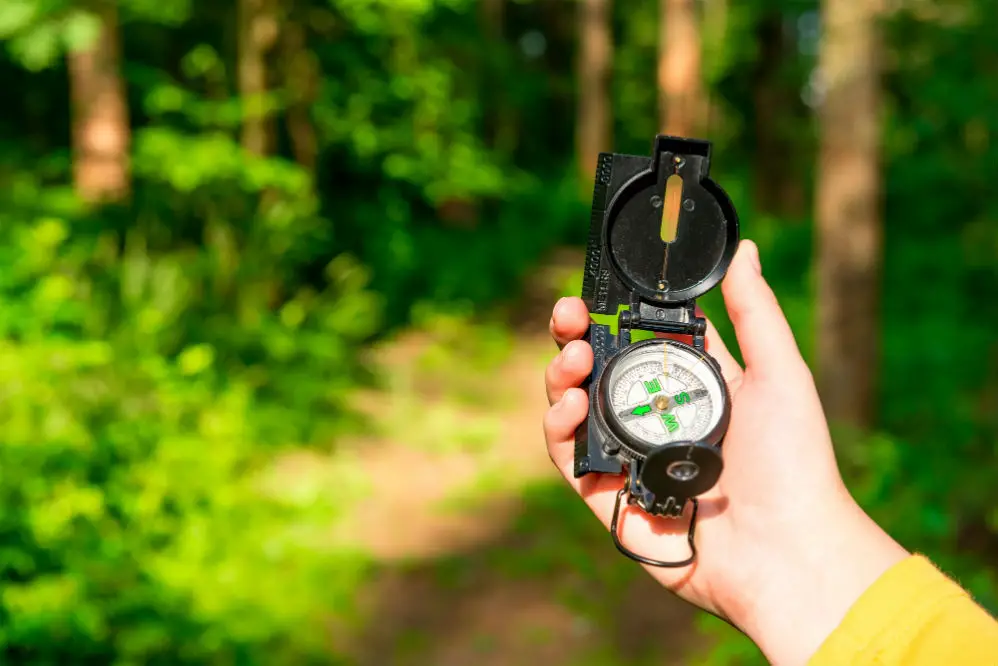 Did you know that there are different kinds of compasses? If you've found your way to this instructional guide, you have probably recently become aware that your compass is called a lensatic compass and have asked how to use a lensatic compass.
A lensatic compass is also known as a military compass, and these compasses are used to cross terrain that may not have trails or may be more challenging to navigate.
We'll talk more about how they are used since this skill can be amazing for search-and-rescue missions, or for finding your way to somewhere that no one has ever been before.
Let's learn together!
How Do You Use a Lensatic Compass?
Lensatic compasses come equipped with more tools to make the most of understanding your surroundings and the topography. With sightlines, bubble levels, and elevation guides, you can get a better idea of where you are on a map than you can with a very basic compass.
These compasses were designed to help you find your way in the wilderness, and that is an essential thing for serious hikers to learn how to do!
Using a lensatic compass isn't simple, so you should take a full course with an instructor to fully understand how to do this. Until you have that chance, this guide will give you an initial idea of what is involved.
The Recommended Way
Step One: Take a Compass Bearing on the Ground
The first step is to always take a compass bearing. Doing that with a lensatic compass is much like doing that with any other compass. Regardless, let's break it down into several steps:
Open the compass cover at a 90-degree angle and then set the lens bracket at a 30-degree angle. Ensure that the dial is moving freely.
Put your thumb into the thumb loop, which is located on the side of the compass.
Let the compass rest on your thumb and index finger.
Lift the compass, and make sure it is at your eye level. You will see that there is a sighting wire and sighting groove on the lens bracket. Find a distant object, and line it up with those two.
Read the course bearing. Ideally, there should be two numbers. The degrees are in red while mils are in black.
Step Two: Set a Course
To successfully find your way while using a lensatic compass, you will need to know how to set a course to your destination. Doing so can seem a bit complex, but with practice, you'll be able to do this quite easily.
Lay the compass completely open.
Put the compass on a level map. Make sure the level bubble shows that you are at level, that is if your compass is equipped with one.
Line the azimuth (course bearing) on the map underneath the index line on your compass. If you want to follow a 60-degree bearing, then you should be placing a 60-degree mark under your index line to keep this in order.
While holding the compass in place, rotate the housing (bezel) until the indicator is over the "N" arrow. Take account of any declination requirements. Your course is now set.
To check your course as you move, here's what to do. Open the compass and align the indicator up with the "N" arrow, but do not move the bezel again until you want to change your bearing. If all lines up, you should be on course.
Step Three: Following a Course
Once you've set a course, you may still be confused about how to follow it when using a lensatic compass. Thankfully, it's not that complicated.
Open the compass to a 90-degree cover angle and a 30-degree lens bracket angle.
Point the compass to the course bearing by rotating until the "N" lines up with the indicator.
Line your lens up with your eye level.
Find an object in the distance that is in this line.
Follow the object while checking your course bearing to be sure it stays in line with your bearing.
By keeping this object in sight, which is along your bearing, you can easily travel without needing to use your compass to check your location every few minutes. Instead, the object has become your compass!
Tips and Tricks
This guide introduces a very simple approach to using a lensatic compass, but not everyone will find it comprehensive enough to understand how to use a lensatic compass. That is why we suggest taking a class in which you can practice these skills in a real environment.
That being said, these tips and tricks may help you to avoid many common mistakes that beginners make when they are using a lensatic compass.
Go out into an area that you are very familiar with and use your compass to move around that location. In this way, if you get lost, you'll know your way home and can practice without worry
Always stop to find a new object on your course bearing if you ever lose sight of the object you are moving towards. Do this immediately; otherwise, you could accidentally move off course without realizing it
Do not try to use a compass in magnetic fields or near big metal objects. These objects ruin the compass' accuracy, and you will very likely get lost!
If you cannot find an object directly on your bearing, try moving to the side. Once you read the object, you can move perpendicularly to get back on course before finding a new object. You can then resume traveling by following the new object
With these tips in hand, you'll become a master of the lensatic compass in no time!
Wrapping Up
You may be wondering where you can use this new found skill or how to practice it. Taking any topographical map of an area you are visiting out into familiar territory is a great way to practice.
You can use your knowledge of the area plus your recently learned skills to see how these skills work in the field.
In time, you'll get even better at sighting lines, taking bearings, marking courses, and measuring distance using just your lensatic compass and a map. Once you know how to use the lensatic compass, it will hopefully become difficult for you to ever be lost again.