Well challenge hiking is exactly what it says on the tin, a hike that is a challenge and, more importantly, a significant one at that.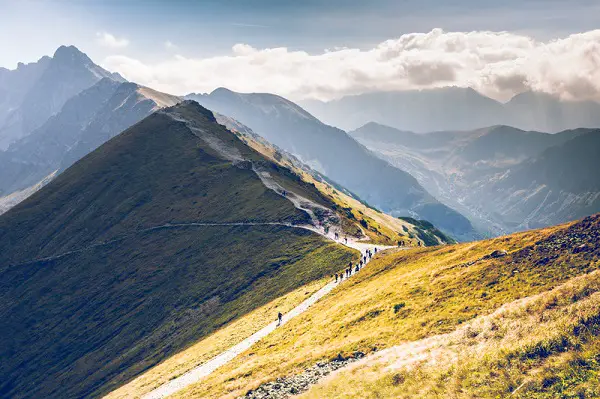 This weekend I am heading away to do my first challenge hike. It's known as a very grueling hike in a mountain range called the Maamturks in Connemara on the West of Ireland. It's very rocky terrain and very steep throughout so I can expect a lot of up and down.
The distance is approximately 24.3 Km's (15.1 miles) with 2.3 Km's (1.4 miles) elevation so, a pretty tough day hike by anyone standards.
Why Do a Challenge Hike?
I had never really thought of doing a challenge hike until the New Year when a hiking friend suggested it to a few of us. I thought why not and signed up.
What has been interesting is that as I learned more about the hike, I actually found that there are loads of challenge hikes on all over the place all year round. Seems like a pretty popular thing.
Preparation
To prepare for this one, I've have had to do a fair bit of preparation as the more I heard about the actual hike, the more it seemed to be a really tough one to complete. I found a video on YouTube of the route which I've added below. as you can see, very steep in places!
With that in mind, myself and some of the group did some very long hikes with good elevation in them the last months. Two weeks ago I also went to two steep mountains about an hour from my house and basically went up and down them. I was on top of one twice and the other five times lol 🙂
I know, it all sounds a bit mad but I wanted to mimic the elevation we will be experiencing this weekend and that seemed to be the only logical way to do it.
The hike starts between 5am and 7am so you have to get going early! To try and prepare for that, I have been getting up early every day this week, at 5am, to help ensure I get to sleep early tonight. I definitely would like a good night's sleep before we head out on this.
Rules and Guidelines
I guess every challenge hike will have their own unique and specific set of rules and guidelines.
As it's a challenge hike you have to sign up for it officially, There was a small payment to do that, to get a walk card which you have to get stamped at a few checkpoints along the route. You must also reach those checkpoints within a certain time frame.
There are about 200 people signed up for it I believe so there should be a good bit of a celebration afterwards I would imagine.
The other main criteria are to do with having to have the right gear for the hike, having a map and compass and knowing how to use them, supplies etc. so all good on that front.
Conclusion
So, that's it for today. I'll be hitting the road in a few hours to get out to the mountains, should take me 3 hours or so to get there. I'm booked into a guest house for the weekend so hopefully that will be nice too.
Apparently this hike can take anywhere from 10-14 hours, which is pretty long. I guess we will see on the day. The weather is looking pretty good at the minute which is a real bonus. I assume doing it in bad weather really lessens any enjoyment from it.
I'm not 100% sure what to expect but I guess I will know very soon. Will I get bitten by the challenge hiking bug? Who knows, maybe I will. I do like a good challenge 😉
Have you done any challenge hikes? Any you'd recommend anywhere in the world? I'd love to hear about them in the comments below.