I was thinking recently about the pros and cons of the traditional leather hiking boot versus some it's synthetic counterparts, in terms of its material construction.
Before going any further, I think it useful for me to define what I mean by a traditional leather hiking boot and a synthetic hiking boot.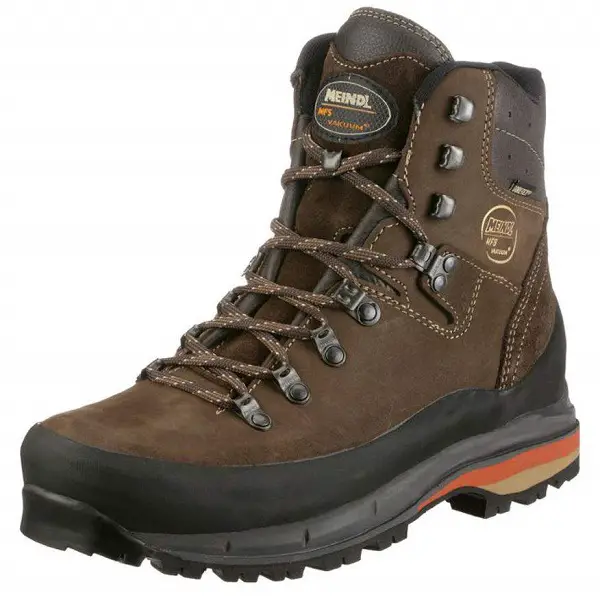 To me, a traditional hiking boot is the leather alpine style boot, like the one pictured above, which have been around for years.
A synthetic hiking boot is one that may have a more technical look and will usually consist of textile only or a greater mix of textile and leather materials in the construction, like the one pictured below.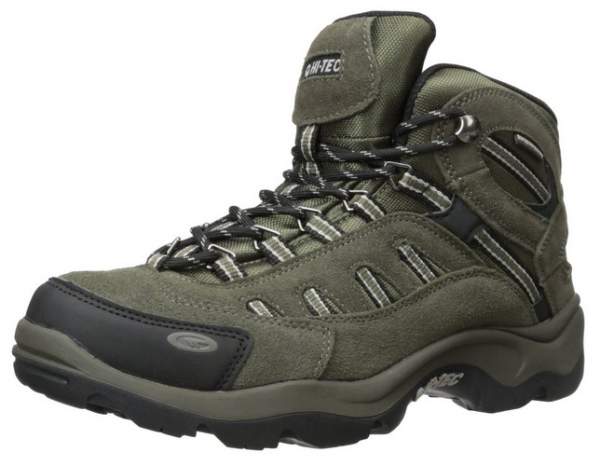 If you're in the market for new hiking boots, then check out the best men's hiking boots and the best women's hiking boots.
Materials
The main construction material options for hiking boots are broadly summarized in the table below:
Full Grain Leather
Tough and durable leather with great abrasion resistance, as well as natural water resistance and breathability. Ideally used for wetter climates and rugged terrain. Can come in different thicknesses depending on what hiking you want to use the boots for.
Nubuck Leather
Buffed down full-grain leather. Not as tough as full grain leather but still has good water resistance and breathability as well as performing well in terms of abrasion. A step down from full-grain leather in terms durability but a step up in terms of flexibility.
Synthetic Materials
Made from synthetic materials like polyester, nylon, etc. Usually a combination of many different materials. Less expensive than leather but does not enjoy the natural waterproofing that leather provides so the waterproof membrane used in the boots is important.
I should state at the outset, that while I definitely have a preference which I won't reveal till we reach the conclusion, I have over the years utilized both the traditional leather and more modern synthetic types of hiking boots. 
I thought I would walk through some of the obvious categories for comparison to see how they both fair in comparison.
Weight
A practical consideration for any pair of hiking boots is weight. This can be more relevant for certain types of hiking than others. For example, if you are planning to do a lot of backpacking, a sturdy but ideally lighter hiking boot could be preferable.
In my experience, in terms of weight, as a general rule, the more modern hiking boots constructed using a mix of leather and more synthetic materials and textiles are typically lighter than the traditional Alpine style full leather boots.
There are exceptions on both sides of this equation but this has been what I have found overall. A fully synthetic pair of hiking boots will be lighter in weight, but you will lose out in other categories.
Stability
Given that the traditional leather Alpine hiking boot is usually heavier, I have also generally found the traditional style of leather hiking boots provide more stability over varying terrain.
Again, there are exceptions and the overall construction of the whole hiking boot has a lot to do with this. However, that said, on a longer term basis I think leather is a tougher material that molds better to the shape of a foot than synthetic materials.
It remains stronger for longer and with that in mind, I give this one to the traditional leather hiking boot.
Style and Look
This is one that I personally feel is a big one. It's probably just good old fashioned conditioning but it is hard to not think of hiking when you look at a traditional style leather hiking boot.
That style and design has been around for a very long time and so is just associated with hiking … I think of the Alps and I think of a fine pair of leather Alpine hiking boots 🙂
The synthetic style boots broadly speaking aim for a more modern and technical look or aim to mimic the traditional leather style. You can of course get a very technical looking hybrid that utilises both leather and textiles.
At the end of the day, this is down to personal taste and preference. For me, I think it's very hard to beat the look of a traditional leather hiking boot. It is pleasing to the eye and looks the part. As this is a personal preference, so I will call this one a draw.
Waterproof Capabilities
A large part of any hiking boots waterproof capabilities comes from the lining which is often made from a specific waterproof material like Gore-tex.
Nearly all hiking boots will have this lining. However, leaving the lining aside, the question here is whether an upper made 100% from full grain leather or one that is 100% synthetic, or a combination of the two, provides a better option in terms of being waterproof.
I will always come down on the side of the 100% leather option but the quality and type of the leather used plays a big part in that statement. Generally speaking though, the leather boots win out against synthetic.
Breathability
Most hiking boots these days will have an inner liner that is both waterproof and breathable. In that regard, most well designed hiking boots should have some level of breathability.
However, leather is skin at the the end of the day and so has some level of natural breathability in it. However, by design and construction, synthetic materials can be adapted to allow a much better airflow inside hiking boots. In that regard, it could be argued that synthetic materials are better in terms of breathability.
However, you need to look at things in their entirety and in the right context.
That is, if you're planning to always do your hiking in warm and dry weather, mainly over well established paths and trails, you may think about sacrificing the other advantages that leather hiking boots can provide to be able to enjoy a better ventilated pair of hiking boots. It's rarely that simple though 🙂
Price
At the end of the day, any top pair of hiking boots will likely have leather in its construction to some degree. The question becomes more, are the uppers 100% made from leather or a mix of leather and textiles.
As a general rule, a good solid pair of leather hiking boots will cost more than something that is either made wholly from synthetic materials or a mix of both synthetic and leather. Leather is a more expensive material and so usually means a more expensive pair of hiking boots.
Break In Time
Nearly all new boots or shoes need to be broken in, to some degree. When it comes to leather vs. synthetic hiking boots, in the early stages synthetic will usually be the winner.
Leather is of course a much tougher material than the synthetic materials used for hiking boots, so it logically will take longer to break leather in.
However, what you may gain in the short term you may lose in the long term in terms of abrasion and wear and tear. On the cold number of breaking in alone, your feet will usually adapt much quicker to synthetic material boots than leather.
Durability
In terms of durability, I would say there is no real contest. Hiking boots made from quality leather are tougher and more durable. As a natural fiber, leather is more resilient and will withstand abrasion over time much better than hiking boots made from synthetic materials.
This is borne out in the fact that many top quality leather hiking boots can be resoled if the leather upper is taken good care of.
It is not uncommon for good leather boots to last for many, many years if you replace the soles. Synthetic hiking boots on the other hand, have a shelf life and when they're done, they're done.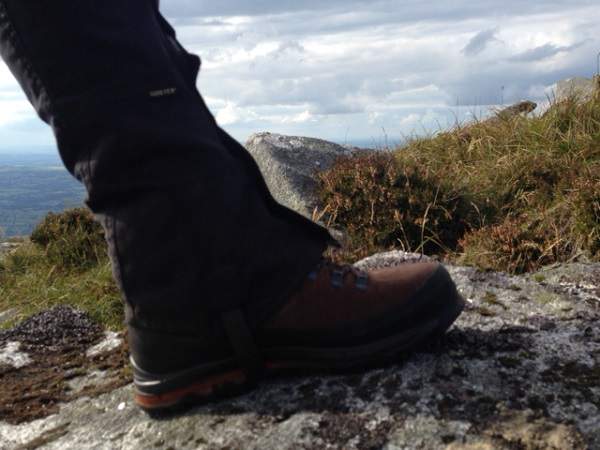 Other Considerations
One other thing worth mentioning is related to your diet preferences. 'Huh?' I hear you say. Yes indeed … if you are a vegetarian or a vegan, a synthetic hiking boot may be more in line with your principles than one made from leather, which of course comes from animals.
Not relevant to all but most likely relevant to some so I wanted to add that in as a note here. While not directly related to the performance of the types of hiking boots against one another as such, it is still a valid point worth adding into the mix.
Conclusion
In conclusion, when it comes to leather vs. synthetic hiking boots, my personal preference is hands down, a top notch leather pair of hiking boots.
I just can't really see how synthetic hiking boots can compete in terms of functionality. However, there can be exceptions as outlined above e.g. hiking in really hot weather on well established trails.
While leather is my favorite, in summer I do sometimes use a hybrid mix in hiking boots with an upper made of nubuck leather and some synthetic materials. As outlined above, they are a bit lighter and definitely more breathable for a hotter time of year.
At the end of the day, it's your personal preference but if you are looking for a quality pair of hiking boots, you will nearly always end up with some element of leather involved in the construction of the upper, if they are not 100% leather.
I hope you found this article useful and maybe even thought provoking. What do you prefer, leather or synthetic hiking boots? I'd love to hear your thoughts in the comments below.