Many backpacks are now made from water-resistant materials, however, water can still get into your backpack via stitching and seams.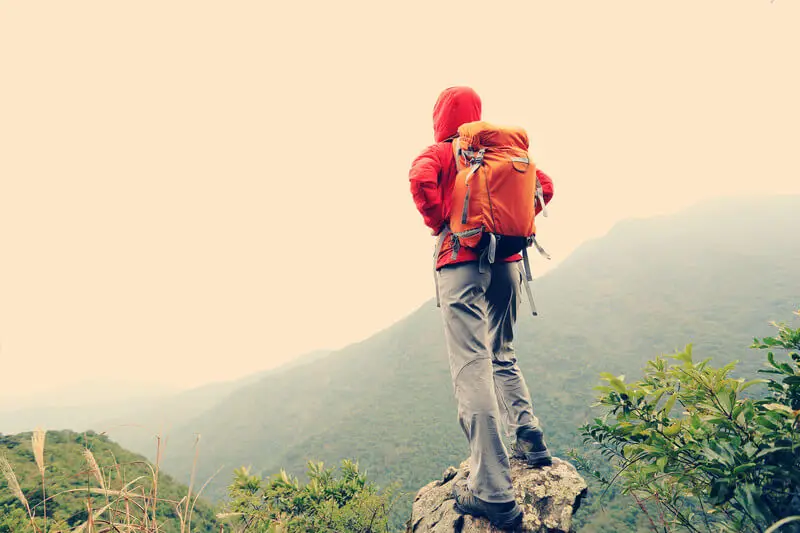 It is essential to know how to waterproof a backpack before setting off on your hike. Sadly, you can't always rely upon manufacturer's water resistant backpack ratings.
Whether you're expecting wet weather or not, it makes sense to always be fully prepared for any sudden downpours, because once your pack gets wet through so do your clothes, sleeping bag, gadgets and supplies, essentially ruining your trip and possibly causing some expensive damage.
If you can't change into dry clothes for the night, you're not only going to be extremely uncomfortable, you'll also be risking hypothermia.  
Here's what you can do to keep your backpack and its contents dry. While it may look like a lot of preparation for a few drops of rain, getting into the habit of preparing your backpack and its contents will mean you'll have less to worry about should the weather turn unexpectedly.
Leaving you to make the most of your trip, safe in the knowledge you can get changed into warm dry clothes at the end of the day, no matter how torrential the downpour.
Proofer Spray
If you own a water-resistant, treated backpack, a few extra sprays of water proofer every so often won't do any harm. Of course, this won't make any difference when faced with a heavy downpour.
However, it can help in those first few moments while you get your rain cover set up. It can also help to keep your backpack dry in damp conditions, encouraging water to bead and drip away rather than sit on your pack fabric and slowly sink through. A useful first line of defense, although not much more.
Backpack Rain Cover
The majority of backpacks tend to come with a built in cover or one that you can purchase separately. A backpack rain cover should keep the worst of the weather off your pack, although it's still not going to make it fully waterproof during heavy downpours.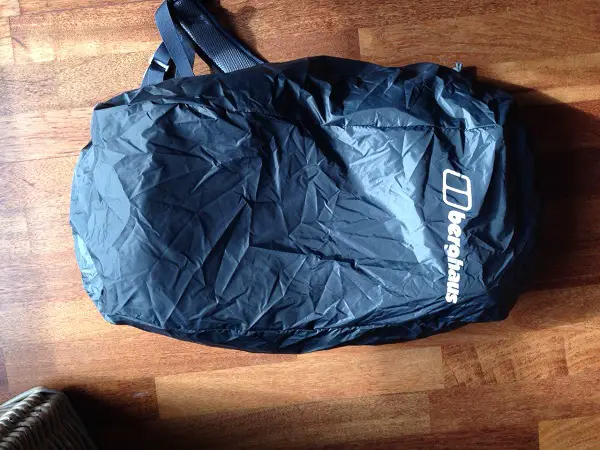 Suitable for light rain and drizzle as well as waterfall mists, backpack rain covers should be quick and easy to put on in a hurry. You shouldn't, however, rely solely upon your rain cover to keep your pack contents dry.
This is especially important when you're out backpacking overnight and in need of a dry sleeping bag and a change of clothes. So, while rain covers are handy, you'll need to go one step further and waterproof your essential pack contents.
Personally, I think these are not a great option, especially if they are not tied to your pack as part of the design. Often with rain, comes wind, and wrestling with a backpack rain cover in the wind to get it to fit to a backpack is not fun, and even when tied on, it can still blow off in strong enough winds
Backpack Liner
A backpack liner is an excellent way to protect your entire backpack contents. While it's also advisable to protect individual items too, using a pack liner is an efficient way of providing your gear with an extra layer of protection against wet and damp weather.
Whilst a backpack liner probably won't keep 100% of rain out, it is an excellent way to ensure that water does not enter your pack from the ground.
While your rain cover should protect your backpack pretty well from rainfall, it's all too easy to set down your heavy pack in the damp after a long day's wet hiking.
And if you've got your nice down sleeping bag unprotected at the bottom, it's unlikely to stay fully dry for long.
Backpack liners can vary in price and dimensions. In its most simple form, you could just use a bin liner or a regular plastic bag to line the inside of your backpack's main compartment.
A simple, easy step that's sure to go a long way towards keeping your gear dry. However, for important or fragile items, you going to need to go a step further.
Dry Bag
Dry bags are usually used for watersports such as kayaking. They seal completely to keep water out and are designed to keep your possessions dry should they take a tumble into the water.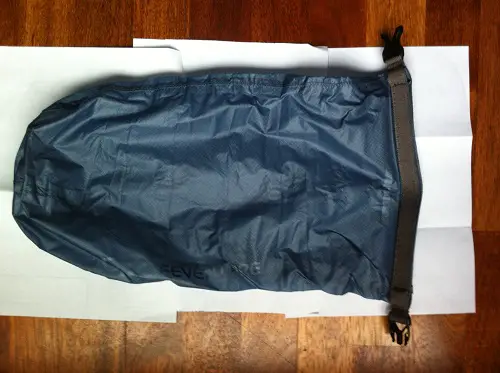 While this may sound like overkill for a hiking trip, remember, it's not uncommon to experience a sudden flash downpour, or to have a leaky water bottle or hydration bladder.
In any case it's better to be safe than sorry and once you're in the habit of packing for the worst case scenario then it will soon become second nature. Dry bags are my go to choice for this purpose.
If dry bags are a bit too pricey and take up more space than you can spare, check out our next item, the ever popular Ziplock bag.
Ziplock Bags
Chances are you probably already use Ziplock bags for your food supplies, toiletries or various other uses. They're inexpensive, seal quickly and easily and they're also waterproof.
So, why take the risk? Ideally, you would have a few different sized bags, a large one for your water bladder or bottle of water and another for your sleeping bag, as well as smaller ones for clothes, supplies and gadgets.
Remember even when the rain has stopped, until you actually set up camp, you're not going to be able to get anything out of your backpack very easily without getting water on it, and then water into your backpack.
Having individual items packed in Ziplock bags, means you can open your backpack after the rain without having to worry they'll get damp while you set up camp.
You can also check your phone or gadgets without having to remove them from the bag.
If you hike in an area with high precipitation levels, you may want to purchase a specially designed electronic gadget protective cover so that you can make full use of your phone or tablet without having to remove it.
Using Ziplock bags can also be a smart way to section your gear as well as ensuring your pack contents stay dry. They can help to keep your camp clothes clean and protected ready for evenings, as well as keeping any smelly items confined to their own bag.
Typically zip loc bags are see through which is handy, so you can see the contents without opening the bag.
Further Resources
How to go Backpacking in the Rain – An informative and good all round article on backpacking in the rain from the folks at REI.
Conclusion
When you're out on the trail it is essential to know how to waterproof a backpack and to ensure that your clothes, equipment and sleeping bag do not get wet or damaged by the rain.
Wet clothes and low temperatures can lead to hypothermia and it's important to be able to change into something dry to warm up.
I personally use a combination of all the above for my backpacking trips, but if I had to pick just one, I would go with dry bags.Hiking in the rain can be a magical experience, but it can also be unpleasant.
However, the damp, mud and unrelenting rain needn't put such a damper on your spirits if you're prepared and confident in the knowledge you can dry off with your pack contents safely protected.