While you probably have used a GPS system in your car or on your mobile phone, you may not be quite as sure how to use a handheld GPS for hiking.
Although the technology behind it is the same, using a handheld GPS receiver for hiking is quite different to other more everyday GPS systems.
Using a GPS receiver for hiking requires a certain amount of knowledge and familiarity, with how the device works.
After all, if you are going to head out into the wilderness, you need to be sure that you know how to correctly use your GPS receiver and have a backup plan for what you'll do in case of any malfunction, no matter how unlikely.
So, to make things a little clearer, let's take a look at what a handheld GPS receiver is, what it does and any extra features that are useful to have. We'll also look over the advantages and disadvantages of using a handheld GPS receiver for hiking, as well as the basics of how to use one.  
What is a Handheld GPS?
A handheld GPS receiver is an extremely useful piece of equipment for navigating. It can let your know your precise location as well as providing information on where you have been and helping you to get to where you want to go.
GPS stands for Global Positioning Service. Satellites orbiting the Earth are used to determine your position by a process called trilateration. Trilateration depends upon your device picking up the signals sent from at least three satellites.
Once your device has picked up these signals, it can pinpoint your position by working out how far away each satellite is based on how long it takes for their signals to arrive.
The process is somewhat similar to triangulation, used when using your compass in the field to find your position on a map, except GPS does not use angles, but measurements of distance and time.
Advantages of Using a GPS for Hiking
There are plenty of obvious advantages to using a handheld GPS for hiking. With a GPS receiver you can see at a glance where you are, so you don't have to worry about getting lost, as you can also see where you want to go and how you can get there.
GPS receivers can also provide you with other extremely useful data. They can record tracks so you can see where you have come from and follow your route right up to your present location.
This is useful if you need to double back for one reason or another. It can also be useful in planning future outings or in providing important information to the authorities about hazards and their exact location.
Saving Location Points
You can also program points into your GPS so you can get a good idea of the distance and direction of where you're headed next. In addition, your GPS receiver can display your trip data, letting you know how far you have traveled, your speed and how far you have left to travel to reach your destination.
This information can also be useful for planning future trips and sharing your hiking routes with other users. GPS can also give you information on your altitude, providing that it is receiving signals from at least four satellites, although accuracy is greatly improved with larger numbers.
Using a GPS receiver can give you greater freedom and confidence to explore. If you ever get lost or injured, you can easily find out your location and get help.
Many GPS receivers also have the added option of being able to alert emergency services as to your whereabouts by sending a distress signal.
There are also other possible options such as barometers or altimeters, a compass and some offer communication capabilities with other similar devices in the area.
Disadvantages of Using a GPS for Hiking
While using a GPS receiver can make light work of navigation, it's important to not become over reliant upon technology that can break, run out of battery or occasionally lose signal.
One of the main disadvantages of GPS is that it can discourage some people from developing their map and compass reading skills.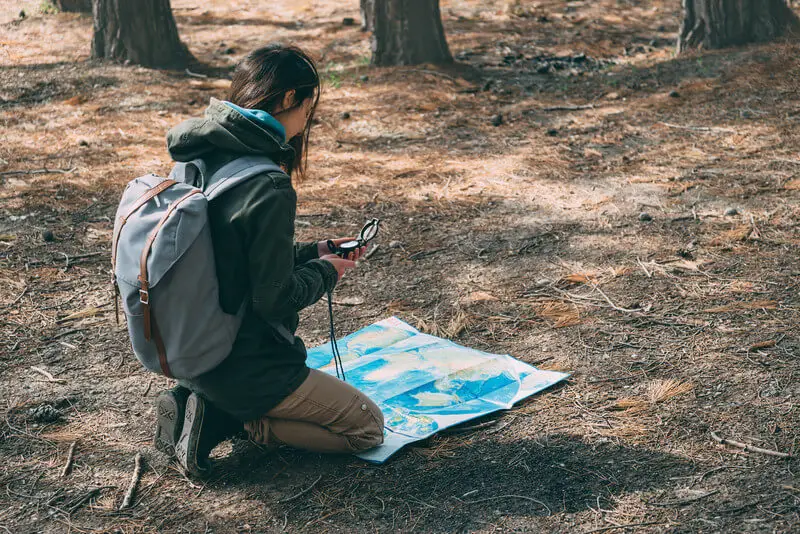 In the event of your device failing, it is important to have a back up and a map and compass as one of your essential pieces of kit, that you should carry with you at all times out on the hills.
A handheld GPS for hiking can be a really useful tool, however, remember that it's no replacement for experience and keeping your eyes on the trail.
If you enjoy hiking as a way to escape the modern world and too much time spent with screens and relying on technology, then over reliance upon a GPS when you're out in the middle of the great outdoors doesn't make much sense.
Better to stop for a break and to check it occasionally when you're uncertain, rather than checking your every move along the trail in real-time.
Double Check
If you're using your GPS receiver in canyons or in any areas where the sky is obscured, you may not receive an accurate location.
So if your location isn't matching up with your gut feeling, don't be afraid to trust your instincts and get out your map and compass and double check, or try again with your GPS location when you're out in the clear.
While all GPS receivers offer the same basic functions that we're pretty much all used to, they can also have some very complex options. Using your GPS receiver accurately when out hiking, especially in the wilderness, requires a certain level of experience and skill.
While we tend to trust technology to do things for us, taking time to learn about what we're actually doing and how it works is highly recommended.  
How to Use a GPS When Hiking
When you purchase a GPS receiver, be sure to thoroughly familiarize yourself with it before relying upon it for finding your way when hiking. Read through the operations manual and try out all of the features until you understand how they work.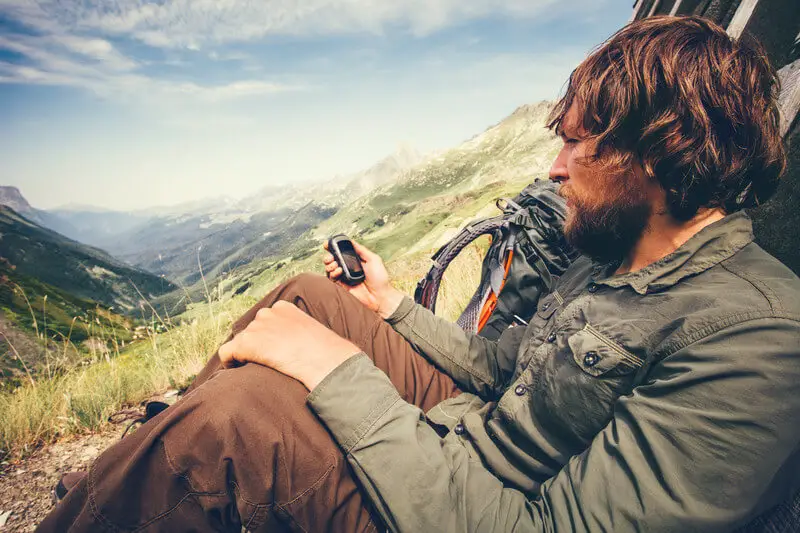 Once you're familiar with your handheld GPS, you should test it by using it around your neighborhood, then progress on to using it on local hikes where you're thoroughly at ease with your route.
When using your GPS out on a hike, you will need to set it up before setting off to make it easier to use when you're out in the field and to ensure that you have your route recorded.
If you're having difficulty becoming better acquainted with your GPS unit, then it makes sense to have a start up list of what you need to do before starting off on your hike.  
Here's a general idea of what most handheld GPS users will need to do before starting their hike.
Steps
Before leaving make sure that your handset is in good working order, with a fully charged battery. Check the charge on any spare batteries you may have too.
Turn on your unit and wait for it to receive satellite signals and pinpoint your position.
Reset any data or trip logs.
Program your waypoints.
Calibrate any compass, barometer or altimeter functions.
Before leaving home, make sure that you have uploaded any necessary maps, for your planned hike, or system updates. Remember, don't rely solely upon your GPS, even once you're comfortable using it.
It is always recommended that you carry a compass and map as a backup and that you tell someone where you're planning on going and when to expect your return.
Conclusion
It is extremely important that you learn how to use a handheld GPS for hiking before relying upon it out on the trail. While they are not essential, they can be extremely useful in planning your route, digitizing it to share it with others and to let you gain a better insight into your hiking capabilities.
A handheld GPS can also be invaluable in the event of an emergency, enabling the appropriate emergency services to pinpoint your location.
However, it is important to remember that like any electronic device, a GPS receiver can malfunction, break or run out of battery. While they can greatly enhance your hikes, it is important that you still, to stress it again one last time :-), carry a map and compass and know how to use them.
Spending too much time using your GPS when you're out in the great outdoors, can also mean you miss out on a valuable chance for downtime away from screens and the modern world.
So while they are useful and can even save lives, it's important to know not only how to use your GPS, but also how to do so with moderation. Doing so will ensure that your trek through the wilderness is also one of natural and self discovery.
We hope you found this article useful, please share it round your networks if you did 🙂