Today I want to take a look at how best to clean a Thermos flask. Now, I don't mean your standard clean after a normal weekly hike. What I'm referring to here is a deep clean. Let me explain.
Now I'm sure you've had this problem if you're a regular hiker who likes to take a hot
drink with you out on the trail be it coffee, tea or whatever.
Week on week you add your tea, I'll use tea here as that's what I usually bring with me, to your flask. You do your hike, you come home and give the flask a good rinse, clean and you leave it to dry.
That's it. All good and you're flask is good to go the following week on your next hike.
However, over time your flask starts to gather deposits, that's the only word I can think of to describe it, that don't come off after a good rinse and wash with hot water and soap.
These deposits are visible to the eye. Over time, the flask can also get a bit of a musky smell about it too when you open it up. Not ideal when you want to drink from it.
A flask by it's very design is not the easiest thing to clean at the best of times. It can be hard to get in to the bottom of it and get a good scrub around. Ideally using a cleaning brush will help with this but it can be hard to find one thin enough for some flasks.
However, even with a good cleaning brush that is slim enough to fit into the flask itself and long enough to reach the bottom, you still can't man oeuvre it easily to clean everything. On top of that, you can't see the bottom of the flask while you clean it as your hand is in the way. What a pain!
So, even with a good cleaning brush, which I do have and use, deposits still gather. I like a bit of sugar and milk in my tea too so over time you never know what little science project is developing in there 🙂
I'm joking of course, a good basic clean with soap and water does the trick most of the time but every once in a while you need to get in there and do a really deep clean.
I figured that it would be a good idea if I learned how to give the flask a deep clean that would remove the tea stains, sugar remnants, limescale deposits, etc. This all seemed very good but when I thought about it, I actually had no real idea how to deep clean inside a steel thermos flask!
And so, the quest began for a solution!
The Cleaning Options
Now, enough context … I won't drag this out too much longer. I came across several ways online to get your thermos flask clean, shiny and new looking on the inside again:
Using egg shells – Yes, you're reading that right
Using Tea – Interesting solution considering tea is part of what is causing the stains
Using denture tablets – my preferred method by a long shot … highly recommended to get similar results as with the teabag below and I only use this method these days.
The Tea Bag Method
When I looked at the three methods above, I decided I would start with the easiest one to execute first which was  number 2. This is because I already have tea bags and boiling water aplenty!
To briefly explain, this method simply involves putting a tea bag in the thermos flask, putting in boiling water to the very top of the thermos flask and leaving it overnight. In the morning, simply empty the tea out and then rinse it in cold water. Easy peasy!
Now, as I mentioned above, I normally have tea in my flask when I am out hiking so it would seem odd to be using part of the problem as the solution so to speak. However, as already alluded to, I drink my tea with milk and sugar so that probably changes the dynamic of the final brew in some form I would imagine and so it isn't plain old fashioned tea as such.
The Denture Tablet Method
Similar to the tea bag method, you simply pop a denture tablet into the flask, add warm water and leave to soak overnight. I can't really elaborate on this more except to say that this is now my preferred method for cleaning any of my liquid carrying gear.
There are two reasons for this:
It was even easier than the tea bag. Just give it a quick wipe the next day but most of the grime was already removed by the tablet.
It leaves a nice fresh smell … they are denture tablets after all so it makes sense that they would!
As well as cleaning my thermos flask, I used denture tablets recently to clean my hydration pack and it was again a really great success. It even took away any discoloration on my hydration pack, really sweet!
The Results
Note that you will get great results using either the the tea bag method or the denture tablet method. Below I refer to the tea bag method but to use the denture method, just replace the tea bag with a denture tablet in the steps below and you're good to go!
So …
I did as the steps suggested and put a tea bag into my stainless steel thermos and left it overnight. I decided I'd track the process to see how it panned out, very scientific I know lol 🙂 The pictures below show what happened:
1. The shot below is pre-experiment. As you can see I have some nasty looking grime rings on the rim rings at the top of the flask, not pretty I know!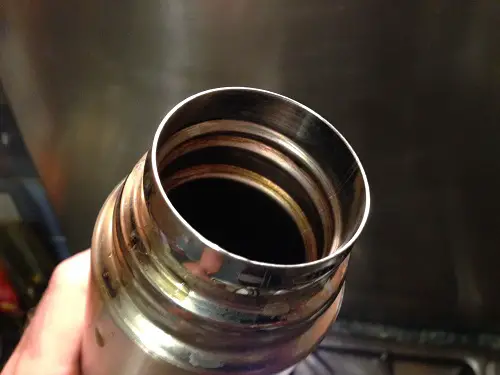 2. I put a tea bag into the flask and filled it up to the very top with boiling water. This was done just before midnight. If you're using denture tablets, boiling water is not needed, slightly warm water will work fine.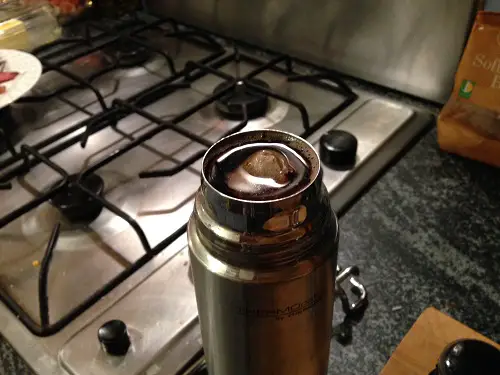 3. Next up, I just closed the flask with the lid sealing it tight. Note, I didn't put the stopper in, see the bottom right of the photo above, as I wanted the tea to reach the very top of the flask and submerge the rings.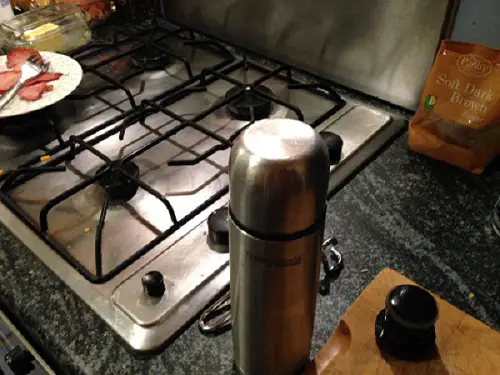 4. The next morning, at about 8am, I got up and emptied the tea out of the flask. The rings of residue build up were still there but a quick wipe with a wire dish brush and it completely came off!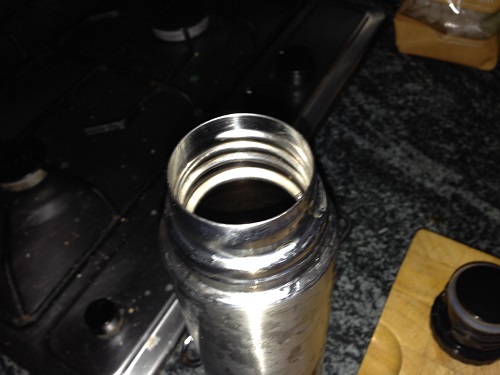 Hopefully you can see the difference in the shot above in comparison to the first one. Quite a difference. It's also worth noting that any inkling of the musky smell from the flask was completely gone too!
Conclusion
If you take a stainless steel thermos flask out with you on your hikes, it's a good idea to give it a deep clean every so often and this process could be just the ticket. I used to use the tea bag method but ever since I started using denture tablets, I haven't looked back. I never looked into the egg shell method and that just seemed too complicated 🙂
To recap, pop a teabag into your thermos flask, leave a teabag filled to the top with hot boiling water in it over night, empty, scrub, rinse with cold water and voila, you have a nice and clean thermos flask! To use the denture method, do the same replacing the tea bag with a denture tablet and use warmish water instead of boiling water
If you need to remove tea stains or coffee stains and build up from your flask, give it a go!
Have you tried this or any of the other two methods mentioned above for cleaning a stainless steel thermos flask? I'd be curious to know how you got on so please do leave a note in the comments below.