I always like when I come across a functional cross over in terms of gear. That is, when something is made and designed to be used in one particular activity but turns out to be very functional and useful in another.
I came across one of these examples recently with a friend of mine. He's a mountain guide but works mainly in rock climbing. We were out on the hills for a hike and we got to talking about a camping trip I had coming up in the not too distant future.
I expressed that one of my concerns about the trip was the weather. It was three days and two nights in the West of Ireland which is well known for days and days of heavy rain.
Although I am very fond of my current rain pants and think they're great, I wasn't sure how they would fair in persistent rain like that if we were to get caught in it for the entire trip.
There was no doubt in my head that they wouldn't hold out. That was when my friend suggested to get a pair of what he was wearing.
Sailing Salopettes
I hadn't noticed but he was wearing what looked like Dungarees. He unzipped his jacket so I could see them. I was interested and asked what kind of hiking pants they were.
He smiled and said that they weren't hiking pants but were actually sailing salopettes. Please note the salopettes shown in the promo picture directly below are not the same ones I use in the photos below.
I was fascinated! Sure, I've been out on a sailing boat before but my knowledge of sailing gear is zero as I don't sail. I have also used salopettes before but only in the context of skiing so I'd never really thought about using them for hiking. Pictured above are the Bib Pants from Navis.
He started to list off the advantages of using sailing salopettes for rain protection. I'll go into some of those below but as he went through them I was impressed with the simple idea of using something designed for sailing, for hiking.
He does do a bit of sailing too so although I didn't ask him, that was how I assume he came across the idea.
I trust his judgment and after some consideration, a few days later I ordered a pair of them online to try them out.
They had a much better chance of keeping me dry should there be a deluge on my camping trip and I was pretty sure that even if I didn't use them then, I would use them again throughout the Winter.
The Advantages of Using Sailing Salopettes for Rain Protection
Well, the most logical place to start is with what they're designed for. When I first took them out of the packaging, I could see they were really sturdy.
Before ordering, I had of course checked the specifications and they had a mighty 29,000 mm water resistance rating. That's some serious protection for sure!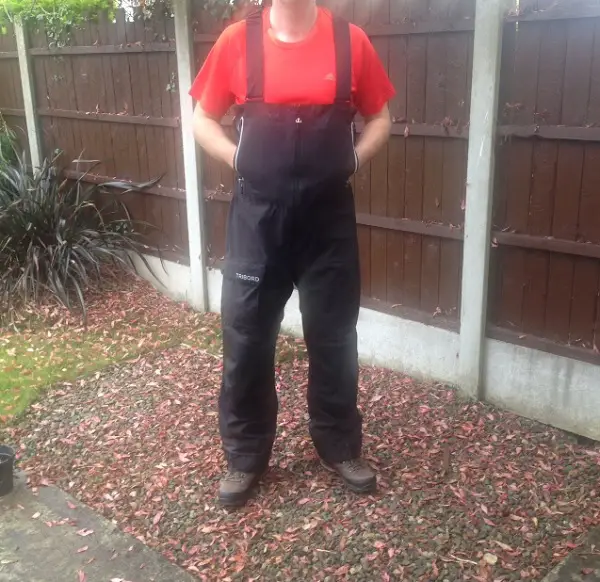 This is their first really good advantage, they were seriously water proof. Heavy and bulky yes, but you could tell they would take a hell of a beating from the rain and still keep you dry.
This of course makes sense, who is likely to get wetter, a Guy in a sailing boat or a Guy on the Trail!? Both can get pretty wet but I would have to assume the Guy in the boat would be getting the worst battering, possibly from the heavens and from the waves.
As mentioned, the ones I got were pretty thick and bulky so they needed to be very breathable. They were listed as breathable as well but I found this to be one of their disadvantages which I'll look at further below.
As mentioned, they are like dungarees, when combined with a good rain jacket, you have a pretty good protective shell around you.
Very Adjustable
That is rain that hits your jacket can't roll off and down into your pants as they run up your torso. This is also further enhanced by a fasten belt at the waist so you can get a secure and snug fit.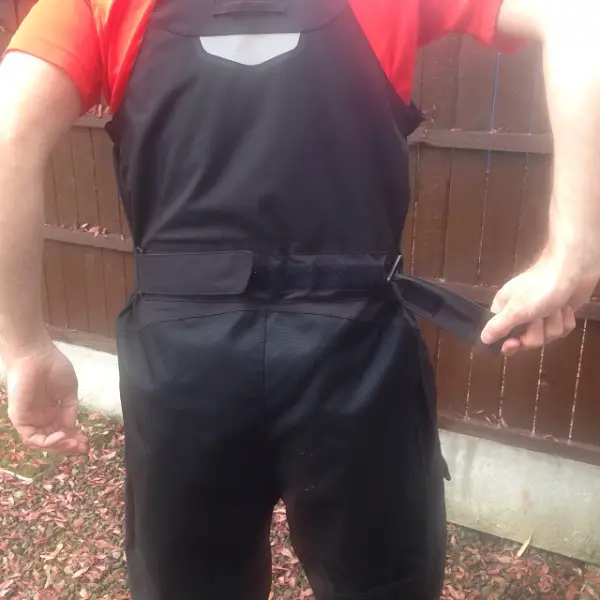 The shoulder straps are also fully adjustable using Velcro so it was easy to get a comfortable fit. The bottom of the pants also have fully adjustable Velcro straps which you can adjust snug over your boots. Combined with gaiters, that's pretty formidable protection for your hiking boots to stop stuff getting in.
All in all, in conjunction with a good rain shell, you can build a very solid wall of rain, snow, etc. protection around your whole body.
Another interesting thing in the Salopettes I bought was built in padding on your rear and your knees.
This makes sense for sailing as you would of course be kneeling and sitting on hard surfaces so built in padded protection got kneeling and sitting makes sense. The padding can also be removed, as shown in the photo below, should you not require it.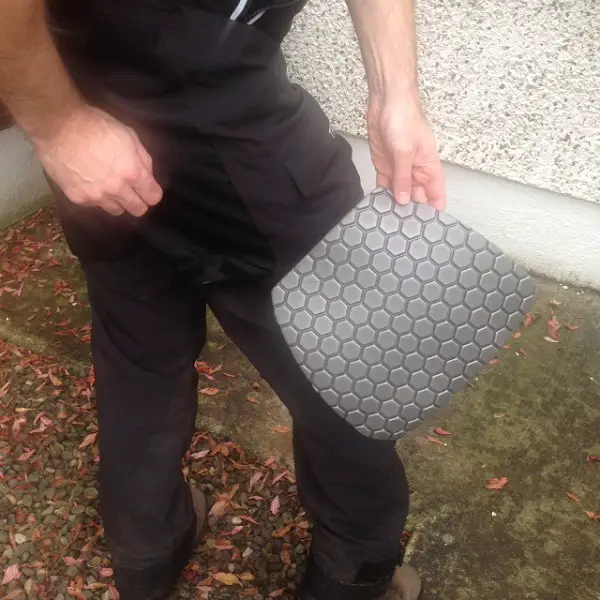 Transfer this to the trail, having a built in seat in your pants is very practical. Even reinforced knees could also serve a protective purpose, say when scrambling.
The final thing to mention was they storage. The salopettes have very big waterproof zipped pockets on each side and they are very roomy and functional with that added benefit of a fleece cover inside for hand warming.
Plenty of storage capability but you would of course have to open your rain jacket to get at them.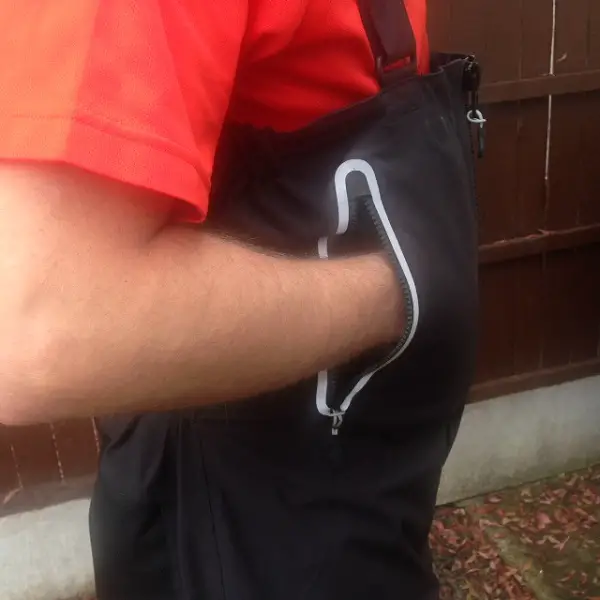 They also have a large pocket on the hip which is again very roomy and functional.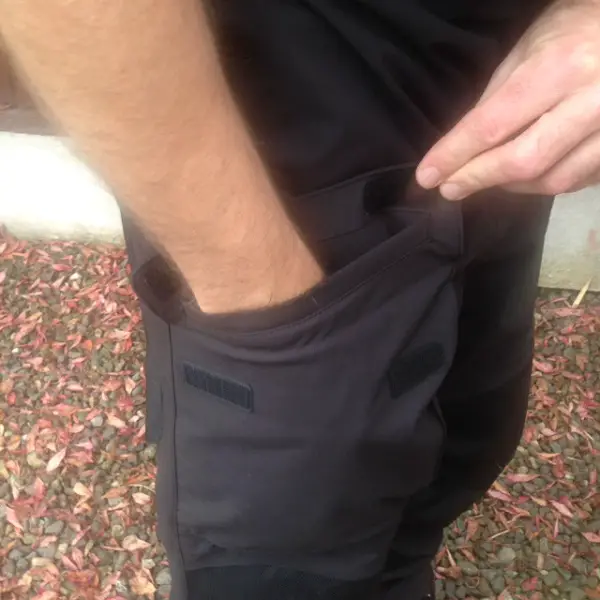 The Disadvantages
OK, so I've listed the pros from my experience with them but it wasn't all great in terms of functional use.
First off, that added rain protection and the built in reinforcements on your rear and your knees isn't lightweight. While it is serious protection against the elements, it is not really practical in terms of carrying them in your pack, they're just too bulky.
Also, you need to put them on before putting your hiking boots on, so if you're wearing them out on the trail, you're wearing them from the start to the finish of your hike!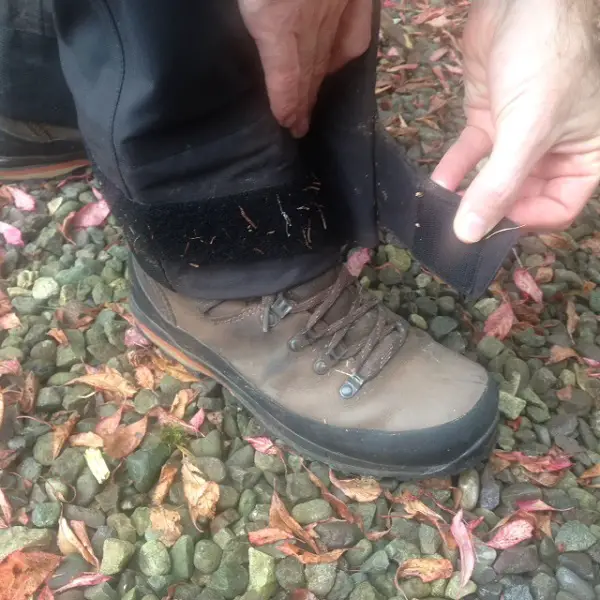 I was caught in several heavy rain showers and the rain protection was truly excellent. However, a different problem presented itself for me. Namely, getting wet from the inside.
My salopettes didn't seem to be the most breathable and so while they kept me warm, my hiking pants did get damp while I was using them from the heat and moisture build-up inside.
Zippered Closer
The salopettes are closed using a zipper right up from your navel area to your chest. This can be opened to let some air in and cool things down around the torso but it doesn't really help the internal moisture in the leg area.
This is a downside for sure but it was still pretty warm when I was using them so this may not be as big a problem in winter.
This also could just be these particular Salopettes, another pair may have much better breathability. Perhaps you could get ones with a bit less reinforced design that are a bit lighter and breathable.
Next up … at first, I thought the built in seat padding would be really handy. A built seat on the trail would be very practical indeed.
However, this only exacerbated the breathability problem making my hiking pants damper so I removed them (which is easy to do using the Velcro straps on the padded pockets i.e. pop open the velcro and slide the padding out).
Conclusion
Overall, I was pleased with the sailing salopette experiment. Although the particular ones I bought are not suitable for warmer times of year, I think they will work well in late Autumn and Winter, when I will need the extra protection most!
As mentioned at the start, my friend has been using these for years but my hunch is that he may have a lighter pair than the ones I got. As it turned out, the initial camping trip I bought these to potentially use on turned out to be an absolutely beautiful weekend in terms of weather. Not a drop of rain!
However, if you are planning to do some hiking into tough wet, windy and cold conditions, this could be something to look into as a viable alternative to standard hiking rain pants.
I certainly don't regret buying them as I will use them again in the mountains for sure and it has opened up a new possibility for me which I was previously unaware of so that's pretty cool too.
Price-wise, they aren't cheap, but they're so sturdily built that I know I'll get a long run of use from them.
Have you ever used sailing salopettes on the trail? What do you think, good or bad idea? Would love to hear your thoughts on this.