Last weekend I headed into the mountains for my first short backpacking trip of the year. A friend of mine suggested we head out to get a hike in on Saturday, on the way to camp, and another on the way back to the cars on Sunday.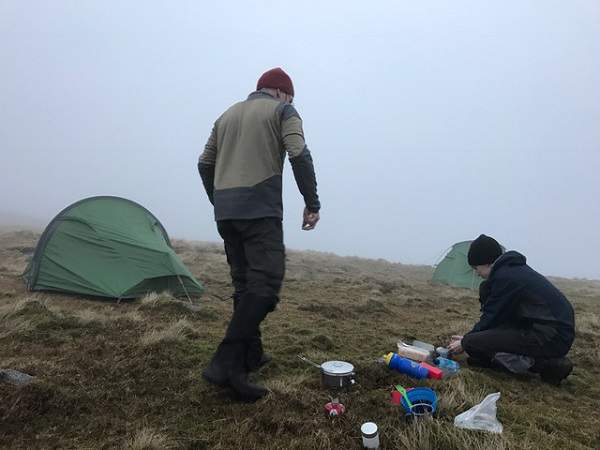 As we were in the mountains, it also was  great opportunity to practice some night navigation so we had that penciled in too.
The weather had turned last week and spring had definitely sprung. The temperature was on the up and it was to be pleasantly mild. Although a bit cloudy, the sun was expected to break for a few hours on Saturday and Sunday.
There was to be rain but it was only to be on through the night so all in all, it looked like a reasonable weekend for spending a night in the mountains, with some room for a couple of nice hikes on either side.
I haven't camped since late October last year, so all my backpacking gear was packed away in the cupboards for the winter so I had to get all my gear out Saturday morning.
I am not really a winter camper so I camp mainly from spring to autumn. With that in mind, it's always good to be getting the backpacking gear out as it means the days are getting longer and warmer, which is always great.
As it turned out, a cousin of his also joined us so there were three of us out for the night. Saturday was fine, cloudy but no rain and visibility was reasonable.
We had a nice hike in and made camp, it had been a while since I'd had camp food! My warmed up packet food is always my food of choice and it's a winner when I'm in the hills! Zero hassle to prepare which is right up my street!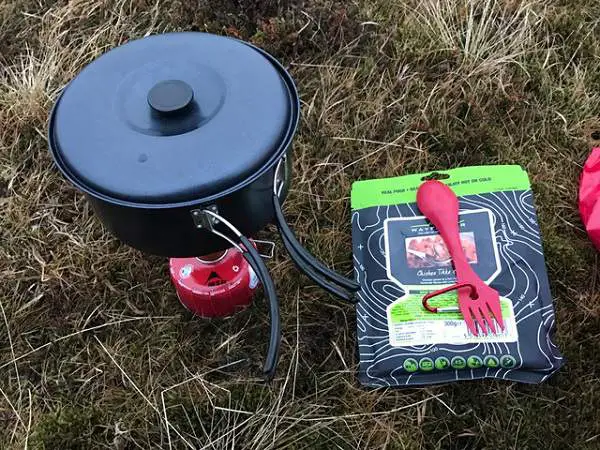 So, all in all we had a nice couple of days and we made it back to the cars all good on Sunday, which turned out to be a really nice and sunny day. I thought I would share this in a post, as I actually got a little caught out with something at the weekend, so thought I'd add it in for others.
What did I get Caught out with? Well, that was, quite simply, not being used to camping for four to five months.
When we planned the hike, my friend said, we'd hike about 6 miles into the mountains to a good spot to pitch our tents. The spot looked good on the map and I was happy to run with it.
I've also camped in that area several times before so if that spot didn't work out, I had a back-up spot about 2 miles away where I have camped a couple of times before, so not the end of the world if it wasn't suitable when we got there.
So all good … or so I thought. My friend has been out camping several times already this year so he has adjusted back into it.
I haven't lol 🙂 When looking at a 6 mile hike into the camp spot on the map, I didn't think it would be a problem, six miles is not a big hike for me. However, I hadn't really factored in the 12/13 kg backpack I would be carrying!
Normally, this is not a big deal, but I haven't camped since October remember. So my body wasn't recently familiar with hauling a 13 kg backpack for three miles, never mind six! Again, no big deal, I was just a bit tired when we got to camp.
We headed out for a four mile night hike on top of that and then hit the hay Saturday night. As expected, the rain and the wind got up during the night, and as it was my first night sleeping on my awesome air mattress in five months.
While it is normally very comfortable, I hadn't slept on it in five months and with the wind and the rain, it made for a pretty restless nights sleep I can tell you.
We got up Sunday morning and headed for another six mile hike on the way back to the cars on Sunday. A fine sunny day and a great hike.
All in all, a great weekend was had, but boy was I tired when I got back to the car! After a two hour drive home, I was a happy camper when I got back to my house and could collapse on my couch!
Conclusion
So, the moral of the story is? Well, if you haven't been out backpacking since last Summer or Autumn, it might be a good idea to start with a smaller trip first time out just to get your body back into backpacking mode.
Heading out for six miles with a heavy pack after not being out in five months may not be the best way to get your backpacking trips started in the year.
I still had a great weekend and it was great to get out for the first camp of the year. However, I was a happy man when my head finally hit the pillow in my warm bed on Sunday night lol 🙂 I slept like a baby I can tell you!