Hiking the Appalachian Trail is the experience of a lifetime for those lucky enough to have the opportunity and the time to complete one of the nation's most popular thru-hikes.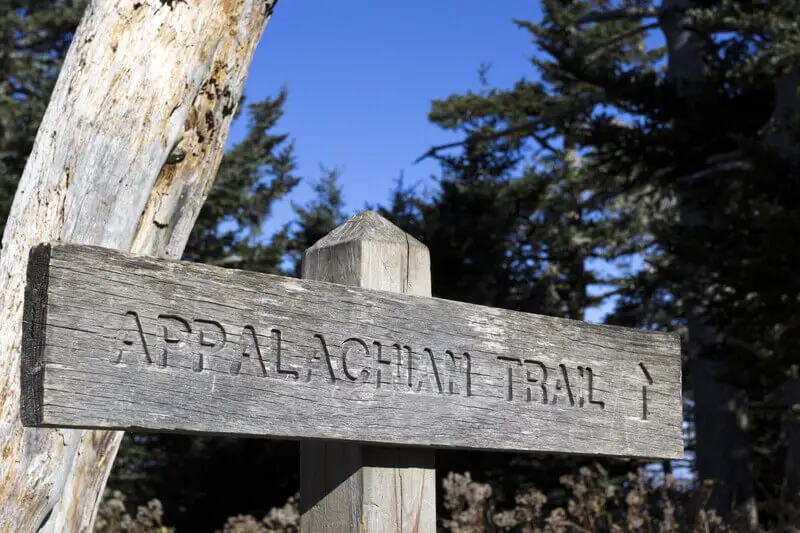 But how do you set yourself up for success with such a physically and mentally challenging experience? Finding the best sleeping bag for hiking the Appalachian Trail, is one of the more important aspects to help ensure your success.
The importance of a good night's sleep on a such a long thru-hike cannot be overstated for both your physical and mental recuperation.
Hiking the AT
The Appalachian Trail is one of the most famous long-distance hiking trails. Passing through 14 states over approximately 2,185 miles between Georgia and Maine.
The average thru-hiker takes around 165 days to complete the Appalachian Trail from start to end, on average anywhere between five to seven months.
As you can imagine, over this huge distance, weather conditions and terrain vary enormously. The vast majority of hikers attempt the Appalachian Trail northbound in springtime and aim to finish before winter hits in Maine, potentially closing the Mount Katahdin finish point.
Leave early and you'll be faced with low starting temperatures or leave later and risk missing the finish due to winter weather. Late March through early April is the optimal period for departure, although this is peak season on the trail.
If that bothers you, you may want to try to depart earlier or later depending upon your hiking style, level of fitness and weather conditions.
What to Expect
The AT varies in elevation from 124 feet at its lowest point in Bear Mountain State Park, New York, up to 6,643 feet at Clingmans Dome in the Great Smoky Mountains National Park and you can expect subfreezing temperatures.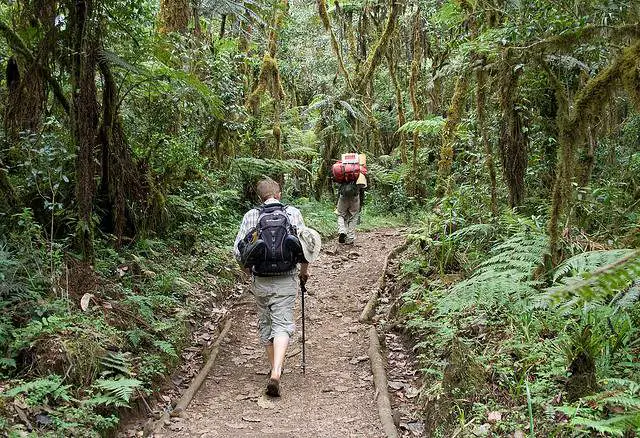 Completing the AT in the recommended spring, summer and early fall window, should, however, rule out some of the more harsh weather conditions.
In spite of its length and reputation, the AT is not a wilderness trail, with the exception of the 100-mile Wilderness Section, you will cross a lot of roads and are able to stop at local towns usually just a short distance away.
These nearby towns are essential for food stops but also enable you to simply take a day's break, pick up mail, replace any broken or unsuitable equipment and to mail unwanted stuff home.
Although it is recommended you take a suitable tent, there are also around 260 shelters spaced along the trail. Available on a first come, first served basis, you cannot rely on shelters alone.
Your choice of sleeping bag for the AT should take all of these points into account. If you do not already have a suitable sleeping bag, or are thinking of upgrading here's a breakdown of some of the essential qualities you need to look for in a sleeping bag for hiking the Appalachian Trail.
Choosing the Right Sleeping Bag for Hiking the AT
The main choices you'll need to make when choosing your sleeping bag for the Appalachian Trail thru-hike, are what type of material and how warm.
Before you decide, it may be best to consider whether or not you wish to change your sleeping bag for summer, by mailing one home and having a lighter one sent out. Or you could also consider using a substantial liner to increase warmth and using it alone at the height of summer.
Down or Synthetic?
In general, down sleeping bags are preferable to synthetic bags for several reasons, there are, however, circumstances where synthetic bags can prove preferable. Down bags are lighter, keep you warmer and are more compressible, meaning they take up less space in your pack.
On the other hand, down bags are more expensive than their synthetic counterparts and are not suitable if you're planning on sleeping in environments which may be damp, such as a tent without a ground sheet.
Wet down bags can lead to hypothermia as all heat produced is absorbed by the damp down, unlike quicker drying synthetic. There is, however, a range of damp-resistant down sleeping bags.
In these bags, the down is treated with a hydrophobic coating, meaning it repels water on a molecular level rather than absorbing it. Naturally, this comes at a price.
Whether an adventure of a lifetime, such as an AT thru-hike, merits the extra cost is a personal decision. Sleeping well and waking feeling refreshed is extremely important to completing a long thru-hike.
Temperature Rating
A spring to early fall thru-hike on the AT encompasses a wide range of temperatures. If you're just planning on sticking with the one bag throughout your hike then a 20 degree F (about minus 6 C) rating is probably going to be your best bet.
The rating will be listed on the outside of the sleeping bag and also on the bag itself. It's easy to follow and pretty much self explanatory, see the example below.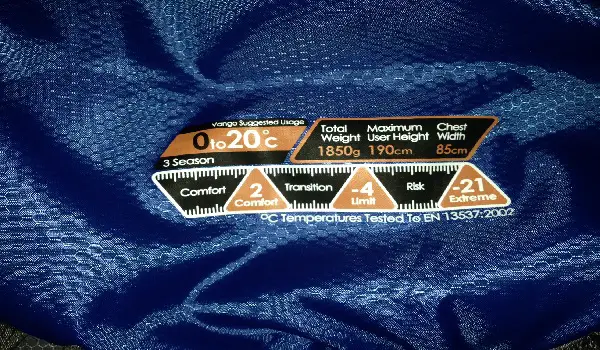 If you tend to feel the cold, go for a warmer one. In either case, if you can, taking a liner will add a little warmth and if the summer does get pretty hot, you can always use the liner alone for the hottest nights.
If you're planning on mailing home your winter sleeping bag and getting a lighter one sent, then you can choose two bags with a greater temperature difference. Just remember, depending on your altitude, it can still get pretty cold even in summer.
In general, it is important to ensure that you will be warm enough and feel comfortable enough to sleep well and to complete your thru-hike. Try out your sleeping bag before leaving, sleeping well is essential to maintaining the positive mental energy needed to succeed.
Weight
Ideally the lighter the better, but do not sacrifice comfort and warmth for weight alone or you'll soon be struggling to carry your lightweight pack due to lack of sleep.
Around 3 pounds is a decent weight to aim for, although ultralighters will probably aim more around the 2 pound mark.
Shape and Style
There are lots of different styles of sleeping bags. For the AT you're going to be best looking at maximum heat retention and mummy-style bags with their built-in hoods are possibly the best option.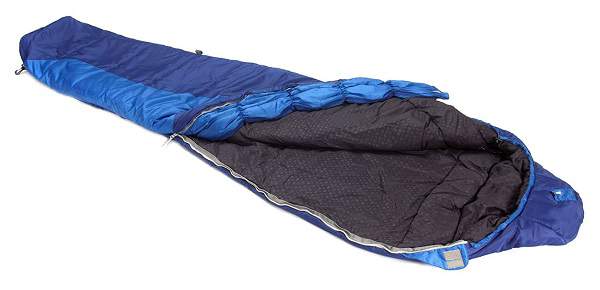 However, you need to be comfortable and choose what works for you depending upon your sleeping style. Some people move around a lot in their sleep and prefer roomier bags, others less so.
There are advantages to using hiking sleeping quilts and some people use them on thru-hikes.
If you don't want to go with a traditional mummy-style choice then try out several different designs, but remember if you opt for a quilt style you may have to bring along extra layers and headwear to increase heat retention.
If possible try sleeping in a few different types of bag before committing to a purchase.
Price
It's definitely worth spending a maximum on quality. Not everyone has the option of spending half a year on the trail and for most it is the opportunity of a lifetime.
A good sleeping bag will last and will serve you well for future trips, so it really is worth making the investment. When the going gets tough you'll be glad you spent the extra.
As with anything you can spend a lot, or a little, or somewhere inbetween. As always, the general rule is that, broadly speaking, the more you spend on a bag from a good outdoor brand name, the better quality bag you are going to get.
Recommendations
We like the Western Mountaineering UltraLite 20 Degree Sleeping Bag. A 20 degree down sleeping bag for colder temperatures.
This ultralight, highly compressible, down sleeping bag from Western Mountaineering is a top pick with thru-hikers. Special features include a heat retention collar and a special coating to keep the down filling dry, whatever conditions you may find yourself in. Find out more on Amazon
For warmer temperatures, we recommend the Marmot Never Winter Sleeping Bag.
Marmot have created the Never Winter summer, down sleeping bag to ensure that you stay warm even on those unexpected colder summer nights.
Highly compressible and lightweight, this bag also has a fold down second zipper for added ventilation, while the treated down ensures maximum water resistance. Check out all of this bag's extra features here.
Additional Resources
Check out the official national park website as an excellent starting point for researching your At trip!
Conclusion
The best sleeping bag for hiking the Appalachian Trail depends upon a lot of factors. However, where possible look for warmth, light weight and packbility.
Whether you change part way or stick with the same one will influence your temperature rating, as will how warm you like to sleep. If you're unsure try several models, this is the hike of a lifetime so make sure you're as prepared as possible to succeed!