Sleeping bag liners are often underrated, however they are extremely useful and can help keep your expensive sleeping bag in good shape.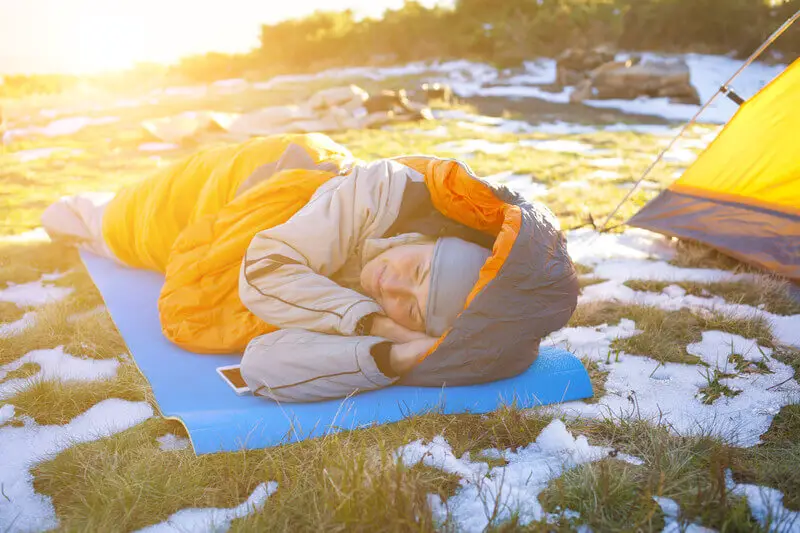 If you're looking for the best sleeping bag liner for warmth, here's a round up of the most popular sleeping bag liner types, with some other considerations you will need to bear in mind to find the right sleeping bag liner for your needs.
What is a Sleeping Bag Liner?
Using a sleeping bag liner is a little like using a bed sheet. It is basically a fabric lining that matches the shape of your sleeping bag and fits snugly inside.
When you use a sleeping bag liner inside your sleeping bag, it becomes the innermost layer between yourself and the sleeping bag. It forms a really useful part of your camping sleep system.
Why Use a Sleeping Bag Liner?
There are many reasons you may want to use a sleeping bag liner, some more obvious than others. The two main reasons are warmth and hygiene, although you may find that your sleeping bag liner comes in handy for a range of other uses.
Warmth
A good sleeping bag liner can add around 10°F extra to your sleeping temperature. In trapping extra layers of air between yourself and the liner, and between the liner and your sleeping bag, a good insulating liner will help keep you a lot warmer even in very cold temperatures.
If you have a good sleeping bag that you want to use in a colder season or for a one-off colder trip, you could try it with an insulated liner and save buying a new warmer-rated sleeping bag.
Hygiene
Much like a sheet, your sleeping bag liner serves as a barrier between your body and your sleeping bag. Any dirt, perspiration or body oils will be trapped by the liner which you can easily wash after your trip.
Using a clean liner for each trip is much more hygienic and easier than washing a sleeping bag.
Comfort
A comfortable sleeping bag liner provides an extra soft layer against your face and any other exposed areas of skin.
As they are designed to be regularly washed, you're going to feel much more comfortable snuggling into a fresh liner than an unwashed sleeping bag, especially if it has been previously used without a liner.
Extends your Sleeping Bag's Lifespan
By washing your sleeping bag liner instead of having to wash your whole down sleeping bag, you're going to extend its life and not have to wait for days on end for it to dry out.
Standalone Uses
A sleeping bag liner is a handy item to have. It can even be used alone in warm weather without a sleeping bag. This can help you to sleep on warm nights when even light sleeping bags are too warm.
If you stop over in a hostel or budget hotel sleeping bag liners can help you have a better night's sleep, by providing extra comfort and hygiene. Sleeping bag liners can also provide added protection from bugs and there are even some available that are designed to keep insects at bay.
Choosing your Sleeping Bag Liner
When you're choosing your sleeping bag liner, there's plenty to keep in mind, starting with the style that you need to match your sleeping bag e.g. mummy, rectangle, etc.
Then you'll need to consider the material. Which liner is best for you depends upon where you intend to be using it most, whether you need an ultralight, packable one or if you need extra insulation.
Styles
In general, sleeping bag liners are designed to suit most popular sleeping bag dimensions. There are standard rectangular pocket style ones that you could conceivably use with just about any sleeping bag.
If you have a mummy-style sleeping bag with a hood-style top, you would be better purchasing a mummy-shaped style liner, that will stay better in place throughout the night. Some may also have their own hood drawcord for extra heat retention.
Bear in mind that body oils are going to be more concentrated around your head from your exposed skin and hair, so this is an important area from which you will want to protect your sleeping bag. Most sleeping bag liners will have a longer side for your head and shoulders if you are not using a hooded style bag.
Materials
The choice of material is highly important when choosing your sleeping bag liner. Aside from warmth, you'll also want to consider how bulky the fabric is, its weight and how easy it is to launder. 
A breathable, soft liner can also feel better against your skin, allowing it to breathe.
Silk
Silk is possibly the ideal choice for a sleeping bag liner. It is warm in winter, yet remains breathable in summer. Light and compact, it takes up a minimum of space in your backpack, making it a highly popular option.
The only downsides are its price and it needs more careful washing than other options. In spite of this, silk will make your sleeping bag feel much more luxurious, keep you warmer and feel good against your face and any other exposed areas.
Synthetic
Synthetic sleeping bag liners are also a popular choice, for many of the same reasons that most sportswear is synthetic. Quick drying and with a stretch to it, great for those who toss and turn, synthetic sleeping bag liners are also breathable and warm.
Cheaper than silk and easier to wash they're a good choice for busy, on-the-go backpackers and hikers.
Cotton
Cotton sleeping bag liners are absorbent, strong and durable. For added hygiene, like cotton bed sheets you can wash them on hot cycles or even bleach them, which will kill any germs if you've ever caught anything out on the trail.
However, cotton is fairly heavy and is not as easy to pack. For its convenience and low price it still proves a fairly popular choice. Some people also prefer the feel of cotton against their skin to synthetic fabrics.
Insulated
Some sleeping bag liners are designed to provide even extra warmth with added internal insulation. Rather like a mini-sleeping bag in themselves they can be used to boost the heat rating of your existing sleeping bag.
However, their bulk makes them only really worth considering in a handful of situations.
Microfibre
Microfibre sleeping liners are soft, warm and quick drying. Their spongy texture makes them comfortable but a little on the bulky side. They will keep you warm and are generally relatively inexpensive and easy to wash.
If you're still undecided, check out this silk sleeping bag liner from Sea to Summit available on Amazon.
It's an excellent liner which adds 10-15°F extra warmth and is available in a range of sizes and styles. It has the added bonus of several Lycra stretch panels making it easy to get in and out of.
Whether you need a liner for a long thru-hike or a camping trip, this luxury, breathable liner will keep you warm and help you to rest in comfort.
Conclusion
Silk is undeniably one of the best sleeping bag liners for warmth and our choice for the best option available. It has the added and important benefit of being lightweight and very easy to pack, whether you're backpacking through hostels or hills.
However, if silk is a bit pricey and you have spare room in your pack or don't mind a little extra weight, as you can see, there are plenty of other great options out there, that will not only keep you warm, but also extend your sleeping bag's durability and keep it clean.