When the weather turns cold, you'll benefit from a good hiking jacket designed specifically for winter days on the trail.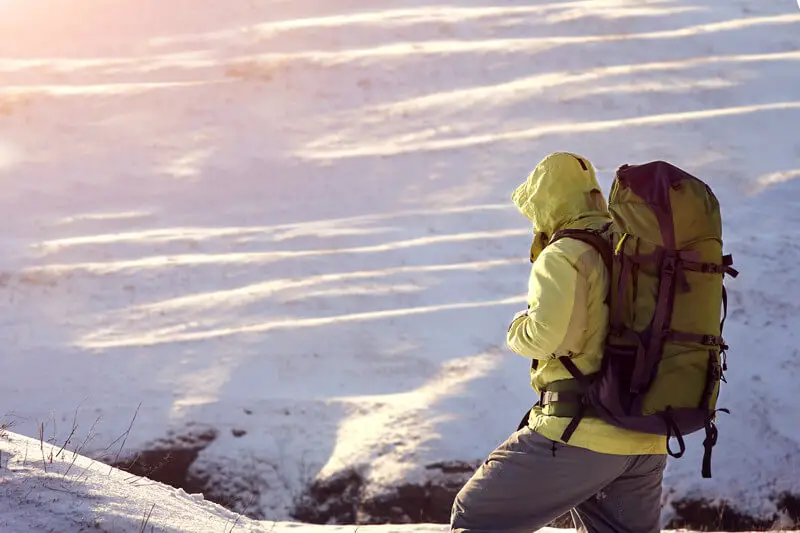 However, some of the best hiking jackets for cold weather are not necessarily quite as warm as you might imagine, with most hikers favoring a lightweight, layered approach to winter dressing with an outer layer that provides primarily water and wind protection.
Advantages of Cold Weather Hiking Jackets
A cold weather hiking jacket will keep you warm out on the trail mainly by providing a protective barrier or shell. Your outer shell should first and foremost be weatherproof to keep you protected from the elements, so you can stay warm with your other layers.
Specially designed for being active in cold conditions, your jacket should be lightweight and breathable. Hiking in the cold, especially on more strenuous hikes, can still get you hot and sweaty, especially with a heavy pack.
So, it's important that your jacket allows some of this excess heat and moisture to escape and your inner layers the possibility to dry.
At the same time, a good cold weather hiking jacket will keep enough warmth in so you feel comfortable without that clammy feeling.
Hiking Jacket Features
Aside from breathable, waterproof membranes, expect some extra features, such as vents to dump heat on strenuous sections, as well as protective features such as collars and adjustable hoods to make your winter-time hiking comfortable, even if you hit a patch of bad weather.
Here's some of the main features that are often found on cold weather hiking jackets that you should look out for.
Waterproof and Breathable Membrane
Essential to keeping you warm and dry, every cold weather hiking jacket needs waterproof protection. Almost all cold weather hiking jackets are treated with a durable water repellent (DWR) often coupled with a membrane or laminate.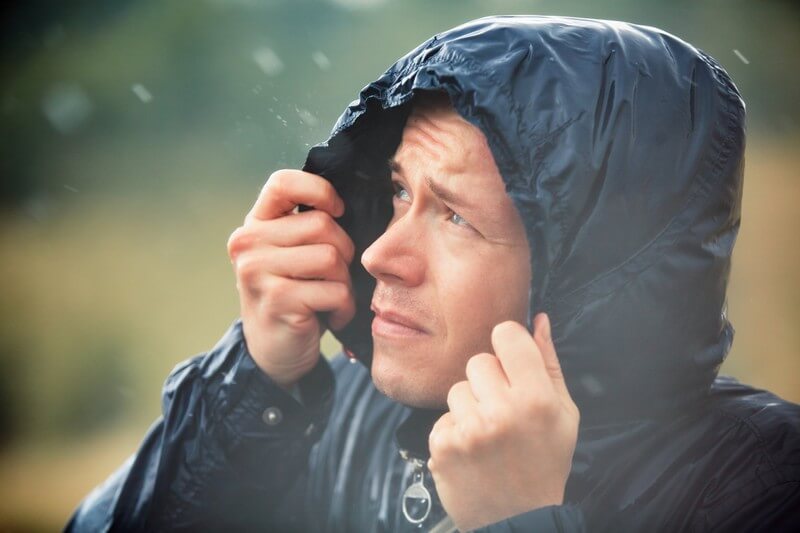 There are various types available, offering different degrees of breathability so you will stay dry from both the outside and the inside.
Insulating Inner Fabric
Some cold weather hiking jackets may come with a soft insulated interior fabric. This can be useful if you feel the cold and tend to take things slow and easy.
As a cold weather jacket is really to provide protection, if you tend to warm up pretty quickly out on the trail you may prefer a simple shell style over your mid-layer of clothing.
Vents / Pit Zips
Vents are extremely useful for when you find yourself getting too hot and sweaty after a stretch of strenuous hiking. Open your vents for a quick heat dump, allowing you to stay protected from the elements while cooling off quickly.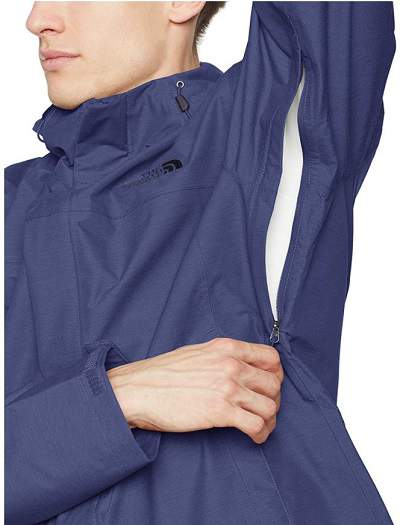 Vents are often zippered and may be found under the arms, pit zips, although some jackets rely upon mesh pockets or back vents.
Adjustable Hood
You'll need a good, adjustable hood to keep you warm and dry in severe weather conditions. Some hoods come with a visor style front that can help to improve your visibility in heavy rain.
It's essential to be able to adjust the hood tightly around your face to withstand strong winds. A collar will also help to block out the wind and rain, whilst retaining warmth.
Cuffs
Often overlooked, cuffs are essential to keeping the warmth in and the cold out. Adjustable hook and loop or drawstring cuffs can help to ensure a tight, individual fit, while making it easy to get your jacket on over a bulky mid-layer and for wearing with gloves.
Two-way Zipper
A two-way zipper can be handy to reach inside to your internal layers without having to remove your outer layer in the rain. It can also be used to quickly dump heat on the go.
Pockets
Pockets are pretty much essential in outer layers for easy access. However, they can mean vulnerabilities in your waterproof protection, so be sure to check that any zippers are waterproof or that they are covered by storm flaps.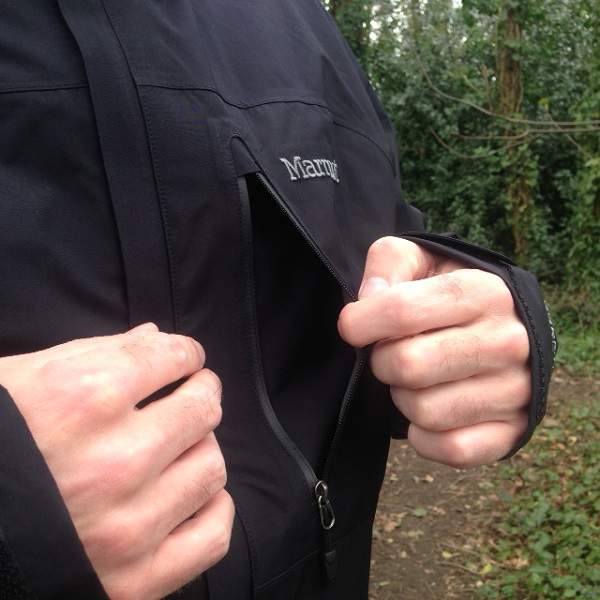 You may prefer a large breast pocket for maps and other larger items, or small, side hand warmer pockets for on-the-go essentials.
Some pockets double as vents, thanks to their mesh construction, although this can mean that you will have to rely upon pockets in your other layers for your valuables when you leave them open for venting.
Layering
When you're out hiking, conditions can change quickly with little warning and you could potentially be hours away from civilization and shelter.
In order to ensure that you stay warm and dry, it is important to learn how to dress in layers for hiking. If you get wet, either from rain or perspiration, you could catch cold or even hypothermia.
As hiking is an outdoor activity, it's not just as simple as dressing for the heat or the cold, you also have to dress in a way that can be adapted to the changing weather, your activity level and whether you have a tendency to feel the cold or the heat.
This is why it is common to dress in three, although sometimes four or more, layers for hiking.
Sometimes you won't actually be wearing all three layers, one may be in your backpack just in case, but it's important to have all three with you when you're out on the trail. Here's a quick rundown of the main three layers you'll need and why they're useful.
Base Layer
Your base layer is primarily worn to wick sweat away from your skin, keeping you dry and preventing you from catching a chill.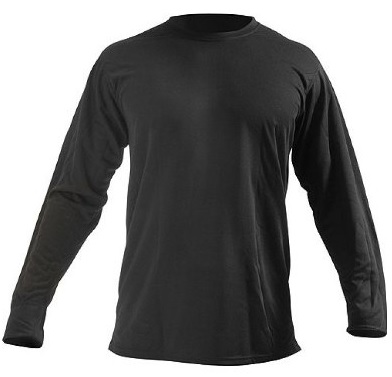 Base layers need to be quick drying and comfortable next to your skin, especially when you're carrying a fully loaded backpack that can cause chaffing.
Some base layers tend to suffer more from odor buildup than others, while certain types may be more durable. Some are also warmer than others, however, you should mainly focus upon a base layer's wicking properties.
You can check out our best base layers for men here, and our best base layers for women here (To be added soon :-).
Mid Layer
Your mid-layer is designed to provide warmth and insulation. Available in a wide variety of options, you can opt for a thicker, warmer layer or thinner ones, depending upon the conditions and your personal preferences.
Polyester fleeces are a popular option as they are lightweight, fast drying and take up little space in your backpack. For colder places, you may want to wear a light down or synthetic jacket as a mid-layer.
It is also important to remember that you may want to add more layers in among your mid layers, if you are hiking in very cold conditions, e.g. an extra tee over your base layer.
Outer Layer
Your outer layer is there to provide protection from the elements. It should provide some breathability and possibly vents for those strenuous uphill sections.
Most importantly, your outer layer needs to be waterproof to keep you warm and dry, as well as windproof. Most hiking jackets are treated with a DWR coating so that water beads and rolls off the surface, keeping you dry and allowing the jacket to breathe.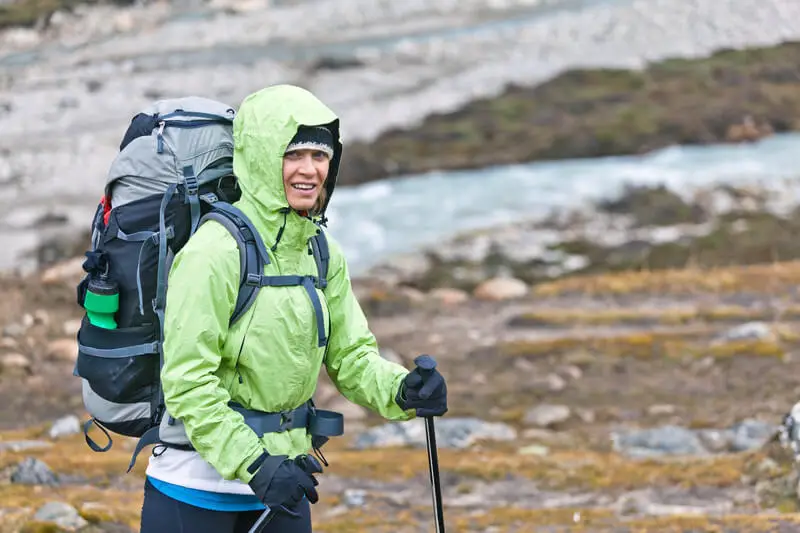 Generally speaking, for most average hiking, we recommend that you use a good hiking rain jacket for your outer layer, in conjunction with the other layers above, for warmth, etc.
You can check out our top hiking rain jackets for men, and our top hiking rain jackets for women, for some excellent options in this department.
For faster-paced hiking or lighter weather conditions you may want to consider a soft shell hiking jacket with extra breathability, or for colder conditions with less intense activity, a hard shell hiking jacket.
Depending upon where and when you are hiking, you may want to opt for a hiking jacket that is more breathable, designed for higher-intensity activities. Such jackets are likely to cost considerably more due to the advanced membrane and DWR used.
If you don't need such a highly breathable garment, you can find weatherproof jackets at a much lower price that will keep the rain and wind out, although exerting yourself whilst wearing one is likely to result in an excess of perspiration and you could catch cold once you slow down.
Specialized Jackets
For your average hiking needs, you will be best suited to wearing the above layering combination. Its advantages are that it can be adapted to almost any conditions, and you can alter your combination piece by piece making it more affordable to update.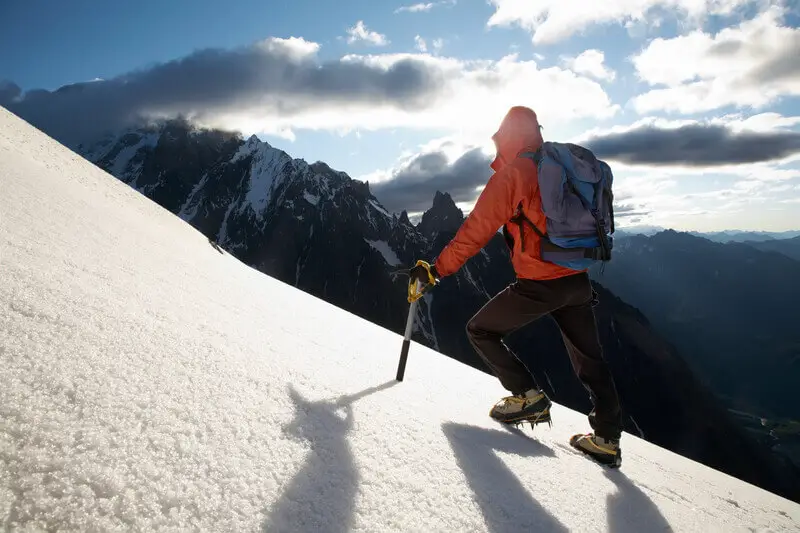 However, if you are considering venturing out into very harsh conditions, you may want to consider a systems jacket, also known as a 3-in-1 jacket. Such jackets combine a waterproof shell jacket with a insulated liner jacket.
Each jacket can be worn alone or together, hence the 3-in-1 name. When worn together they offer good protection from the elements in extreme conditions.
However, for your average hiking trip, you probably will not experience the conditions needed to truly realize the benefits of a 3-in-1 jacket and their price can be extremely prohibitive.
That said, if you are planning an extreme hiking trip you can undoubtedly benefit from the expertise and cutting-edge technology that goes into these superior performance jackets, so they are worth looking into.
Conclusion
When you're looking for the best hiking jacket for cold weather, it's important to bear in mind what you'll be wearing underneath, as much as the jacket itself.
When the temperature drops, we naturally think about keeping warm, however, a day on the trail is also physically exerting and you will build up a considerable amount of internal heat especially over strenuous uphill sections.
Finding the best hiking jacket for cold weather for you is all about keeping the weather out, whilst allowing for some breathability, especially if you tend to go in for higher intensity hikes.
Combining a waterproof, weatherproof rain shell jacket with wicking and insulating layers is the best way to tackle cold weather hiking, enabling you to adapt your combination in order to suit the exact circumstances, rather than being stuck with a jacket that is too warm, bulky, heavy and unbreathable.