Hardshell jackets use advanced technology to provide complete protection from the elements, whilst allowing moisture from perspiration to pass from the inside to the outside.
This combination of waterproof protection and breathability makes hardshell jackets the ultimate protection for extreme weather conditions.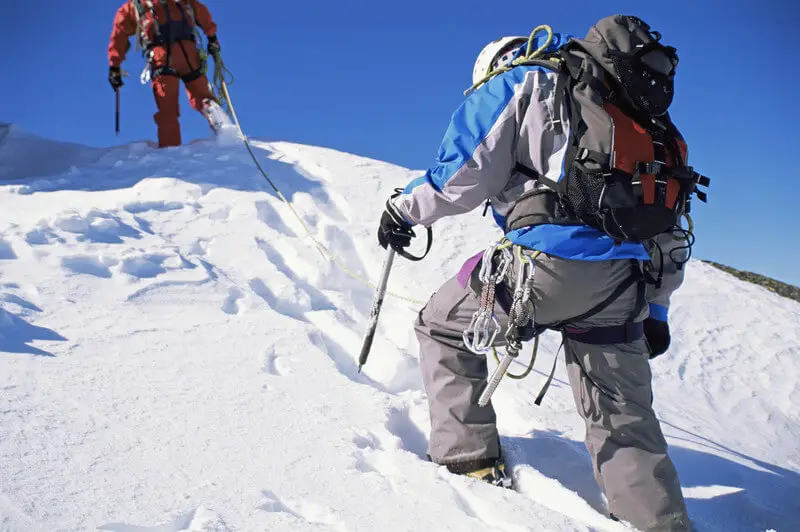 However, they are an expensive piece of kit and there are plenty of occasions when a rainshell could be a better all-round choice for a hiker.
They are also much cheaper, leaving you with more to invest in other elements of your hiking gear. You can check out the best rain jackets for men and the best rain jackets for women, to see if that may cover what you need.
If not, this hardshell jacket buying guide will help you to decide if you do in fact need to invest in a hardshell, and also show you how to pick the right hardshell jacket for your needs.
If you want to learn about hardshell jackets and leave the guidance to later, check out our best hardshell jackets for men, and our best hardshell jackets for women. You'll find some excellent options there to choose from.
Hardshell vs Rainshell
Before discussing hardshell jackets in-depth, it's important to note that a decent rainshell jacket combined with layers can provide adequate protection for the majority of the average hiker's needs.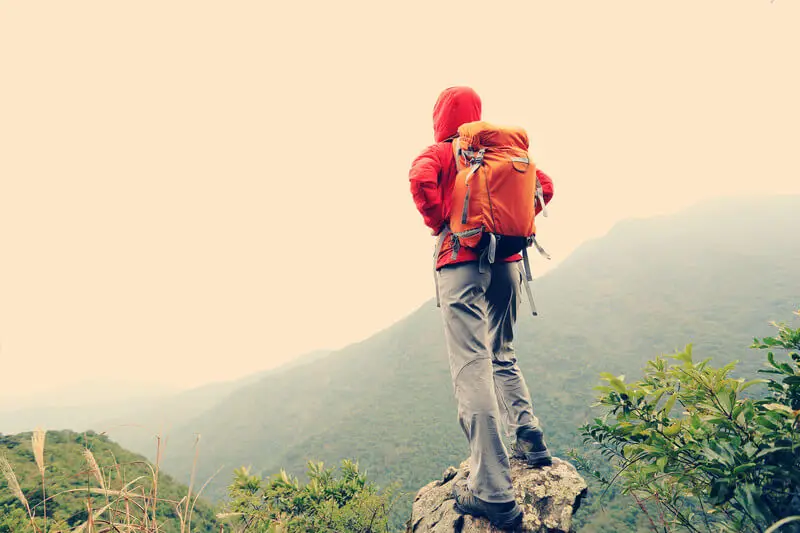 If you are looking for a waterproof winter jacket for a few winter day hikes, a rainshell will provide you with plenty of protection against the elements, whilst layering effectively will wick moisture away from your body.
You can use vents to dump any excess heat from any intense sections of the trail.
Hardshell jackets are designed to provide enhanced protection while preventing you from becoming hot and sweaty on the inside. If you really need a very breathable jacket, then a hardshell jacket is your best option.
Although, a high-quality rainshell jacket with good wicking layers and vents will work fine in the majority of cases, hardshell jackets are the best option for extended periods of exposure to in tougher conditions with intense activity.
When deciding whether or not to invest in a hardshell, take into account where you will be likely to use your jacket, the kind of activities you'll be doing, the climate and how much use you expect to get out of it
Hardshell jackets are designed to last, so durability is another option to consider. If you're looking for a jacket to wear day after day in harsh environments, then a hardshell is going to be your best option.
Obviously, there are also plenty of circumstances where either could be used. If you feel like you need an upgrade to a hardshell then go for it. This could also work out as a saving over time, thanks to the longevity of a well-maintained hardshell jacket.
Material and Construction
The best hardshell jackets consist of a three-layer construction, making them fully waterproof, durable and breathable. The inside layer, closest to the body, allows perspiration to pass through to the middle layer, the membrane.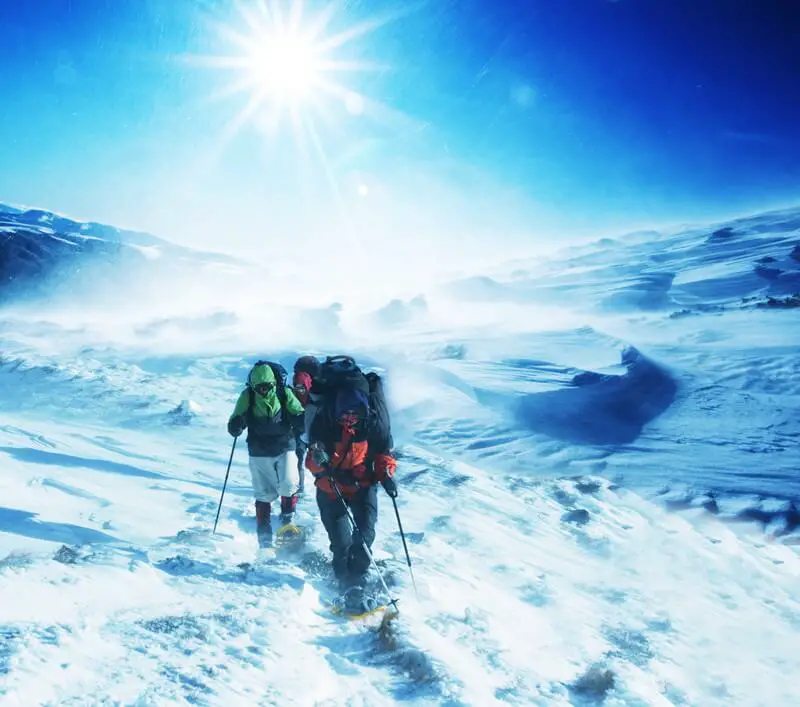 The inner layer is designed to protect the membrane and reduce friction with clothing layers. Certain face fabrics are treated with an oleophobic coating, making them more resistant to our body oils which can damage the waterproof membrane.
The membrane prevents water from passing through from the outside to the inner layer, whilst allowing perspiration to pass through from the inside to the outer layer.
The durable outer layer is typically made from woven nylon or polyester. It is treated to make water bead and roll off the surface with what is known as a DWR, a Durable Water Repellent.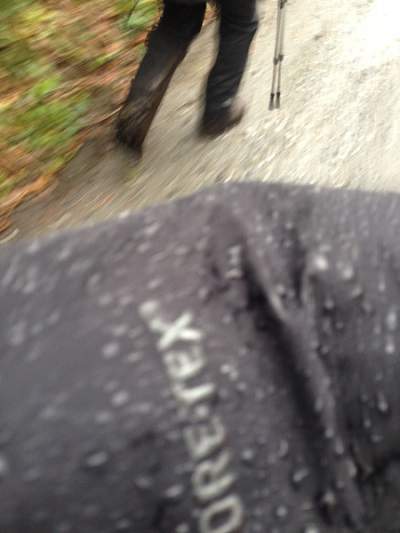 The membrane between the inner and outer layers is relatively delicate and is bonded to a protective fabric to create what is known as a laminate.
Laminates are generally made from expanded polytetrafluoroethylene (ePTFE), polyester or polyurethane (PU) membranes.
PU membranes are usually less expensive and slightly lighter. Importantly, they can also better accommodate the flexibility of your jacket's fabric and are less affected by hard impacts.
On the other hand, ePTFE membranes traditionally offer enhanced breathability, although PU membranes are making excellent progress. There is also a lower risk of interior condensation appearing with ePTFE membrane.
Waterproof Capabilities and Breathability
All hardshell jackets are thoroughly waterproof, thanks to their membrane. The DWR can with time wear off and will need to be reapplied. Even when the DWR is less effective, water will still be unable to pass through the membrane.
However, this will often result in a reduction in breathability as the water no longer beads and rolls off the exterior, it becomes harder for the perspiration to pass through, leading to a build up inside the jacket.
Essentially, hardshell jackets rely upon moisture vapor transfer. What this basically means is that the warm, damp conditions inside the jacket contrast with the colder, drier conditions outside, encouraging the movement of the warm and damp air towards the exterior.
Once the water from perspiration has passed through the membrane, it will evaporate as vapor from the outer layer.
Principles
Understanding the basic principles of moisture vapor transfer clearly underlines the importance of maintaining your DWR for breathability, as it works in tandem with the membrane itself.
If the outer layer becomes saturated due to a worn out DWR then the water molecules from the sweat will no longer be attracted from the higher concentration inside, to the (relatively) lower concentration on the outside.
The perfection of this technique is one of the main reasons for the expensive price tag that accompanies a high-quality hardshell jacket.
Blocking the external elements, whilst allowing sweat vapor to pass through has taken much experimentation, financial outlay and scientific breakthroughs, just to arrive at where we are today.
When you are looking for a fully-breathable hardshell jacket, customer reviews and brand confidence will have to be your main guides.
There currently is no universally accepted breathability test that will allow you to compare products and many breathability claims are not independently verified. So, a word of caution against some of the marketing hype.
Technologies
For many years, Gore-Tex has been the market leader in waterproof and breathable outdoor fabric treatments. It has a strong, proven record dating back over 30 years.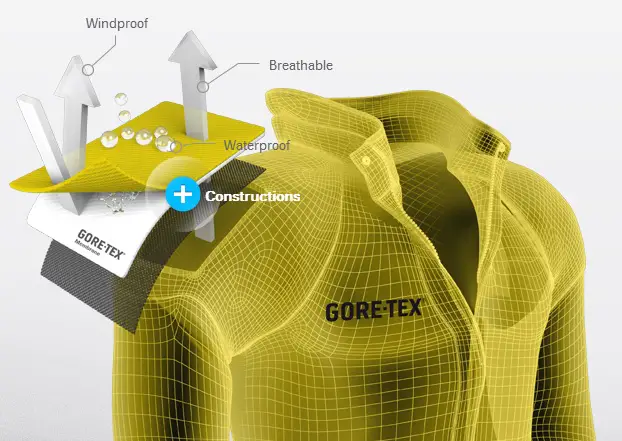 Gore-Tex continues to develop and is used by many famous, reputable outdoor brands. Its latest offering, the Gore-Tex Pro Shell is renowned for its superior breathability qualities. Gore-Tex uses an ePTFE-PU combination that has proven to be extremely durable.
One of Gore-Tex's main competitors is eVent. eVent also use an ePTFE membrane, but without the PU layer. As a relatively young newcomer compared to tried-and-tested Gore-Tex, the full durability of an unshielded ePTFE remains to be fully evaluated.
However, eVent is known to work well in both low and high humidity levels, whereas Gore-Tex performs better in higher. This could give eVent the edge for those looking for a breathable hardshell for use in cold and dry conditions, especially winter sports.
When combined with the high transfer rate of moisture to the exterior, this also means you're less likely to suffer with condensation inside your jacket.
Another new name, Dry Q, uses eVent technology, so it is essentially the same, yet they have developed their own way of laminating alongside their own liners and fabrics for their Mountain Hardwear range.
As the market opens up, there are more names coming into what used to be a very limited field. However, with an important purchase such as a hardshell, it is important to research as much as possible before taking a chance on a new technology.
How to Choose the Right Hardshell Jacket
In this section we go through all the specific things to consider when choosing a hardshell jacket.
Requirements
When choosing your hardshell jacket, think long and carefully about where and when you expect to be wearing it and for what kind of activities.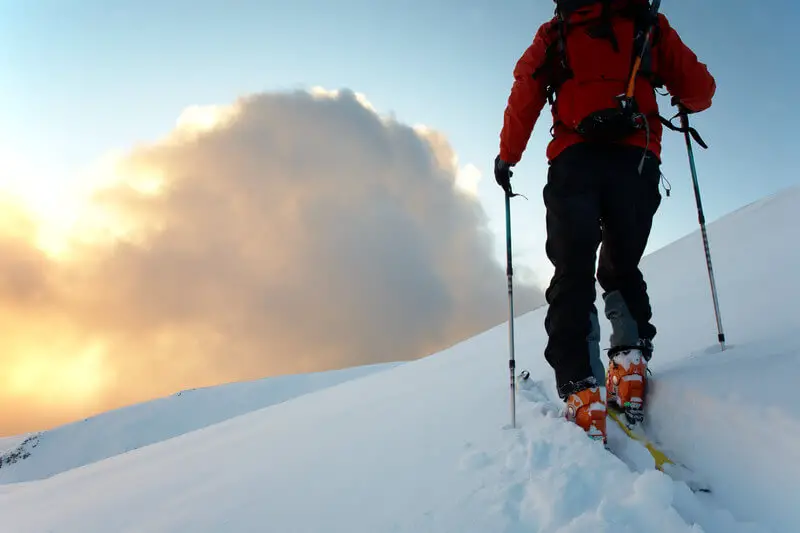 Before you make a purchase, check that the fit, durability and feature set are all fully compatible with what you need.
Some models may be lighter weight with pared back features, others heavier with all the features you can think of. Likewise, consider the outer fabric.
Is weight a priority for you, or do you need a high denier nylon outer for extra durability in highly abrasive environments? Think climbing.
When you make such an important purchase as a hardshell jacket, you need to know that you can rely upon it in extreme conditions. It could even be a lifesaver, so you need to be sure of its provenance and quality.
Price
Hardshell jackets are expensive, however they are worth the hefty price tag. Hardshells are designed for durability and extensive periods of wear.
If you don't feel that you'll get enough wear out of one to really justify the price tag, then you should go for a rainshell with vents and add layers.
Like most things in life, you do tend to get what you pay for. However, that doesn't necessarily mean that the most expensive hardshell jacket is going to be the best one for you, as mentioned above.
It all depends upon where you'll need it, for what kind of weather and the activities that you'll be doing. Average price ranges are from around $200 to $600 although they can go higher.
Depending on your budget you may have to prioritize a feature over another and compromise, although as this is going to be a jacket you'll have for several years to come, it's well worth getting the one you really feel is right for you, even if that means spending a little extra.
Features
Technology is going to be the main decider in the majority of hardshell purchases, however, having a useful and adapted feature set is also important.
Features also affect weight so bear this in mind, as well as price, notably zippers and the extra waterproofing they require. Here's some of the most common hardshell jacket features that you will need to consider carefully when making your purchase.
Hood
Check that the hood has adjustment features that will work for you. If you expect to be in torrential downpours or blizzard-like conditions, it's going to be important to have a hood that adjusts quickly with one gloved hand, to tightly fit around the contours of your face and any protective gear.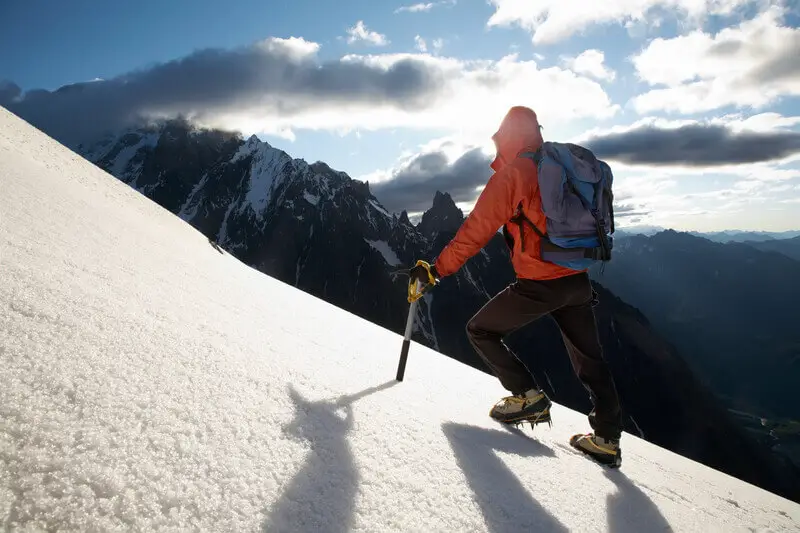 Check the collar area provides seamless protection with the hood up. Also, will you need to wear a helmet? An important consideration if you do.
Pockets
Pockets are important, although external ones come at a cost with waterproof guards and treatments. Any zipper is essentially a weakness in your jackets waterproofness, although manufacturers work hard to ensure that they are watertight.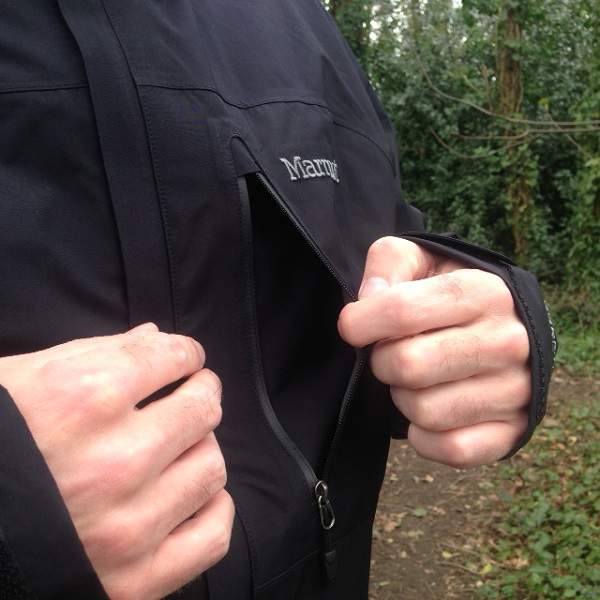 Take the position of any pockets into account. Do you need them above your pack harness for easy access? Think of what you need to keep on you and what you can trust to your pack in severe weather conditions.
Even if you are more of a minimalist, the conditions that require a good hardshell jacket are not really the ones you want to have to delve into your pack in.
When you're taking a hardshells pockets into consideration, favor ones that are of a useful size to accommodate your needs. Zippers should have pulls that will facilitate opening in harsh conditions while wearing gloves.
You want to be able to comfortable be able to reach inside of your pocket, without struggling in low visibility.
Some jackets provide vents in the form of breathable mesh pockets, however, bear in mind that any storage purposes that you had in mind for these pockets, will be temporarily suspended when you're using the vents with the pockets open.
Make sure that there are alternative pockets or that using your backpack for these items won't pose any problems. Or look for a jacket with another type of ventilation.
Vents
For high activity sports and intense periods of sustained effort, vents will quickly cool you down and release internal water vapor far quicker than any membrane.
This will ensure you cool off quickly without allowing perspiration to build up while it transfers to the outside.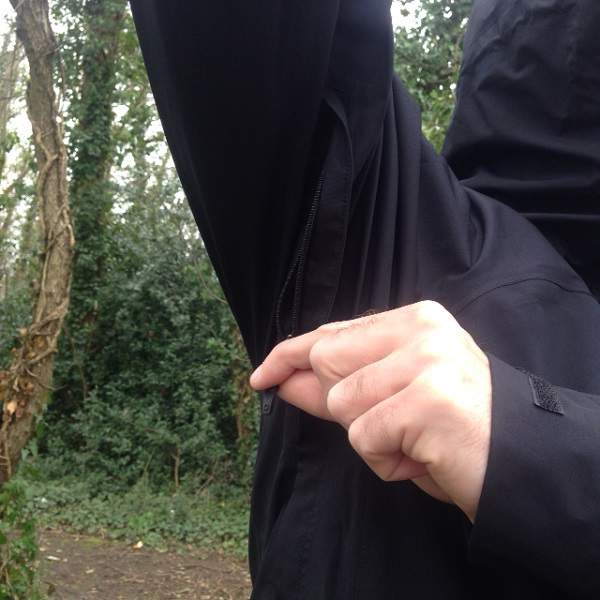 Pit zips and mesh lined pockets are tried and tested, effective ways to dump heat without getting a chill. If you will be using your hardshell jacket for any type of intensive activity, these should feature on your must-have list.
Fitting
It goes without saying that your hardshell jacket must fit well. Check your measurements carefully against those provided by the manufacturer.
Any points of adjustment, such as drawstrings around the waist and at the hem can also improve wearability.
When purchasing a hardshell jacket, you need to bear the layers you'll be wearing underneath for insulation in mind.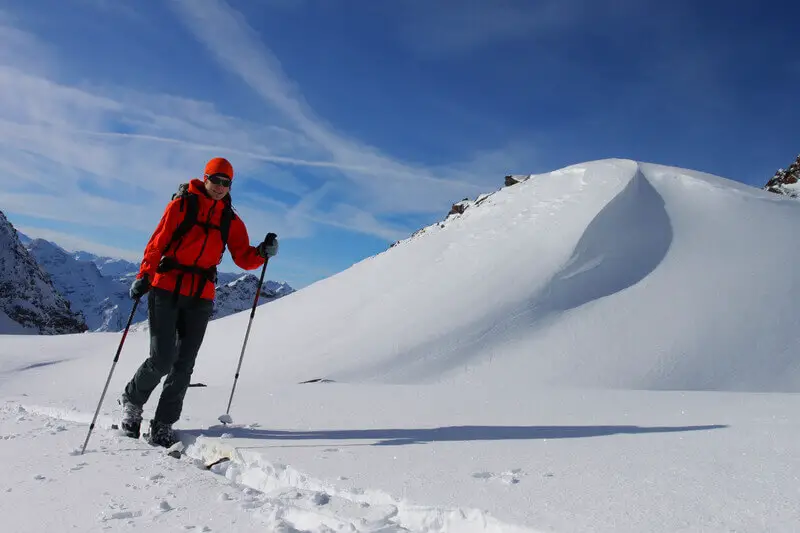 If you haven't previously worn a modern hardshell dating from the last few years or so, you may find that you will need an extra or warmer layers, due to improved breathability in certain models.
So, if a jacket is on the tighter side for your measurements, or you generally prefer a looser-fitting garment, you may want to size up. Ask questions and take others' experiences on board, perusing user reviews for specific jackets is great for that.
Mobility and cut are also deciding factors. If you're going to be doing fast sports and activities you will need a closer-fitting, athletic trim, whereas for hiking alone you may prefer a more full, longer coverage.
Some jackets have specially designed panels to ensure that over-arm reaching doesn't cause them to rise up. This is essential if you're going to be doing any climbing.
Color
When you're choosing the color of your new hardshell jacket, like most garments, it's mainly a matter of personal preference. However, there are two factors to bear in mind while making your choice.
Firstly, the fact that you're looking for a hardshell jacket, signifies that you will be spending a large amount of time in an often inhospitable environment.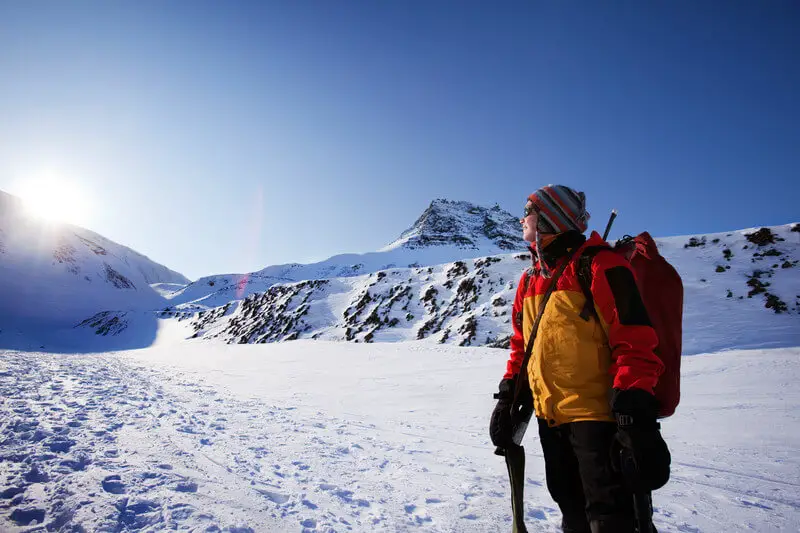 If you're out in the backcountry or even nearer to home in a blizzard, bright colors are much more likely to be seen from afar and get you rescued if there's ever an emergency.
Secondly, a hardshell jacket is an investment and with a little care it should last you for many years. If you're going to spend a lot of money on a top of the range hardshell jacket, you should really make sure that you're happy with it.
That includes the color even if it's a small detail that is not really relevant to the performance of your hardshell apart from your visibility.
Washing and Care
Hardshell jackets need to be well-maintained to ensure a maximum protection from the elements, whilst providing efficient breathability.
You will need to wash your hardshell jacket as best required to prevent any loss in performance.
Dirt and abrasive substances can build up on the exterior face of your jacket and over time the DWR coating will wear away.
Harsh weather conditions can also lead to a deterioration in your outer fabric if you do not keep it in prime condition. It is, therefore, essential that you check the manufacturer's recommendations regarding washing and regularly clean your jacket.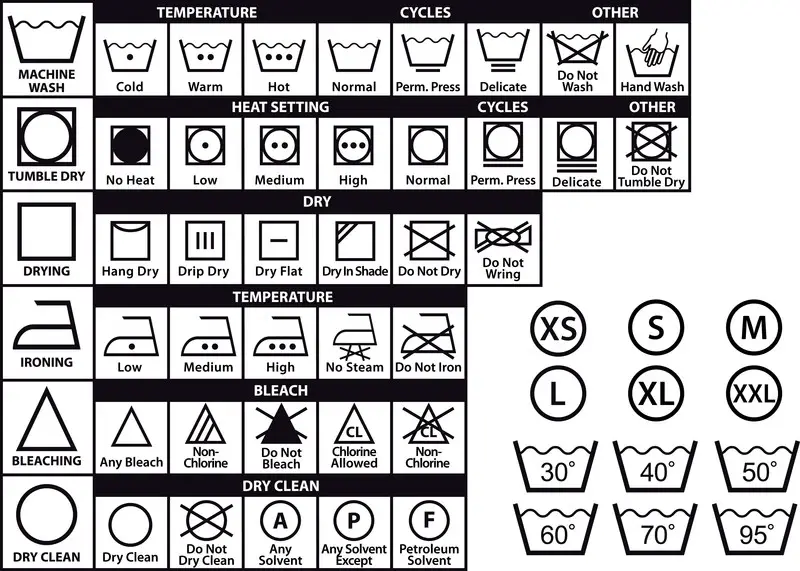 The majority of hardshells can be machine washed on a low cycle with a mild or specially formulated detergent. It is extremely important to follow the recommendations here as certain products can harm the waterproof membrane and leave you with an expensive, yet useless jacket.
Regular washing will also remove the body oils that tend to gather around the shoulder and neck areas. These oils can damage the membrane if they are not regularly washed away.
You could also consider purchasing a jacket with an oleophobic interior lining that is resistant to body oils, allowing you to space out washes a little more, providing that your exterior isn't too dirty.
DWR Restoration
Hardshell jackets will need to have their DWR restored depending on usage. When the DWR starts to wear thin, you will notice a decrease in breathability.
Although external moisture will not pass through the central membrane, the outer layer will no longer bead water. This will result in a heavier, saturated outer layer that will not be as conducive to the passage of internal moisture.
As there will no longer be a disparity between relative moisture levels outside and inside the jacket, the vapor from perspiration will no longer pass via the membrane. This will result in a build-up of perspiration and a damp, clammy interior.
Treatments such as Nikwax and Revive X spray-ons for DWR restoration are popular options that can be quickly and easily applied after washing your hardshell jacket, while it is clean and damp.
However, always check with the manufacturer's notice when restoring your DWR for the first time.
Guarantees
Buying a brand that stands by its reputation and offers a lifetime guarantee is recommended. This says a lot about the quality of the garment and will also be useful should you ever need any repairs in the future, you know you will be able to get assistance.
Gore-Tex stands by its products with its Guaranteed To Keep You Dry® promise, offering to replace, repair or refund any waterproof, windproof or breathability related issues for any Gore-Tex new item purchases for the useful life of the product.
Many large outdoor garment manufacturers also offer a guarantee covering the durability of their products, so when you are looking to make a purchase be sure to read up on what any of these guarantees cover, what they don't and any time limits or usage restrictions.
Conclusion
When purchasing a hardshell jacket it is easy to get confused by the scientific terms and marketing jargon.
If you already have a great experience with a particular brand, you may wish to favor them, however be sure to fully evaluate the item based upon each of the points featured in this hardshell buying guide, before making your purchase.
A hardshell jacket should be an investment and you shouldn't feel pushed into making a purchase. Take your time to consider your options.
If all of your preferences are way out of budget, you can sometimes get a great bargain when a new model is released, reducing the older model to clear.
Not every new model necessarily means a change in the technology and if it's just more of a stylistic update, you could grab a great bargain.