Spending time in the great outdoors with your loved ones or a group of good friends can be a great way to spend a weekend or longer. While camping is generally pretty inexpensive, it can be a struggle finding a good budget tent.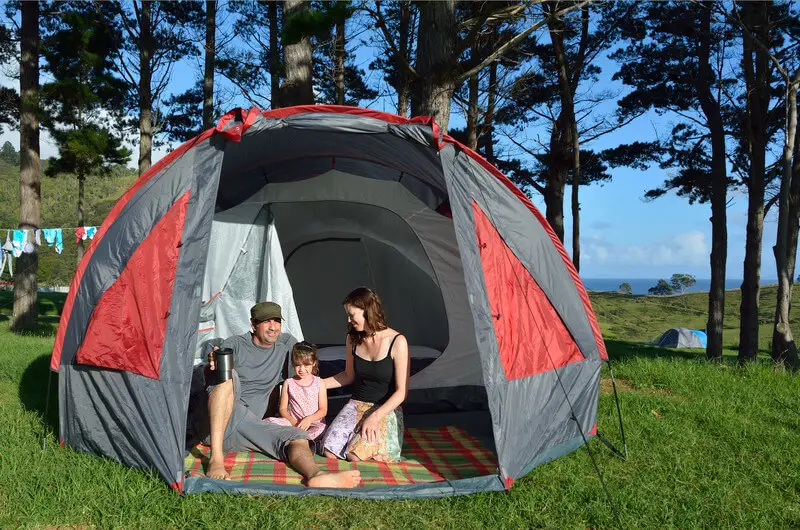 So here's a quick guide to what you should look for when choosing your budget family tent, along with a couple of recommendations that will help you to make the right choice.
We get straight into things and list the best options available and afterward, we go into some detail on what you need to think about before you buy a family tent.
If you're in a rush and don't have time to red through the full article, we recommend the Coleman Elite Montana 8 Person tent on Amazon, as the best family tent for under $200.
Best Family Tents Under for $200
While there is a wide choice of low priced family tents to choose from, they are of varying standards. While a $200 or less family tent is not going to be as good as one costing several times that amount, you can nonetheless find fully functional and spacious family tents within this price bracket.
Here's our top picks for budget family tents.
#1 Coleman Elite Montana 8 Person Tent
Get the Coleman Elite Montana 8 Person tent on Amazon now!
Pros:
Generous size for four adults with equipment or a small family of five
Hinged door for ease of access
Rainfly and tent stakes are included
Relatively easy to set up
Cons:
Inadequate ventilation for hotter days
Some reports of waterproofing issues
The Coleman Montana is a great value for money family tent that is a good size for four to five people. If you have a lot of gear with you, it would be better to stick to a capacity of four and put a queen mattress at each end with space in the middle for your equipment.
The tent has fairly generous dimensions and average height adults will have no problem with the ceiling height in the central part.
The door is hinged for easy access and the small windows are angled so they can be opened in the rain. The windows don't allow quite enough air to flow through the tent and the ventilation on the whole could be better.
A small awning covers the door, although this wouldn't provide much protection in bad weather, being too narrow to provide much utility.
The WeatherTec system helps to keep rain out along with the included rainfly, although in spite of the inverted seams there may be some waterproofing issues in more inclement weather.
There are internal storage pockets to keep your small, frequent use items to hand. The whole tent fits into an expandable carry bag complete with rip strip, making it easy to transport and to store.
Set up is relatively easy, thanks to the patented pin and ring system and tent stakes are included.
All in all this tent offers excellent value for the money and it's our top pick family tent under $200.
#2 Coleman Evanston 6 Person Dome Tent
Get the Coleman Evanston 6 Person tent on Amazon now!
Pros:
Separate front screened area keeps insects out of your tent
Comfortably fits four persons with room for equipment
Excellent ventilation in dry conditions through screened front and back mesh area
Easy to set up with Insta-Clip system
Cons:
Front screened porch is not protected by the rainfly, anything you are storing there will get wet
Lack of privacy through back area without the rainfly
This dome tent is a good choice for small families or groups of three to four persons with space for equipment. The separate front screened porch area allows for excellent ventilation, whilst keeping insects out of the tent.
This area is a great addition and can be used to sit in and chat if you have small children asleep during the evening in the main part of the tent. Just be aware that the front mesh area will obviously get wet in the rain as it is not covered by the rainfly.
So if you're using it to keep your sleeping area clean, for shoes, equipment and dining, you will have to quickly move all of this inside if it starts to rain. The tent has sufficient head room for average-height adults in the central part.
Ventilation is further enhanced by the small windows, which can be left open during rainy spells thanks to the protection from the extended awnings.
The entire back section is predominantly mesh and subsequently needs to be covered by the included rainfly as soon as it starts to rain. This can reduce airflow, however, the main issue with this section is the lack of privacy afforded by the see-through area when camping in the presence of others.
The floor is solidly welded to the sides and the seams are inverted to help to keep the weather out. The door zipper is protected from the elements by a zipper cuff and the frame is wind resistant.
Set up is fairly easy, thanks to the Insta-Clip pole attachments. There are also two internal pockets to store frequent use items.
A good tent for summer family camping, the addition of the front screened area is excellent for keeping insects out while allowing air to circulate.
#3 Coleman WeatherMaster 6 Person Tent
Get the Coleman WeatherMaster 6 Person tent on Amazon now!
Pros:
Screen front porch area to keep insects out
Six foot eight inch center height for plenty of head room
Waterproof floors and protected seams
Hinged door for easy access
Cons:
Covered screen area does not have a floor
Reports of poor quality tent stakes, may need to purchase a better set before using your new tent
The Coleman WeatherMaster tent will comfortably provide you with plenty of space for up to 4 adults or 2 adults and three children with equipment.
It also includes a front screened porch area that keeps insects out while allowing you to sit outdoors, which can be handy if you have young children with an early bedtime.
Note that the front screened area does not have a floor and while the rainfly does cover the top part, there are no rain flaps so anything you're storing in this area will likely get wet if it rains.
This tent has excellent head room with six foot eight inches height in its central part, making it extremely spacious and great for those who are taller than average and often tend to have to hunch over in regular tents.
Ventilation is provided through the front mesh area, the angled window and the all-mesh ceiling. The WeatherMaster is a large, rather heavy tent, it is however surprising easy to set up with its Insta-Clip system.
It comes complete with a handy carry bag and tent stakes, although they are the flimsy plastic type and if possible, you'd be well advised to change them out for heavier duty metal ones before your trip.
In short, this tent is a great choice for tall families and the screened sitting area is a great way to enjoy lounging without being bothered by insect bites.
Family Tent Buying Guide
If you're thinking about purchasing a family tent, even if you're pretty familiar with smaller tents, you should still read on and find out more.
Family tents have their own distinct differences and peculiarities when compared to your standard one or two person tents.
The summary below goes through the main items to consider, and you can also check out our tent buying guide for more information.
What is a Family Tent?
A family tent is a tent that is large enough to sleep several persons. They can range enormously in size, from 4 to over 12 persons. They generally include a living space or storage area and separate sleeping compartments, depending upon their size.
Multi-room tents with separate entrances to each compartment can be useful for groups of friends or families with older children, allowing later sleepers to bed down later, without having to step over everyone.
Due to their size and weight, you'll normally set up your family tent at a campsite or in close proximity to your vehicle if you're camping off the grid.
They are not suitable for backpacking, although a group camping out could conceivably carry one a short distance between them.
Setting up a family tent is also a much more complex affair than setting up your average small backpacking tent. Family tents can also be a good choice for groups of people looking to camp out at festivals.
Family Tent Sizes
When you're choosing your family tent, the main factor to bear in mind is size. Manufacturer's recommendations for the number of persons should not be taken literally, and you may even have to consider halving their figure to end up with comfortable enough conditions in which you can sleep.
In the majority of cases you'll be best looking for at least two persons extra. To be sure that you'll have enough space, don't forget to take into account any pets or equipment too.
While your kids may be small now, they're only going to get bigger and you'll be surprised just how much space a small child can take up, wriggling around in a small tent.
As a general guide a six person tent is normally a comfortable fit for two adults with two or three children, including cooking equipment, toys and clothing.
If you're camping as a group of friends or extended family, you'll probably want a bit more space for extra privacy. You may also want to consider splitting up into smaller groups rather than having one extremely large tent to set up.
Family Tent Shapes
Family tents come in a variety of compositions and modules, however, there are two main shapes that you should be aware of: cabin-style and dome-style shapes.
Cabin shaped tents tend to provide more interior space and greater head height thanks to their flat roofs. They can be better at accommodating groups with more adults or teenagers, and will allow you to make use of the entire floor space right up to the edges.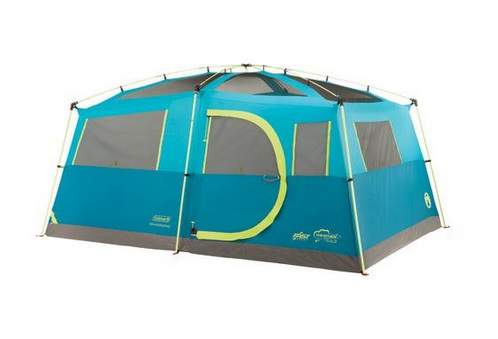 However, on the downside, cabin-style tents are at a distinct disadvantage in windy conditions, and you'll need to ensure they are securely attached with extra-long stakes.
Dome-shaped tents deflect the wind much better thanks to their curves. They also tend to be lighter and therefore easier to transport as they're made from less material.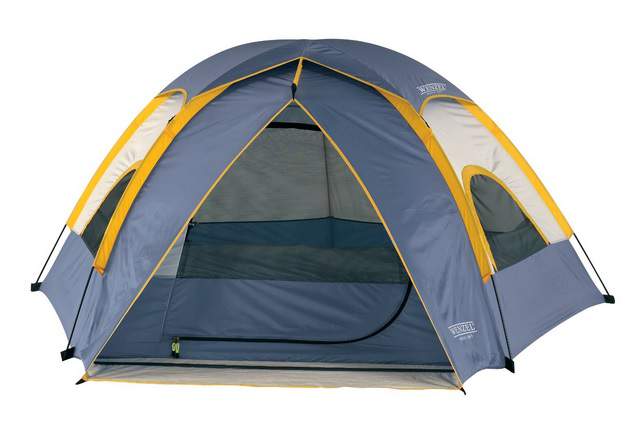 However, their sloped sides mean that you may struggle for headroom and if the weather's bad and you end up spending a lot of time inside, you may feel more cramped.
Vestibules
Some family tents have vestibule areas, they can be a useful option to store equipment or to provide protection from the sun or rain when sitting out.
Having a vestibule can help keep the interior of your family tent cleaner, as the family can eat under its protective canopy or take off dirty or wet outer garments like shoes and coats and store them there.
Setup
If possible try to find out how easy your family tent will be to set up before purchasing. Some can be more of a challenge than others and if you're a couple with several small children, one of you may have to set it up alone.
Construction
If you're planning on using your family tent for warm summer vacations, then you'll want a model with plenty of mesh panels for improved air circulation.
Three season tents are designed primarily for this type of weather, although be aware that summer storms can be unexpected and you'll still need suitable protection against the rain.
Three plus season tents are designed to provide more protection from the elements for camping in early spring and autumn as well summer, while four season tents provide enhanced protection for cold and more extreme weather conditions. They can, however, be a little stuffy at warmer times of the year.
When you're purchasing a family tent, remember to check what is included. A ground sheet or footprint will be necessary even during the warmer months to protect your tent floor from any damp and the increased foot traffic that family tents endure.
Make sure that there's a rainfly included to protect you from any rain. You may also want to purchase any tools to assist with setting up your tent.
Price Range for Family Tents
Like many things in life, you do tend to get what you pay for and there are plenty of exceptional family tents out there, with exceptionally high price tags to match.
These tents are not within everyone's price range, although if used regularly for holidays over several years their price can be more than justified.
These high-end family tents will typically cost in excess of $1,000 and can reach prices around $1,800 depending upon options and size.
Mid-range family tents, offer decent quality but less higher specification features than the top-end models, they tend to cost between $500 and $1,000 for a good quality model that offers plenty of communal space as well as separate sleeping areas.
Inflatable models can make set up easy, although large, heavy models are probably best suited to longer camping trips rather than just a quick weekend away.
Spending less than $500 on a family tent can still get you a good enough tent for the money. While some may lack space or certain features, there is certainly a decent enough selection to choose from.
If you're not a regular camper and have a family, it makes sense to purchase a less expensive model, particularly if you're not sure when or if you'll be using it again, say if you're just dipping your toes into the whole family camping experience thing.
Groups looking to purchase a family tent for festivals will also probably be best off looking in this price bracket, as tents tend to get damaged at festivals more easily, especially if each person only wants to put in a small amount.
Overall, we suggest you keep your expectations at a reasonable level, $200 will get you a basic and functional tent, but there are much better options out there but for a higher price tag.
Further Reading
How to choose tents for camping – a nice article on the subject from outdoor specialists REI.
Conclusion
While there are many expensive family tents about, it often makes more sense to purchase a cheaper family tent if you're camping for the first time as a family or group, or if you're not intending to make it a regular occurrence.
Finding the best family tent for under $200 can be a bit of a challenge, however, the tents reviewed here represent excellent value for money and a good range of useful features.
So much so that they could make your family camping trip a greater success, and encourage the whole family to spend more time together in the great outdoors, something which you cannot put a price on.