Please note, this product is no longer available. You can check out our top backpacking backpack recommendations for men here.
Last year I got to climb Mont Blanc. It was an amazing experience and I had never taken on a challenge of that kind before.
As you can imagine a big part of that trip was preparation. While I needed to train to be sure I had the fitness to get to the top, there were a bunch of other things I needed to prepare for. As I was going high into the Alps, a key one was gear.
Pros:
Good adjustable fitting options, so should be able to get a good fit for most folks
Lots of outdoor specific features e.g. walking pole, ice ax attachment loops, etc.
Hydration bladder holder works well
Rain cover included
Cons:
Hip belt pocket would be nice to have
Features:
BIOFIT back-system
Height adjustable, removable chest strap
Top tension straps
Raincover
Grab handle
Base compartment with bivi divider
Top lid pocket
Hydration system compatible
Two expansion side pockets
Zipped entrance to main compartment
Zipped front pocket
Side compression straps
Base compression straps
Attachment points on lid
Draw cord bivi closure
Synch straps on hip belt
Walking pole attachment
Summary  
While I would hire some of the various things I would need when I got there, for example crampons, there were also a lot of bits and pieces I needed to get in advance. One key thing was a suitable backpack.
I did a lot of looking around but I ended up going with the Berghaus Verden 45+8. Berghaus are a very well known brand in the UK and Europe but they don't seem to be as well established in the US just yet. I've noticed that none of the main retailers stock there stuff.
However, I do recall reading some place last year that Berghaus was planning a big move into the North American market so perhaps they'll start showing up in more stores soon. I have a few hiking gear items from Berghaus and I am very happy with them.
So, today I wanted to take a closer look at this versatile backpack from Berghaus.

Cool Hiking Gear Rating: 5 stars out of 5
Look and Design
When I was out buying the backpack, I recall standing in the store looking at backpacks. I had asked the store assistant to single out the ones that would meet my size needs for my Mont Blanc trip which was that it needed to be between 45 and 55 liters.
I had about 4 backpacks in front of me and the Berghaus Verden really caught my eye. I'm not sure what exactly it was but it seemed to have a much more technical look about it than the others. If I was going to go to the highest point in the Alps, this backpack looked like it had the technical capability to do it.
Now, the other backpacks, not all, had most of the requirements I was looking for too, however, they didn't look very technical. Now, I was about to head up into the Alps, wear crampons for the first time, get roped up, use snow shoes, etc. All of that is technical so I think subconsciously, I was looking for something that had a technical look to fit the bill.
As far as design goes, the Verden 45+8, has a sleek look built on an internal frame. The pack is designed to be very adaptable. Now, that of course wasn't the only criteria in this category. A technical look and overall design was one thing but it needed the technical functionality to back that up which I'll look at below.
Fit
The Verden 45+8 has a lot of adjustable options available on it. The first thing to look at here is that the height is adjustable across 4 settings, see below, small, medium, large and extra large. This is adjusted via a sliding back panel as part of a 'BIOFIT System'. I was a little concerned when I first saw this, thinking it might be a bit weak but it seemed sturdy enough on closer inspection.
As you can see, the back panels are are all well padded for comfort and that combined with the BIOFIT system enables your back to stay well ventilated.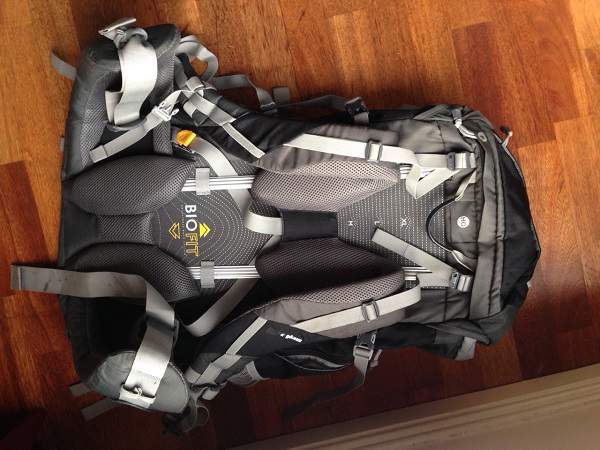 Once you have the desired fit on your back, you can then further adjust for comfort using the tension straps which are available on the top, side and base of the backpack.
Overall, I found it pretty easy to get a comfortable fit quite quickly and easily with just some quick manipulation of the BIOFIT system and the various straps so it is very easy to use in that regard, plus it also held under actual use with heavy weight which is important. Sometimes with extra weight, straps can come loose which is a pain.
Capacity, Storage and Weight
The capacity of this backpack comes in at 53 liters, (45  + 8 ). This means that the main compartment in the backpack has a capacity of 45 liters but that there is an additional 8 liters available in pocket space, the floating lid, etc.
The dimensions come in at 75 x 32 x 28 cm. I haven't used this pack for more than a two night camping trip in my regular hiking environment but I think it should be fine for longer week long treks too. Longer than that, you probably need something bigger. If you do need more there is a Verden 65 + 10
version available.
A key part of any backpack is weight and the Verden 45 + 8 comes in at 2.050 kg.
If we look at storage there are a lot of features. First up the base of the internal compartment comes with a bivi divider which can be zipped closed. Useful if you have wet gear that you want to keep separately or if you want to ensure something doesn't slide down inside your pack into the depths below.
There is a top lid pocket which is a good size as well as two expansion side pockets. Another handy feature on the pack is that the main compartment has zipped access from either side of the pack which is handy if  you need to get something out of the main compartment without having to open up the top. There are also two water bottle mesh pockets at the side.
Finally, there is a draw cord bivi closure at the top of the pack to give you the opportunity to string the top of the main compartment tight before securing the top compartment in place.
Other Features
There are a lot of other nice features with the Verden 45+8. There's a grab handle at the top for handy lifting, for example, say onto an airport conveyor belt.
The pack is fully compatible with a hydration system with a sleeve at the back of the inside of the back as well as all the required tube ports, etc. There are attachment points on the lid and the pack has walking pole, ice ax, snow shoe attachments.
Finally, there is a built in rain cover with is something that can be handy to have, although I rely mainly on dry bags to keep my stuff completely dry inside any backpack.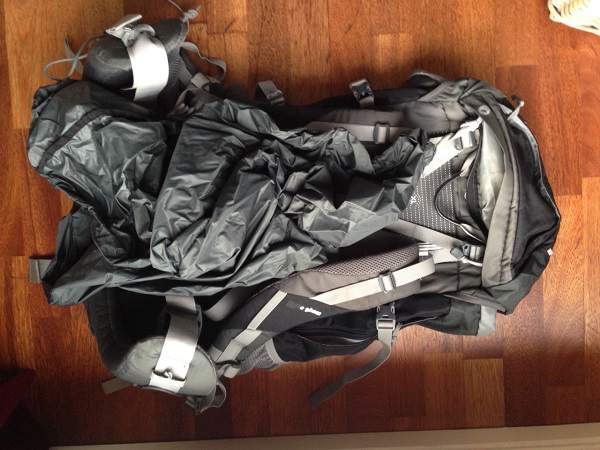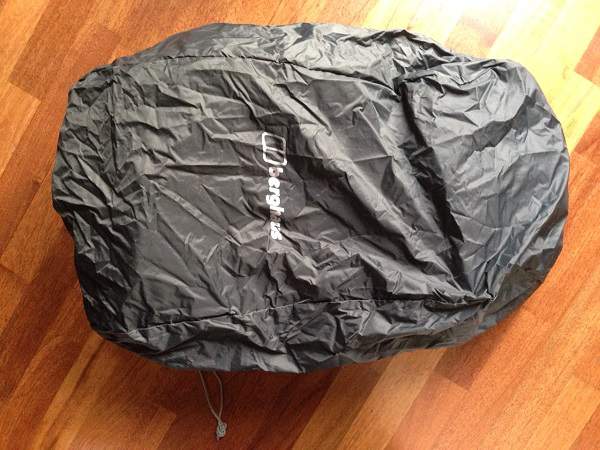 Price
The pack is reasonably priced I feel for all the features available in it. Plus having used it, I have the benefit of having experienced it first hand so I am very happy with the quality and overall makeup and functionality of the pack.
Overall I think it's fairly priced for the quality you get.
Conclusion
Overall, I was very pleased with my purchase of the Berghaus Verden 45+8 backpack. I think it is a great pack for a multi day hike but probably not best suited for an extensive backpacking trip, for that you would need to get the bigger 65 + 10 model.
It has all the capabilities, features and functions I would look for in a good backpack and it fits very comfortably. I have used it on my trip to Mont Blanc and on a few multi day camping hikes and I have been very pleased with it. Price wise, I think it's reasonable for the quality you get.
As I mentioned at the start, I don't think Berghaus have made many inroads as yet into the standard big North American gear retailers but I would be surprised if we didn't start seeing their gear popping up in stores in the coming months and years. I like their gear and have been happy with the quality of several items I have bought from them. We'll see though I suppose.
Have you used the Verden 45+8 Backpack? I'd love to hear about your experience with it in the comments below.