A few days ago I was in Tallahassee, the State capital of Florida. I was there visiting a friend of mine for a couple of days while travelling through Florida. He knows I love to hike, so he suggested that when I got there we could head out to Leon Sinks Geological Area for a hike on some of the trails there.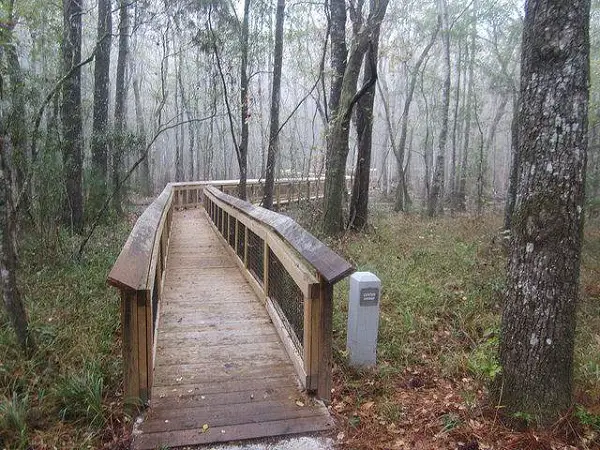 Now, Florida is generally pretty flat, so there isn't much in terms of hills there or in most parts of the State. However, the park has lots of really beautiful forest which is a joy to hike in.
So, we planned to head there and take in about 5 to 6 miles of the trails along with his beautiful new Vizsla dog, Rose. So, after I arrived at his place and we caught up, we started to head out to Leon Sinks.
Some Background
Now, a brief word on Leon Sinks Geological area might be useful to provide some background. Florida sits on a ridge of limestone. Limestone of course wears away in time with water, which leads to the holes developing in the rock.
This is known as aquifer, or permeable rock, and over time, sink holes appear as smaller holes merge through the process of erosion in the rock.
Not good if you have built your house on top of one! However, they can be very useful if there is a water source below the rock as it means the water can come up through the sink hole. As far as I understand it, these sinkholes are how Florida gets its water supply.
I stress again, that I am no geological expert but hopefully this gives a little bit of background context. The Leon Sinks Geological area has a bunch of these sinkholes located in and around the trails, the largest being one called 'Big Dismal' … what a great name 🙂
Hot and Humid!
Anyway, it's lucky that there is a source of water coming up from the ground as Florida tends to be pretty hot a lot of the year round, so having an abundance of water coming from the earth, can only be a good thing for the State I think.
So, when my friend and I went to Leon Sinks, it was 91 degrees fahrenheit (33 C) so pretty hot!
Also, it was very humid, so sticky. We set out to cover all of the trails, and as we hiked, my friend, who happens to have studied and worked as an environmental / ecological scientist, told me about all the different trees and plants in the forest which was very interesting.
It was a beautiful hike but man oh man, was it hot! Now, we had packed a lot of water for ourselves and for Rose, and we stopped on several occasions to drink.
My friend is a native Floridian so I figured he'd be used to hiking in this kind of heat, but just like me, he was sweating a hell of a lot as we hiked along the trails.
Watch the Sun and Stay Hydrated
I have written before about how you need to respect the sun when you're out on the trail. It really can be lethal if you're not careful, especially if you are hiking in really hot areas, like a desert. Last year I hiked in Death Valley, but this was more intense.
Probably because the time of year in Death Valley when I was there was Spring, so not the hottest time of year, but also possible because of the humidity in Florida, it was pretty punishing!
It occurred to me that my normal preferred way of carrying drinking water while hiking, may not be best suited to this type of heat. Even if I put a lot of ice into my hydration bladder, I'm really not sure how long it would stop it from getting too hot.
A bladder insulator / cover, to keep it cool, would most likely be needed. My friend had a chill bag with him so that did the trick for us on the day so we had cold water for the whole hike.
Conclusion
This was just a short post today about being careful if you plan to hike in very hot weather. I am typically more accustomed to hiking in cold and wet weather and so I am well prepared for those conditions.
The heat from a sun beating down provides its very own set of problems which you need to be very mindful of, especially if you're not used to hiking in that kind of weather.
Be sure to pack plenty of water and if you can, have some method to keep it as cool as possible, utilizing ice, bladder cover, chill packs, or whatever works to do the job.
Finally, if you happen to be in Tallahassee in Florida, a hike in the Leon Sinks Geological area is not too far outside of town and it is really worth a visit. There are 3 trails with about 6 miles of trails but it is a fine way to spend a couple of hours as the forest he trails are in, is just beautiful.