I was flicking through some gear sites yesterday, and I noticed that some of them advertise 'rucksacks,' not backpacks.
Now, what made this interesting was that one leading brand, Berghaus, has several different backpack options but some of them are called rucksacks while others are called backpacks.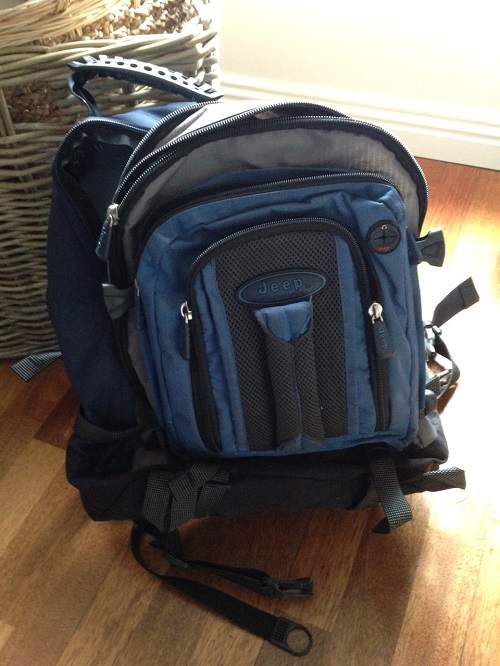 This got me wondering: what is the difference between a backpack and a rucksack? So, I did a little investigation and thought I'd write up a short post on it.
This article not only covers the differences between each but also helps you decide which is best! We'll give you my top pick for the best rucksack and backpack as well as the pros and cons of each. Many things make any backpack or rucksack great – from the ability to carry heavy loads, to being waterproof, to lightweight design, and much more.
But I'm getting ahead of myself. Before we get into which is best, let's looks at the differences between a backpack and rucksack:
Etymology
Now, that is a big word to start a paragraph with, isn't it? But the first place to start was to look at the source of the words. From what I can find, "rucksack" is derived from German, 'rucken' meaning back and 'Sack' meaning bag. So, a bag for your back effectively.
If we look at the word "backpack", well, there isn't a whole lot of difference, now is there? "Backpack" is in English, it is obviously a sack (pack) for your back, too. The word backpack seems to originate in the US.
So, do the differences stop at the origins of the word? It doesn't seem that way! Read on to find out more about what differentiates these essential hiking/backpacking accessories.
US and UK, are There Differences?
I was curious to see if there were any differences and, from what I can ascertain, in terms of how the words are used, there aren't many. It seems that a lot of people use the two terms interchangeably.
Broadly speaking, when looking at hiking gear providers in the US, the term backpack seems to be more commonly used; however, as mentioned in the comments below, it seems the US military uses the term "rucksack" quite a bit. I don't know anything about military backpacks or equipment but it makes sense that they would need very functional backpacks/rucksacks.
I saw one mention that a rucksack is a mid-sized pack used for multi-day camping hikes of up to a week. A backpack, on the other hand, is different in terms of size and use. It's bigger than a rucksack and used for very long treks and trips into the wilderness – so, for weeks to months. I couldn't find much to corroborate that, though. After looking around, there seem to be options that are equally as large in size, some referred to as a rucksack and others as a backpack.
The UK also seems to lean toward using the term "backpack" as opposed to "rucksack". In terms of hiking gear, though, it did seem that "rucksack" was more commonly found in the UK than in the US.
Anyway
Even if there isn't an "official" definition of each term, sometimes the way a term is used can be quite helpful in identifying the differences. After all, if we are referring to a rucksack as more of a short-term travel supply or something for weekend trips, then the difference in the way the term is used and understood is important.
We might even say that the difference between a backpack and a rucksack depends on the region or context in which the term is used. Different areas might have a different understanding of what distinguishes one bag from the other.
Let's take a more in-depth look at each below:
Backpacks
Again, a backpack is a bag that you carry on your back, hence the name. Backpacks typically have two adjustable shoulder straps but you'll find that these don't really help carry the weight of the backpack. The weight is instead carried on the hips.
The hip belts transfer the load, allowing the weight of the backpack to be evenly distributed across your body. Not all backpacks have these straps, however, including small functional backpacks. For example, you will find that on most children's schoolbags (backpacks) do not have padded hip belts at all. There's no need as they are too small.
The hip belts are how we transfer the weight of the bag from our shoulders to our hips so we can use our legs to help us carry the weight. For this to work, the backpack needs to have a hip belt that is long enough to wrap around the bones of the hip and not just around the waist. We can carry a lot of weight in this area and if you have a backpack with an effective belt, you will immediately notice the difference.
Rucksacks
Contrary to some of the evidence I found, rucksacks seem to be considered a larger backpack with very specific design elements. It seems that they are more often used by the military and they have very specific features useful to the military built into the design e.g. detachable sustainability pouches.
Like backpacks, rucksacks also have plenty of pockets, sometimes more than a backpack, and the belts are sometimes designed to hold a much more substantial amount of weight than a backpack. Thus, a rucksack, depending on its design, maybe a better fit if you are looking to carry heavy loads over a longer period of time.
You will also find that rucksacks typically only have one main area for entry at the top of the bag while backpacks usually have multiple entry points into the main compartment.
Rucksacks don't typically come with a zippered closure, either. Instead, like backpacks, rucksacks are often either tied shut at the top or cinched closed with a buckled top lid on top.
Which to Look for?
In terms of hiking and backpacking, which is what we are mainly interested in, it is safe to say that a backpack is the best bet for hitting the trail. With that in mind, looking for a backpack is a good idea.
Remember that there are lots of different types of backpack sizes e.g. daypacks, backpacking packs, etc. You can check out our best daypacks and backpacks for men and women from the menu on this site. There, we list the best options in each category.
Our Top Men's Backpack Pick
To help illustrate the differences between a backpack and a rucksack design, below we have listed an excellent men's backpack, the Granite Gear Blaze 60 as well as a functional military rucksack option.
The Blaze is 60 liters in capacity and an excellent backpack that delivers outstanding ventilation and carrying comfort. It features anti-gravity suspension so it feels like you are carrying much less than you actually are. The harnesses of this hiking backpack are also adjustable and the hip belt can provide you with the best fit.
It has all the bells and whistles you need for an extended hiking trip, including stow-on-the-go trekking pole attachments for hiking and trekking, dual zippered top lid pockets, a large front stretch mesh pocket, and a sternum strap with a safety whistle. There is also a sleeping bag compartment at the bottom of the pack for conveniently separating your sleeping bag from the rest of your materials.
Another cool feature is the internal hydration reservoir sleeve that holds up to three liters so you don't have to worry about finding room for a water bottle. (Keep in mind that the reservoir is sold separately.)
Customer reviews of this product have been largely positive with most people raving about how the storage and organization features of the bag are very convenient and accessible.
You can check out more top backpacking backpack recommendations for men here and our top backpacking backpack recommendations for women here.
Our Top Men's Rucksack Pick
The US Military Surplus Molle II Rucksack is also about 65 liters in capacity but get this – in addition to the main compartment, it also includes two sustainment pouches that are about eight liters each and a waist pouch with an additional 6.5 liters of space. It has a 100-pound capacity, too, so it's spacious and tough enough to carry just about everything you need.
Another great thing about this rucksack is that it's really comfortable to carry. It features a lightweight durable polymer frame, enhanced shoulder straps, a molded hip belt, and load lifter attachment to give you the proper support no matter how much gear you're carrying.
The material is pretty impressive, too. It's made of water-repellant 1000D nylon that resists abrasions so you can take it out in any weather and it should last a really long time.
Customers really like this product, too. Most reviewers were really happy with how much this pack can carry and pleasantly surprised that the frame and straps were so comfortable to carry.
Summary
So, there you have it. It seems that in terms of backpacking or hiking, there isn't really a whole lot of difference in how people use the terms "backpack" and "rucksack". In the US, the term "backpack" may be more commonly used in terms of hiking gear but the term "rucksack" is also common, especially in military circles.
In the UK, it seems that it is a different word for the same thing. The only difference I came across in the UK was that a rucksack is a smaller version of a large backpack used for shorter hikes and backpacking trips. As mentioned, though, I couldn't really confirm that in any viable way so I won't take it as Gospel and it certainly doesn't seem to tie in with the US military definition of a rucksack.
Therefore, the true difference between a backpack and a rucksack might depend on where you are. Regional differences are important in language so it really depends on how people have come to understand a term to understand its differences. Regardless, as long as people know what you are talking about, the differences are really quite arbitrary.
Conclusion
All in all, in terms of usage, many people use the terms "backpack" and "rucksack" interchangeably. The various differences mentioned above may not even be the same across the board.
All you really need to know is that either is acceptable for a day trip, weekend trip, trip to the store, or a walk on campus. You should pay more attention to the design and added bells and whistles when choosing the best backpack or rucksack for your needs.
So, go out there and enjoy whatever it is you are using your backpack, rucksack, or any kind of bag for! No need to get bogged down in semantics, you may as well focus on getting ready for that next camping trip or whatever it is you enjoy doing in the Great Outdoors.