The average male height is around 5 feet 10 inches, with the majority of sleeping bags aimed to comfortably accommodate a 6-foot man. So, if you're taller than this, you may struggle to get a comfortable night's sleep in a standard sleeping bag.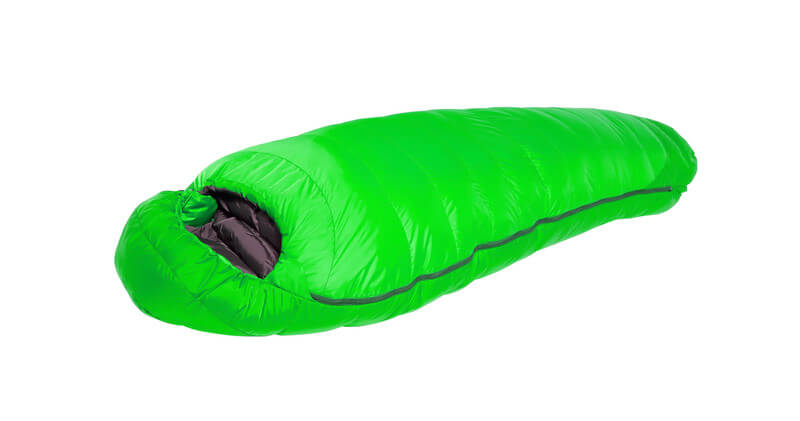 Fortunately, there are larger models available, they're just not always that easy to find. Read on to find out how to evaluate what's the best sleeping bag for a tall man and make your decision without compromise.
Standard Size Sleeping Bags
As mentioned above, standard sleeping bags for men tend to cater for a height of around 6 feet. However, even when purchasing a standard bag, many people often underestimate the amount of room that they actually need, not only in terms of length, but also width, with extra space on top if you tend to turn a lot in your sleep.
In fact, a standard size sleeping bag aimed at a 6-foot man should really have an actual length that's around another 6-8 inches longer. This extra length is necessary to accommodate a sleeping person.
Think about it, when you lie down your spine relaxes and your feet point forward, so everybody, regardless of their actual standing height, is going to need at least an extra half a foot in terms of length.
If you're a reasonably tall person and you're thinking you will probably just about fit in a standard-size sleeping bag, you may want to do your calculations again, using your lying down length rather than your standing height.
XL Sleeping Bags
There are a number of larger sleeping bags readily available, they're just not always clearly marketed. It helps to write out the measurements you need before starting your search and to check the manufacturer's specifications in each case rather than relying on descriptions.
If you've now realized that you might need to go in for a larger-size sleeping bag after all, let's take some factors into consideration to help you to make an informed choice in selecting your larger sleeping bag.
Fit
All sleeping bags are not going to be a perfect fit for everyone, we are all different sizes and have different preferences and styles of sleeping.
However, if you consider for one moment the actual purpose of a sleeping bag, as opposed to a quilt or blanket, you'll realize it's designed to keep warmth in by trapping a layer of warm air between your body and its fabric.
If the sleeping bag is too small, you body will crush the insulation and there will be less air storing the heat next to your body, so you'll not only feel uncomfortable, but you'll also lose a lot more heat.
If, on the other hand, your sleeping bag is too big, you'll also lose heat as it will just escape. Ideally for maximum insulation, you need to have several inches space between your body and your sleeping bag to maximize warmth and comfort.
In other words, if you are very tall and the measurements just aren't adding up, you may want to consider reading some customer reviews to find out how certain bags match up with certain heights. It's always best to learn from other's mistakes, when possible.
Value For Money
A larger sleeping bag is going to cost more, as it's made from extra materials and takes slightly longer to make, whilst taking up more storage space. So, you should expect to pay more.
There's also not the same amount of choice, and where there's less competition, prices can be unjustifiably high. In other words, use caution. You'll have to pay more, but it shouldn't be a huge amount more, not unless you're planning to get one made to measure that is.
Features
While there may be less choice than for standard models, you'll still have plenty of options for different features, such as shapes and styles, fillings, zipper types and so on.
When you're looking for a suitable sleeping bag and you're worried it's going to be a little on the snug side, make sure that you take any extra features into account. For example, a mummy style hood is going to more strictly limit the length of a sleeping bag than one without a hood.
Dimensions
Aside from the length of the sleeping bag, you'll also want to consider its width. Even if you're not at all bulky, if you are taking up a few extra inches in height, this is going to have an effect upon the width and the whole shape of the bag. A slightly wider sleeping bag will give you more room to turn over and move about, even if you're reaching the maximum limit lengthwise.
Another consideration to bear in mind when choosing a sleeping bag for a tall man, is its folded dimensions. As longer sleeping bags will be bulkier, if you're planning a hiking trip you may find you will need to factor in extra space to carry it, or you may wish to consider using a lighter model or one that stores into a more compact space.
Product Review – Teton Sport Celsius XXL
If you're struggling to find a larger-sized sleeping bag, we've reviewed one of the most popular, reasonably priced ones. While the Teton Sport Celsius XXL is an entry level product, it does offer excellent value for money. So, if you're hesitating over buying yourself  a sleeping bag because of your height, this would be a great one to start with.
At 90 inches long, the Teton Sport Celsius XXL is recommended for heights up to 6 foot 6 inches. With a width of 39 inches, you shouldn't have to worry about your above average height restricting your width, even if you're on the bulky side.
To find out more about its features, pack size and temperature rating, visit Amazon for the full product specification.
Conclusion
What's the best sleeping bag for a tall man? If you're over 6 feet tall then your best option is to look for a sleeping bag in an XL range or one created specifically for taller people.
If you are extremely tall, over 6 foot 6, you might struggle to find one suitably long, and you may have to consider camping quilts or a made-to-measure sleeping bag.
We hope you found this article useful. As always, if you did, please comment and share around your networks 🙂