Whether you loathe them or love them, there's no denying that high-tech gadgets are becoming increasingly common in all areas of life – including hiking.
Even if you have no intention of purchasing or using such items, it's still useful to know how they work, as you never know what the future may bring. So, what's a hiking GPS emergency locator, how does it work, and do you need one?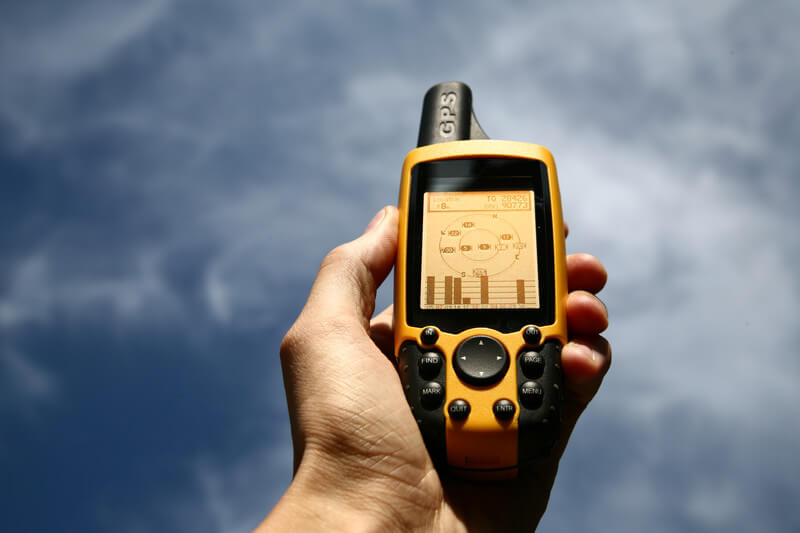 What is it?
Hiking GPS emergency locators, as the name suggests, use GPS to locate hikers in an emergency. They are also known as PLBs, or personal locator beacons.
They are compact hand-held units, with a switch to signal an emergency and your location. Once the alert has been sent, a rescue team will be instructed to travel to your location to attempt a rescue.
It is important to note that these devices are only to be used in a real emergency i.e. a life-threatening scenario. Once sent, there is no way of canceling an alert.
The search and rescue team may put their own lives in danger trying to reach you or delay another rescue whilst completing yours. The decision to make use of a PLB is, therefore, not to be taken lightly.
How Does it Work?
Your hiking GPS emergency locator relies upon a vast network of satellites to function. It is important to bear in mind that you will need to be in an unobscured place to ensure efficient sending and localization.
Once you send the alert, the device will send out a signal which will be picked up by satellites and then sent on with your GPS coordinates to search and rescue teams. PLBs come with a lithium battery that has a minimum life of 24 hours. The battery lies dormant up until you send the alert.
When you purchase a PLB, you will need to register it. Upon registration your personal details that you provide such as your name, phone number and medical history are linked to a number identifying your PLB. This information is passed on to rescue services along with your location when you use it.
Positive Aspects
PLBs save lives and make rescues safer, saving resources by pinpointing the location of the emergency. The time that is saved searching also means that the search and rescue team are available for more rescues.
Having your medical details sent to the rescue team before they set out to find you, means they can personalize the equipment and supplies that they bring with them if you have any conditions that are likely to require extra attention. This could help to save your life.
Hiking GPS emergency locators are extremely accurate and can locate you to around 500 meters accuracy.
The majority of PLBs have a built-in light to help to attract the attention of search and rescue team when they are near. This can save even more time and means you will exert yourself less trying to alert them to your presence.
PLBs can provide peace of mind for yourself, as well as friends and family who may worry about the dangers of certain trips.
There is no subscription fee or any kind of recurring fee for a PLB, you only pay the purchase price.
You can quickly and easily register your device online and update your personal details, this is important if you develop a new medical condition.
PLBs empower more people to experience backcountry hiking and to try places they may previously have thought were too remote.
Negative Aspects
Emergency GPS locators are fairly expensive, averaging around $300 for a standard model and they can only be used once.
If you use it accidentally or your situation changes, you cannot cancel the alert, a search and rescue team will arrive as soon as possible.
Satellite coverage can vary and obscured areas such as caves or areas of heavy vegetation can cause problems sending your alert effectively. You will have no way of knowing that your request to be rescued has been processed until the rescue team arrive.
PLBs may encourage some people to take unnecessary risks or to engage in irresponsible practices if they see it as a safety net. Search and rescue teams still take time to arrive and although they will arrive much sooner, there is no 100% guarantee they will be able to save a life.
Do you Need One?
If you're thinking about purchasing a hiking GPS emergency locator, you should first consider when and how often you are in environments where a PLB might come in use. PLBs can be useful for extra peace of mind, especially for solo hikers and those who go on long expeditions into the wild.
They can also provide reassurance for loved ones at home, just knowing that you have a way to request emergency assistance can make them more accepting of your risk-taking needs.
You may also consider purchasing a PLB if you hike with family members, especially children who may get into trouble more easily than an experienced adult.
If on the other hand you are an occasional hiker and you tend to stick to well known trails, you probably don't really need an emergency locator.
However, if having one in your backpack gives you greater security and allows you to enjoy exploring the great outdoors, then you should go ahead and purchase one regardless. It's true that we cannot predict the future and sometimes bad accidents can happen even on what seem like the easiest of trails.
Conclusion
Now that you have the answer to what's a hiking GPS emergency locator, it's time to make your own assessment of whether you need to purchase one for your future hiking trips.
With a one-off purchase fee and free registration, the benefits by far outweigh any negatives, especially if you are the more cautious type and you value extra peace of mind.
However, in many cases, good planning before you set out will be enough to keep you safe and a mobile phone can be enough to get help if you get into difficulty.
Always do your research well in advance, and obviously, if you're heading deep into the remote wilderness where contact with the outside world will be difficult if not impossible, then a device like this makes sense.