The first thing that probably came to your mind when you read the title, 'What does SOS stand for?' was of course 'save our souls'. That was, to my knowledge, the standard literal meaning taken from the SOS distress signal. However, the interesting thing is that SOS does not actually stand for anything.
The other day I did a post on the international emergency distress signal when in the
mountains. I started to research the history of it a bit and, typically, I got sidetracked onto other things.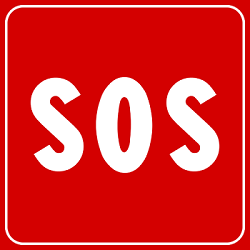 When looking at distress signal's, the classic distress call, which is of course SOS, came up.
I started to look into this a bit more and thought it would be interesting to do a bit of research to see how this whole distress signal thing came about.
Interestingly enough, I couldn't find a whole lot of information on it.
What is it?
SOS was created as an easy way to send a signal using the Morse Code. It's easy to remember, three dits and three dahs and then three dits done on a continuous basis with no spacing, '…—…' .
The dits and dahs are used in Morse Code to help communicate a message by using various combinations and series' of dits, dahs and spaces to represent letters. That's a whole other area of knowledge in and of itself so I won't go into that here.
Where did SOS come from?
The Morse Code was of course designed to send messages via the old telegraph system which reaches back to the 19th century so we are going back a bit.
However, from looking at what Wikipedia has to say on the origins of the SOS signal, it seems it was first formally introduced in 1905 as part of radio regulations in Germany and was then adopted as an international standard shortly thereafter in 1906.
My interest was piqued at this stage so I did a bit more research and found this very good article on the history of maritime distress signals.
This gave some very interesting information on the history of SOS. First off, that most people believe SOS stands for 'Save Our Ship' rather than 'Save Our Souls'.
I found that interesting as I had always heard it was the latter however, 'Save Our Ship' probably makes more sense as an origin though, especially if it is based in maritime roots.
The next interesting thing was that 'CQD' preceded 'SOS' as a maritime distress signal. It seems 'CQ' was used to initiate all telegraph messages and 'D' originated to signify an urgent message. As these were accepted and known signals at the time, the major telegraph company of the day, Marconi, designated the combination of the two as a distress signal.
As a side note, the original American distress signal was 'NC' meaning 'Call for help without delay' but it was not taken up as the main distress signal.
Anyway, I fear I am quoting too much from the article above at this point so if you're interested, check the link out. It has a lot more fascinating and interesting information on where SOS came from, what it means, etc..
Conclusion
So, in conclusion, what does SOS stand for? Officially, nothing. It is not an acronym and was not created with any meaning intended. It was chosen simply as it was an easy to use symbol that is easy to execute and hard to misinterpret in Morse Code.
Informally, people know SOS to stand for 'Save Our Souls', 'Save Our Ship' and 'Save Our Succour' (Never heard of that last one before either). While not directly related to hiking as such, I thought this was an interesting little diversion to investigate as I am sure there is probably some relation somewhere.
The international emergency distress signal is of course crucial to know while out on the trail so, if you don't know it, remember to check out this post.
I hope you found this somewhat diversionary post interesting 😉