OK, so the title in this post is a bit disingenuous 🙂 not to be trying to trick anyone or anything of course but the point I want to make is that, realistically, there is no such thing as 'The Best' hiking Boots. That is, in a nutshell, what is 'The Best' for you, won't necessarily be 'The Best' for others.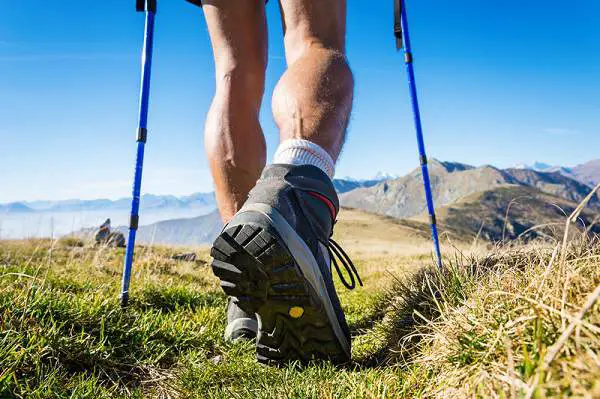 Now, I don't mean to suggest that there aren't hiking boots that as a general rule can't be called top notch boots. There are of course plenty of really top of the line hiking boots with loads of really great features, quality design and build as well as plenty of fantastic user reviews.
In fact, on this site, I myself of course make hiking boot recommendations about what I think the best gear items are. However, I really feel that when it comes to hiking boots, and other hiking gear, there is a large part of it that is personal taste and choice, there is no definitive answer for all people.
So…
The best fitting pair of hiking boots for me, could be the most uncomfortable design and build for you. It's really very simple from that perspective, everyone has unique feet. Narrow feet, to wide feet. High arch, to low arch and everything in between.
So, am I saying that you can't use online guides and peoples user experience, reviews and so on to help you make a decision about whether a pair of hiking boots are good or not? No, absolutely not. Some boots are not so good in terms of design and function, and some are great.
However, the point I am trying to make is that just because a pair of hiking boots doesn't have oodles of great user reviews and so on, doesn't necessarily make them a bad boot and, similarly, just because a pair of hiking boots does have oodles of really good user reviews, doesn't necessarily make them the right boots for you.
Confused? 🙂
The best advice I can give to you is …
Start with Reviews etc.
This may seem contradictory to what I am saying above but it is the best place to start. You need to start narrowing the options down to some degree and this is a fine way to do that. Broadly speaking, I'd try and stay with 4 stars or more over a bunch of reviews. However, if something really grabs you and it doesn't have a load of reviews, don't necessarily rule it out.
Pay Attention to User Comments
Boots that have a reasonable selection of reviews will have very particular comments in terms of fit and size. For example, comments about who bought the boots because of all the rave reviews but as they're a size 12 with wide feet, they really didn't work for them. Stuff like that can be really useful if you have slightly differently shaped feet.
Try the Boots on
Nothing is ever going to beat this. You gotta wear the boots for a bit to see how you feel in them. You can go to the store but buying online is fine too. In this day and age, with so many options to buy online, you can easily get a pair delivered and wear them in the house for a bit, it's more or less the same as buying from a store. If they're not for you, you can send them back no questions asked.
Stick With a Brand
When you find a pair of hiking boots that ticks all your boxes, keep an eye on the brand and model. Many times, brands will keep selling the same model for years if it is successful, or they will slightly enhance it to try and make it better (That can go badly wrong sometimes too though 🙂 If it ain't broke don't fix it and all that).
However, a brand will tend to model new ranges of boots on similar foot shapes and design builds that they used in the past. Therefore, even if they ditch the old model, if you had a great fit with them, in all likelihood, if you buy one of their newer hiking boot offerings, they should fit just as good in terms of build and comfort. Something worth keeping in mind.
Buying a pair of hiking boots is a big deal! A decent pair will probably cost at least €150.00 to €300.00. Not cheap by most peoples standards, but a good pair should last you for 2 to 3 years if you look after them. So, it is worth spending a bit of time looking around to make a good choice that is right for you.
If you really can't find something to suit and if you have some money to spend, you can always go down the custom made hiking boots route. It isn't cheap but you'll get a hell of a pair of hiking boots!
Conclusion
I hope you found this short post on 'The Best Hiking Boots' useful. I really just wanted to draw attention to some of these points as getting comfort in a pair of hiking boots is unique to everyone. If you're new to buying a pair of hiking boots, keep all this in mind. Use the guidance available to you in reviews and demo's etc., but don't forget to give your personal feeling and experience with the boots a large piece of your attention when making your decision.
There is plenty of information available to anyone wanting to buy a pair of hiking boots. If you are looking for some guidance, you can check out the detailed hiking boots buying guide and when you're happy you know what type of hiking boot or shoe to look for, check out some of the hiking boots listed on the best hiking boots page for men here and the best hiking boots for women here.
Again, the boots listed there are good options to review and look at, but remember to take everything in the buying guide as well as the points above into consideration when choosing a pair that's right for you.
If you're unsure about any of this or need any help getting started on the process of choosing hiking boots, feel free to leave a question in the comments or drop me a mail, I'm happy to help you if I can.