Sorry, but this jacket may no longer be available. You can check out other great hiking rain  jacket options for men here.
Today I want to review a recent arrival from The North Face, the North Face Mens Verto Storm Jacket.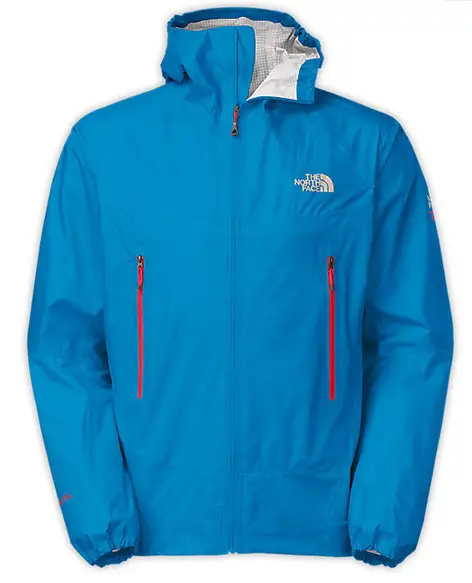 Rating: 4.5 stars out of 5
Available Colors: Louie Blue
Review
As mentioned in a recent post I will be climbing Mont Blanc this year in June. There are a lot of things I need to prepare for and one of the most important ones is to ensure that I have the right gear with me. Granted, much of the gear for Mont Blanc I will need to hire in the Alps when I get there as I won't use it regularly e.g. crampons.
However to climb Mont Blanc you still require some of the standard pieces of kit you would have on your normal hikes. The process of layering your gear is just as important in an Alpine environment as it is in a normal everyday hike. One of those key layers is of course a good waterproof and windproof hiking jacket.
I of course already have one or two waterproof jackets for my normal hikes but I am thinking that it might be wise to get something that is built specifically for the Alpine environment. I started the search and came across the Verto Storm jacket from The North Face.
My immediate thoughts on this jacket were that I like it's looks. It looks streamlined enough to be functional but loose enough to accommodate layering. This is further supported by the fact that this jacket is a rock climbing jacket so warmth and functionality are paramount while not sacrificing space and the ability to move freely. The jacket has specific harness pockets for climbing at the front but they would be equally versatile for hiking and scrambling.
The Verto Storm Jacket is ultra light weighing in at just 7.05 ounces (200 Grams). As well as that it is made from very flexible material so it is easily stowable. Again, I feel this is an ideal fit for my Mont Blanc expedition or for similar treks. At that weight it will easily fit snugly into any rucksack and not take up much space or add any needless weight as you trek.
Like most jackets of this kind, the Verto Storm is windproof, waterproof and breathable. The North Face utilize their trademark  Hy-Vent fabric technology to deliver these necessary qualities. This jacket has two layers. The durable woven outer layer repels wet weather using a polyurethane coating and protects from abrasion, while the inner-layer utilizes micro-pores to channel water vapor to the outer layer.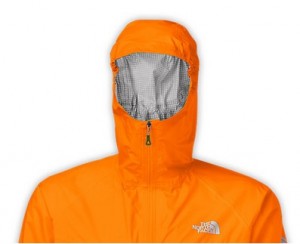 Good for rain or snow, this jacket will keep the nasty weather out while keeping your body dry by letting sweat vapor out. This jacket will fit my needs for my Mont Blanc climb but will also be perfect for the trail, rock climbing or skiing so an all round multi-purpose jacket.
The jacket comes with an elastic-bound hem, cuff and hood that can be adjusted to fit your head leaving only part of your face open to the elements when zipped up fully. A balaclava type cap could be a good accompaniment layer for this jacket as a face protector you can add in bad rain or snow.
Pros:
Waterproof, Windproof and breathable
Lightweight and stowable (in it's own pocket)
Abrasion resistant
The North Face Hy-Vent 2.5L Fabric
Cons:
Breast pockets on the jacket are purpose built for climbing, not for hiking as such
Specs (at a glance):
Style:A2T4
Fabric:15D 61 g/m² HyVent® 2.5 layer—100% nylon ripstop
Average Weight:200 g (7.05 oz)
Length from Center Back:29"
Source:Imported
Guarantee:Lifetime Warranty
Conclusion
If you're on the market for a versatile and stylish looking hiking jacket that you can utilize out on the trail, skiing down a piste or hanging from a rope scaling a sheer cliff some place, this jacket is worth a look. It looks to have a lot to offer and is definitely on my possible purchase list for my Mont Blanc trip later in the year.
Have you used The North Face Men's Verto Storm Jacket? How did you find it? We'd love to hear about it in the comments below!